Kansas Common Sense
Welcome to "Kansas Common Sense." Thanks for your continued interest in receiving my weekly newsletter. Please feel free to forward it on to your family and friends if it would interest them.
Sen. Dole Lies in State in the U.S. Capitol Rotunda
On Thursday, Senator Bob Dole became just the 36th individual to lie in state in the United States Capitol, visiting for the last time the building he served in for over three decades. Following President Dwight D. Eisenhower, Sen. Dole was the second Kansan and 33rd individual to lie in state in the U.S. Capitol rotunda.

This ceremony is one of the highest honors our nation can bestow upon one of its citizens, and it is bestowed only upon those who have lived a life that encompasses the varied spirit of America and its people. Anyone who knew or met Sen. Dole knows that he embodied those qualities—empathetic and determined, reasoned yet optimistic—and this ceremony provided an opportunity to pay tribute to his life and his service.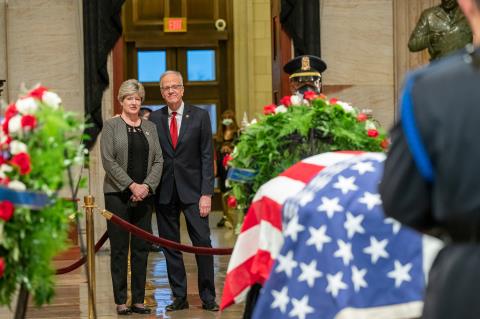 Sen. Dole himself paid tribute to Americans deserving of this same honor during his life, standing to salute his friend Senator Daniel Inouye, whom he met at a VA hospital while recovering from wartime injuries, and again standing to salute President George H.W. Bush in 2018.

On Thursday, Kansas became just the seventh state in the Union to have more than one person lie in state. This demonstrates not only the uncommon character of Sen. Dole, but the unique character of Kansas, as the values that made Sen. Dole into the leader he was, in some small way, make up the fabric of what Kansas is.

To watch the full ceremony, click here.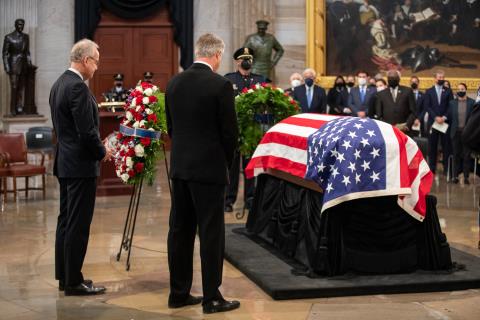 Russell's Son Returns Home Once More
On Saturday, we celebrated the life and legacy of Robert J. Dole in his hometown of Russell, Kansas. During the ceremony, I shared Romans 5:3-4 and how these verses exemplify his life.

"…We rejoice in our sufferings, knowing that suffering produces endurance, and endurance produces character, and character produces hope…" -Romans 5:3-4.

Across the nation, people will remember Bob Dole as the legislator or presidential candidate, but while I will remember these things what stands out to me are two things…his is service in World War II and his roots here in our part of Kansas.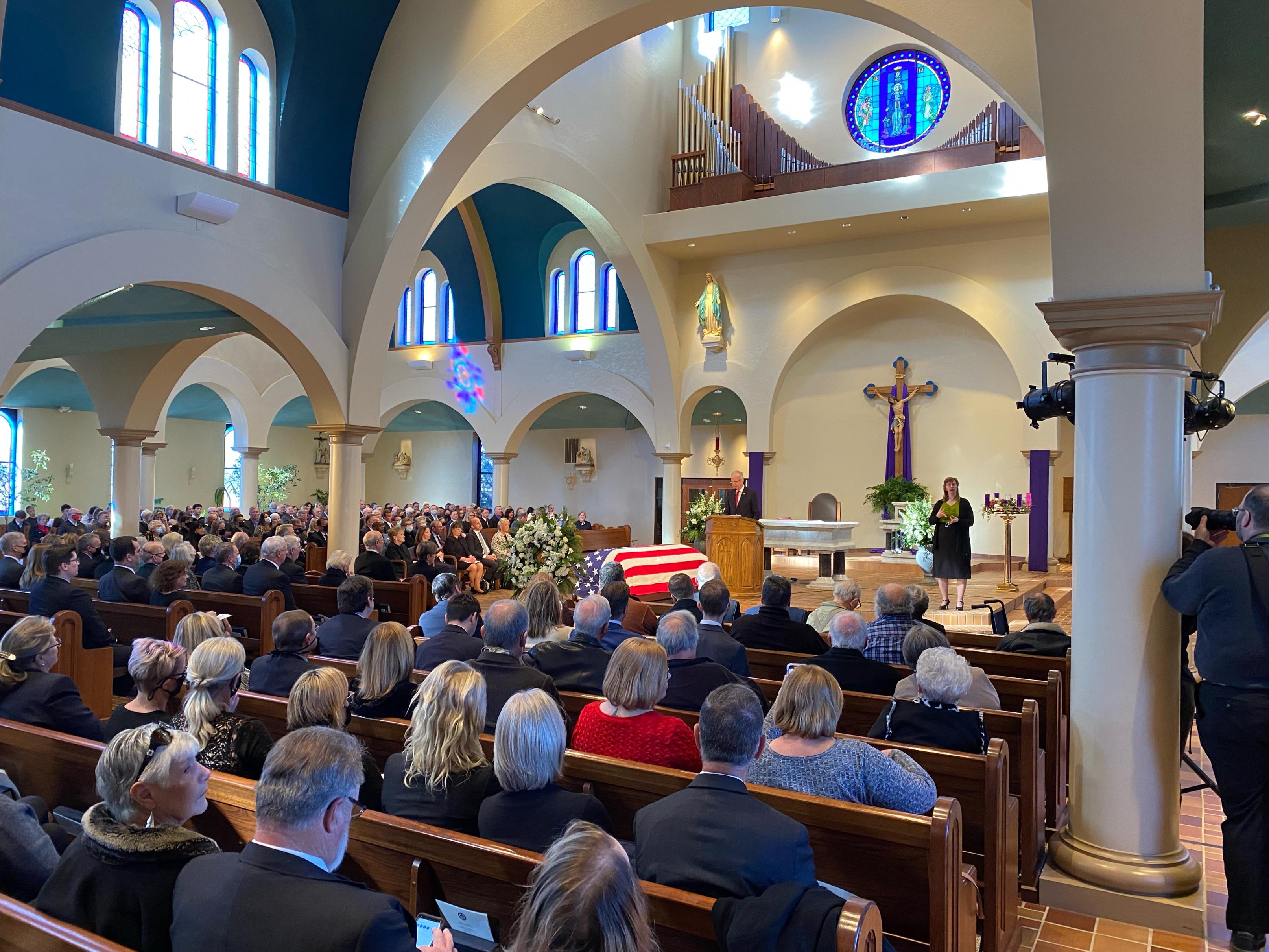 David Rogers, who covered Congress for the Wall Street Journal traveled to Russell in 1988 and wrote, "Like the outcroppings of bleached stone in the prairie grass, there is a hardness to this land, and it shows in Russell's native son, Senate Majority Leader Robert Dole."

Returning to address his former high school, Senator Dole seems to speak of his own powerful ambition to chase the flat horizon and grasp the dreams that lie beyond…

"You've come from a very special place," he tells the graduating class in the crowded gym. "The horizon is out there somewhere, and you just keep chasing it, looking for it, working for it . . . to make your mark not only on Kansas but America."

Bob Dole suffered, endured, developed character and gave hope.

I am honored to serve in the "Dole Seat" in the U.S. Senate and use the "Dole Desk" where I see his name carved into the desk drawer every day. It reminds me of the man who went before me, and that each of us can chase the horizon and make our mark on Kansas and the country we love.

Bob Dole has reached his final horizon. And as he promised, he'll be sitting up above … watching us – full of optimism and hope.

I thank God for Russell, Kansas, for our state that looks to the stars, and to its native son, Robert J. Dole who gives us hope for a brighter and better tomorrow.

Bob, we respect you, we thank you and we love you.
To watch the full ceremony, click here.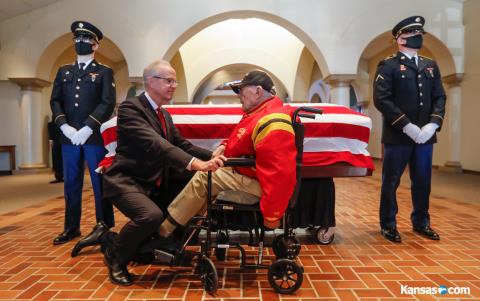 Photo: Travis Heying, Wichita Eagle
Thank You to the People of Russell
Read my full editorial published in the Russell County News on Thursday:

In the summer of 1945, a worried Bina Dole in Russell, Kansas, called my grandma, who with my grandpa lived in rural Russell County, searching for news about her son. My dad, an Army sergeant, was also serving in Italy, and Bina shared over their party line she hoped my dad could learn more about Bob, who was gravely wounded.

Ray, my dad, on leave began the search to find Bob, but discovered he had been evacuated for medical treatment. Those two mothers, anxious for the safety of their children half a world away, offered comfort to each other and worked together to try and find news of 2nd Lieutenant Dole. They demonstrated the care and concern often found in small towns across Kansas, and it was the care and character of the people in Russell that shaped Bob Dole into the American hero and exemplary statesman we all knew.

I am honored to serve in the "Dole seat" in the U.S. Senate and sit on the Senate floor in the "Dole desk" where I see his name carved into the desk drawer.

In small towns like Russell, there are differences of opinions, there are Republicans and Democrats and there are people who go to this church or that church. But when you're in a small town, you have no choice but to get along, solve problems and work together.

As a young man, those values led Bob to swear an oath to protect and defend our country during World War II. On a battlefield in Italy, his life almost came to an end.

The injuries were horrific, tremendous and permanent. But his indomitable spirit helped him survive and endure the long road to recovery. And it was the people of Russell who collected donations in a cigar box on the same counter he worked behind as a soda jerk in high school to help make sure Bob's medical expenses would be paid for. His wounds left him with a nearly paralyzed right arm, but Bob used his injuries to deepen his caring, not for himself, but for others.

He held an unmatched patriotism borne out of wartime sacrifice that marked every day of his life. Yet rather than ask for help, he offered it.

Sen. Dole can credit his view of life to his upbringing in a small Kansas town. He reflected, "The first thing you learn on the prairie is the relative size of a man compared to the lay of the land. And under the immense sky where I was born and raised, a man is very small. And if he thinks otherwise, he is wrong."

Even after Sen. Dole became a household name across the country, he always returned back to his hometown to gain wisdom and begin each new chapter of his life.

"I think Bob can come here and get tranquility and strength," his sister, Gloria Nelson, said of Russell.

Following his injury during WWII, he returned to Russell to find strength and healing for his badly maimed body. After receiving the Vice Presidential nomination and amid the highs and lows of three Presidential campaigns, Russell always provided him a solid and steady place to land. Following the death of his brother, Kenny, in 1993, he returned to Russell to say goodbye. In 1996, members of his hometown gathered with Sen. Dole to celebrate his birthday. Following his loss to President Clinton that year, the town welcomed him again. He was a national and world leader, but he would always be a boy from Russell, a son of the Kansas plains.

Russell Townsley, the former publisher of the Russell Daily News, wrote regarding Sen. Dole's plan to make his announcement to run for president in 1987 from a stage in Russell, "Skeptics ask what can Bob Dole – or Russell – hope to gain from this public show and professionally staged rally. And this is where the skeptics find themselves travelling blind. There's no need to look for ulterior motives, for there are none. Dole and his town gain from each other. While one draws on unseen reserves that have nurtured him from childhood, the other grows strong from the aura reflected from the image of leadership and stature borne by the other."

During his Vice Presidential run, Sen. Dole said, "I want to re-emphasize: If I've done anything it's because of people I've known up and down Main Street. And I can recall the time when I needed help, the people of Russell helped." That same cigar box that was used to collect donations to pay for Bob's medical expenses after WWII was again given to Sen. Dole when he announced his campaign for president in 1996. Each time, more and more Kansans supported their hero.

To the people of Russell and to the people across Kansas, thank you for the manner in which you have shaped, treated and respected a man worthy of our admiration. Sadly, we say goodbye to one of our own.
Sen. Dole's Casket Lies in Repose at the Kansas State Capitol
Following Sen. Dole's memorial service in Russell, Sen. Dole's casket travelled to Topeka where it was received by Governor Laura Kelly and a delegation of Kansans at the Kansas State Capitol. It was moving to watch as Kansas ROTC cadets provided an honor cordon as the Kansas National Guard Casket Team carried Sen. Dole's casket to its position of repose, so Kansans from around the state could come to pay their respects.
To watch the full ceremony, click here.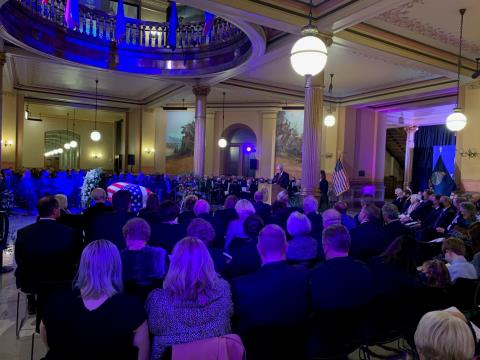 Senate Res. 470: Honoring Sen. Dole's Lifetime of Service
The U.S. Senate unanimously passed a resolution honoring Sen. Bob Dole on Tuesday night. He lived a life worthy of our admiration and respect, and I was honored to lead this resolution with Sen. Roger Marshall to recognize his lifetime of service. Click here to view the resolution.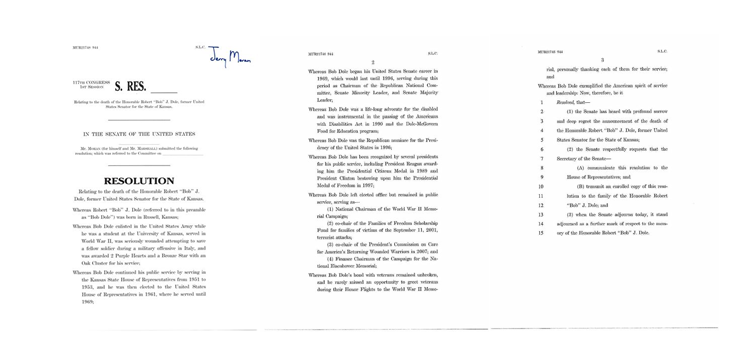 Honoring the Service of Sen. Dole at the WWII Memorial with the Kansas Delegation
"What we dedicate today is not a memorial to war, rather it's a tribute to the physical and moral courage that makes heroes out of farm and city boys and that inspires Americans in every generation to lay down their lives for people they will never meet, for ideals that make life itself worth living." – Sen. Bob Dole, National WWII Memorial Dedication, May 29, 2004

Sen. Dole demanded a memorial worthy of the sacrifice of our Greatest Generation. Not only did he demand it, he helped plan it, raised nearly $200 million to build it and, once completed, welcomed countless WWII veterans on Honor Flights from across the country.

I've been with Sen. Dole at the WWII Memorial many times, and I've watched the way veterans respond to him, and the mutual respect between him and his fellow veteran is inspiring and unparalleled. One of those Honor Flight veterans Sen. Dole welcomed was my dad, Ray. Because of Sen. Dole, my father had the opportunity to visit the memorial built in his honor – and in the honor of all WWII veterans.

Sen. Dole built this memorial in honor of veterans like my dad and all veterans who served our nation. Because of Bob Dole their sacrifice will be felt for generations. He did it for the present, so veterans like my dad could visit the memorial built in their honor, and he did it for the future, so everyone will know what the Greatest Generation sacrificed for our freedom.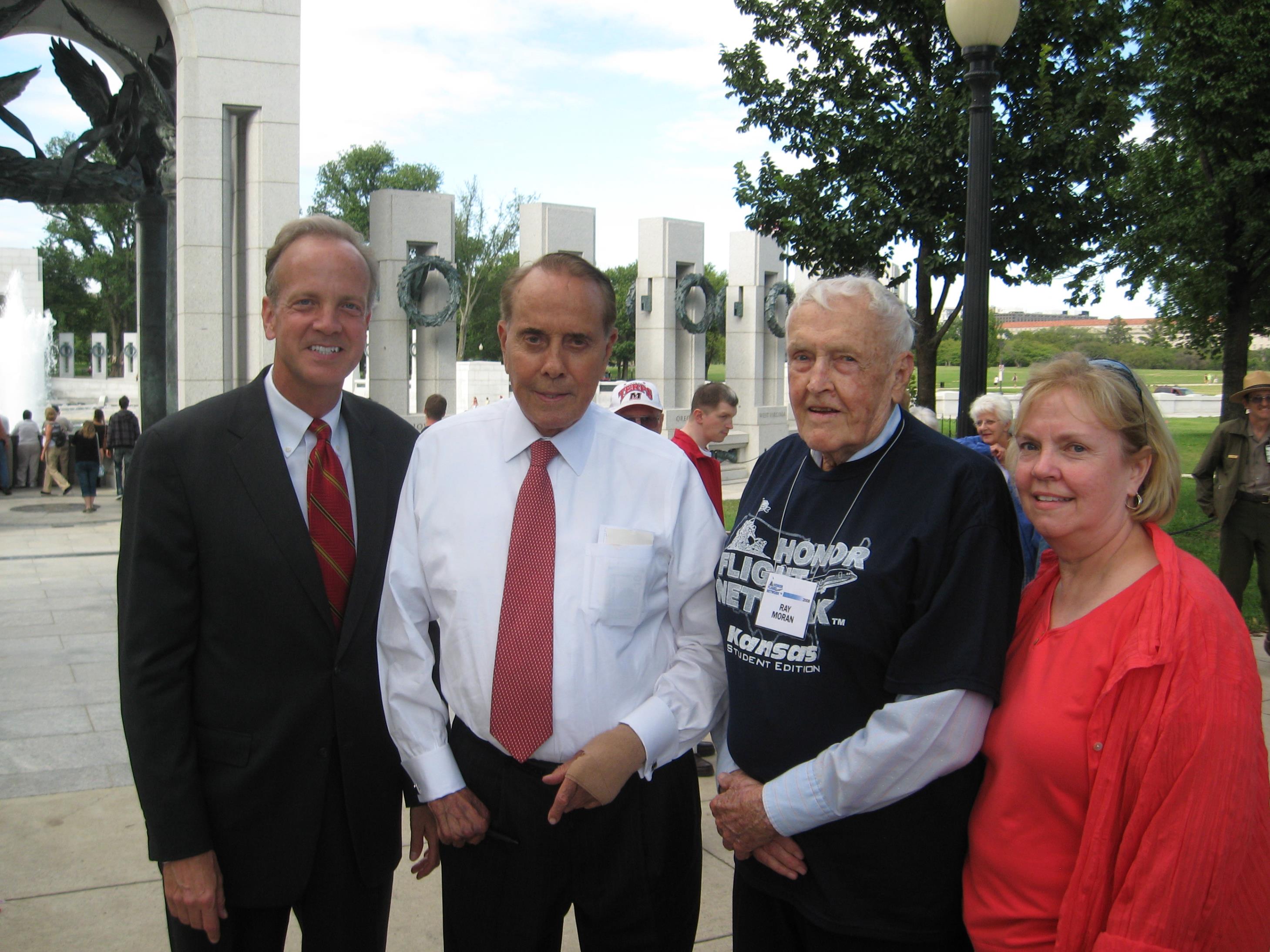 I was honored to join Sen. Roger Marshall, former Sen. Pat Roberts, Congressman Ron Estes, Congressman Tracey Mann, Congressman Jake LaTurner, Congresswoman Sharice Davids and former Congressman Kevin Yoder at the WWII Memorial on Wednesday morning to lay a wreath at the Kansas pillar for Sen. Dole.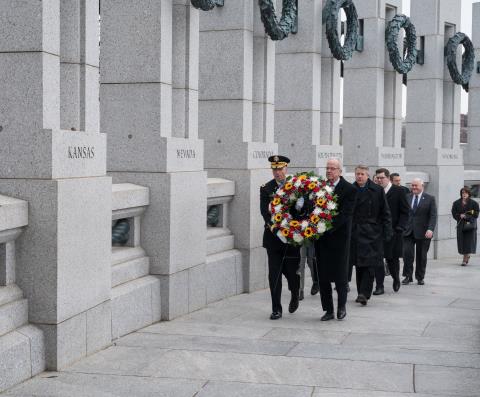 Sen. Dole Honored at Washington National Cathedral
On Friday, Robba and I attended Sen. Dole's memorial service at the National Cathedral alongside my Senate colleagues, Kansans, my staff and many others that knew and loved Sen. Dole. It was a beautiful service, with remarks from President Biden, former Sen. Pat Roberts and former Minority Leader Tom Daschle, who was Sen. Dole's counterpart in Senate leadership for Democrats. Robin Dole, Sen. Dole's daughter, gave a moving tribute to her father in which she read lines from his final farewell letter, which can be read by clicking here. The full memorial service can be viewed here.

Following Sen. Dole's departure from the Washington National Cathedral, Sen. Dole's motorcade stopped at the WWII Memorial for a ceremony honoring his life and military service. The ceremony at the WWII Memorial can be viewed here.

The departure ceremony at Joint Base Andrews for Sen. Dole as he returned to Kansas one final time can be viewed here.
Paying Tribute to Sen. Dole on the Senate Floor
Kansans hold Sen. Dole in the highest regard. They've appreciated his service; they've respected him – even in disagreement.

I am honored to hold Sen. Dole's seat representing Kansas in the U.S. Senate, and every time I open my desk and see his name carved into this drawer, I am reminded of the boy from Russell, Kansas, who dedicated his life to our state and our country.

On Monday night, I took to the Senate Floor to honor Sen. Dole's life and legacy. Listen to my remarks here or below.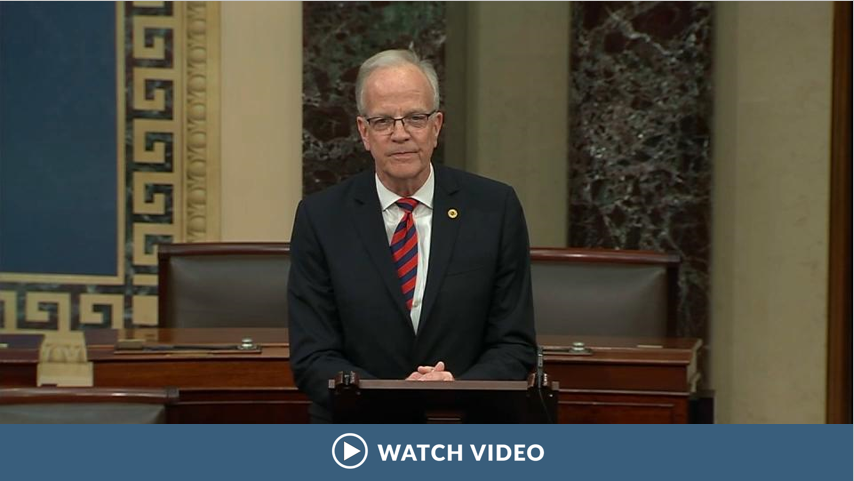 Sen. Dole to Be Buried at Arlington National Cemetery
Senator Bob Dole will be buried at Arlington National Cemetery, where he will join his brothers and sisters in arms as he comes to his final resting place. Details regarding his burial at Arlington National Cemetery are forthcoming. Click here to find the latest updates on burial arrangements for Sen. Dole.
Discussing Sen. Dole's Legacy
On Thursday, I joined Fox News to discuss the rare honor it was to watch members from both sides of Congress gather with President Biden to honor Sen. Dole in the U.S. Capitol rotunda.

It was an honor and pleasing to see Republicans and Democrats come together to pay tribute to a veteran, a legislator and somebody that worked among us in the halls of Congress. Click here or below to listen to my remarks.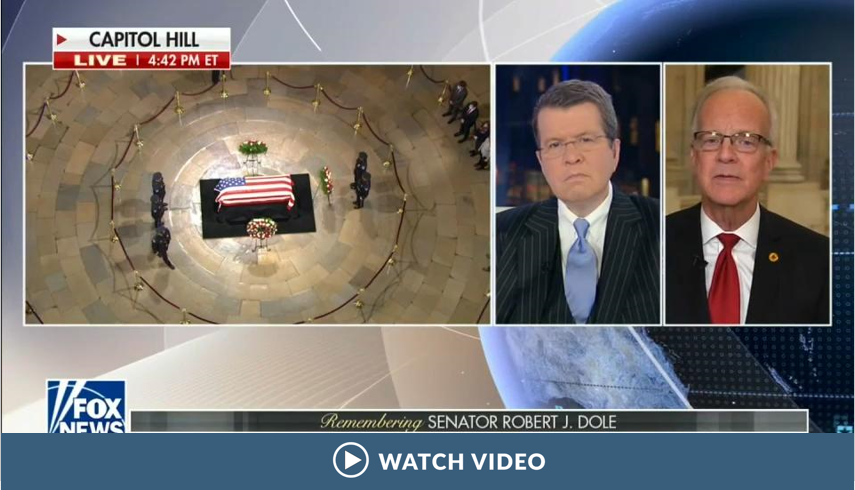 Meeting with Dr. Robert Califf of the FDA
I appreciated my meeting with Dr. Robert Califf ahead of his nomination hearing to be Commissioner of the Food and Drug Administration (FDA). I was pleased to discuss improvements to rural health care the FDA could make, including new ways to sustain and support small, local facilities which do not possess the same resources or staffing levels as larger health care systems. Dr. Califf provided context on how he would approach standards of identity for food products. I thank Dr. Califf for his willingness to return to public service and look forward to working with him if he is confirmed for a second time as FDA Commissioner.
Discussing Credit Access
On Tuesday, I met with Dan Henry, CEO of Green Dot Bank, to discuss innovation in the financial services industry and its benefits to expanding access to credit for more consumers. Expanding access to credit for consumers of all income levels continues to be one of my top priorities as a member of the Banking Committee, and I will continue working with my colleagues on sensible policies which further this objective.
Discussing Family Insurance with Brad Noller
On Tuesday, I also met with Brad Noller from American Family Insurance in Topeka to discuss important issues impacting the insurance industry and those who work in it. Our conversation surrounded the burdensome IRS reporting requirement being considered by the Biden administration as well as legislation designed to encourage Americans to save for retirement. I look forward to continuing to work with NAIFA to address challenges facing local insurance agents.
Visiting Overland Park Regional Medical Center
On Monday, I visited Overland Park Regional Medical Center. This hospital has been serving the health care needs of Johnson County and the surrounding area since the 1970s, and it offers acute medical care services, including emergency services and maternal health services. This facility delivers 6,000 babies each year, houses over 300 beds as well as two pharmacies. During the tour, our discussion touched on the Centers for Medicare and Medicaid Services (CMS) vaccine mandate, which is now under a preliminary injunction in all 50 states, and the harmful impact it would have on staffing levels at Kansas health care facilities. We also visited about the need to extend the Medicare sequestration moratorium, which was included in the CARES Act passed last year, so hospitals do not face significant reduction in federal reimbursements for the services provided to Medicare participants during the pandemic.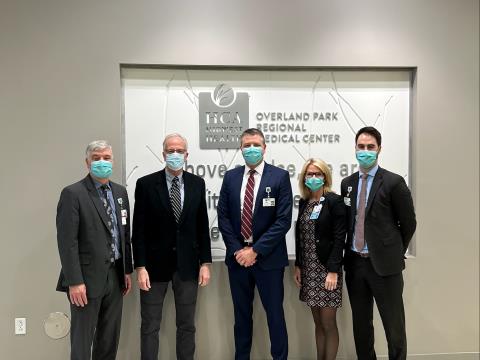 Pearl Harbor Remembrance Day
On Tuesday, the 80th anniversary of the attack on Pearl Harbor, we remembered the 2,403 brave men and women who lost their lives. They are part of the story that forever changed the course of history, and we honor them for their sacrifice to this country.
Listen as the 25th Infantry Division Band paid tribute on Pearl Harbor Remembrance Day.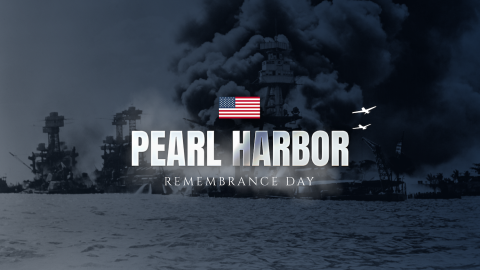 Honored to Serve You in Washington
It is an honor to serve you in Washington, D.C. Thank you to the many Kansans who have been calling and writing in to share their thoughts and opinions on the issues our state and country face. I appreciate the words of Kansans, whether in the form of a form of letter, a Facebook comment or a phone call, who wish to make their voice heard.
Please let me know how I can be of assistance. You can contact me by email by clicking here. You can also click here to contact me through one of my Kansas offices or my Washington, D.C. office.
Newsletter Sign-up Form
Note: Fields marked with an * are required.