Kansas Common Sense
Welcome to "Kansas Common Sense." Thanks for your continued interest in receiving my weekly newsletter. Please feel free to forward it on to your family and friends if it would interest them.
Kansans Affected by Severe Weather, Find Assistance Below
Following the severe wind storms, nearly 400,000 acres burned across Kansas Wednesday into Thursday, with some fires still burning from the last report yesterday, and hundreds of cattle and horses affected by the storms. Damages stretch from smaller fires in Finney, Scott, Gove and other counties to the "Four County Fire" covering parts of Ellis, Rooks, Russell and Osborne counties.

If you are a farmer or rancher in crisis, or know of someone in need of immediate mental health assistance, contact your local Kansas Community Mental Health Center or call the Kansas Suicide Prevention Line at (785) 841-2345.

Additional Mental Health Resources can be found through Kansas Ag Stress.
Donations can also be made through the Kansas Livestock Association here.

Kansas Recovery Resources can be found through the Kansas Department of Agriculture here.
If you can offer help to these communities, HitchPin is working coordinate assistance through this form.
If I can be of assistance to you or your family, please reach out to my office at DisasterAssistance@moran.senate.gov.
Meeting with Kansans Affected by Storms and Fires
Russell County Fire Damage
On Friday, I was in Russell county where I visited with Kansans who have been affected by this week's weather - particularly in the Four County Fire. The United Methodist Church in Paradise has become the point of distribution for donated supplies, food, water and other needs for people who have lost their homes or other essential property. I appreciated hearing the firsthand details about how neighbors came together to help one another as Kansans so naturally do. After speaking to volunteers, first responders and those who suffered loss at the church, Sheriff Fred Whitman led me on a tour of the devastation in Russell County. The grassland is scorched, and it will be months before that ground cover is replenished, meaning an increased risk for erosion and dust storms this winter. I saw dozens of cattle who perished and entire farmsteads gone. My heart breaks for those who have lost their homes and livelihoods.

Click here or below to learn more about the scale of the damage and the conversations I've had with Kansans who have been impacted.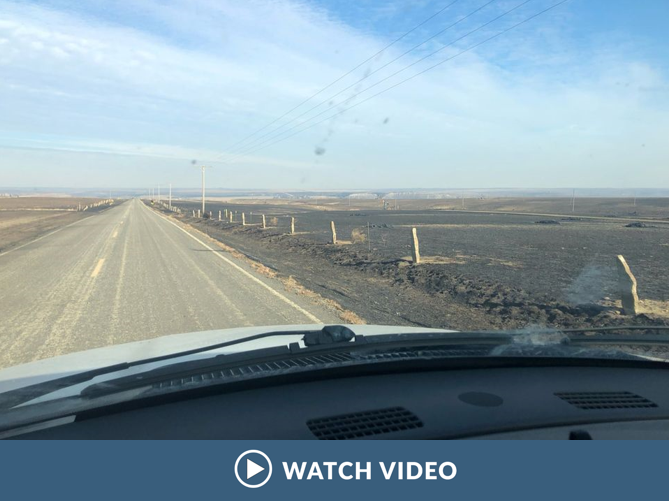 Thank you to the first responders who acted quickly on Wednesday to help Kansas farmers, ranchers and families as fires took hold in counties across Kansas, including Rooks, Ellis, Osborne and Russell. Thank you also to Russell County EMS Director Keith Haberer, Russell County Sheriff Fred Whitman, Russell County Commissioners Daron Woelk and Steve Reinhardt, Russell County NRCS Director Ramon Gonzalez, Kansas Representative Troy Waymaster, Mayor of Paradise Brett Thompson, Waldo Fire Chief Dustin Finkenbinder, District 3 Fire Chief Keith Koelling, Clayton Huseman of KLA, Doug Zillinger of Kansas Farm Bureau and Kansas State Senator Elaine Bowers for your time and to everyone who spoke with me.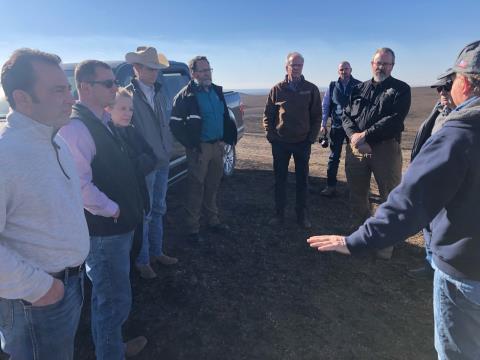 Ellis County Storm Damage
Following my visit to Russell County, I traveled to Ellis County where I joined officials for an aerial tour to see the vast extent of land burned throughout the region. Surveying the damage from above allowed me to examine the full scale of the damage as Kansans continue to pull together to help their friends, loved ones and community.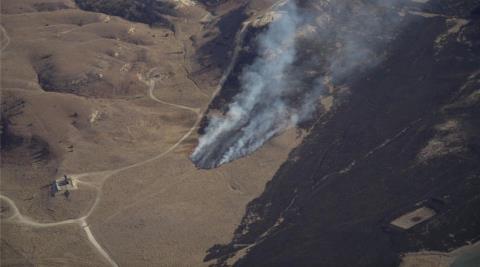 Once landed, I was joined by Ellis County and Trego County leaders at the Hays Airport to discuss the problems caused by Wednesday's wind storms, the resulting wild fires and next steps for those affected. What I saw yesterday in Russell and Ellis counties accounts for a fraction of the impacted land, and my office is continuing to receive information and are ready to assist those working to rebuild and provide resources to those who have been impacted by this week's weather and subsequent fires.
Thank you to the first responders who acted quickly on Wednesday to help Kansas farmers, ranchers and families as fires took hold across out state. I want to express my gratitude to Kansas Highway Patrol pilot Mark Schroeder for allowing me to survey the damage from above and to Ellis County Sheriff Scott Braun for accompanying us and providing his insight. Thank you to all those who joined me at the Hays Airport for speaking with me and for the opportunity to learn more about how I can be of assistance.


Remembering Senator Johnny Isakson
Robba and I were saddened to learn of the passing of former Senator Johnny Isakson yesterday. Sen. Isakson was a passionate and respected statesman who was appreciated and loved by his colleagues and staff. He conducted himself with warmth and compassion towards everyone he encountered, and so many of us were fortunate to call him a friend.

Sen. Isakson dedicated over 40 years of his life to public service, and it was a privilege to work and learn from him – especially to support the needs of our veterans. His love, care and advocacy for our nation's veterans was unmatched, and he was a role model for all of us who served under his leadership on the Veterans' Affairs Committee.

My prayers are with his wife, Dianne, and his entire family.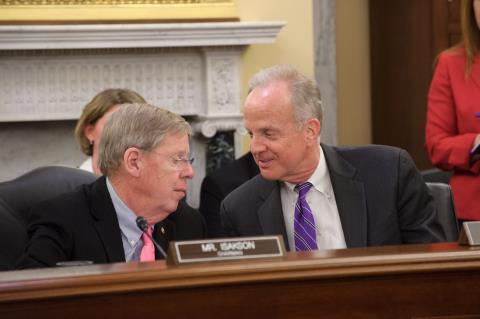 Vaccine Mandates for Private Businesses is a Clear Overreach of Authority
Last week, I voted to overturn President Biden's federal vaccine mandate for private businesses with a bipartisan majority of the Senate. The federal vaccine mandate for private businesses is a clear overreach of authority by the White House and threatens to worsen labor shortages in Kansas and across the country.

I am vaccinated, and I will continue to urge Kansans to get vaccinated, but that decision should be left to each individual in consultation with doctors they trust - not somebody in Washington, D.C.
Questioning Top Airline Officials Regarding Passenger Service in Kansas
This week, I questioned leadership executives of four of the major airlines: American Airlines, Southwest Airlines, United Airlines and Delta Airlines. During the Commerce, Science and Transportation Committee hearing, we discussed how to ensure continued service in smaller community markets, including our five Essential Air Service communities in Kansas. Additionally, I took the opportunity to raise Wichita Dwight D. Eisenhower National Airport's desire to have a flight route to Salt Lake City and Southwest Airlines' interest in partnering with Kansas City International Airport on sustainability efforts. Our access to air service is essential in all parts of the state, and I look forward to continue advocating on behalf of our airports.
Opposing Legislation to Raise the Debt Limit
On Tuesday, I voted to oppose a debt limit increase which passed the Senate 50-49:

The Democrats' move to raise the debt limit by $2.5 trillion will make our national debt more than a staggering $30 trillion. Hiking up the debt limit to facilitate out-of-control spending will jeopardize our economy, further drive up inflation and hurt American families. Rather than setting fiscal responsibility to the side once again, Congress should work on long-term solutions to balance our federal budget and reduce the national debt.
Supporting Our Nation's Veterans and Servicemembers
Participating in Wreaths Across America Day
On Saturday, I had the honor of joining the VFW post in Wakefield to participate in Wreaths Across America Day. The Wreaths Across America program seeks to symbolize a commitment to remember and honor our nation's veterans through the laying of wreaths on the graves of our country's fallen heroes, as well as saying the name of each veteran aloud, an act of remembrance that honors their sacrifice. These wreaths are sponsored by members of the public who want to honor the service and sacrifice of the men and women who keep our country safe, coordinating wreath-laying ceremonies at Arlington National Cemetery, as well as at more than 2,500 additional locations in all 50 states, at sea and abroad.

To those in Kansas and across the country who participated in laying wreaths across veteran cemeteries through the Wreaths Across America program, thank you for taking time this holiday season to honor the sacrifice of those who have served.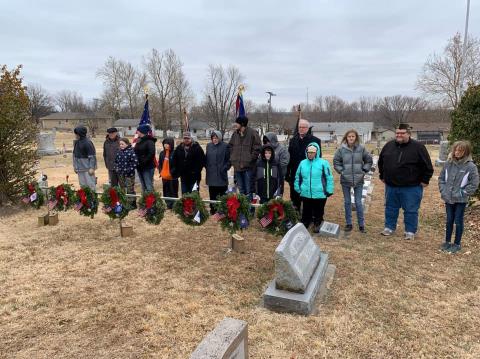 National Defense Authorization Act Passes the Senate
On Wednesday, the FY2022 National Defense Authorization Act (NDAA) passed the Senate and the legislation included several of my priorities:
Designate the Global War on Terrorism Memorial to be located on the National Mall
Conduct a study on military spouse employment
Approve construction of a new daycare facility at Fort Leavenworth
Expand and improve the Kansas National Guard's Joint Forces Headquarters building in Topeka
Authorize the establishment of the independent Afghanistan War Commission to examine the full scope of the war
The men and women serving in our military work every day to keep us safe, and I'm pleased this important authorizing bill provides our troops with an across-the-board pay raise and critical new resources to support their mission. As threats from China and Russia build overseas, it is vital that we provide our military with the resources they need to defend our freedoms and protect the homeland.

This bipartisan bill also brings new jobs and resources to military bases and defense contractors in Kansas. I'm especially pleased this legislation ensures the future Global War on Terrorism Memorial will be located on the National Mall to honor the thousands of men and women who have served, and are still serving, our country during the War on Terrorism.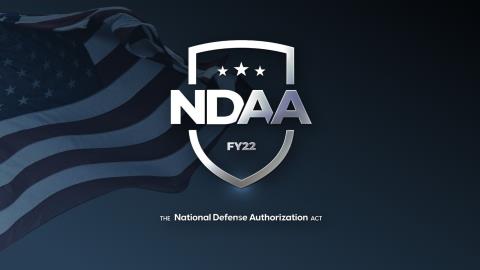 Modernizing VA's Electronic Health Records
This week, I introduced legislation to increase transparency surrounding the Department of Veterans Affairs (VA) Electronic Health Record Modernization (EHRM) program.

This summer, the VA Office of Inspector General (OIG) released three reports that raised concerns surrounding the deployment of the EHRM program. Two of the reports raised issues with cost estimates and reporting. The VA Electronic Health Record Transparency Act would hold the VA accountable and increase transparency by requiring the VA Secretary to submit periodic reports to Congress regarding the costs, performance metrics and outcomes for EHRM.

The VA, and consequently our nation, has invested a great deal of time and money into the VA EHRM program. The potential benefits of this program are tremendous, but we have to get it right. This legislation ensures the VA is providing the proper transparency throughout the EHRM implementation to better allow this committee to conduct oversight during the deployment process to ensure veterans receive the care they deserve and hold the VA accountable for taxpayer dollars.

Protecting GI Bill Benefits
This week, the U.S. Senate passed legislation to protect GI Bill benefits during the COVID-19 pandemic. The extension ensures this rule stays in effect until summer of 2022. The rule ensures that veterans, their dependents and servicemembers, who are using their GI Bill benefits, will be able to continue receiving their full tuition and monthly housing payments as universities and other approved programs are continuing to have classes online to prevent the spread of COVID-19. Originally passed in March of 2020, this rule would have expired at the end of this year.

Last year, Congress acted quickly to make certain student veterans and their families could keep their benefits as classes moved online to stop the spread of COVID-19. Extending this rule as universities work to continue to mitigate the spread of the virus is a commonsense solution that will help us keep our communities and universities healthy.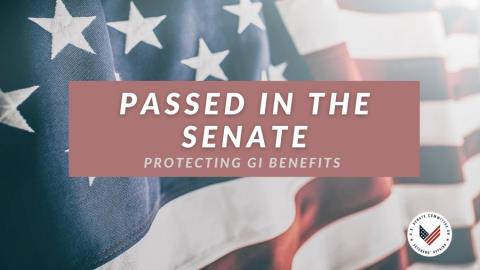 Considering Legislation at Senate VA Committee Meeting
On Wednesday, the Senate Committee on Veterans' Affairs held a business meeting to approve a number of bills for Senate consideration. Included in the markup was my Post-9/11 Veterans' Mental Health Care Improvement Act which includes provisions across three priority areas: improving veterans' access to mental health care, bolstering VA's mental health workforce and strengthening mental health research. We know that the youngest cohort of veterans ages 18 to 34 currently have the highest rate of suicide, and that the mental health effects of the Global War on Terrorism continue to disproportionately impact the post-9/11 generation. This legislation serves as a follow-up to my comprehensive veterans' suicide prevention bill from last Congress, the Commander Hannon Act.
Recognizing Air Force Major Grace Miller on the Senate Floor
This week, I recognized the contributions of a member of my staff, Air Force Major Grace Miller, who has spent the last year working in my personal office as part of the United States Air Force Congressional Fellowship Program.

Grace's 15 years of service in the United States Air Force has developed her leadership abilities and demonstrate her commitment to serving others. I thank Major Miller for all of her hard work and dedication in service to our nation. Click here or below to watch my remarks.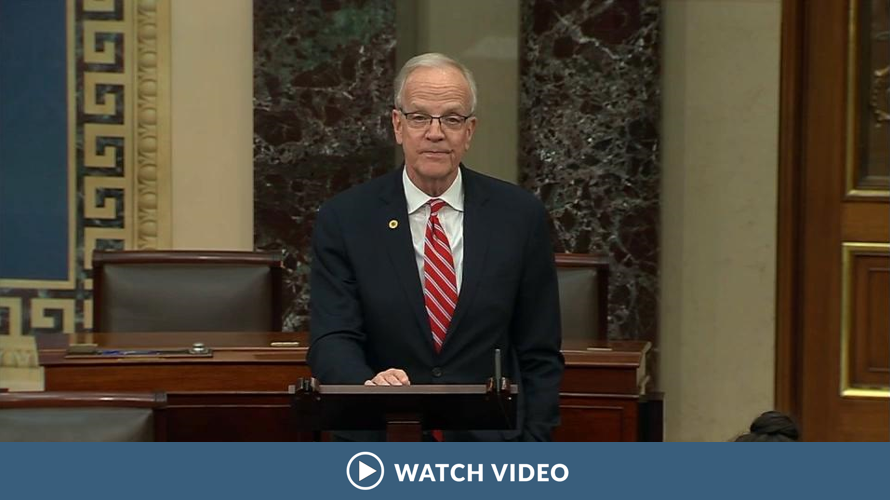 CFPB Director's Actions Raise Concerns
The FDIC has a long record of independence and cooperation, but recent attempts by the Consumer Financial Protection Bureau Director Rohit Chopra to politicize the FDIC Board as an ex officio member threatens the integrity of our nation's foremost regulator of state-chartered banks. This unprecedented move upends 88 years of collegiality between board members and disregards the authority of the FDIC Chair set forth in their governing documents.

I voted against Director Chopra's nomination earlier this year and have also raised concerns over the 'ghost votes' he cast before leaving the Federal Trade Commission. His blatant disregard for longstanding precedent is incredibly disturbing, and President Biden should immediately denounce this attempted power grab. Read more about this issue in the Wall Street Journal here.
Bill of Rights Day
Wednesday was Bill of Rights Day. On Dec. 15, 1791, the first 10 Amendments to the Constitution were ratified. For 230 years, these inherent rights have enshrined our nation's fundamental freedoms as we strive to form a more perfect Union.
Meeting with Railway Executives
This week, I met with Keith Creel, CEO of Canadian Pacific, and Pat Ottensmeyer, CEO of Kansas City Southern to discuss the ongoing merger between the two companies. Canadian Pacific completed its deal to acquire Kansas City Southern earlier this week, and now awaits final approval from the Surface Transportation Board. I look forward to continuing to advocate for the future of Kansas City Southern and am thankful for Canadian Pacific's commitment of a continued presence in the Kansas City region.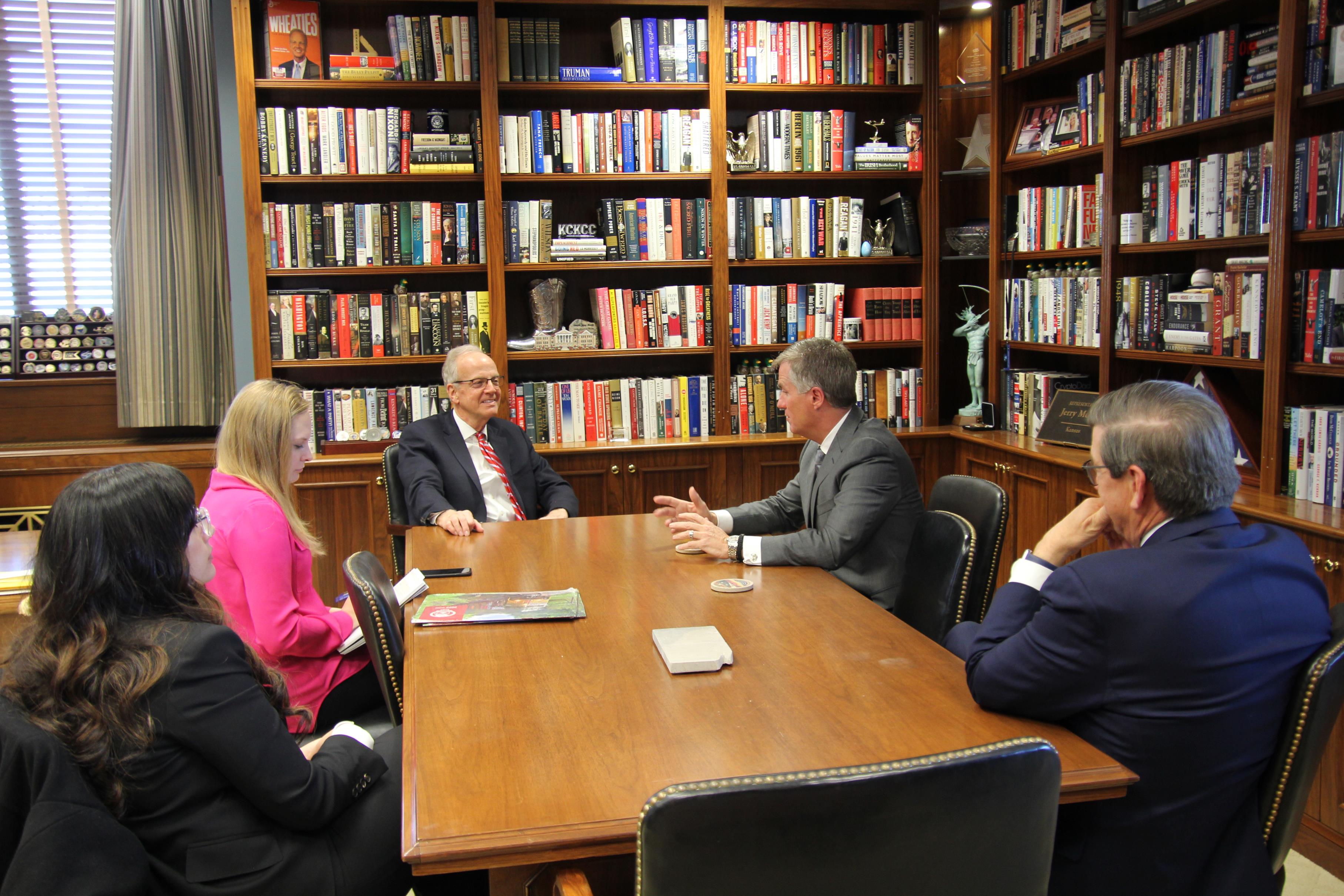 Recognizing My Fall 2021 Interns
This fall, four impressive students dedicated their semester to working on behalf of Kansans in my Washington, D.C. office. It was during my internship in Congress that I became interested in public service, and I appreciate these interns choosing to serve their fellow Kansans. Our interns come from all over Kansas and are some of the finest young people this country has to offer. I appreciate their hard work, and I am proud to have them on my team.

Thank you to Anthony of Plainville, Joshua of Leawood, Margaret of Lawrence and Daniel of Kinsley. I have appreciated the opportunity to get to know each of you throughout your semester. For more information regarding my intern program, please click here.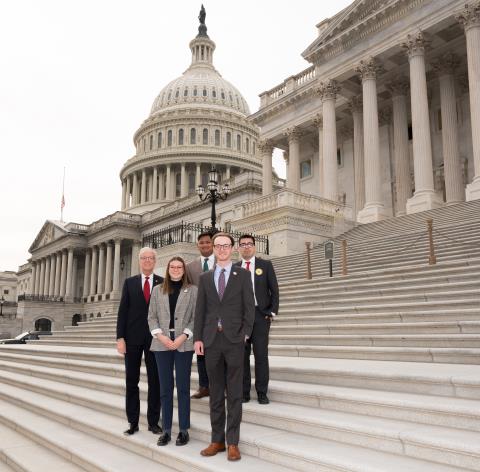 Honored to Serve You in Washington
It is an honor to serve you in Washington, D.C. Thank you to the many Kansans who have been calling and writing in to share their thoughts and opinions on the issues our state and country face. I appreciate the words of Kansans, whether in the form of a form of letter, a Facebook comment or a phone call, who wish to make their voice heard.
Please let me know how I can be of assistance. You can contact me by email by clicking here. You can also click here to contact me through one of my Kansas offices or my Washington, D.C. office.
Newsletter Sign-up Form
Note: Fields marked with an * are required.