Kansas Common Sense
Supporting American Energy Independence
President Biden's Energy Agenda Crushed American Energy Production
Instead of unleashing American energy, President Biden is making the U.S. more dependent on foreign oil. OPEC's decision to cut oil production will drive up the price of gas and allow Russia to sell its oil at a higher price, funding Putin's unjust war against Ukraine. Relying on countries controlled by dictators to supply our energy puts our own national security at risk and sends millions of American dollars overseas.

The Strategic Petroleum Reserve is at its lowest levels since 1984. Using the Strategic Petroleum Reserve is also dangerous for our national security and should never be used for political cover.

President Biden must reverse course and approve new drilling permits in the United States and strengthen our energy infrastructure, like the Keystone XL Pipeline. By using an all-of-the-above energy strategy to produce oil and natural gas, as well as renewable energy like biofuels, wind and solar, the United States has the ability to not only be energy independent but also supply energy to our allies around the globe.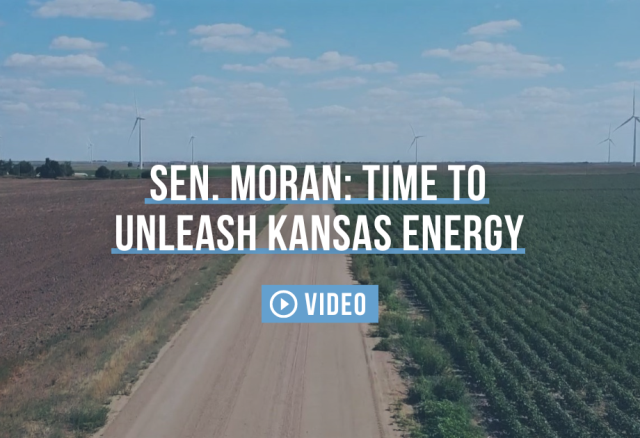 New Seaboard Energy Renewable Diesel Plant in Hugoton
This week, I was in Hugoton to participate in the ribbon cutting for Seaboard Energy's new renewable diesel plant, which will produce renewable diesel by refining agricultural and animal production byproducts. Kansas has a diverse set of energy production capabilities from oil and gas to wind, solar and biofuels. Seaboard's new plant is one more example of the many innovative ways Kansas is helping contribute to our nation's energy production. Rather than rely on other countries to supply our nation with fuel, the far more enduring solution to stable, affordable energy prices, to fill our vehicles, to heat our homes, or to run a business is to adopt an all-of-the-above energy production strategy. I am committed to finding ways to bolster all forms of energy production here in our state.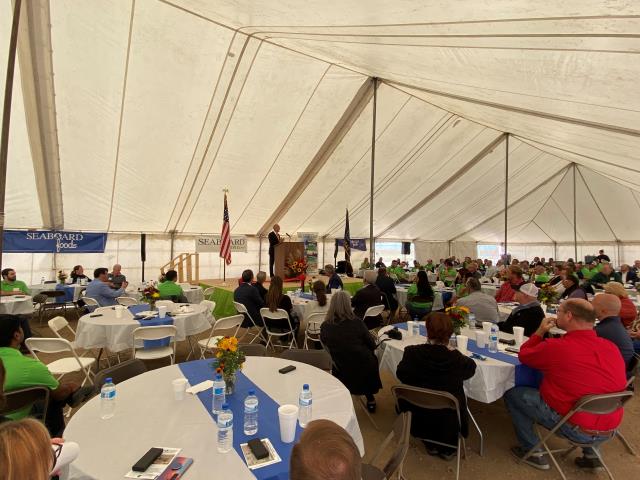 This plant will bring significant growth for southwest Kansas and our state as a whole by providing more than 70 high-quality, good jobs. It will also encourage economic development in the area as Kansans establish their careers and raise their families nearby. I want to commend Seaboard Energy for their interest in not just building a facility in Hugoton but also in providing applicable technical programs through partnerships with local schools.
Thank you to Seaboard CEO Gary Louis, Seaboard Vice President of Operations Bill Patrick, Hugoton Mayor Jack Rowden, Congressman Tracey Mann and everyone who worked to make this project a reality and who joined today.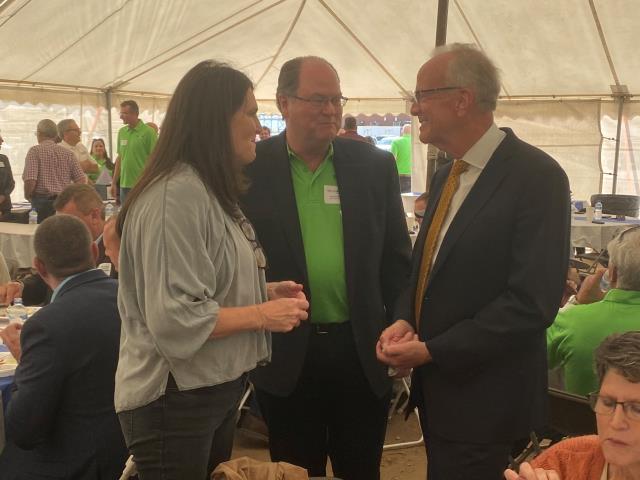 Unveiling the Kansas State University Salina Aerospace and Technology Center for Pilots
On Wednesday, I participated in the unveiling of the Kansas State University Salina Aerospace and Technology Campus Simulation Center for Pilots. The work being done here at KSU Salina builds off our state's rich aerospace history and makes certain that Kansas continues to play a key role in developing and modernizing our nation's aviation capabilities.
As a member of the Senate Appropriations Committee, I helped secure a $4.75 million federal investment for this new aerospace simulation center in order to help meet the educational and research needs of both the students and faculty members at this nationally-recognized training center.
During this event, General Atomics Aeronautical Systems also presented a $10 million contribution to KSU Salina to be used to create the General Atomics Aerospace Innovation Ramp on campus.
In order for the U.S. to maintain its superiority in the aerospace domain, the aerospace industry and academia are working together to train the next generation of aerospace leaders. KSU Salina's Aerospace and Technology Campus is a great example of a university working with the aerospace industry to achieve this goal by identifying shortages in the workforce and working to meet the future demands of the aerospace industry. I want to thank Dr. Alysia Starkey, CEO and Dean of the KSU Salina Aerospace and Technology Campus, and Linden Blue, CEO of General Atomics Aeronautical Systems, for their work to invest in the next generation of aerospace leaders through this partnership.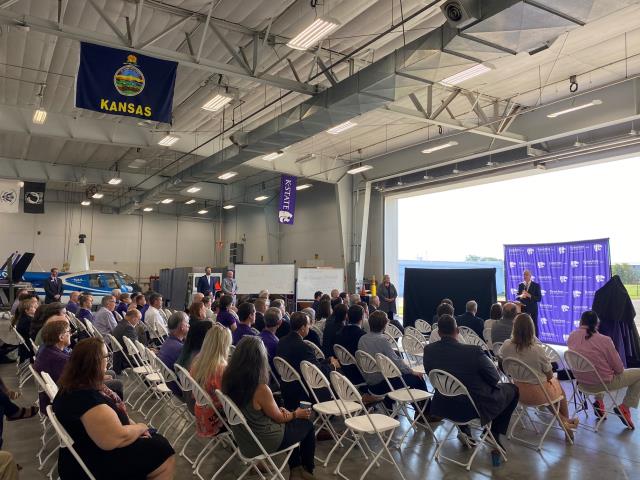 Grand Opening of Advanced Technologies Lab for Aerospace Systems at WSU's NIAR
It was also great to be at Wichita State University's National Institute for Aviation Research (NIAR) for the opening of the Advanced Technologies Lab for Aerospace Systems (ATLAS). With the addition of ATLAS, Wichita will solidify its standing as a leader in the research and development capabilities of the aerospace sector. Nowhere else in the world can you find a hub of aerospace industry leaders and educational institutions, like Wichita State University, working together to manufacture airframes and materials, and also to equip a ready, capable and talented workforce to sustain the aerospace industry into the future.
In March, Solvay, a Belgian global leader in advanced materials for aerospace, and Wichita State announced a partnership on research and materials development in NAIR's facility. Companies can now test and evaluate innovative technologies before making an investment at their workplace allowing them to take greater risks.
Thank you to Carmelo Lo Faro of Solvay and Linden Blue of General Atomics Aeronautical Systems for seeing the talent and potential in Kansas and for choosing to invest here. I also want to thank and recognize the leadership of WSU President Rick Muma, Dr. John Tomblin, WSU Senior Vice President for Industry & Defense Programs and NIAR Executive Director, and Dr. Waruna Seneviratne, ATLAS Director, Composites & Scructures Senior Research Scientist.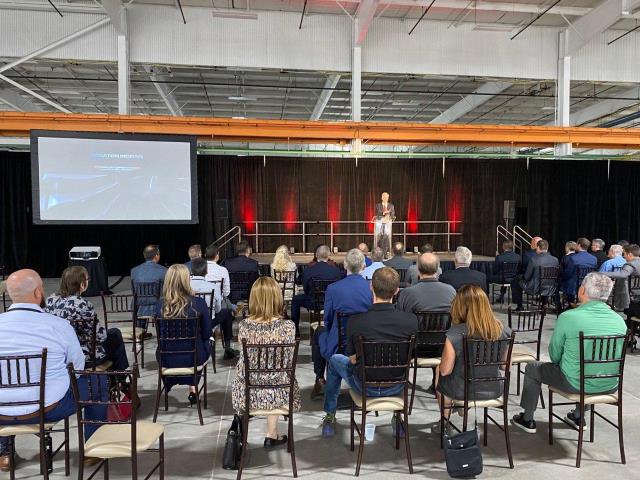 Honoring Kiwanis Club Member and WWII Veteran Jim Sharp
This week, I attended the Manhattan Solar Kiwanis Annual Banquet and presented Kiwanis Member and WWII veteran Jim Sharp with a flag flown over the U.S. Capitol. The flag was flown in his honor and in recognition for his service to our country.
Jim served in the 18th Infantry Regiment, 1st Infantry Division and fought in the Battle of the Bulge. After the war, Jim returned home to Kansas where he took a job with the Kansas Farm Bureau and later served as an Adjunct Professor at the Kansas State College of Business. He also joined the Kiwanis Club, where he has been a member for 57 years. Organizations like the Kiwanis Club play a vital role in our communities, serving the next generation and inspiring young Kansans to grow into servant leaders.
I want to thank Club President Naci Pelis and everyone else at the Kiwanis Club for their contributions to our state. I also want to extend a special thanks to Jim for his sacrifice, bravery and service to our country and to Kansas.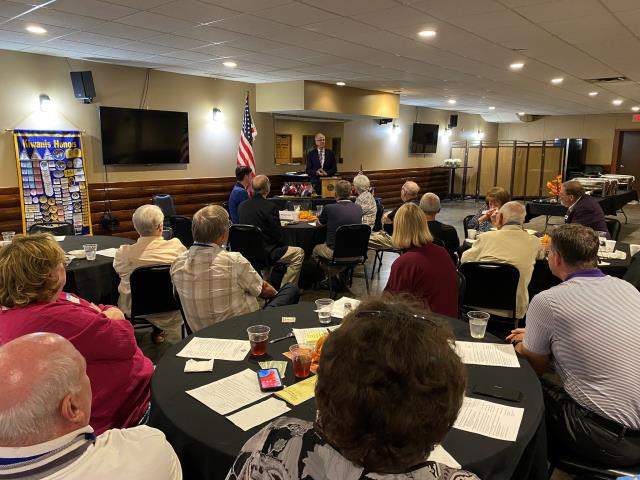 Listening Tour Stop in Liberal
On Wednesday, I was in Liberal to meet with residents, local leaders and members of the Liberal Chamber of Commerce. We discussed a number of issues important to the community including energy prices, inflation and the work that still remains to care for our nation's veterans. I appreciate everyone who attended and for offering their advice and input during the Listening Tour stop.
I want to thank County Commission Chair Ada Linenbroker, Commissioner C.J. Wettstein, Commissioner Jose Lara, Mayor Jeff Parsons, Sheriff Gene Ward, City Manager Rusty Varnado, State Representative Shannon Francis, State Senator Ron Ryckman, Sr., Liberal Chamber CEO Rozelle Webb for joining me.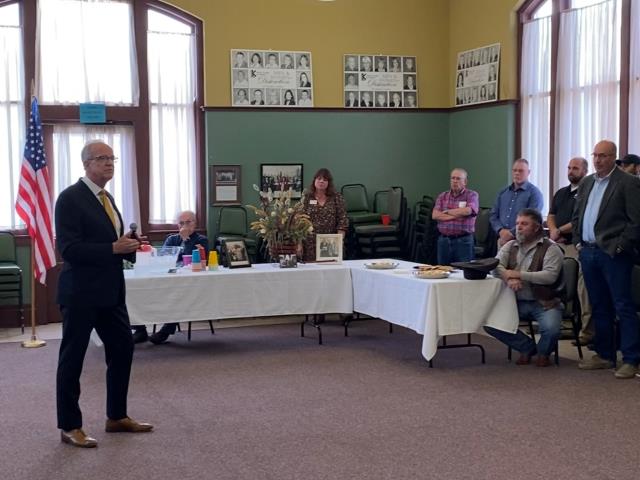 Touring Kansas High Schools
Meade High School
I visited Meade High School this week. Thank you to Principal Brandom Haynes for coordinating my visit and for his work to invest in young Kansas leaders. I also want to recognize Kenneth Harshberger for his last day in the Meade School District where he worked for 30 years, 14 of which were as superintendent. Thank you to Kenneth for his dedication to teaching the next generation and for the impact he made on countless students.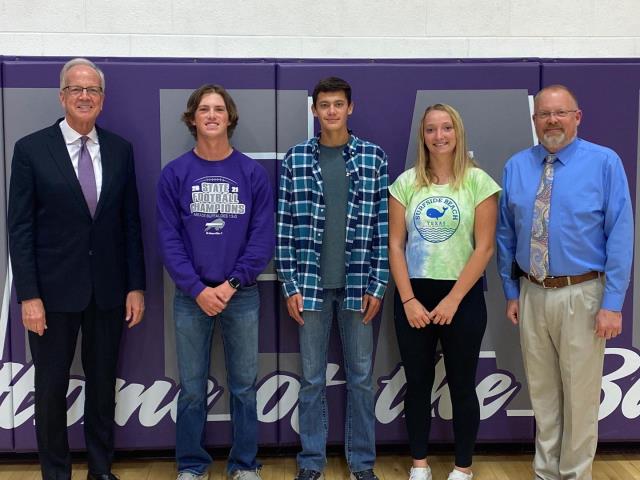 Satanta High School
I also enjoyed touring Satanta High School on Thursday and speaking with students and faculty. Thank you to Principal Victor Alvarado and everyone at Satanta High School for their efforts to invest in and equip the next generation of Kansans. A special thanks to all of the student leaders at Satanta for hosting me during my visit.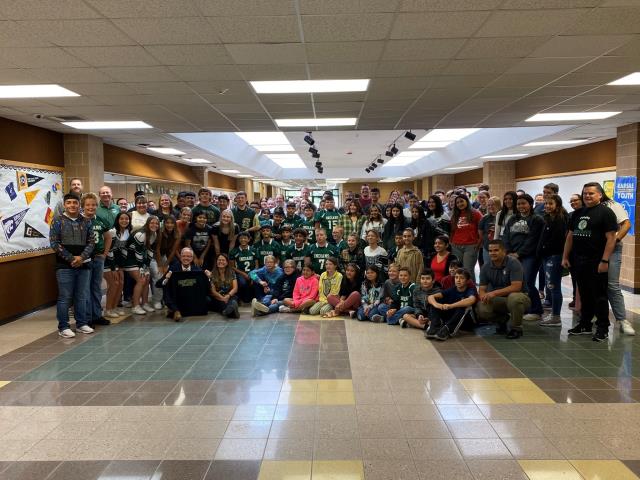 Abilene Rotary Club
I enjoyed speaking with members of the Abilene Rotary Club and other local residents this week. During our meeting, we discussed a number of issues impacting Kansans and spoke about the importance of making certain we invest in our communities through civic groups like the Rotary Club.
Thank you to everyone who joined to provide their input, and special thanks to the leadership of the Abilene Rotary Club for hosting me and for their work to invest in the local community.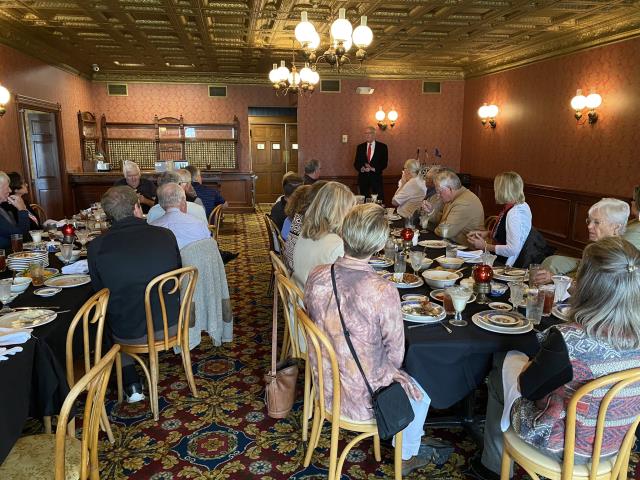 Touring Dickinson County Courthouse and Jail
I also visited the Dickinson County Jail and Courthouse to see the new jail and remodeled courthouse. County leaders highlighted the significant safety improvements that keep correctional staff, judges, patrons and other employees safe. As the lead Republican on the Appropriations Subcommittee that provides funding to the Bureau of Prisons, I am committed to making certain our prisons have the resources necessary to be effective and are safe for staff and the community.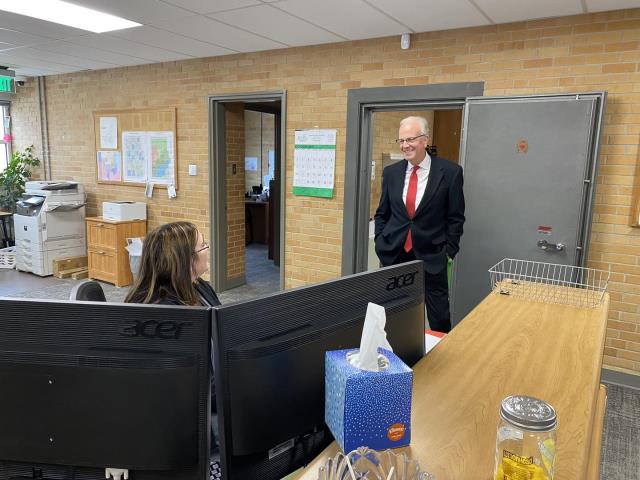 While there, I also had the opportunity to meet and speak with the men and women who work daily to protect and serve their local community. I want to thank them for their efforts and for the investment they are making in their community and our state. Thank you as well to Sheriff Davis and Commissioner Peterson for hosting me for this tour and to everyone who took the time to speak with me during this visit.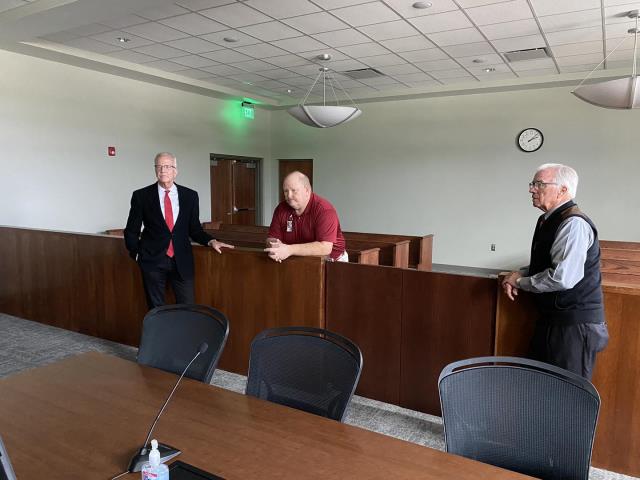 Fort Hays State University Homecoming Parade
It was great to be in Hays this weekend to participate in the Fort Hays State University (FHSU) Homecoming Parade. I always enjoy the chance to be back in Hays to visit with folks, and I appreciate those who took the time to speak with me during this weekend's celebration.
Condemning Iran for the Persecution of Women
I joined my colleagues in introducing a resolution condemning the death of Mahsa Amini, a 22-year-old Iranian woman whose killing in September by Iran's "morality police" sparked nationwide protests. The resolution also calls on the government of Iran to end its systemic persecution of women and celebrates the bravery of the Iranian people protesting Amini's death despite a violent crackdown by the Iranian government.
Mahsa Amini was a victim of the oppressive Iranian regime, and her death has fueled an uprising of thousands of courageous Iranians seeking justice. The Iranian regime may shut down social media, arrest journalists and fire on its own people to silence protests, but Iranians marching in protest make clear basic rights cannot be indefinitely denied.


Capitol Tour
Tim Emerson of Topeka

Kristin Emerson of Topeka

Veronica Emerson of Topeka

Presley Emerson of Topeka

Jessica Davis of Gardner

Addison Davis of Gardner

Avery Davis of Gardner

Colt Davis of Gardner

Dianne Lux of Olathe
Newsletter Sign-up Form
Note: Fields marked with an * are required.