Kansas Common Sense
Hosting World Food Programme Director Beasley at Food Packing Event
On Friday, I was with World Food Programme (WFP) Director David Beasley in Wichita to thank volunteers packing food for Ukrainian refugees. Director Beasley has served as the WFP Director for two presidents and brings an incredible passion for helping those in need. I am grateful for Director Beasley's leadership and thank him for joining me in Kansas.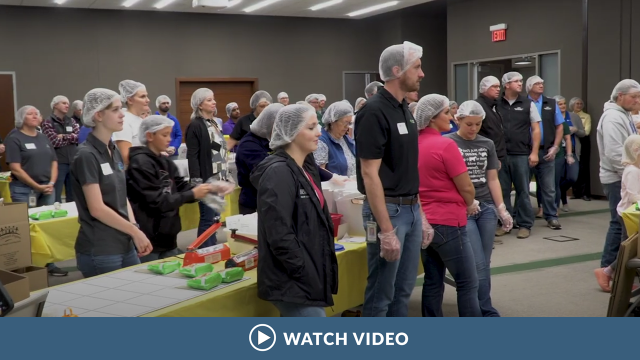 The call to feed the world has been answered by many Kansans. Each of us is taught at a young age that it is our duty to help those in need. Kansans take that moral responsibility to heart. From President Eisenhower's support of Food for Peace and Senator Dole's work to advance programs such as Dole-McGovern Food for Education, to Kansas farmers growing food to feed the world and volunteers this week packing food for Ukraine, Kansans have a long history of leading the fight to end global hunger.
As many as 828 million people face hunger in the world. Ukraine is known as the bread basket of Europe, and with Russia's unprovoked war in Ukraine, food supplies were dramatically cut off to the world. The needs today are tremendous. Famine is knocking on the door for millions of people because of Russia's invasion of Ukraine, natural disasters and the economic disruptions from COVID-19.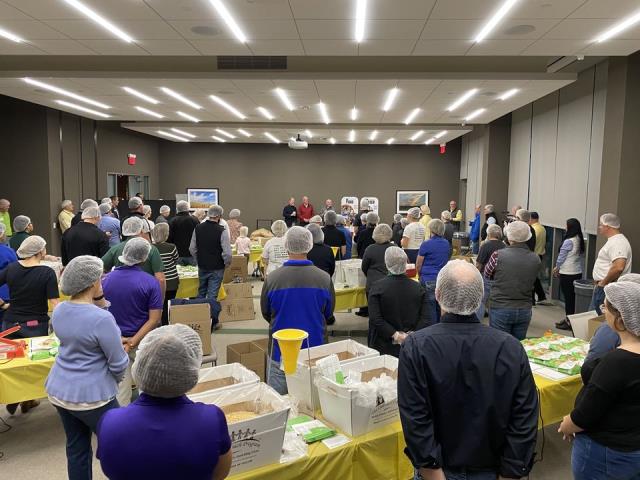 As a member of the Appropriations Committee and Co-Chair of the Senate Hunger Caucus, I am committed to working with Director Beasley to support international programs to fight hunger across the globe. This year, we were able to provide supplemental funding for international food aid programs in response to global food disruptions because of the war in Ukraine. In addition, we successfully worked in a bipartisan manner to call on the administration to utilize the Bill Emerson Humanitarian Trust, which is now being used to send U.S. commodities to help feed people in countries facing severe food insecurity.
I want to thank Rick McNary for his leadership in organizing this event. Friday was his last day with The Outreach Project, and I want to recognize his efforts throughout the years in the fight to end hunger. A special thank you to the more than 80 volunteers who packed approximately 10,000 meals of rice, grains and beans, and to American AgCredit for hosting this important event. Thank you as well to Doug Keesling, a farmer from central Kansas, who worked to facilitate partnerships between ag groups, including wheat, sorghum, corn and soybean as well as the Sedgwick County Farm Bureau, to help fund the packing.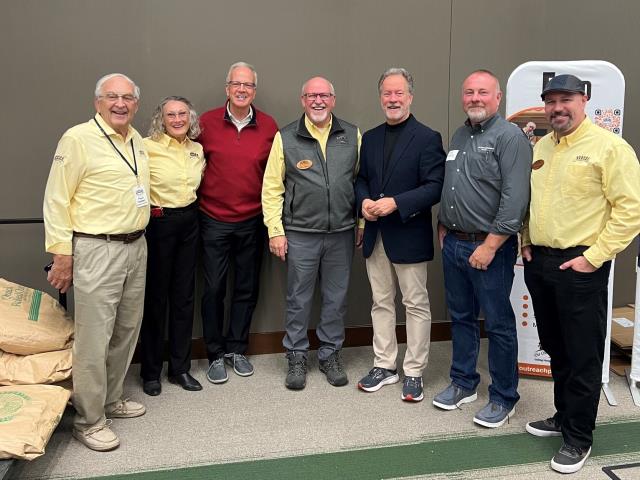 Grand Opening of Knowmadics at Groover Labs in Wichita

It was great to be at Groover Labs in Wichita on Thursday to celebrate the launch of the Knowmadics Cyber Security Center of Excellence, a collaborative workspace supporting entrepreneurs and tech workers in Wichita and throughout South Central Kansas. Kansas is a national leader in cybersecurity industry innovation and workforce development, and this new center is a testament to the valuable role Kansans play in protecting our national security.
While Wichita is well-known as the Air Capital of the World, diversifying the types of jobs and businesses in the city will help bolster the local economy and protect it from being too reliant on one industry. Since Wichita already plays a role in producing military aircrafts, expanding our defense production to include cybersecurity is a natural fit for this community.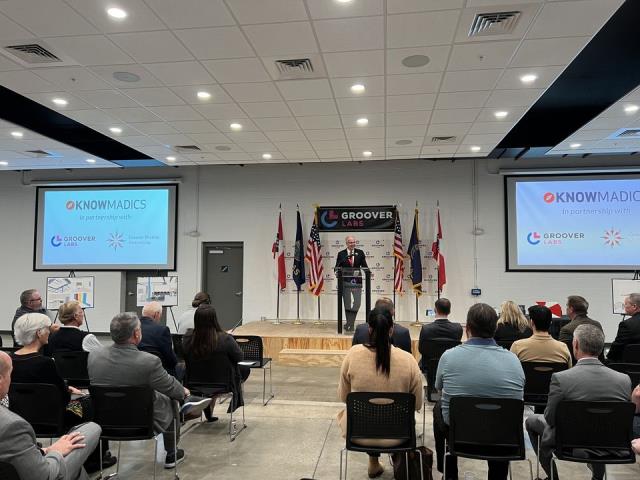 As a member of the Appropriations Subcommittee on Defense, I have worked to bolster our nation's cybersecurity to give our nation a decisive advantage in the cyber realm. I will continue to support increased investments in cybersecurity research, training and operations in Kansas, as well as work to facilitate partnerships like this one between Knowmadics and Groover Labs.
I want to thank Knowmadics CEO Paul Maguire, President Claire Ostrum and their teams for investing in the Wichita community. Thank you as well to Greater Wichita Partnership CEO Jeff Fluhr and his team for their efforts to support a thriving business community in the region. I also want to congratulate and thank Groover Labs co-founders Curt Gridley and Tracy Hoover for creating a collaborative work environment that allows entrepreneurs and tech workers to thrive.
Read more from KWCH
here
.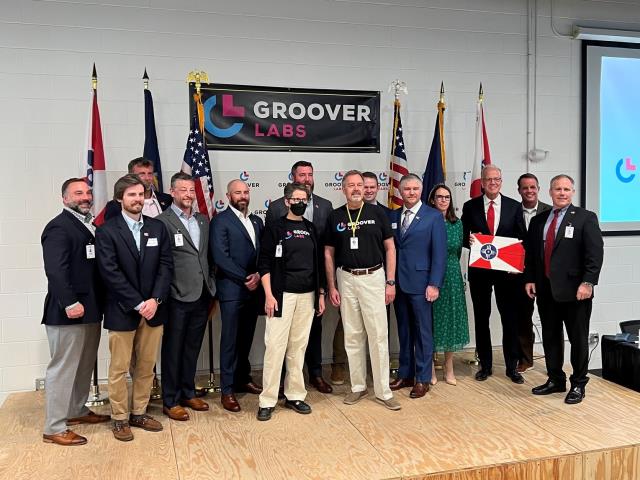 Announcing Schwan's New Expansion in Salina
On Thursday morning, I was with Schwan's leadership in Salina to announce a new expansion project for Tony's Pizza facility and Schwan's distribution center. I also had the opportunity to tour Schwan's new 400,000 square-foot manufacturing facility. This facility will use 99 acres of locally sourced wheat each day. Salina residents and all Kansans should be proud of the investment made here at home following an international search. The expansion will bring 200 new jobs to the area, and I'm pleased to see partnerships with community and technical colleges that are being developed to provide a ready workforce. I look forward to the announcement of additional facilities and expansions to come in the future.
Thank you to CEO Dimitrios Smyrnios for his ongoing work to make this project a reality. I want to congratulate Schwan's and the Salina community on the significant economic development for the region.
Read more in the Salina Journal
here
.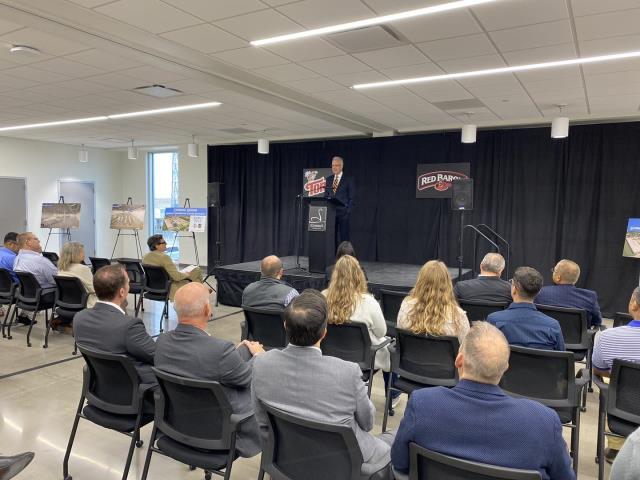 Visiting WAVE Venue in Wichita
I stopped by WAVE, a concert and event venue in Wichita, to visit with co-owners Adam and Jessie Hartke. In 2020 when businesses had to shut down due to the COVID-19 pandemic, Adam accepted my invitation to testify before a Senate Commerce Committee hearing to advocate for efforts to help event venues like his stay in business during the pandemic.
His testimony helped lead to the passage of the Save Our Stages Act, which provided resources to businesses in the entertainment industry. These resources helped thousands of businesses like WAVE keep their employees on the payroll and the bills paid until they were able to resume live concerts and events.
It was great to see WAVE is back open with a line-up of upcoming events and concerts. Thank you to Adam and Jessie for sharing how their business is a place where people in the community can set aside their differences and come together to enjoy good music and time with family and friends.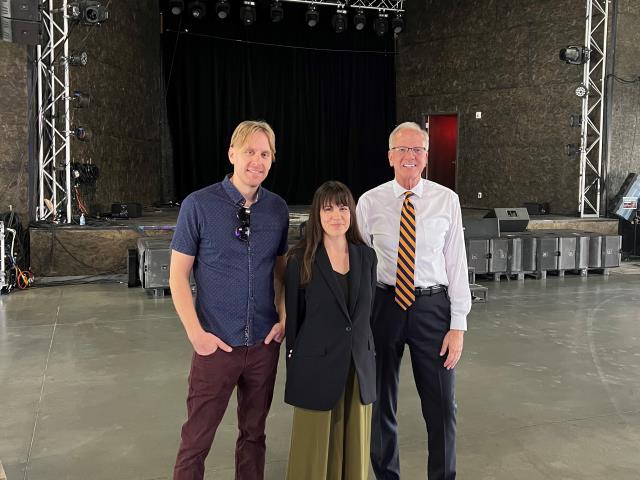 Ribbon Cutting for Fanestil Meats New Facility
On Friday, I was in Emporia to attend the ribbon cutting for the new 40,000-square-foot Fanestil Meats facility. This new center will replace the original Fanestil processing plant that was located in a flood plain. Moving the facility out of a flood plain is critical to continuing to have economic prosperity in the area, protecting jobs and reducing the chance that federal funding will be required in the event of a future disaster.
In small communities every business counts, and Fanestil Meats is no exception. By providing jobs, quality products and economic revenue, this business has been an important part of the community for more than 80 years. During the pandemic, when Fanestil Meats encountered supply chain issues regarding de-boned pork and chicken, they adapted and began processing and de-boning pork and chicken themselves at their facility.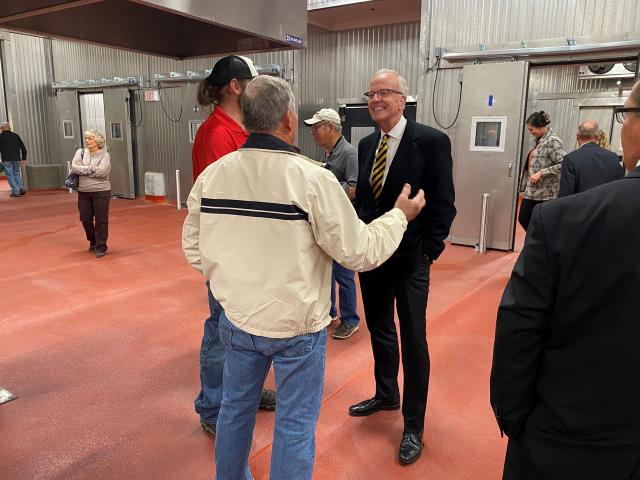 The Smoots represent our great state well, and I want to congratulate them on the opening of their new facility. I look forward to continuing to work with Fanestil Meats and their continued investments in our state.
Read more in the Emporia Gazette
here
.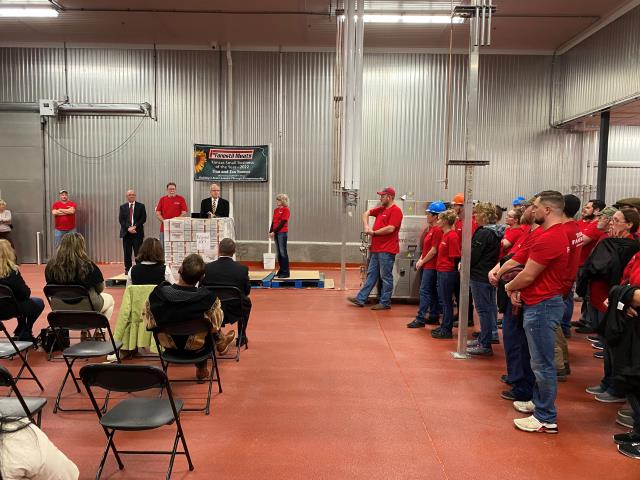 Groundbreaking of Citizens Health Medical Center's New Facility
I was in Colby this week to celebrate the groundbreaking of the new Citizens Health Medical Center facility. A backbone of the Colby community since 1941, Citizens Health is an excellent example of how a community develops and expands around access to quality health care. The current facility, built in 1982, has served Colby well as Citizens Health's patient base has grown significantly. Citizens Health and its leadership identified the need to expand their capabilities and immediately acted to make certain northwest Kansas continues to have access to quality health care.
The new facility will allow Citizens Health to maintain its current services while expanding operations within its new state-of-the-art building. It is investments like the one Citizens Health is making with its new facility that will improve health care in Kansas' communities and protect our state's way of life. I look forward to returning in 2025 for the grand opening of this new facility. Thank you to Greg Unruh, David McCorkle and Bob Standage for their leadership throughout this process and to the entire staff for their dedication to northwest Kansas.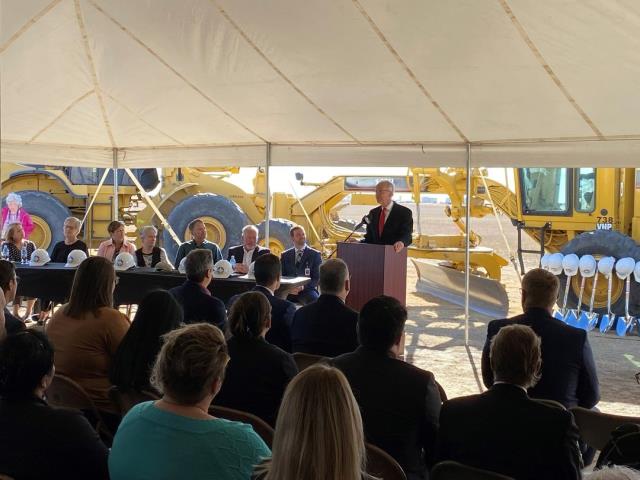 Historic Donation for McPherson College
Friday was an exciting day for McPherson College as it announced an historic $500 million match commitment from a generous anonymous donor. I appreciated being invited by McPherson College President Michael Schneider to participate in this announcement and particularly want to thank Melanie and Richard Lundquist for also announcing their $50 million commitment to the college. The Lundquists are a great example of how folks from outside of Kansas have recognized the talent Kansas has to offer and have chosen to invest in the education of our students.

This donation highlights the importance of a small college education and the unique programs offered by McPherson College, including the four-year automotive restoration degree and the community health care initiative to train students for careers in rural health care. Education gives individuals the chance at success and achieving their dreams. We can't always determine the outcomes, but we can help provide the opportunities for success. That is what this gift will do for so many students. I appreciate Mayor Tom Brown, State Senator Rick Wilborn, Kansas Independent College Association President Matt Lindsey and McPherson College student Victoria Bruno for joining us at the announcement.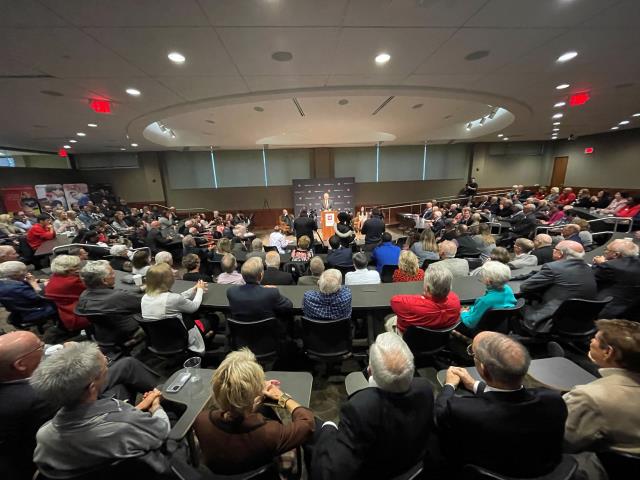 Touring Plastics Extrusion Machinery in McPherson

This week, I toured Plastics Extrusion Machinery (PEM) in McPherson where just recently, PEM's 75 employees moved into their new corporate headquarters and manufacturing space. The employees I visited with demonstrated the talented workforce and the great careers available in Kansas. I am committed to working with our higher education institutions in Kansas to make certain that quality programs are offered to help establish high-skilled manufacturing labor pipelines for businesses like PEM.
I was also impressed with the values that PEM holds as a business, including its support for "Water 4 Haiti," a non-denominational ministry that seeks to help and improve the lives of the people of Haiti by providing clean water resources. I want to thank PEM's Nathan Spearman, President and CEO, and Brent Edmisten, COO, for the invitation and for providing the tour of their facility. Thanks as well to Katie Sawyer, Senator Rick Wilborn and Mayor Tom Brown for joining me.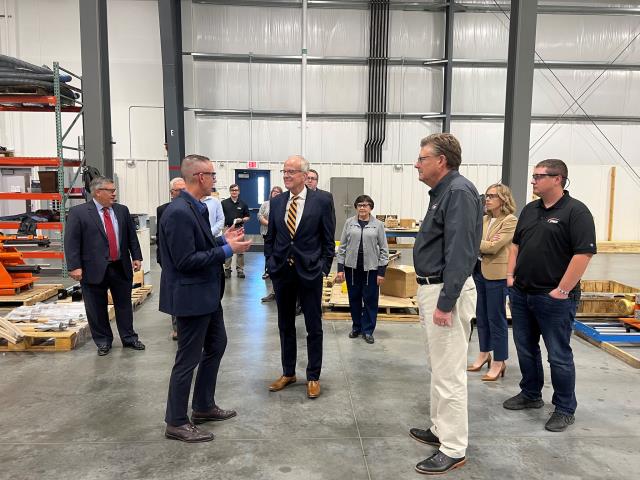 Touring Pinnacle Aerospace in Wellington
On Thursday, I was in Wellington to visit the site of Pinnacle Aerospace, a plant that currently builds metal components for commercial and general aviation, as well as for defense contracts and the rapidly growing space industry. As a member of the Senate Appropriations Subcommittee on Defense, I am committed to facilitating partnerships that will bring more jobs to Kansas where we have educational programs and a talented workforce to support this growing industry. These jobs do more than just support a strong state economy. They also protect our national security and contribute to keeping Americans safe.

During my discussion with Pinnacle Aerospace President Scott Brown, he told me that Wellington was selected because he was familiar with the local community and knew it was home to a skilled workforce. As Pinnacle Aerospace grows, Scott intends to hire 155 employees within the next five years. I want to thank Scott, Occidental Management President and CEO Gary Oborny and Pinnacle Aerospace General Manager Doug Mattingly for hosting me and for their efforts to invest in our state. I also appreciate State Representative Bill Rhiley joining me for this tour.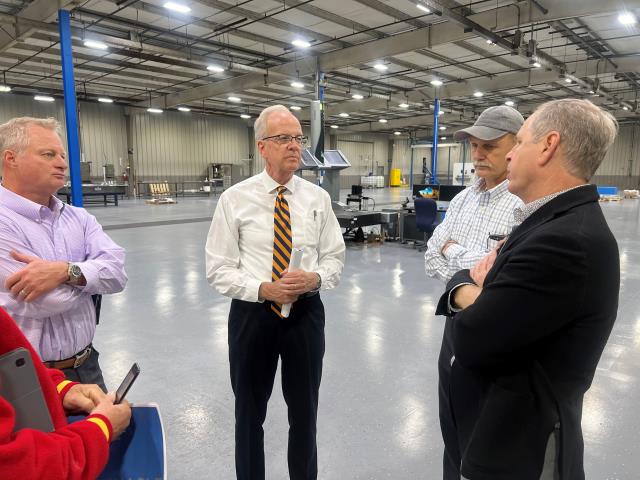 Speaking to the Wichita Chamber of Commerce
On Thursday, I joined members of the Wichita Chamber of Commerce to discuss a number of issues important to the community. The discussion included enhancing Wichita's role as Air Capital of the World, supporting economic development in the region, rising inflation, the importance of energy independence and concerns about draining the Strategic Petroleum Reserve and national security, particularly related to China and Russia. We also spoke about the importance of investing in the community and in our local law enforcement, as well as remaining engaged in civic organizations.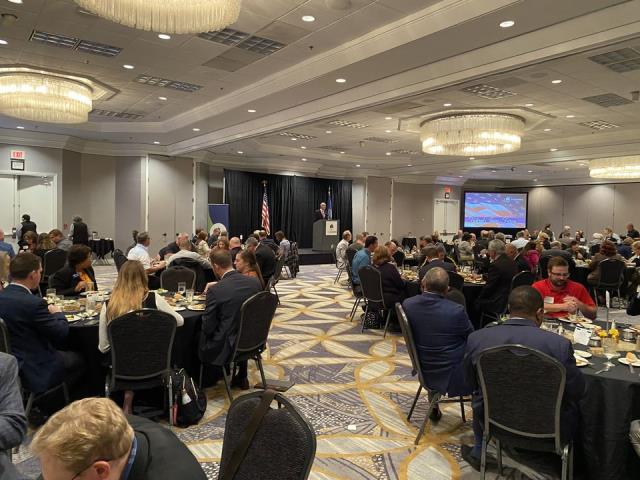 Thank you to Wichita Chamber Chair Damon Young and CEO Jon Rolfe for the invitation. Special thanks to Coleen Jennison of Cox Communications for the introduction. Thank you as well to the local, county and state elected officials who joined us.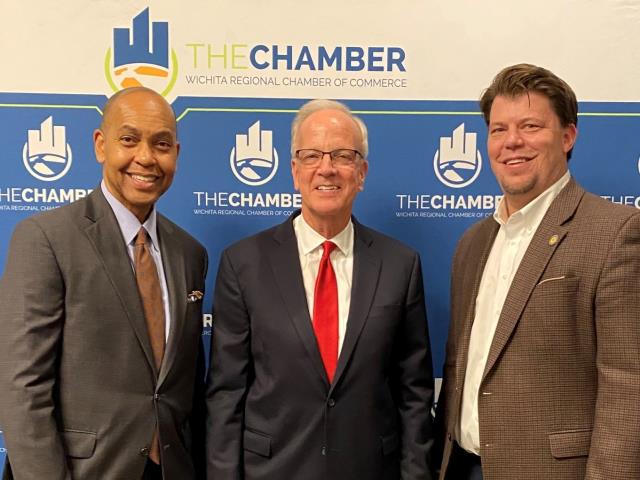 Providing Keynote Address for Associated General Contractors of Kansas
It was great to join members of the Associated General Contractors of Kansas (AGC of Kansas) to provide the keynote address for their Annual Officer Installation Meeting. During my remarks, I thanked this group for its leadership in workforce development and emphasis on the importance of promoting a strong work ethic in pursuit of the American Dream. We also discussed concerns about inflation and the administration's energy policy.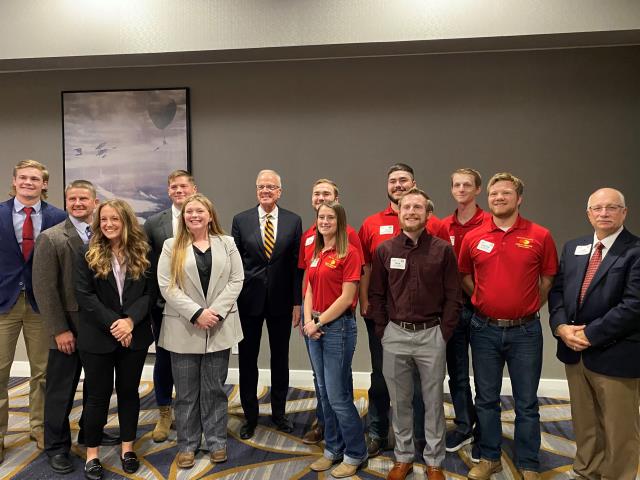 It was also an honor to administer the oath of office for AGC of Kansas' incoming Officers and Board of Directors. I want to congratulate incoming Board Chair Dean Youngers and thank outgoing Chair John Walker for his service. Congratulations as well to my friend Dr. Steve Scott, recently retired Pittsburg State University President, on receiving the AGC Outstanding Leadership Award in recognition of his successful work growing Pittsburg State's School of Construction and forging a strong partnership between the construction industry and our state's educational institutions. I was also honored to receive the Kansas Construction Industry Award during this event. Thank you to AGC of Kansas Executive Vice President Mike Gibson for the invitation and to the local and state officials who joined as well.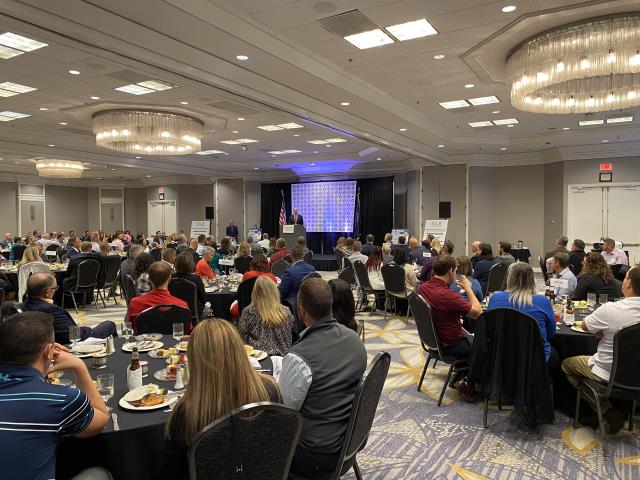 Visiting Kansas Schools
Washburn Tech
On Monday, I toured Washburn Tech in Topeka with Dr. Mike Strohschein, Dean of Washburn Tech, and Marshall Meek, Washburn University Interim President. It was great to see firsthand the work being done on campus to train the next generation of professionals in trades that are in high demand in today's job market. At Washburn Tech, students are equipped for careers in technical fields and are prepared to enter the workforce immediately upon graduation.

I want to thank Dean Strohschein and Interim President Meek for hosting me and for their efforts to teach Kansans valuable skills.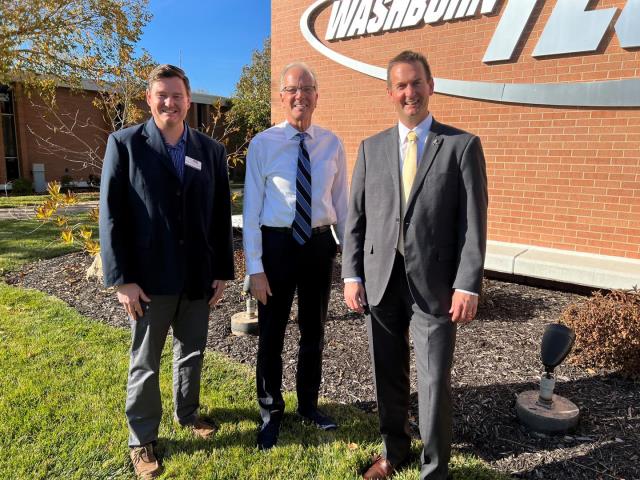 Sterling College
During a visit to Sterling College this week, I toured the new Gleason Physical Education Center, which recently opened to students after a major addition and renovation. The students and staff are thrilled to have this upgraded facility, and it now plays an important role in student recruitment. In addition to housing Sterling College's athletics, the Gleason Center also provides classrooms for physical education programs.

Private colleges like Sterling College have a significant economic impact for our Kansas communities, contributing a combined $1.1 billion to our state's economy just last year alone. I want to thank Dr. Rich and his team for the opportunity to visit.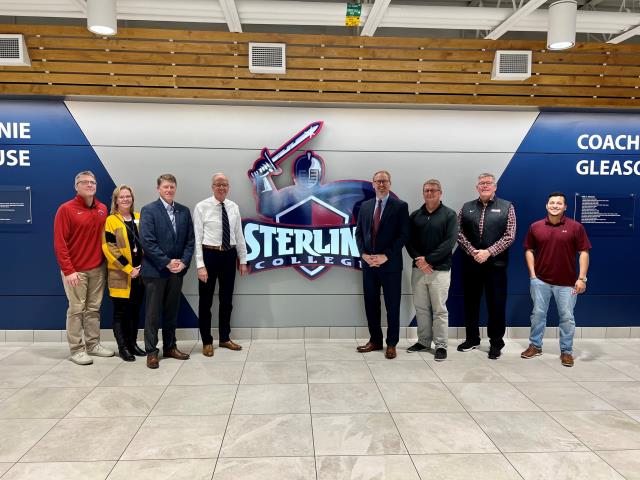 Lyndon High School
With the fall semester well underway, it was great to stop by Lyndon High School to hear from students and meet with administrators. I appreciate Brad Marcotte, Lyndon High School Superintendent, and the students for giving me a tour this week.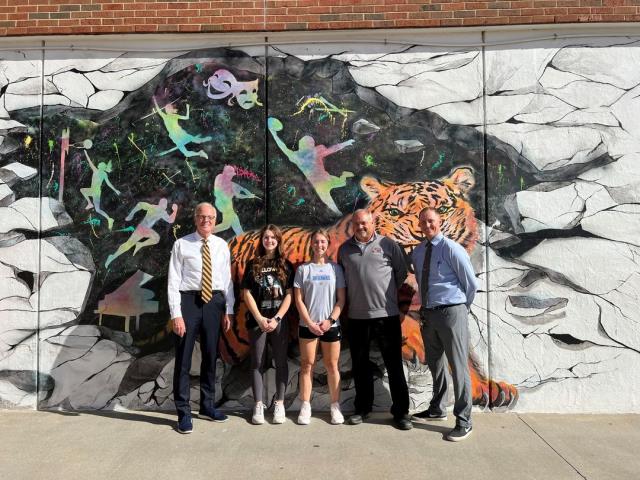 Smoky Valley High School
I enjoyed the chance to visit with students at Smoky Valley High School in Lindsborg earlier this week. Thank you to Principal Scott Lee for hosting me during this tour.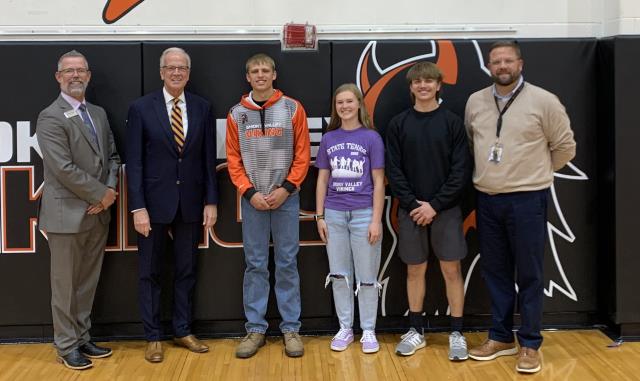 Hoxie High School
I also visited Hoxie High School to visit with students and faculty members about the fall semester. Thank you to Principal Carey Fose for hosting me.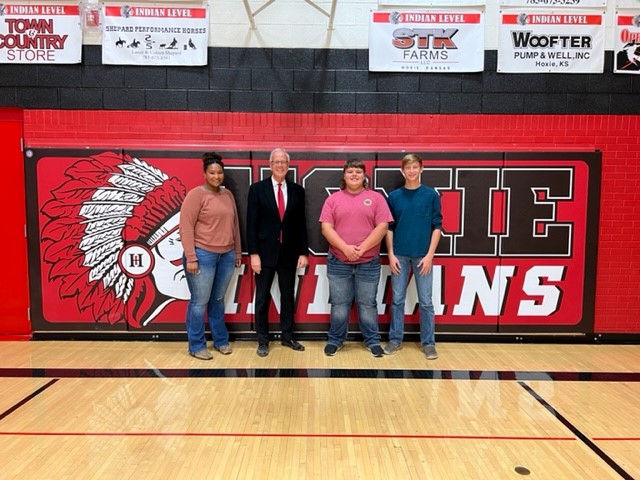 Wheatland High School
I also visited Wheatland High School this week. I want to thank Superintendent Gary Krause for his invitation and tour.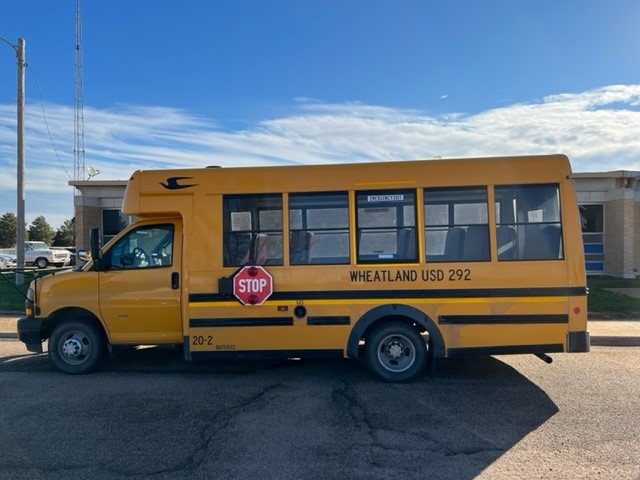 Visiting Hill City
This week, I was at the USDA Service Center in Hill City to visit the offices of the National Resources Conservation Service and Farm Service Agency. I also stopped to speak with folks at the Money Truck Center, Hill City Times and First State Bank. It was great to visit with Hill City residents and to hear an update on what is happening in the area.

Veterans Day Parade in Independence
I enjoyed the chance to visit with folks in Independence on Saturday during the Veterans Day Parade. Thanks to everyone from the community who joined for this great event. It was a special honor to speak with Jack DeVera who served during Vietnam and whose son also served in the military. There is no group of Americans I hold in higher regard than our nation's veterans, and I want thank each of them for their sacrifices and dedication to our country.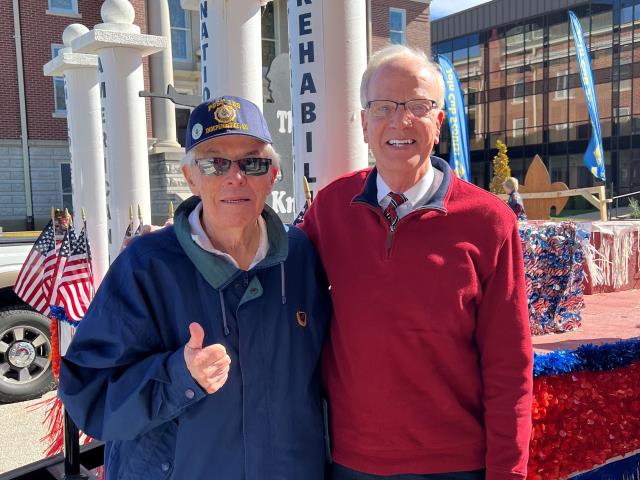 Military Family Month
November is Military Family Month, a time to recognize and thank our military spouses and families for their sacrifices and dedication. I recently met Monica Bassett, the 2022 Army Spouse of the Year, who is stationed at Fort Riley with her husband. Her story is a true inspiration and example of service to one's country.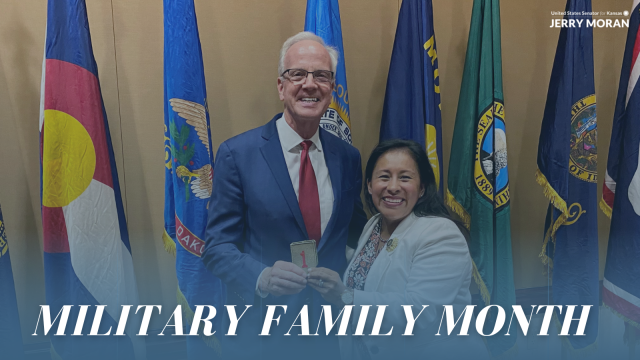 Kansans in the Office

Capitol Tour
Courtney Allen of Wichita

Jeffery Bartel of Wichita

Erin Bartel of Wichita

Patricia Case of Louisburg

Anne Erbert of Hays

Ava Erbert of Hays

Bryan House of Paola

Leigh House of Paola

George Hopper of Topeka

Cindy Hopper of Topeka

Bella Hopper of Topeka

Janie Jones of Topeka

Loy Paxton of Topeka

James Rockers of Louisburg

Steve Stoltenberg of Olathe

Wanda Stoltenberg of Olathe
Newsletter Sign-up Form
Note: Fields marked with an * are required.