Kansas Common Sense
Welcome to "Kansas Common Sense." Thanks for your continued interest in receiving my weekly newsletter. Please feel free to forward it on to your family and friends if it would interest them.
Recognizing Kansas WWII Veterans with Congressional Gold Medal
The Congressional Gold Medal is an award that represents the highest expression by Congress for distinguished achievements and contributions to the country. On Friday, I had the honor of presenting two of these medals to World War II veteran Johnie Baima and the family of his late twin brother Louie Baima.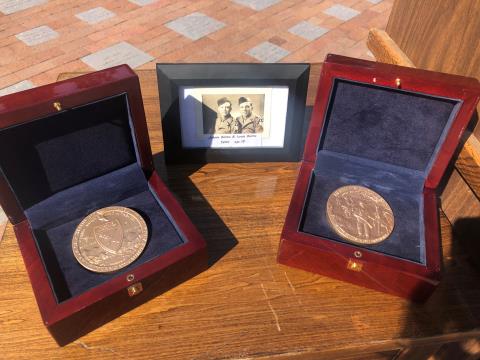 At 18 years old, these two southeast Kansas men raised their right hand and swore an oath to defend our country. At a time when siblings were often not allowed to fight in the same unit, they refused to be separated. These two served in the China, Burma, and India Theatre in World War II and fought through some of the thickest, most dense jungles in the world to push back against Japanese forces.

As the Merrill's Mauraders were killed in action or became sick, backup soldiers were sent to join this elite group of soldiers. Johnie and Louie were among the reinforcements sent to join the Merrill's Mauraders.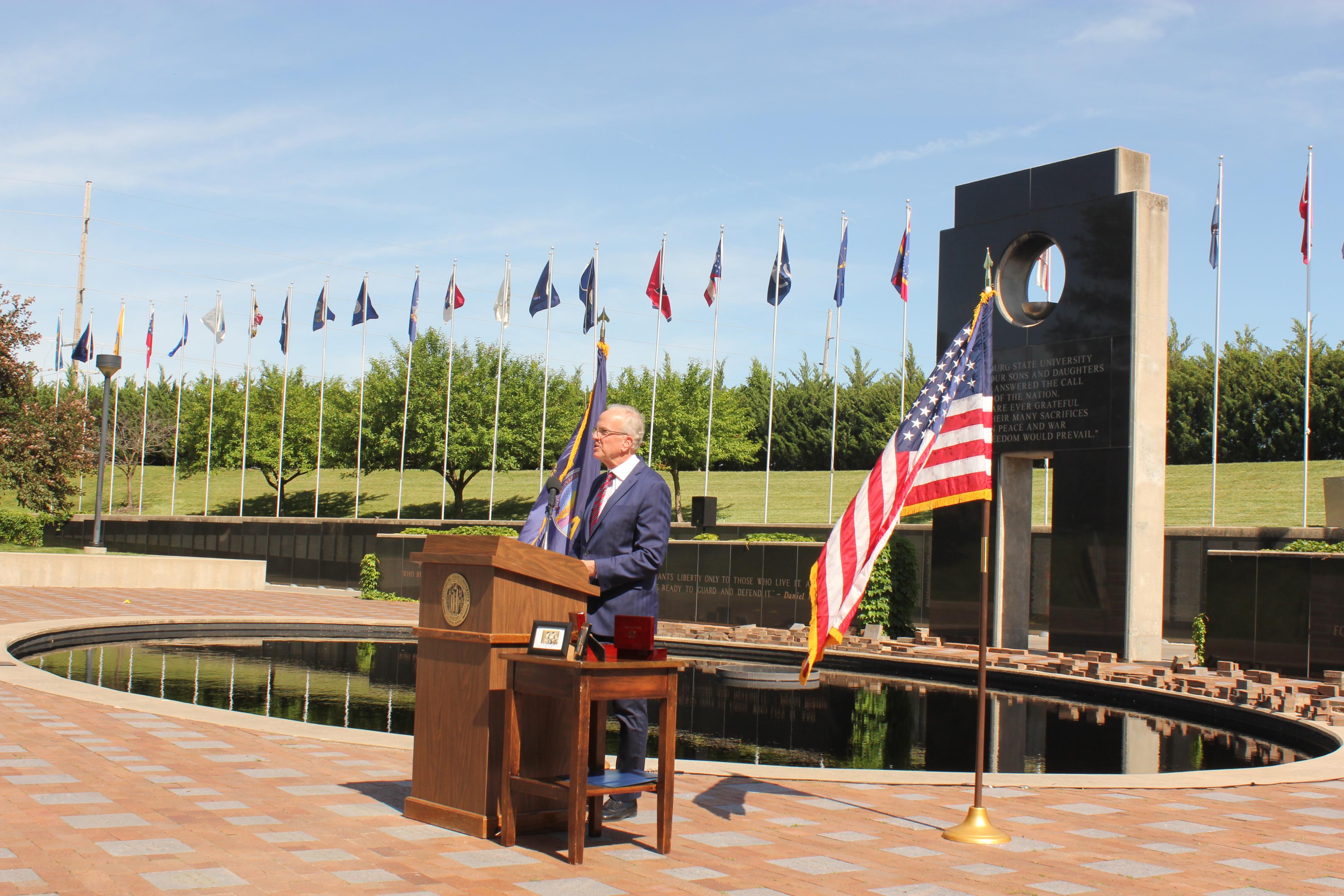 In 2020, the Merrill's Marauders Congressional Gold Medal Act became law to recognize the "bravery and outstanding service in the jungles of Burma in World War II." On May 25, the Merrill's Marauders Congressional Gold Medal was officially released by the U.S. Mint. I was honored to present these medals and recognize two of Kansas' World War II veterans.

Thank you to Lt. Col. Tim Senecaut and Pastor Rick Bartlett for helping me recognize these veterans and to Pittsburg State University for helping organize the event at the Veterans Memorial.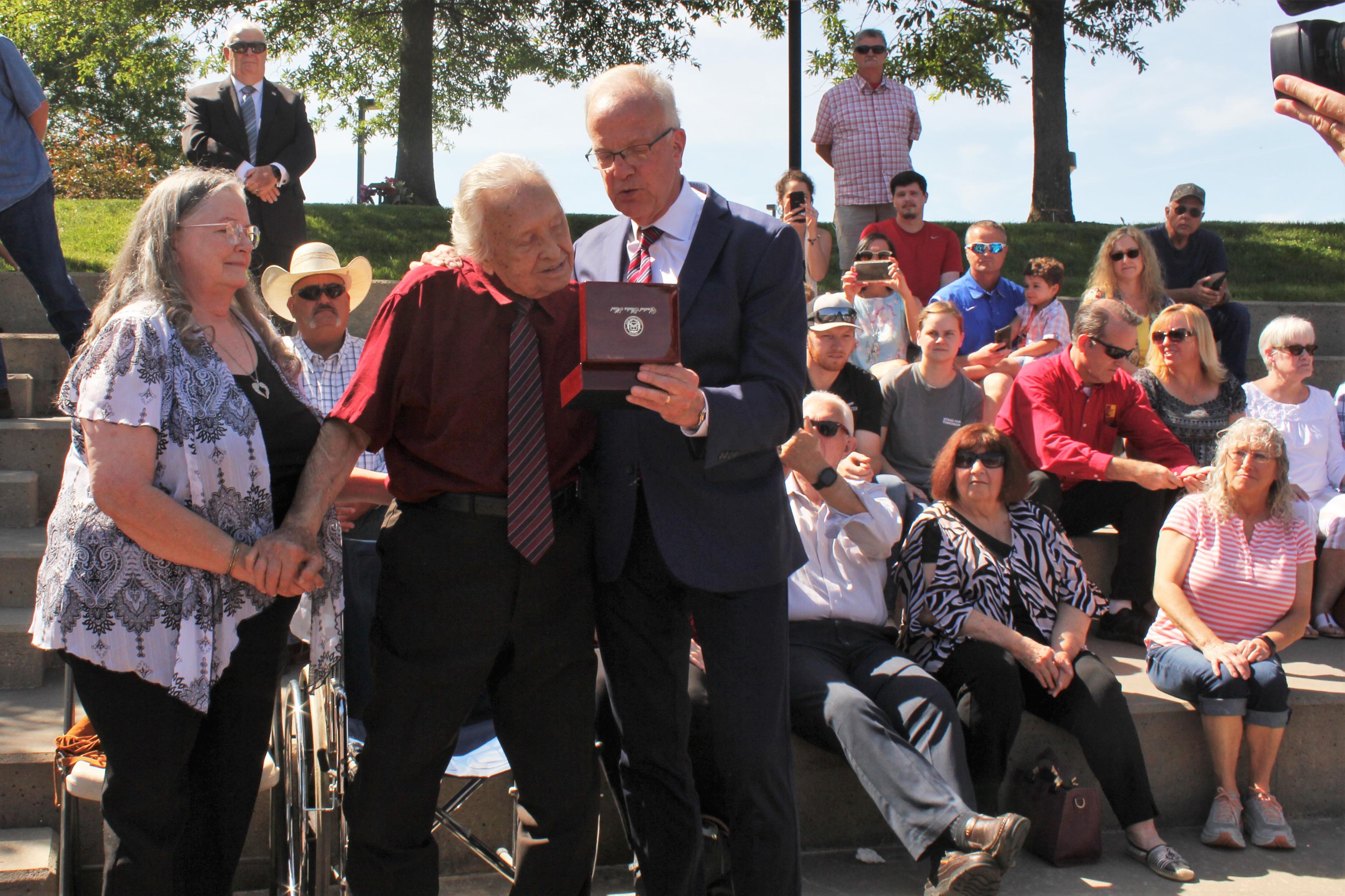 Bringing New Space Manufacturing to Kansas
In July 2020, I visited Fatih Ozmen, CEO of Sierra Nevada Corporation (SNC), and his wife, Eren Ozmen, President of SNC, at their headquarters in Louisville, Colorado. During the tour I received an overview of the Dream Chaser, their reusable spaceplane, and did a tour of their production floor. During the visit, I extended an invitation to host Fatih and Eren Ozmen in Wichita to witness our capabilities and see how Wichita could play a role in helping SNC achieve their goals.

In March 2021, I was pleased to host Fatih and Eren Ozmen at Spirit AeroSystems and discuss future partnerships. Last week, Sierra Space and Spirit AeroSystems announced the formation of a long-term strategic partnership to further facilitate growth within the commercial space industry. This historic announcement between Sierra Space Company, a subsidiary of SNC, and Spirit AeroSystems is a result of those initial conversations in 2020, and an exciting first step in the partnerships to come. I'd like to thank Fatih and Eren Ozmen for taking the time to visit Wichita and see our capabilities and talented workforce first hand. I look forward to continuing to strengthen the relationship between our state and their incredible company for years to come.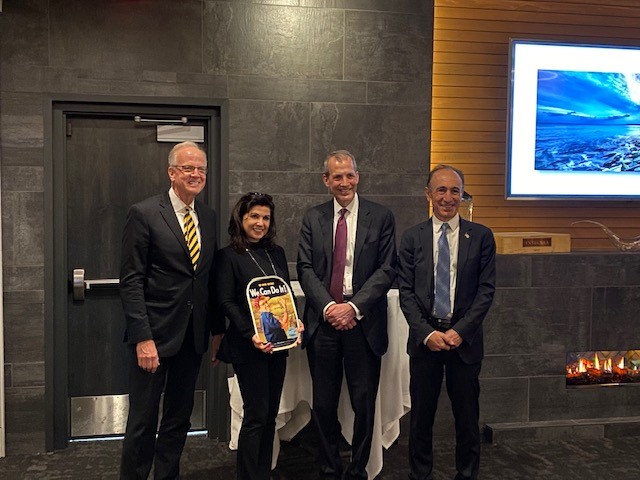 Stonepost Lofts Ribbon Cutting and Grand Opening
On Tuesday, I joined the Hays community for a ribbon cutting and the grand opening of Stonepost Lofts. Formally Washington Elementary School, the school was purchased by Overland Property Group from the USD 489 school district and transformed into an 18-unit family housing development. I commend those who had a hand in making certain the school building didn't remain vacant and sought to utilize the building to fill a need that every community in Kansas desperately has. In nearly every community I visit in Kansas, the topic of more housing comes up. I know well the important role affordable housing plays in the growth of our Kansas communities and businesses.

As a member of the Senate Committee on Banking, Housing & Urban Affairs, I am grateful for the opportunity to help support projects like this one through a federal tax credit program to make sure Kansans have access to good homes. Thank you Overland Property Group, the City of Hays, USD 489 and all who worked on this project to help ensure that Hays residents have access to high-quality, affordable housing. I'd also like to thank Joshua Yurek, Director of Governmental Affairs for Midwest Housing Equity Group, and Matt Gillam, Managing Partner for Overland Property Group for the invitation to participate in this celebration.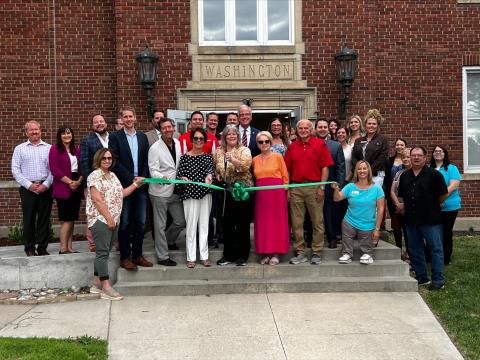 Celebrating 100 Years of Lions Club
As a Lions Club member for more than 40 years, I was grateful to address the 100th Anniversary Kansas Lions State Convention Friday afternoon and celebrate the 17 Lions Clubs across Kansas that have served their communities for a century.

Organizations like the Lions Club, which focus on service in their communities and around the world, provide a place to come together to make good things happen by working alongside our neighbors. I hope through civic clubs like Lions we can recommit ourselves to engage in our communities, in people's lives and help address the challenges we face together.

It's important we preserve that spirit of "We Serve" to continue making a difference in our communities for the next 100 years. Thank you to Pittsburg Lions Club President Lori Horton for the invitation to speak and to past international President Ed McCormick for his kindness.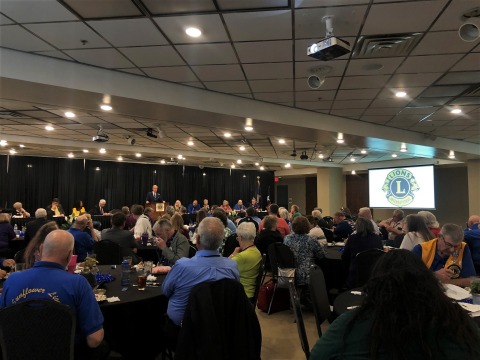 Ribbon Cutting for Topside Manor
While in western Kansas, I had the privilege to attend the ribbon cutting for Topside Manor Nursing home in Goodland. This new nursing home will provide quality care to seniors in western Kansas. Access to a nursing home in rural Kansas helps families stay in their own communities while being able to love and care for their aging mother or father. The people of Goodland came together and worked to meet a need they saw in their own community. When people work together, they can accomplish great things. Special thanks to Kansas State legislators in attendance Sen. Caryn Tyson, Sen. Rick Billinger, Rep. Adam Smith and Retired Sen. Ralph Ostmeyer as well as Ron Shilling, Kevin Rasure and Gennifer Golden House.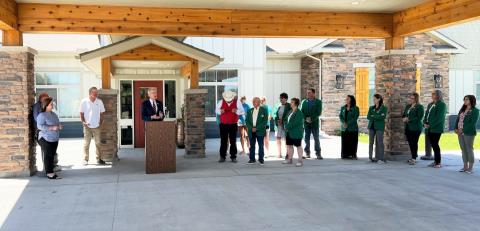 Speaking at Colby Rotary
Thank you to the Colby Rotary for allowing me to speak to them on Tuesday. We spoke on the rising agriculture input prices, the foreign food crisis due to the Ukraine war, the importance of community and tech colleges in rural America, and making certain that our rural hospitals and small businesses stay open by providing adequate broadband and resources. I discussed how Rotary clubs like the one in Colby could apply for grants to help with the mental health crisis in rural America. Thank you Rep. Jim Minnix, Sen. Caryn Tyson and retired Sen. Ralph Ostmeyer for joining us. Thank you again to Jen Schoenfeld for allowing me to speak and to hear about important issues Colby is facing.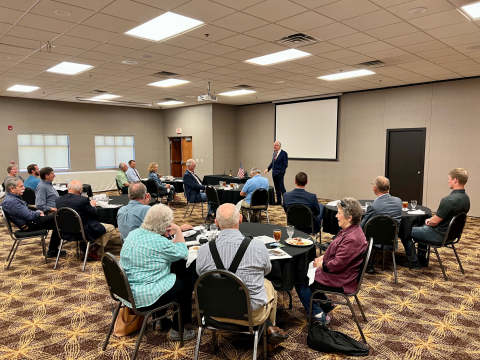 Meeting with Fort Riley Leaders and Supporters
This week, I joined the monthly luncheon meeting of the Manhattan Chamber of Commerce Military Relations Committee. As Ranking Member of the Senate Veterans' Affairs Committee and a defense appropriator, I was pleased to share progress that has been made in supporting Fort Riley soldiers, families and veterans. This progress included the success of Irwin Army Hospital, the groundbreaking of new on-post schools that I successfully advocated for as part of the National Defense Authorization Act, as well as efforts to secure additional on-base soldier housing. I also appreciated the chance to provide an update on my legislation to address toxic-exposed veterans

During my recent visit to Europe as a member of the NATO Observer Group, I was especially honored to share how proud I was of our First Infantry Division soldiers and the important role they played in training the Ukranian military. Thank you to Christine Benne and Janet Nichols for the opportunity to participate in today's meeting. Thank you also to Fort Riley Garrison Commander Colonel William McKannay for sharing all that is being done to support military members and their families as they transition to civilian life, as well as to Deputy Commanding General Niave Knell for her leadership while Commanding General Meyer is deployed in Europe. Special thanks to folks in the Flint Hills region for the exceptional support they provide to our military community.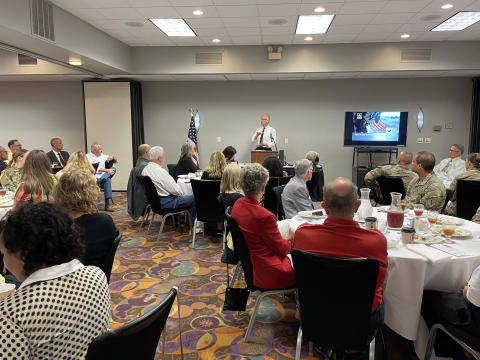 Visiting Southeast Kansas
Announcing Federal Resources for Pittsburg
I appreciated the opportunity to help announce new federal investments in the Pittsburg community on Friday. Over the past year, I have worked closely with city officials and the Pittsburg Police Department to identify federal resources that will continue to help this area grow.

These investments will help Pittsburg replace its aged water treatment plant and expand its capabilities to accommodate industrial growth in the region, preserving hundreds of local jobs and supporting the creation of new ones.

Thank you to Pittsburg City Manager Daron Hall, Pittsburg PD Chief Brent Narges and all the city officials who worked closely with us to make certain these resources are used in a way that is beneficial to Pittsburg. I also appreciated speaking with the entire city commission and Kansas State Rep. Chuck Smith.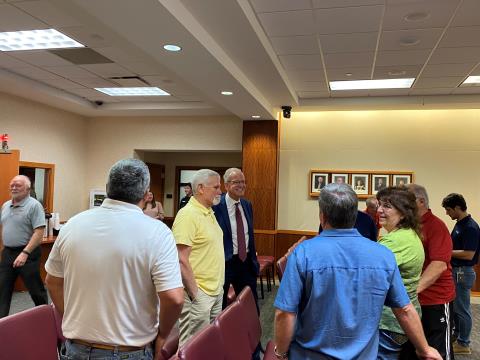 McCune Farm to Market
It was also great to stop by McCune Farm to Market on Friday, a family-owned grocery store, meat locker and restaurant that caters to locally produced goods. Last year, they obtained a USDA grant through a program I supported to obtain a federal grant of inspection, which will allow local producers to expand their market to a wider customer base.

It was an impressive establishment, and I appreciated Connie Egbert for showing me their operation. Local cafes like this one are an important aspect of keeping small towns alive and helping reduce the food deserts in rural areas. Thank you to the Schenker family for your efforts and your commitment to southeast Kansas.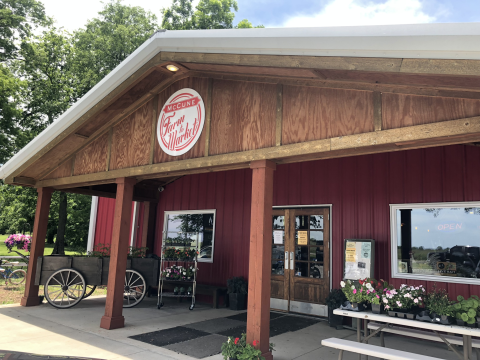 New Federal Investment in Parsons Police Department
Later in the afternoon, I joined the Parsons Police Department, Fire Department, city officials and local leaders to announce federal resources for the community to acquire a force simulator for local law enforcement. This 360-degree simulator will play an important role in training officers for a wide-range of interactions they may have while in uniform.

This announcement would not have been possible without local leaders voicing the need for this training tool. Federal investments are best made in conjunction with those that know their community best, and I appreciate their work to make certain federal investments are locally-driven. Thank you to Parsons City Manager Debbie Lamb for the kind introduction, Police Chief Robert Spinks for your advocacy, Public Safety Advisory Board Members, City Commissioners Verlyn Bolinger, Kevin Cruse and Eric Strait along with local leaders for attending and especially to the entire police and fire department for your dedication to keeping your community safe.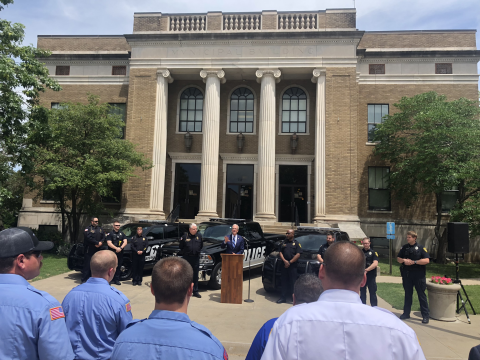 Visiting Arma
While in SEK, I also stopped by Arma and was able to receive an update from local city officials and the police department on local happenings. I also appreciated catching up with friends at Fox Insurance Agency. Locally-owned businesses like the ones in Arma are what helps keep small communities alive throughout Kansas.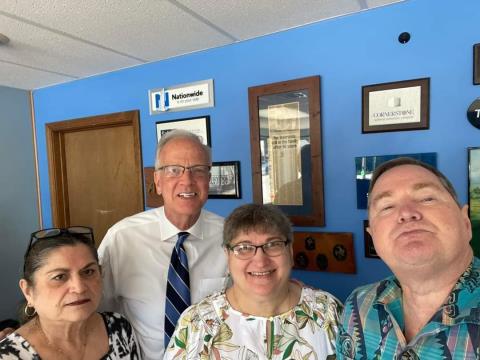 Touring Veterans United Home Loans
Veterans United Home Loans helps veterans utilize the benefits from their service to purchase homes and find success in their life after service. I appreciated the opportunity to meet with the co-founder of Veterans United Home Loans Brant Bukowsky. I appreciate the great work this organization does to serve our veterans and employ hundreds of Kansans.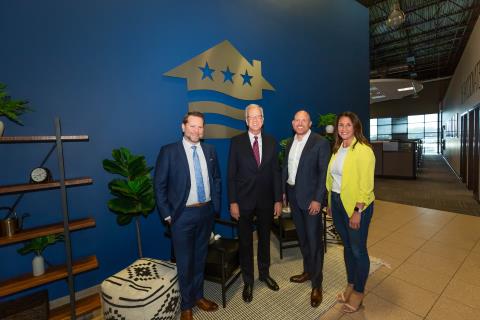 Addressing Kansas Agricultural and Rural Leaders
Developing aspiring agricultural leaders in rural areas is vital to our future as a nation. On Saturday evening, I addressed the 15th graduating class of the Kansas Agriculture and Rural Leadership (KARL) program and welcomed the 16th class into the program. KARL is a two-year program that helps to prepare and connect leaders that are dedicated to positively impacting our agricultural and rural communities.

The late Dr. Barry Flinchbaugh, my friend and a giant in agricultural policy, was instrumental in helping launch the KARL program and supporting its development over the years. This was the first KARL graduation ceremony since his passing, but there is no doubt Dr. Flinchbaugh's presence in ag policy will be remembered for generations to come through the thousands of students he taught and mentored during his decades-long career as a professor at K-State.

Thank you to Jill Zimmerman for the invitation to speak. To all the KARL graduates: thank you for your commitment to Kansas; I look forward to seeing the bright future you help create for our state.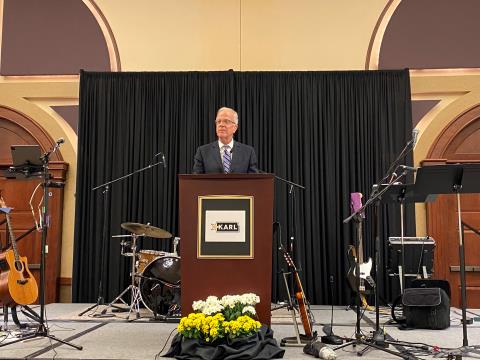 Kansas American Legion Convention
On Saturday morning, I joined veteran advocates from across the state at the Kansas American Legion Conference in Topeka. During my time in Congress, it has always been my intent that our veterans are given every opportunity to achieve that success after service, no matter what challenges they might face because of their service. That is why I am honored to have served on the Veterans' Affairs Committees in both the House and the Senate, so I could work to make certain our veterans are getting the benefits and care they need.

I appreciated the opportunity to provide a Congressional update on the historic legislation to address toxic exposure that Senator Jon Tester and I unveiled last month. I also discussed the implementation and oversight of the Commander John Scott Hannon Veterans Mental Health Care Improvement Act and the MISSION Act.

I want to thank the Kansas Department of the American Legion for all you do every day in supporting veterans across our state. Thank you to Kansas American Legion Commander Marri Krupco and Department Adjutant Jimmie Foster for the invitation and all the veterans who shared their experiences with me.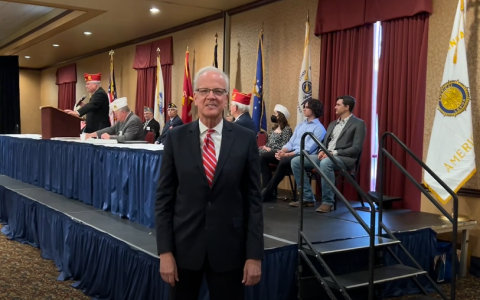 American Legion members play an important role in our communities, and many help honor and remember the fallen on Memorial Day. Last week, I received this photo from Laah Tucker, American Legion Auxiliary Unit 109 President in Natoma, of volunteers before placing hundreds of flags on seven cemeteries in the area.
Last year, following the devastating flooding in Natoma the American Legion Hall suffered damage, and with it the flags they placed each year. During my trip to survey the damage in the area, I was able to donate 300 flags so they could continue the tradition of placing flags on veterans' graves. Thank you, Laah, for sharing this photo.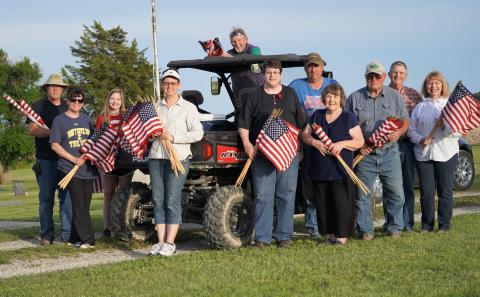 Newsletter Sign-up Form
Note: Fields marked with an * are required.