Kansas Common Sense
Announcing Our State's Largest Economic Development Project Ever
On Wednesday evening, I was in Topeka to announce an historic economic development project for Kansas – Panasonic will build a $4 billion, 4,000-employee facility in De Soto. This is the largest economic development project in our state's history.

With this significant development, Kansas is being recognized around the world for our talented workforce, innovative environment and quality of life. Panasonic will bring thousands of good-paying, high-quality jobs to our state which will be a massive economic boost for local businesses and our communities for decades to come. With the goal of making Kansas a destination for industry, defense, education, science, technology, engineering and innovation, we will keep our students, their knowledge and intellect in Kansas.

This decision will offer opportunities to Kansans across the state from my hometown in western Kansas to Kansas City and solidify our state's competitive standing as a sought-out place to live and work. Panasonic's choice to manufacture lithium-ion batteries right here in the heartland of America – rather than overseas – will also improve our supply chain and make certain we are less dependent on China.

Panasonic's announcement also ensures Kansas will continue playing a crucial role in our global economy, strengthening our standing as an economic driver for the nation and beyond. Thank you to the leaders of Panasonic for recognizing our state's value by choosing to invest here.

Thank you to our Kansas state leaders who worked together at the federal, state and local levels to make Kansas not just a candidate, but the ideal partner for Panasonic.

Read more on this announcement here in the Kansas Reflector.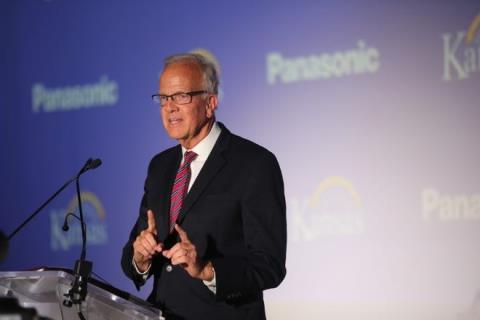 Photo by Jason Tidd, Topeka Capital-Journal

New 9-8-8 National Mental Health Crisis Hotline Has Launched
As of Saturday, July 16, people experiencing a mental health or substance use crisis, or families worried that a loved one may need suicide intervention assistance can dial a simple three-digit number (9-8-8) to reach the National Suicide Prevention Lifeline. This lifeline is a nationwide network of crisis centers linked through a 24/7 toll-free number that connects callers in crisis to immediate intervention services and care with trained counselors. It provides free and confidential support, prevention and crisis resources. This newly launched hotline designation has been the product of years of work, and I was pleased to co-author the National Suicide Hotline Designation Act in 2020 to designate 9-8-8 as the national suicide prevention and mental health crisis hotline.

Now, more than ever, Kansans and the entire country will benefit from greater access to crucial suicide prevention and mental health services. Designating 9-8-8 as a nationwide suicide help and prevention number provides an easy-to-remember and easy-to-access service for people to dial when they need a helping hand. Just like Americans reach for their phones to dial 9-1-1 in an emergency, this three-digit number can now provide immediate, professional help for those struggling with mental illness.

Read my op-ed in The Manhattan Mercury here.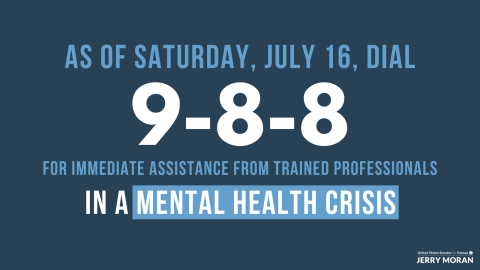 Meeting with Greater Wichita Partnership
This week, I visited Wichita to speak with members of the Greater Wichita Partnership. As the Air Capital of the World, Wichita is in an excellent position to lead the aviation industry into the future. Wichita is home to the highest concentration of aerospace manufacturing employees in the nation, a testament to our state's ability to raise talented, hardworking individuals.

During the meeting, we were able to witness Wichita State University's National Institute for Aviation Research (NIAR) WERX program, as well as the Kansas Modification Center. These organizations are working in tandem to solidify the south-central region of Kansas as a leader in the maintenance, repair and overhaul (MRO) industry. This relatively new partnership has only been in place for a year, but it marks a new era in Wichita's legacy of innovative and entrepreneurial spirit. I remain committed to making certain that our federal, state and local officials continue working together with private sector leaders in our shared mission of building on Wichita's past successes and leading the way forward in the crucial industries of aviation, aerospace and manufacturing.

Thank you to Dr. John Tomblin, Senior Vice President for Industry and Defense Programs and NIAR Executive Director at Wichita State University, for his continued leadership and for hosting me during my visit. I also want to thank Greater Wichita Partnership Executive Board Co-Chairs Aaron Bastian of Fidelity Bank and Charlie Chandler of INTRUST Bank, as well as Greater Wichita Partnership CEO Jeff Fluhr for the invitation. Special thanks as well to local business leaders Dave Murfin and Johnny Stevens who were recognized during the meeting for their ongoing investments in the Air Capital Flight Line and MRO facility.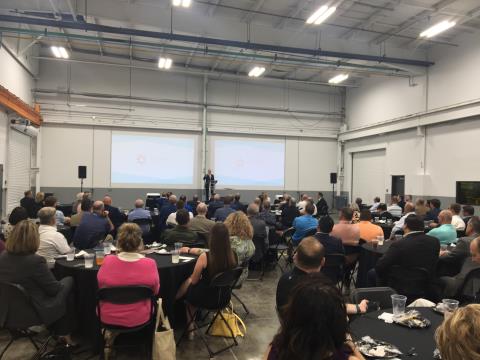 Announcing New Federal Resources for National Institute for Aviation Research (NIAR)
During my visit to Wichita, I was also pleased to join Wichita State University to announce a $3 million federal investment for its NIAR facility. With these new resources, NIAR will be able to expand its additive manufacturing capabilities, a technique that allows for the cost-effective and efficient production of complex products. By strengthening its additive manufactory abilities, Wichita State can continue to grow its governmental and industry partnerships across multiple sectors, particularly in the aerospace industry. As a city that is home to the highest concentration of aerospace manufacturing workers in the nation, Wichita is the epicenter of tremendous aviation and manufacturing capabilities. This announcement allows NIAR to continue building on previous successes and solidifying our region's reputation as a leader in this critical industry. Thank you again to Dr. John Tomblin for hosting me, and for all of the staff at Wichita State and NIAR who continue to lead the way forward in our aviation and manufacturing fields.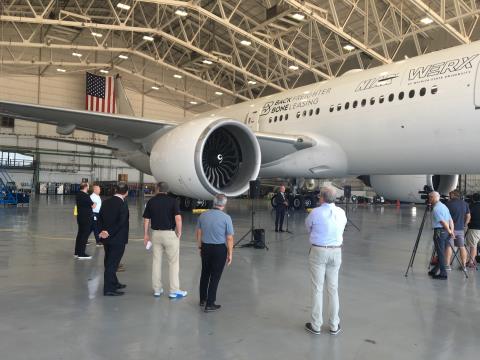 Honoring 20 Years of Dole-McGovern Food for Education and Child Nutrition Program
This week, I introduced a resolution expressing commitment to build on 20 successful years of the Dole-McGovern Food for Education and Child Nutrition Program. Since its establishment in 2002, this program has served school-age children, particularly young girls, by improving their food security, nutrition, literacy and primary education. This initiative operates through the donation of U.S. agricultural commodities.

Combatting hunger is our moral responsibility, and the Dole-McGovern program plays a crucial role in this mission. I am honored to follow in the footsteps of Senator Bob Dole in making the issue of fighting hunger a priority, and in working to advance programs that provide food to our most vulnerable. It is encouraging to see this program's success, and I will continue to work with my colleagues in the ongoing fight against hunger.

Defense Appropriations Subcommittee Briefing
On Tuesday, I attended a classified briefing on the U.S. Defense Industrial Base. Our defense industrial base refers to U.S. based public-sector facilities, academic institutions, and private-sector companies as well as the production capabilities and supply chains that deliver defensive capabilities to the joint force, allies and partners. This briefing was held at my request, and it remains one of the most critical defense issues our nation faces. We must improve our defense industrial base to better respond to China – our pacing threat – and to Russia, a more regional threat in Europe. It's absolutely critical that we strike the right balance in aiding Ukraine while also making the right investments to compete with China across all domains: land, sea, air, space and cyber. A robust, efficient and effective defense industrial base is key to this competition, and I was grateful to have the opportunity to address this concern with senior Department of Defense leaders and with my colleagues.

Meeting with the Kansas Soybean Association
Earlier this week, I met with the Kansas Soybean Association in my D.C. office. During this visit, we discussed issues important to soybean growers, including biofuels policy and Farm Bill priorities. I support programs such as the Market Access Program (MAP) and Foreign Market Development (FMD) to help expand our agricultural exports, as it is vital for our farmers and our state that we prioritize reaching new markets and growing our existing international ones. We also talked about the challenges our farmers are currently facing, including high temperatures, high input costs and supply chain disruptions. I always appreciate input from the members of the Kansas Soybean Association, and I look forward to working with them to advance our shared priorities.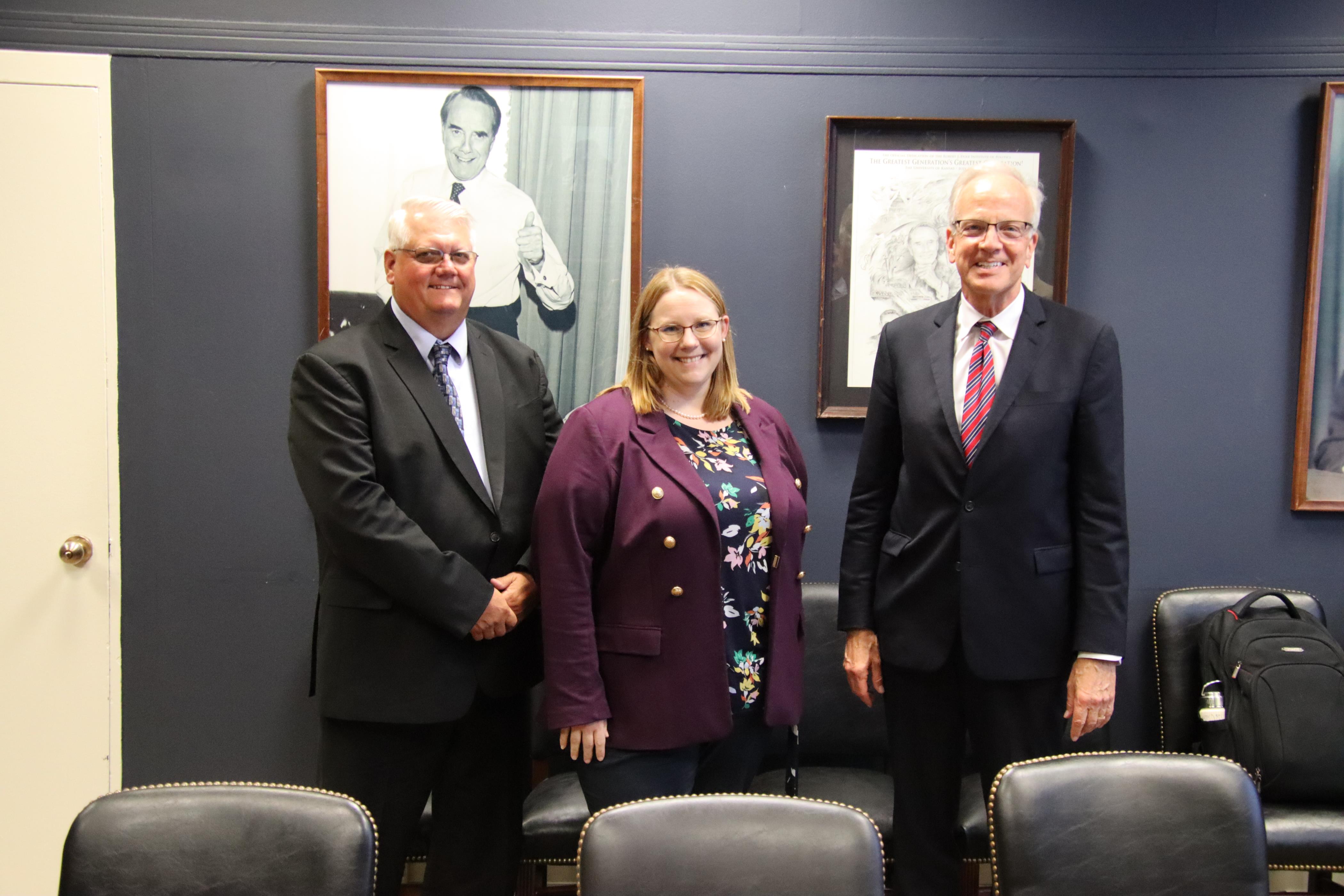 Major Bobby Brown's Promotion Ceremony
Congratulations to my Congressional Army Fellow Bobby Brown on his promotion to Major in the United States Army. Major Brown has spent the past six months serving our veteran and defense community in my D.C. office through the 2022 Army Congressional Fellowship program. This promotion is truly a testament to his outstanding character and dedication to our country. Throughout his time in my office, Major Brown has displayed true integrity, commitment to service and passion for supporting our military members. It was a privilege to participate in his promotion ceremony on Friday, and our nation is better off for his service. Thank you to Major Brown and wife Michelle for your dedication and sacrifice.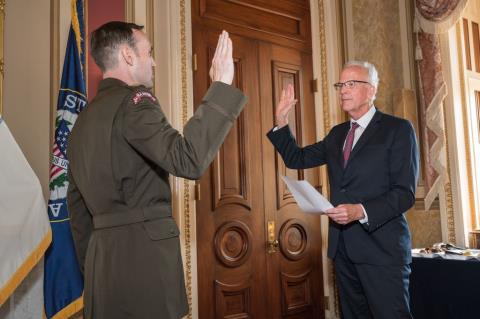 Honoring WWII Medal of Honor Recipient Hershel W. "Woody" Williams
On Thursday, I paid my respects to Hershel W. "Woody" Williams as he lay in honor in the U.S. Capitol rotunda. Williams, who was the last remaining Medal of Honor recipient from World War II, passed away at the age of 98. He was awarded the Medal of Honor – the U.S. Military's highest decoration for valor – for his extraordinary courage shown during the Battle of Iwo Jima. Williams was a true American hero, and the sacrifices he made allowed each of us the freedom we enjoy today.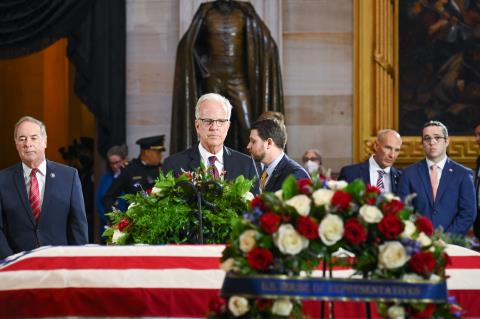 Meeting with Xcel High School Students from Salina
This week, I met with high school students from Salina schools who are part of the Excl program, an after-school achievement program for select high school students. During their visit, we discussed the ways in which my office acts as a resource for Kansans and their needs. These students also asked me questions about my time in Congress, as well as what my typical day looks like in D.C. It was a pleasure talking with this group of young leaders, and I look forward to seeing the positive impact they will have on our state in the future. Thank you to Rick Reed for leading these great high school students on their trips to Washington, D.C., and for your investment in our next generation of leaders.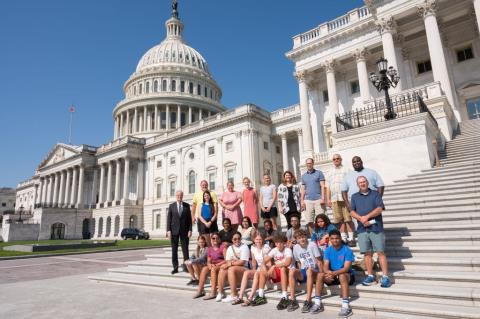 Kansans in the Office

Black and Veatch
Tim Triplett of Overland Park

Brydon Ross of Overland Park

Stuart Shaw of Overland Park

Chief Judge Eric Melgren
Eric Melgren of Wichita

Capitol Tour
Tom Browser of Prairie Village

Judy Browser of Prairie Village

James Callanan of Shawnee

Sharman Callanan of Shawnee

Denton Callanan of Shawnee

Dustin Duntz of Manhattan

Kari Duntz of Manhattan

Kaylee Duntz of Manhattan

Maycee Duntz of Manhattan

John Fulkerson of Salina

Kimberly Fulkerson of Salina

William Fulkerson of Salina

Isabel Fulkerson of Salina

Mya Fulkerson of Salina

Molly LaForge of Erie

Alison LaForge of Erie

Sistine McKown of Hutchinson

Christy Nusz of Shawnee

John Rice of Wichita

Linda Rice of Wichita

Paul Skinner of Olathe

Julia Skinner of Olathe

Amy Skinner of Olathe

Ryan Skinner of Olathe

Chris Stenger of Prairie Village

Hattie Stenger of Prairie Village

Alison Stoughton of Hutchinson

Damien Stoughton of Hutchinson

Murphy Weiss of Lenexa

Christopher Weiss of Lenexa

Evagelinie Weiss of Lenexa

Melissa MacDonenell -Weiss of Lenexa

Greg Wening of Prairie Village

Amber Wening of Prairie Village

Jackson Wening of Prairie Village

Layla Wening of Prairie Village

Alan Wimmer of Prairie Village

Heather Wimmer of Prairie Village

Griffen Wimmer of Prairie Village

Eve Wimmer of Prairie Village

Penny Zadeh of Overland Park

Director of Kansas School Superintendents Association
Mike Argabright of Olpe

Quentin Breese of Concordia

Jessica Dain of Kansas City

Michelle Hubbard of Shawnee

Pittsburg State University
Daniel Shipp of Pittsburg

Ed McKechnie of Pittsburg

Kansas Association of Special Education Administrators
Doug Anderson of Ozawkie

Patty Carter of Topeka

Kathy Kersenbrock-Ostmeyer of Colby

Lena Kisner of Colby

Heath Peine of Wichita

Sean Phelan of Topeka

Kansas Corn
Brett Grauerholz of Republic

Greg Krissek of Hoxie

Ken McCauley of White Cloud

Brent Rogers of Hoxie

Matt Splitter of Lyons

Cate Wehkamp of Ingalls

Kansas Soybean Association
Charles Atkinson of Great Bend

Teresa Brandenburg of Russell

Scott Gigstad of Everest

Dennis Hupe of Perry

Jared Nash of Parsons

Lynn Rogers, Kansas State Treasurer
Lynn Rogers of Ottawa

Jennifer Goetz of Topeka

Thomas Rafter of Topeka
Newsletter Sign-up Form
Note: Fields marked with an * are required.