Kansas Common Sense
Welcome to "Kansas Common Sense." Thanks for your continued interest in receiving my weekly newsletter. Please feel free to forward it on to your family and friends if it would interest them.
The Blood Shortage is Severe, and It's Affecting Kansans
There is no substitute – no alternative – our nation can turn to in the absence of blood donations. The only answer is each of us stepping up to donate, helping to end this crisis and contributing to saving the lives of those in our own communities.
Donation centers provide specific guidance on the blood donation process and safety measures taken within their centers. Locations for blood donation can be found at the following organization websites:

Save A Life Now, America's Blood Centers and American Red Cross.

I've heard from medical professionals in Rooks County about the tough decisions rural Kansas providers are having to make – including cancelling surgeries and blood transfusions, and possibly not delivering babies because bleeding complications may require blood that these facilities don't have. This shortage is severe, and it is affecting Kansas health care providers and their ability to care for patients. Kansans pull together in times of need, and I encourage anyone who is able to donate.
Addressing America's Rising Crime
This week, I spoke during a press conference on rising crime in America. We are a country based on the rule of law. Our families must feel safe and secure in our homes, in our schools, in our communities, and in our churches and synagogues.

Now is the time to prioritize investments in solutions that will have a lasting impact on our law enforcement personnel; solutions that allow them to meet the challenging situations they face when they put on their uniforms. As the lead Republican on the Senate Appropriations Subcommittee on Commerce Justice and Science which funds law enforcement programs, I will continue to advocate for protecting our communities by advocating for our nation's law enforcement. Watch my remarks by clicking here or below.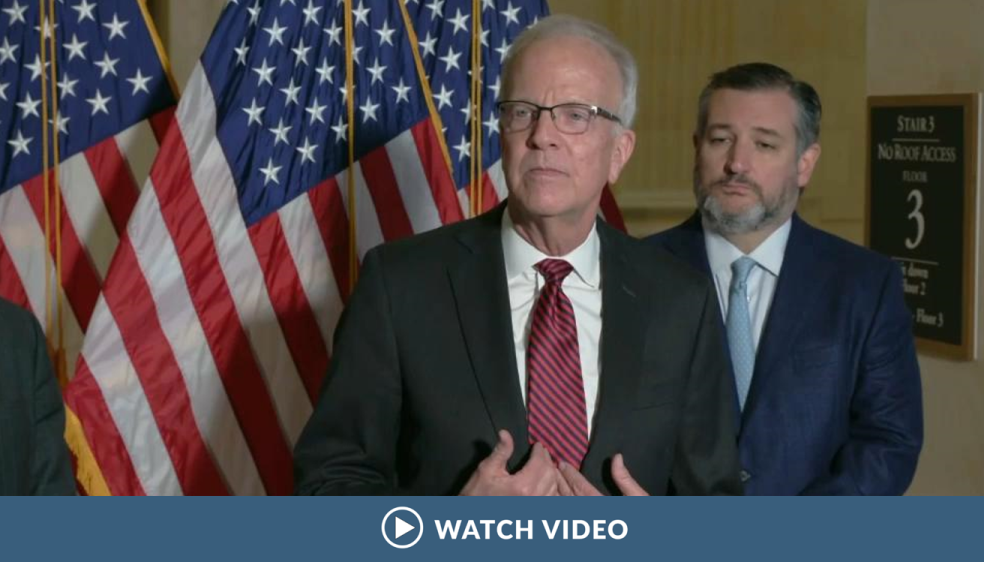 Modernizing the Violence Against Women Act
This week, I also joined Senator Ernst in introducing the bipartisan Violence Against Women Act (VAWA) Reauthorization Act, which reauthorizes VAWA through 2027, preserves advancements made in previous reauthorizations and includes a number of additional improvements to the current law.

Domestic violence brings fear, hopelessness, pain and depression into the lives of every victim. We must not only work to end this type of crime but also care for those who have become victims. This legislation will help give a voice to victims of domestic violence, provide new resources to combat these crimes in rural communities and expand programs to support sexual harassment victims. Read more about this bill's key provisions by clicking here.

Speaking with the Kansas Fraternal Order of Police
On Tuesday, I met virtually with Kansas Fraternal Order of Police leaders Matt Blassingame and Casey Slaughter to discuss their priorities as crime continues to rise across the country. With over 3,100 Fraternal Order of Police (FOP) members in Kansas, including police officers, deputies, troopers and investigators of all ranks. Our country can only function when we feel safe and secure, and our law enforcement personnel are vital to carrying out that task. Police officers face unknown challenges when they put on their uniforms every day, and I am committed to making sure they have the resources they need to carry out their duties.
Meeting with Kansas Community College Leaders
Johnson County Community College
I was pleased to share a conversation with Johnson County Community College (JCCC) President Dr. Andy Bowne and Trustees Greg Musil, Dawn Rattan and Joy Koesten, in my Washington, D.C. office this week. We discussed the college's legislative priorities, including the JOBS Act, legislation of which I am an original cosponsor, that would establish Pell grant-eligibility for short-term job training programs, and our shared support for increased Pell grant funding in the FY2022 Labor-HHS-Education Appropriations subcommittee bill. The JCCC delegation also expressed their appreciation for federal pandemic relief funding, much of which was distributed to students to provide financial assistance during uncertain times and avoid coursework disruption. I was impressed to hear of the college's on-campus mental health offerings for students, and I thank the college for its attention to the needs of student veterans. Thanks to President Bowne and Trustees Musil, Koesten and Rattan for visiting my office and for our productive conversation.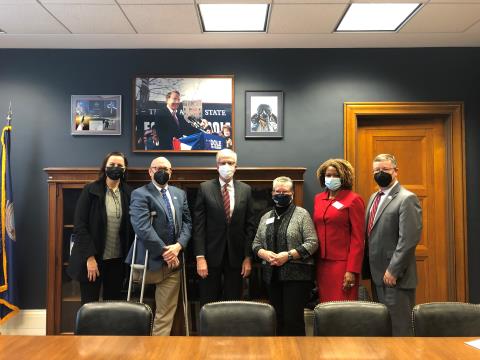 Kansas City Kansas Community College
I also met with Kansas City Kansas Community College (KCKCC) President Dr. Greg Mosier and Trustee Brad Isnard. President Mosier and Trustee Isnard provided me an update on the state-of-the-art Community Education, Health and Wellness Center they are building in the heart of downtown Kansas City. The center will help address the needs of the downtown community and Eastern Wyandotte County by providing services such as English as a Second Language (ESL), General Education Diploma (GED) and offering vocational training to students around the metro Kansas City area, among numerous other services. I enjoyed meeting with President Mosier and Trustee Isnard, and I look forward to working with them and the rest of KCKCC leadership to advance our shared priority of making certain all Kansans have the resources and tools to thrive.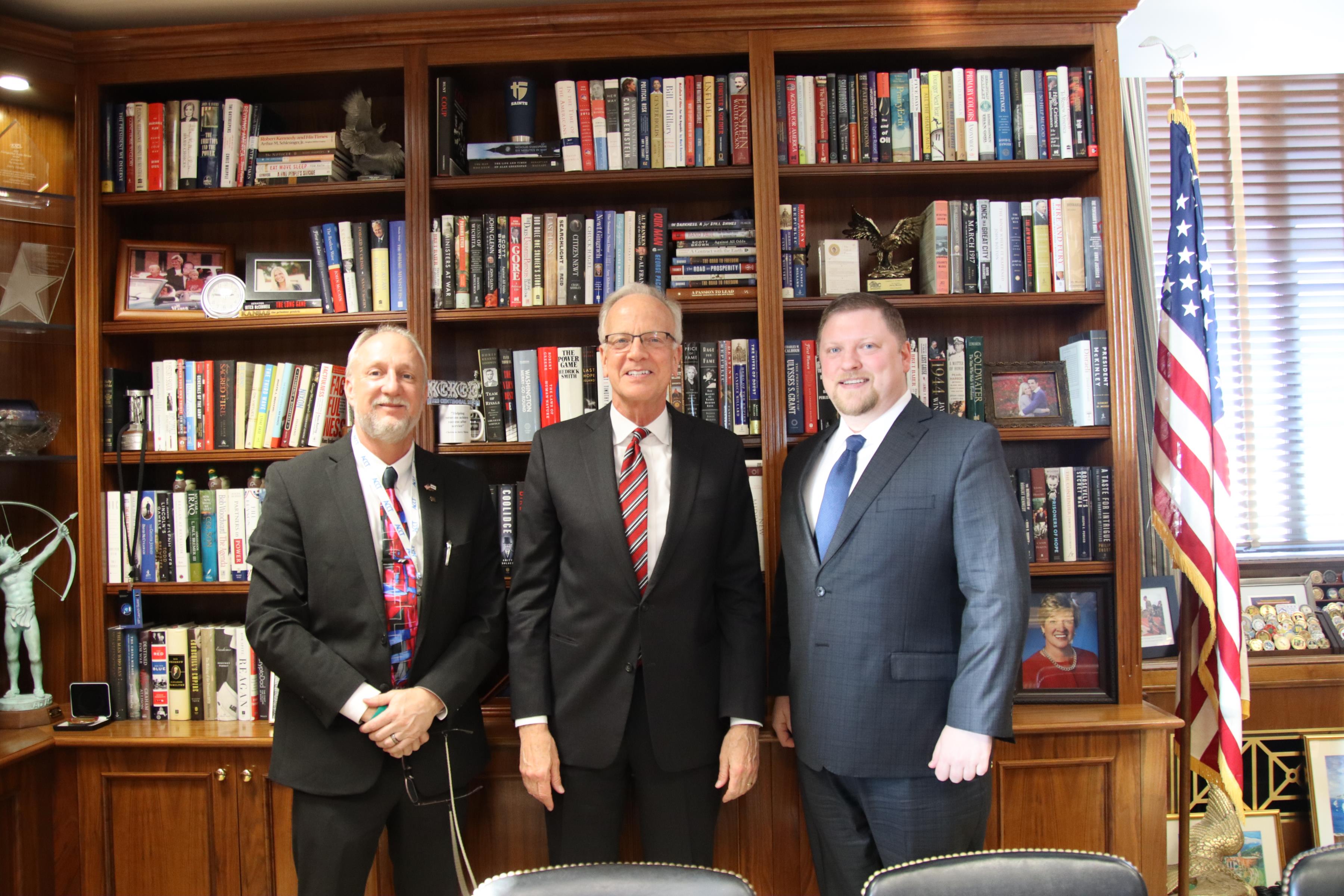 Colby Community College
I was also pleased to meet with Dr. Seth Carter, President of Colby Community College, and Trustee Arlen Leiker, in my office in Washington, D.C. where we discussed the importance of Pell grants and the challenges posed by the pandemic over the past two years. I was encouraged to hear that even with the challenges of COVID-19, Colby Community College saw positive enrollment growth, and I was impressed to learn that the college has the highest community college graduation rate in Kansas. I thank President Carter and Trustee Leiker for visiting with me and providing me with an informative update.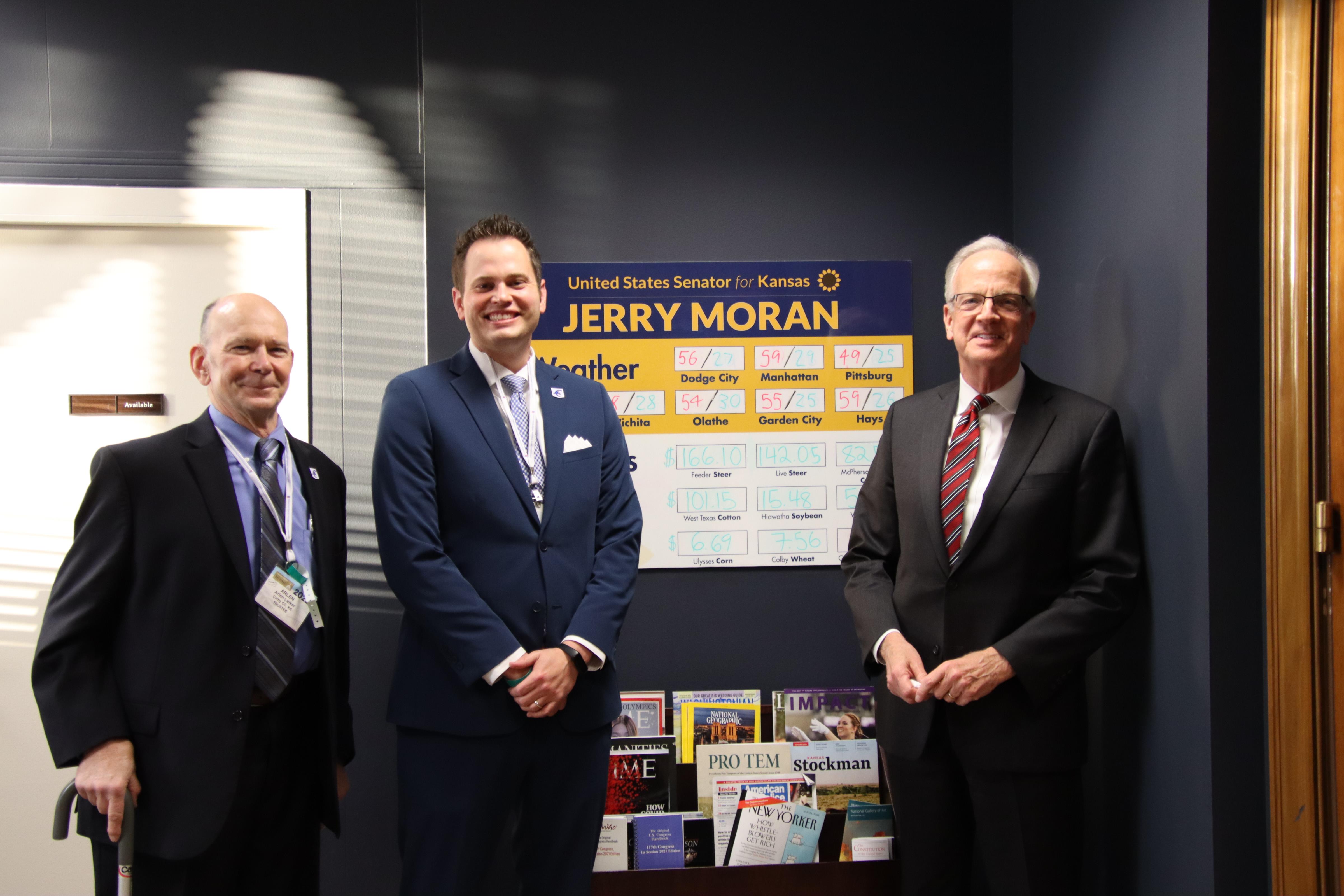 Kansas Independent Colleges
Additionally, I met with leaders from McPherson College and Ottawa University this week to discuss Kansas Independent College legislative priorities, including our shared support for increased Pell grant funding in the FY2022 Labor-HHS-Education Appropriations subcommittee bill. President Schneider of McPherson College and Chancellor Tsutsui of Ottawa University shared the positive impact federal pandemic relief funding had on their institutions and student bodies. I thank both President Schneider and Chancellor Tsutsui for sharing their insight on the higher education landscape in Kansas with me and for their commitment to providing quality higher education opportunities for students from Kansas and around the country.
Discussing the Future of Kansas State University
Hearing from University Deans
I met with Kansas State University deans and leaders this week to discuss the university's vision for its future and the future of Kansas. The bulk of our discussion focused on how K-State can become an engine of economic prosperity for the entire state of Kansas. In December of last year, K-State announced its Economic Prosperity Plan, a 10-year plan which focuses on leveraging key strengths of the university into new jobs, investments and economic development in the state. I conversed with the deans on how the individual initiatives in their respective colleges and departments fit into the economic prosperity plan and ways that I can support their efforts. The university set a 10-year goal for the plan at 3,000 direct jobs and $3 billion in direct investment to Kansas. This plan includes close collaboration with the USDA's National Bio Agro-Defense Facility (NBAF), including educating and training the future NBAF workforce. By educating future leaders in our communities, entrepreneurs and the skilled workforce necessary to attract and retain businesses, Kansas' institutions of higher education are vital for a strong future for our state. I appreciate hearing from the deans at K-State and learning more about how the university intends to be a leader in driving economic growth for Kansas.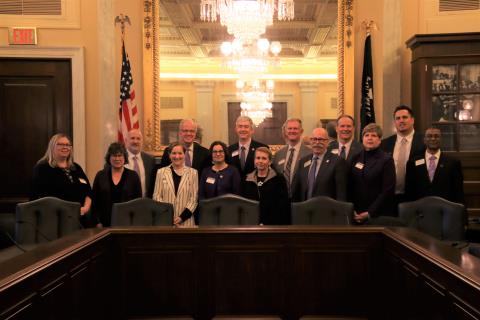 Discussing My Name, Image and Likeness Legislation with Athletic Director Gene Taylor
On Tuesday, I spoke with K-State Athletic Director Gene Taylor. We further discussed my Amateur Athletes Protection and Compensation Act of 2021 and how it empowers athletes – of all sports – to establish greater control of their name, image, and likeness (NIL). My legislation would create a national standard of guidelines to make certain student athletes can benefit from the use of their NIL without hurting their eligibility to compete as a student athlete while at the same time protecting the existing model of college athletics that has afforded so many young athletes an opportunity to pursue an education. I was also able to visit with K-State football player Logan Long and hear from him about his experiences as a student athlete.

I have made it clear to Athletic Director Taylor and other athletic director across Kansas that I will support athletes throughout their academic careers, both from an educational and athletic perspective. I thank him for meeting with me, and I was pleased to receive an update from AD Taylor regarding K-State's athletic successes.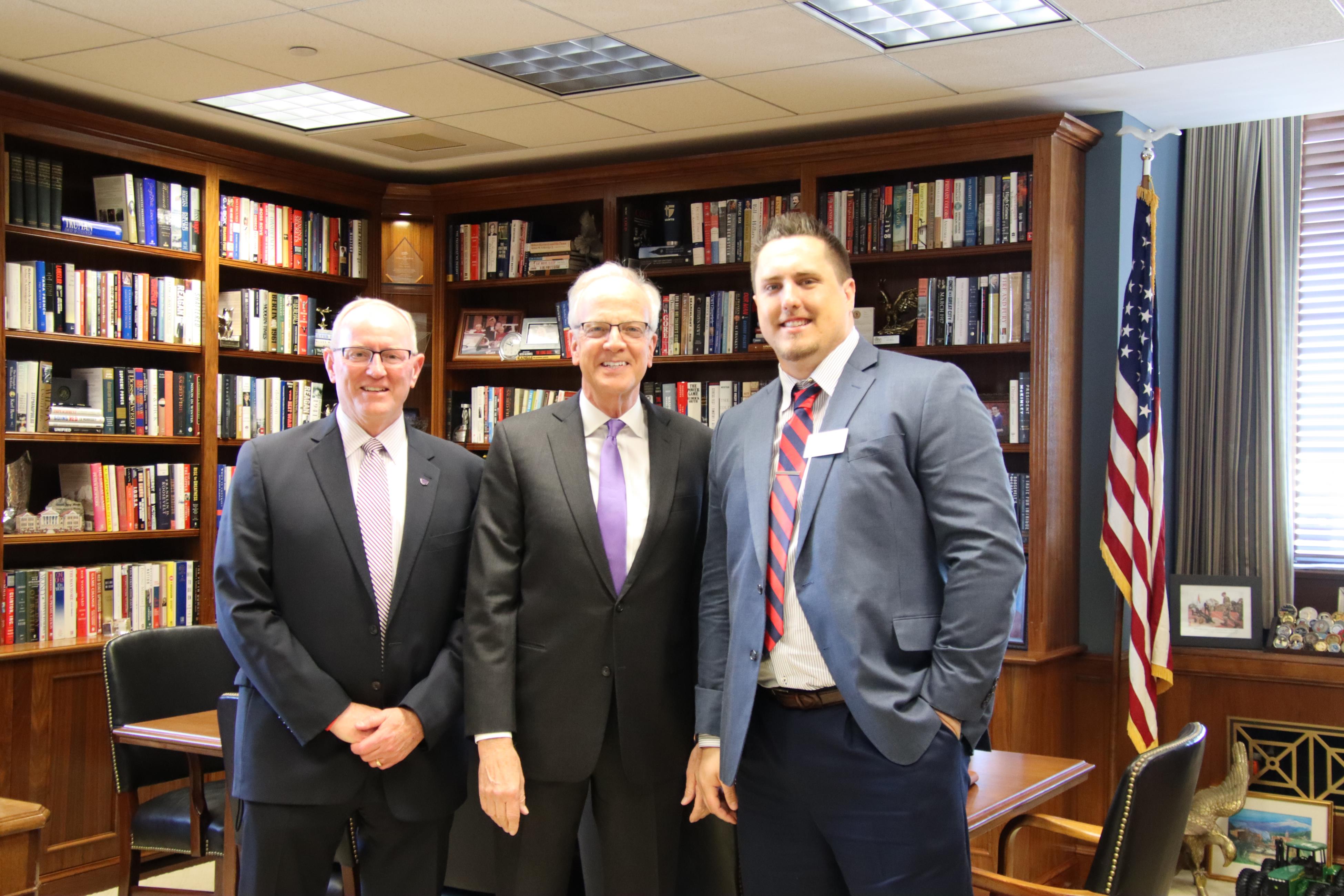 Advocating for Veterans
Underscoring Bipartisan Action to Deliver for Toxic-Exposed Veterans
As leaders of the Senate Veterans' Affairs Committee, Senator Tester and I have been dedicated to identifying a path forward for outstanding toxic exposure issues and remain committed to following through on the country's promise to provide timely care and benefits to all generation of exposed veterans. This week, we published a joint op-ed in the Military Times emphasizing additional bipartisan efforts to be announced in the coming weeks, aimed at creating a fair and transparent process for VA to establish new presumptive conditions and delivering long-overdue benefits to millions of toxic-exposed veterans across the country.

Decade after decade, American men and women have deployed to countries across the globe in the defense of our freedom. Thousands of them were exposed to harmful toxins during that service that resulted in life-altering health conditions. And far too many of them face yet another battle here at home when seeking the care and the benefits they desperately need. Our veterans deserve better, and they are tired of waiting for solutions. That is why we, as the leaders of the Senate VA Committee, have introduced the Health Care for Burn Pit Veterans Act—bipartisan legislation that will offer every post-9/11 veteran suffering from effects of toxic exposures access to timely and high-quality care through the VA.

Read our full op-ed in the Military Times by clicking here.
Participating in the Concerned Veterans For America Rountable
Making certain that veterans have access to quality and timely health care is a one of my top priorities as Ranking Member of the Senate VA Committee. This week, I joined Concerned Veterans of America to discuss this issue and why it is so important for the VA to implement the MISSION Act correctly. The MISSION Act allows veterans to receive primary and specialty care through the VA in the comfort of their community. This is a major benefit for veterans across Kansas, especially for rural veterans, because it allows them to see their preferred provider in a convenient location. Unfortunately, the VA has not been implementing the MISSION Act as aggressively as Congress intended. This has forced veterans to endure long wait times and drive long distances to receive their VA care.
CVA and I discussed how my legislation, the Guaranteeing Healthcare Access to Personnel Who Served (GHAPS) Act, will address gaps in veteran health care to make certain the VA is serving rural and underserved veterans. I will continue to advocate for community care in an effort to provide veterans with the health care they have earned as a result of their service.
Meeting with Servicemembers Impacted by Water Contamination
This week, I met with an Active Duty Army Officer and a Navy military spouse, both mothers and advocates for their children and other families who have experienced health consequences due to exposure to contaminated water at Joint Base Pearl Harbor-Hickam in Hawaii. During our meeting, I heard their experience as result of this fuel spill and the Department of Defense's (DOD) failure to take immediate action. I am committed to pushing DOD to find a solution for these families and to best secure the health and benefits for toxic-exposed veterans after they leave service.
Questioning FCC Commissioner Nominee Gigi Sohn
The Federal Communications Commission (FCC) regulates communications in the U.S. and works to solve critical communications-related issues, including broadband deployment to unserved areas. On Wednesday, as a member of the Commerce, Science, and Transportation Committee, I questioned Gigi Sohn, President Biden's nominee to be a Commissioner on the FCC, about rate regulation, overbuilding existing broadband networks and net neutrality. In 2017, the FCC, led by Chairman Ajit Pai, a Parsons native, reversed the Obama-era net neutrality order, reverting to a light-touch regulatory approach that has historically allowed online innovation to thrive. Ms. Sohn has stated her support for the FCC taking action to reimpose net neutrality rules despite a Congressional working group being formed to examine legislative solutions to the question of net neutrality. I do not believe the FCC should preempt a legislative solution from Congress on this critical issue. I will continue to carefully evaluate Ms. Sohn's policy beliefs and experience in advance of a vote on her nomination to the FCC.
Recognizing the Coffeyville Red Ravens' Championship Victory
Last April, the Coffeyville Red Ravens brought home their first national championship trophy in nearly six decades. As an underdog in the national tournament with a number 10 ranking, this accomplishment is a result of hard work, determination and grit. Last week, the resolution I introduced with Congressman LaTurner passed the Senate.

This week, I was pleased to recognize and congratulate the men's basketball team's NJCAA Division I championship on the Senate Floor. Watch my remarks by clicking here or below.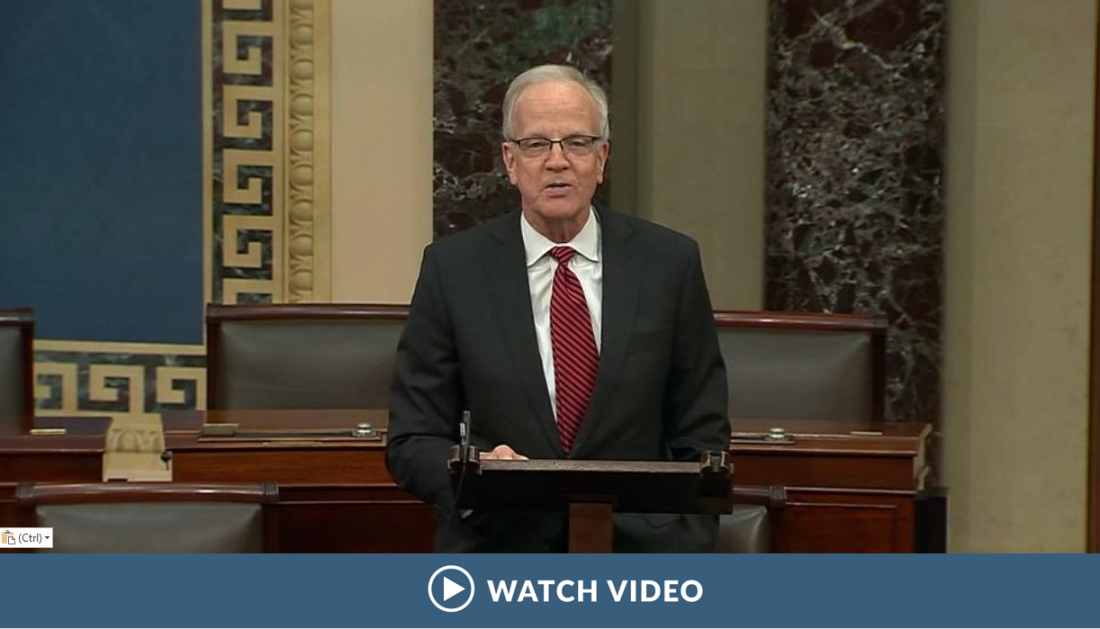 Discussing Challenges with National Rural Health Association
On Wednesday, I spoke with Kansas Hospital Association and representatives of the National Rural Health Association. There are no shortage of challenges facing rural health care in Kansas, including issues stemming from the COVID-19 pandemic and those that existed prior to it. The nation is facing a severe health care workforce shortage, which puts a heavy responsibility on the shoulders of our doctors and nurses currently serving. As Congress continues to allocate resources towards our rural health care workforce, we must also ensure there are residency slots available in rural regions for new health care professionals that do not come at expense to the health care facility. We also spoke about the need to protect the Medicare sequestration moratorium throughout the public health emergency as well as the 340B Drug Pricing Program, which currently has several cases working its way through the courts. Thank you for Audrey Dunkel and Landon Fulmer for organizing the meeting and the willingness of everyone on the call to serve in rural Kansas.
Meeting with Greg Jordan of KSBDC
On Thursday, I was pleased to be able to speak with Plainville-native Greg Jordan while he was in Washington, D.C. Greg is the Director of the Kansas Small Business Development Center (KSBDC), which assists Kansans who would like to start their own business by providing small business classes and connections to federal and state resources. The KSBDC, which is sponsored by the U.S. Small Business Administration in partnership with the Kansas Department of Commerce and Fort Hays State University, assisted hundreds of small businesses start last year and has created or retained over thousands of jobs in the last decade. It was great to speak with Greg during his time in D.C., and I am thankful for the work that he and the KSBDC do for our state.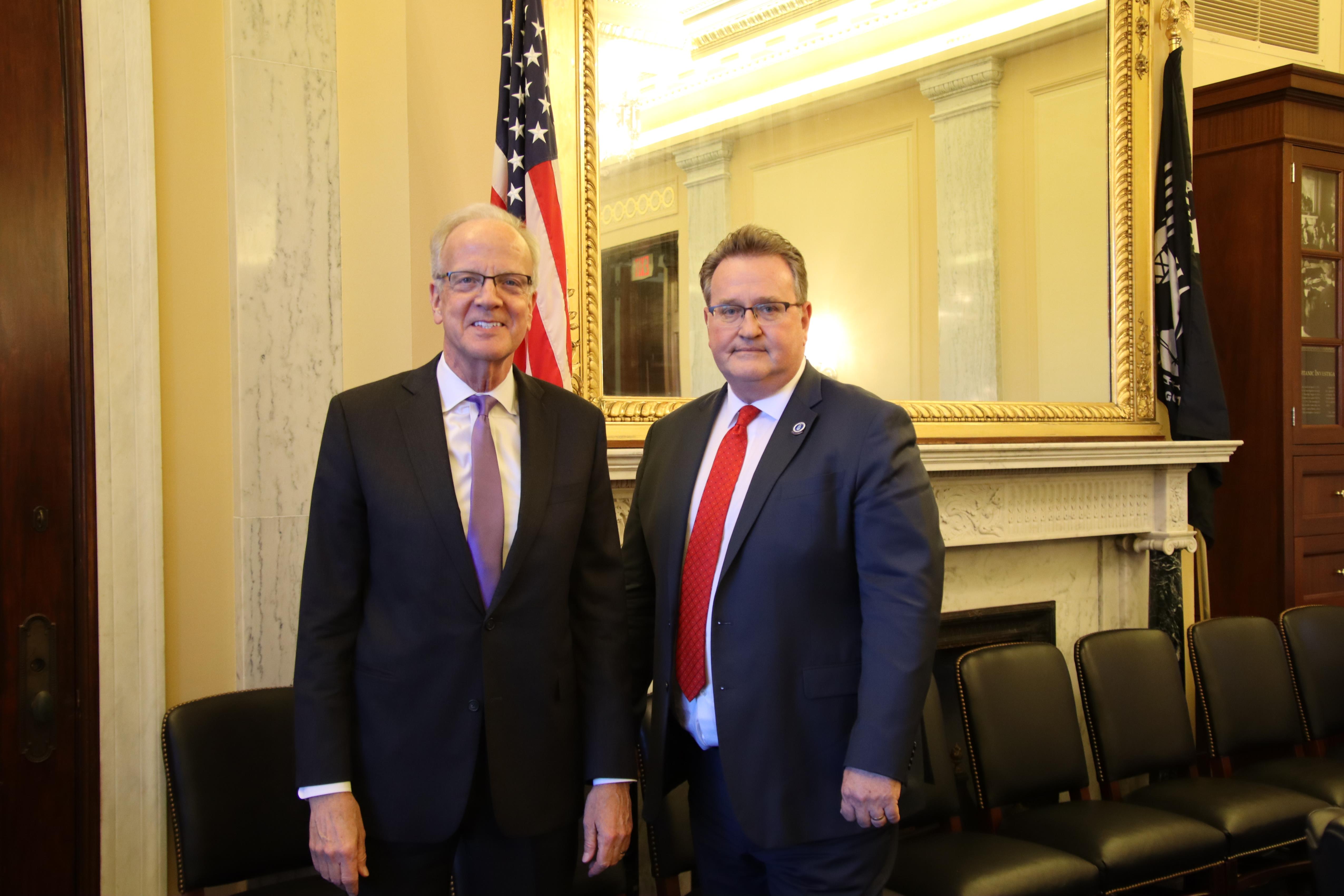 Supporting STEM Education
On Tuesday, I met with the Council of Insurance Agents and Brokers to consider ways to lower health care costs through employer-sponsored insurance (ESI) programs. ESI is the most common type of health coverage in the country – with over 181 million Americans depending on it. Americans deserve access to more affordable health care, and strengthening ESI can reduce costs for employers and lower premiums for employees. We also discussed potential frameworks for pandemic risk insurance to protect businesses from unforeseen events. I appreciate the work the CIAB does to expand health care coverage for employees and support businesses.
Meeting with Council of Insurance Agents and Brokers
On Tuesday, I met with the Council of Insurance Agents and Brokers to consider ways to lower health care costs through employer-sponsored insurance (ESI) programs. ESI is the most common type of health coverage in the country – with over 181 million Americans depending on it. Americans deserve access to more affordable health care, and strengthening ESI can reduce costs for employers and lower premiums for employees. We also discussed potential frameworks for pandemic risk insurance to protect businesses from unforeseen events. I appreciate the work the CIAB does to expand health care coverage for employees and support businesses.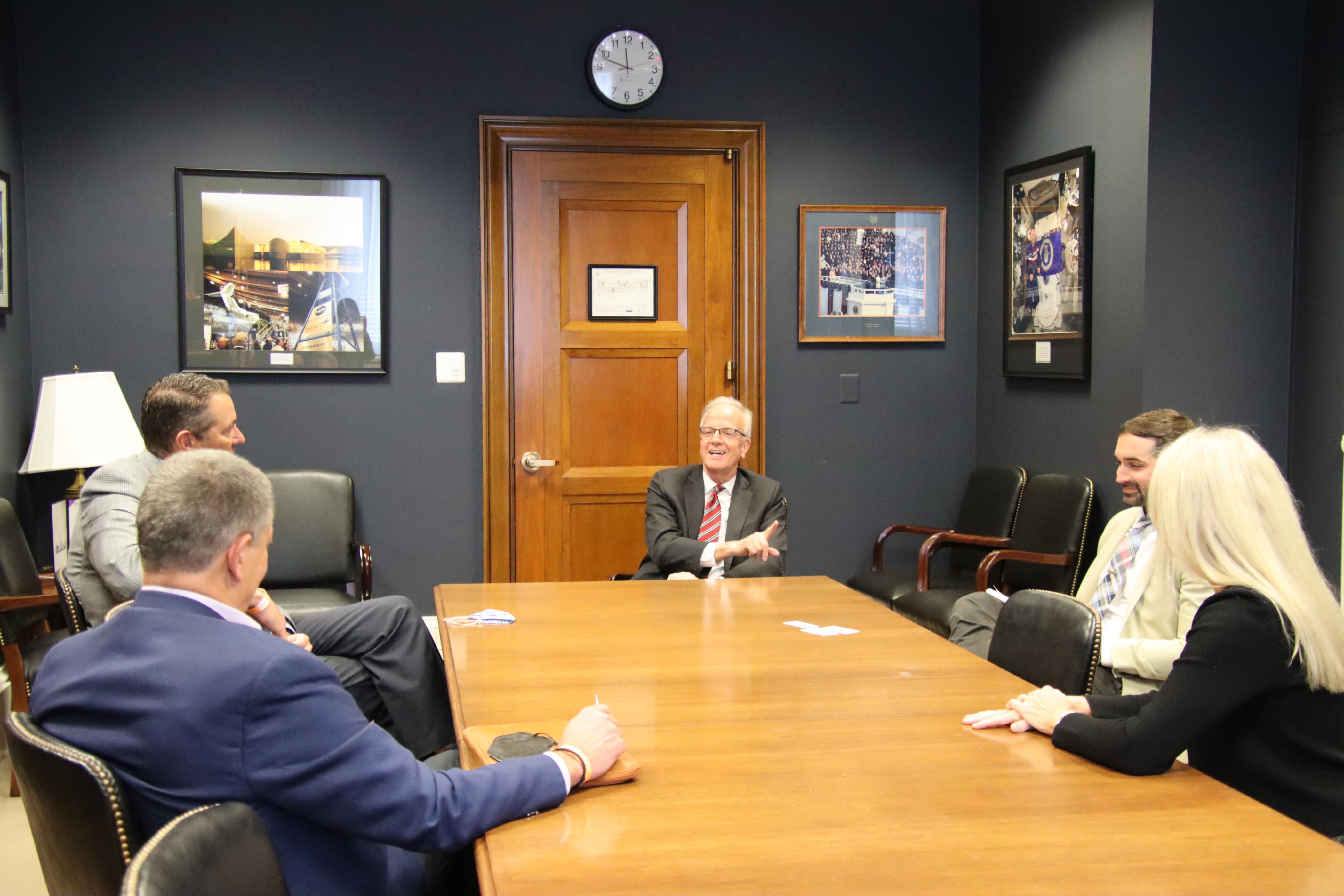 Kansas Realtors Virtual Address
I addressed the Kansas Realtors Association virtually on Thursday at their annual conference in Topeka where they met with state legislature members. As prices for home-building supplies and labor continue to climb, low- and moderate-income Americans are being priced out of homeownership. Owning a home is the foremost way to create generational wealth, and we need to pursue responsible reforms that allow the private market to grow the supply of affordable housing. While housing is primarily a local issue, the federal government does have tools to encourage affordable housing. Legislation I've cosponsored would expand more development of affordable housing, promote the rehabilitation of homes in low-income neighborhoods, and provide incentives for development in rural areas.
Speaking with Federal Leaders
Federal Reserve Chairman Jerome Powell
On Monday, I spoke with Federal Reserve Chairman Jerome Powell. We discussed the Fed's efforts to rein in the soaring inflation that's hurting Kansans. Chairman Powell and the Federal Reserve Board must work towards a solution that lowers consumer prices while still promoting economic growth. I also emphasized the importance of maintaining the Fed's credibility by upholding its political independence and adhering to its statutory authority instead of wading into partisan social issues.

Federal Aviation Administrator Steve Dickson
This week, I spoke with the Federal Aviation Administrator Steve Dickson. The FAA has been experiencing significant delays in issuing regulations, guidance and policy in a timely manner which has been negatively impacting Kansas' aviation businesses. We were able to discuss the impact this is having on the industry back home, and I encouraged the agency to address the backlog in an expeditious manner. During our conversation, I was also able to invite him to be my guest in Kansas to see our aviation capabilities, and I look forward to hosting him in our state soon.
Chief of Space Operations General John Raymond
I also spoke with General John "Jay" Raymond, the Chief of Space Operations of the U.S. Space Force. Our call focused on the importance of providing the Department of Defense with a full budget so our newest military branch can grow and succeed and how improved missile tracking and missile warning systems rank among the top priorities for U.S. defensive capabilities. I will continue to work with General Raymond to provide our servicemembers with the resources and technology they need to defend our assets and interests in space.
Honored to Serve You in Washington
It is an honor to serve you in Washington, D.C. Thank you to the many Kansans who have been calling and writing in to share their thoughts and opinions on the issues our state and country face. I appreciate the words of Kansans, whether in the form of a form of letter, a Facebook comment or a phone call, who wish to make their voice heard.
Please let me know how I can be of assistance. You can contact me by email by clicking here. You can also click here to contact me through one of my Kansas offices or my Washington, D.C. office.
Newsletter Sign-up Form
Note: Fields marked with an * are required.