Kansas Common Sense
Announcing KU Cancer Center Has Earned NCI's Most Prestigious Status
On Thursday, I announced that the University of Kansas Cancer Center has earned the National Cancer Institute's Most Prestigious Status – Comprehensive.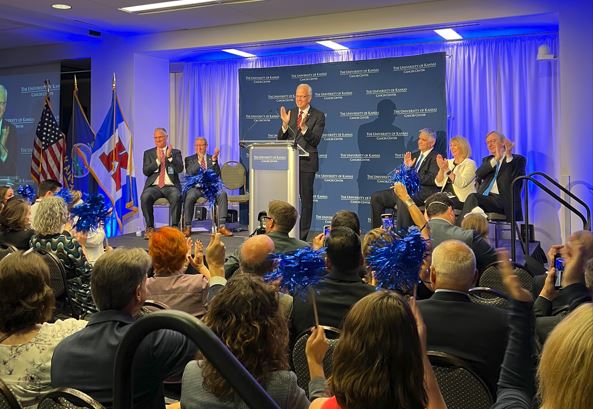 This announcement is a significant step forward and a huge milestone for KU Cancer Center. The NCI Comprehensive Designation Status solidifies KU Cancer Center as a national and world leader in the fight to treat and cure cancer and will open new avenues for federal funding, collaborative research opportunities and deeper partnership with NCI. The millions of dollars in increased funding from NCI is absolutely critical to supporting KU's research and development and translating their findings into effective treatments for patients. As an Appropriator in the United States Senate, I look forward to continue investing in NIH research which will provide NCI a larger allocation to distribute resources to cancer centers like KU. The grants that we frequently apply for, that are too often rejected, now stand a greater chance of being accepted.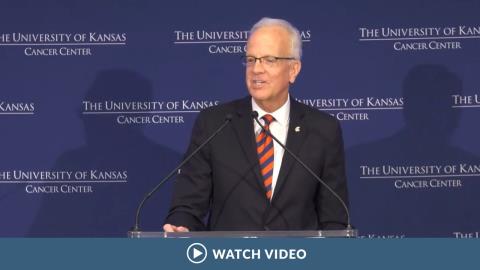 My priority is to make Kansas a destination for industry, defense, education, science, technology, engineering and research. But my main priority is to make Kansas a place where we are not only recruiting the top talent in the world to our state, but also keeping our students, their knowledge and intellect in Kansas. Kansans will have the opportunity to change the world, the globe, right here from home.
KU Cancer Center now joins only 52 institutions across the country that have earned the NCI Comprehensive Designation. There are a number of individuals who deserve a special thanks today, and especially the entire leadership team at the KU Cancer Center. Chancellor Girod, Dr. Simari and Dr. Jensen, should feel immense pride in their team and the work at KU Cancer Center. This is only the beginning, and really good things continue and begin to happen here at the KU Cancer Center. If you have a family member that suffers from this tremendous disease, there is more hope today than there was yesterday. And, God willing, one day we will provide something more than hope. We will provide that cure.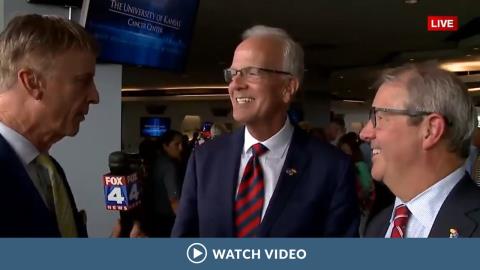 The VA Outpatient Clinic in Kansas City, Kansas is Officially Open

On Friday, it was great to be with veterans in Kansas City as we officially opened a new VA Outpatient Clinic. To open the new VA Outpatient Clinic, we were joined by the first patient to be treated at the clinic and navy veteran, Carroll Hill. Mr. Hill's grandfather was also the first American drafted in WWI. This is a family that is truly dedicated to serving our country and I thank them for their service. There is no group of individuals I hold in higher regard than those who have served our country, and I'm pleased that this new VA Outpatient Clinic will help veterans like Mr. Hill. This VA Outpatient Clinic will offer many important services to veterans in the KC-area including primary care, labs, pharmacies, tele-health and behavioral-health services.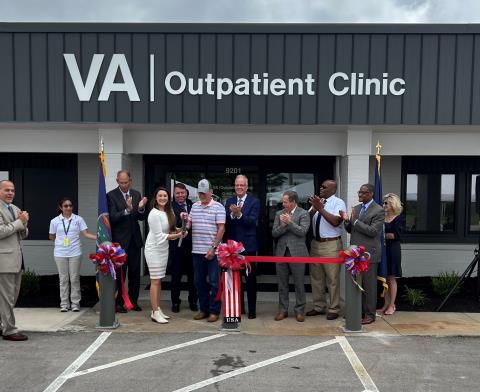 During the ceremony today, we were also joined by Paul Mimms, the Vice President of the National Blinded Veterans Association. Mr. Mimms presented the VA Outpatient Clinic with a Bronze Braille Flag to be on display at the clinic. I appreciate all Mr. Mimms does for veterans in Kansas and across our country, and I look forward to displaying a replica of the Bronze Braille Flag in my office.

Thank you to Director Rudy Klopfer, Joseph Burks and everyone in the Eastern Kansas VA Health System, as well as Bill Turner, Director of the Kansas Commission of Veterans Affairs, for your commitment to serving our veterans.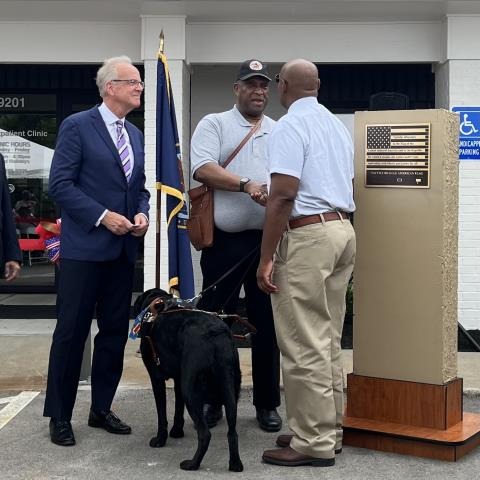 Attending ATLAS Pod Ribbon Cutting in Emporia
This week, I attended the ribbon cutting for ATLAS ("Accessing Telehealth Through Local Area Stations") Pod at American Legion Ball-McColm Post #5 in Emporia. The addition of this telehealth pod for the region means better access to quality health care for our veterans, especially those with limited broadband access in rural areas. This event is a significant step for our veteran community, and I was pleased to work with the VA, as well as the American Legion and the telehealth pod designer Philips, to bring the first ATLAS pod to Kansas. During a time when many people across our state and country are turning to telehealth as a convenient option for quality care, it is critical this same benefit is offered to our veterans. Thank you to all of the leadership and members at American Legion Post #5, as well as Joseph Burks, from the Eastern Kansas VA, and Matthew Shuman, of Philips, for their work in making this project a reality for our veteran community here in Kansas.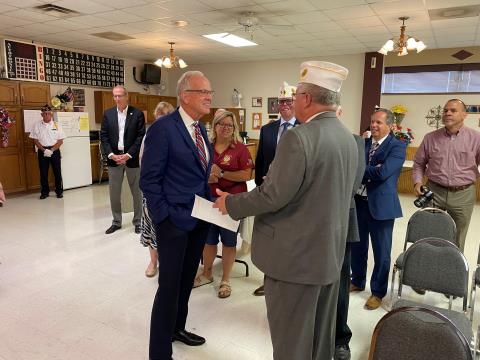 Announcing a Federal Investment for Emporia State University


On Wednesday, I had the
opportunity to join Emporia State University to announce a $1.5 million-dollar federal investment to establish a cybersecurity center on campus. Cybersecurity is more relevant now than ever, and I appreciate Emporia State's commitment to broadening the educational programs that are essential to national security. With this investment, Emporia State can train the next generation of professionals to deter cyber-attacks on both a large scale, and right here in Kansas. Thank you to Dr. Ed Bashaw, Dean of the School of Business, and Dr. Greg Schneider at Emporia State for allowing me to speak.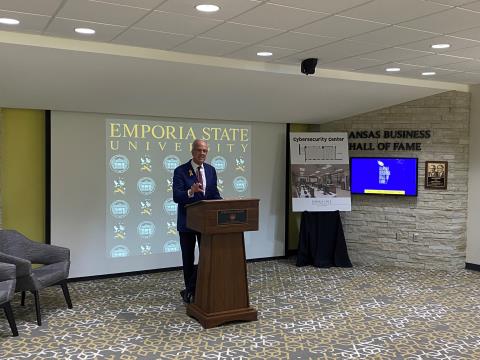 Meeting with Upward Bound Students at Emporia State University
While at Emporia State I also got a chance to speak with students participating in the Upward Bound Trio program. It was great to hear these young adults share the positive impacts that Upward Bound has had on their academic success, and I enjoyed learning more about the variation of services this program provides for them. Academic tutoring, personal counseling, mentoring, and financial guidance are just a few of the ways in which TRIO aims to improve educational experiences and sustain retention rates for our high school students. Supporting programs like Upward Bound has been a priority to me during my time in Congress because of the clear effect it has on educational access for young Kansans. I appreciated visiting with the Northern Heights and Emporia High schoolers participating in this program, and I thank the Upward Bound leadership team for their dedication to improving the lives of these promising young adults.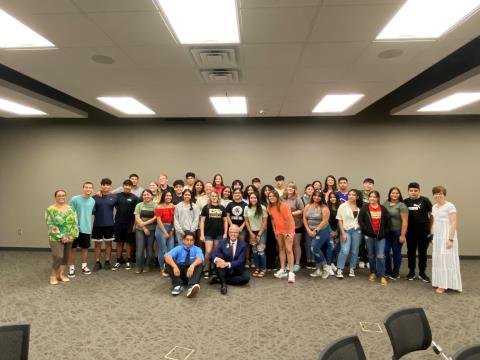 Speaking to Emporia Lions Club Meeting
While in Emporia, I had the opportunity to join the Emporia Lions Club to speak with them about the issues facing their community and the surrounding area. I also want congratulate the Emporia Lions Club for marking 100 years of serving their community!

It takes generations of Kansans committed to serving their neighbors to achieve this goal. Civic clubs like Emporia bring us together and offer us the opportunities to make a difference in the lives of the people close to us, which is truly one of the most impactful ways we can live. I also appreciate the insight this group provided as we discussed the importance of providing opportunities for students in the local area who are interested in STEM. Thank you to Tammy Edmiston, President of the Emporia Lions Club, and all of the other Emporia Lions Club and Emporia State members who joined in this discussion.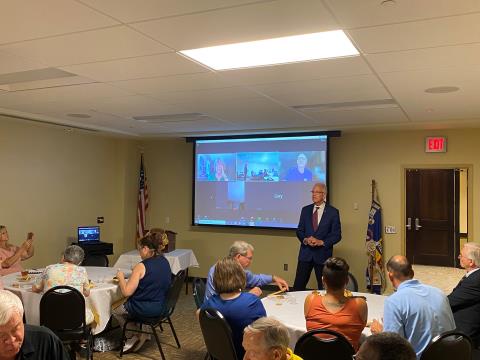 Announcing New Federal Resources for Riley County Police Department
This morning on my way back to Washington, D.C., I joined Interim Director Kurt Moldrup of the Riley County Police Department (RCPD) to announce new federal resources for the department to purchase a vehicle for the Hazardous Evidence Response Team. As the lead appropriator for the Department of Justice, I worked to secure this investment for our law enforcement in order to address the growing problem of issues with hazardous materials across our state. In a time when others have called to defund the police, I have made every effort to support our law enforcement community, and to provide them with the resources necessary to fulfill their mission of protecting and serving our Kansas communities. I will continue to work alongside our Kansas law enforcement to make certain they receive the support they need.

To those who serve our country in blue uniforms, thank you. You deserve our respect and gratitude for risking your lives to protect us, our families and our neighbors. I want to recognize the work of Interim Director Kurt Moldrup, Sergeant Dustin Weiszbrod and everyone else who serves with the Riley County Police Department. Thank you also to the local and state elected officials who joined us today to show support for our law enforcement, and to discuss the ways in which we can work together to provide necessary resources for our police and to keep our communities safe.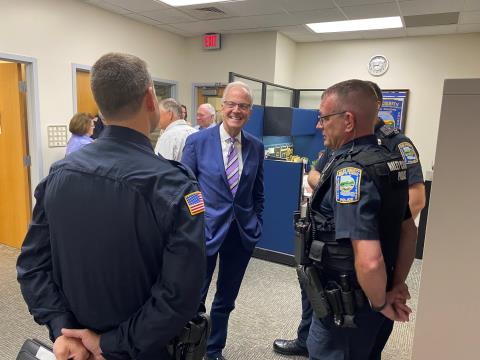 Touring AdventHealth in Ottawa
On Tuesday, I had the opportunity to visit AdventHealth in Ottawa for a tour of their facility. During the visit, I saw firsthand the efforts of the staff at AdventHealth to provide quality health and wellness care for the surrounding community. This center offers a wide variety of services for nearby Kansans, including senior and children's care, diabetes treatment, a full spectrum of cancer care, emergency and urgent care services, occupational medicine, neurology and neurosurgical care, orthopedic services and lab testing. Thank you to AdventHealth CEO Dallas Purkeypile, Ottawa Mayor Eric Crowley, Ottawa Area Chamber of Commerce President & CEO John Coen, Ottawa City Manager Richard Nienstedt, Kansas Hospital Association President Chad Austin and all of the health care providers at AdventHealth for hosting me during my visit.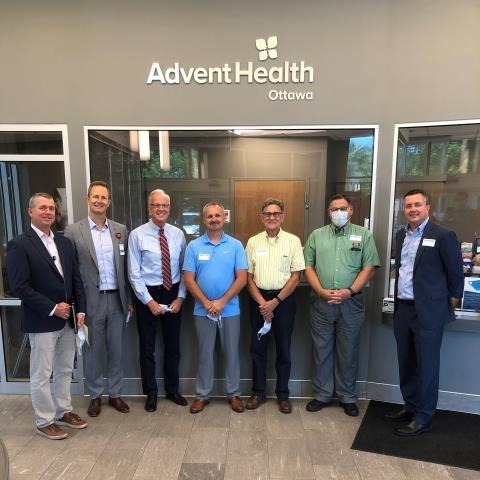 85/15 GI Bill
I recently joined my colleagues on the Senate and House Committee on Veterans' Affairs in introducing legislation to protect student veterans and their dependents, as well as schools. This bill would fix an issue that schools of higher education are facing due to new guidance issued by the Department of Veterans Affairs (VA) at the end of last year. The VA's direction, also known as the "85/15 Rule," prohibits the VA from paying benefits to students enrolling in education programs where more than 85 percent of the students receive funding from the VA. This guidance was established to combat the predatory practices of schools targeting veterans using the GI Bill. Last fall, the VA implement additions to the 85/15 Rule may include students who are not receiving any form of assistance from the VA, artificially inflating the number of students counted as part of the 85 percent.

This past November, I sent a letter to the Secretary of Veterans Affairs, asking that he clarify this new guidance and provide additional training to school officials. However, the VA did not fix this issue, causing concern that this rule would negatively impact students entering school for the Fall 2022 semester.

Due to this concern, I introduced the Ensuring the Best Schools for Veterans Act of 2022, along with the rest of House and Senate Veterans' Affairs leadership, to provide clarity for our schools and student veterans. This bill would ensure there are no negative impacts for our student veterans by requiring that the VA adjust procedures to match the original intent of the law as passed by Congress. This is an important bill, and I look forward to getting it to the President's desk as soon as possible.

Kansans in the Office

Capitol Tour
Andrew Bowen of Manhattan
Nikki Bowen of Manhattan
Jacob Bowen of Manhattan
Lisa Browning of Overland Park
David Carlson of Cottonwood Falls
Sandra Carlson of Cottonwood Falls
Bryan Gansen of Overland Park
Michelle Gansen of Overland Park
Hayden Gansen of Overland Park
Dylan Gansen of Overland Park
Sydney Gansen of Overland Park
Jason Hoffmann of Leawood
Dana Hoffmann of Leawood
Aleksander Hoffmann of Leawood
Maxton Hoffmann of Leawood
Genevieve Hoffmann of Leawood
Bill Mann of Leawood
Christin Mann of Leawood
Holden Mann of Leawood
Charlotte Mann of Leawood
Claire Mann of Leawood
Connor Olsen of Leawood
Jessica West of Overbrook
Laura Zabokrtsky of Tecumseh


4-H Citizen Washington Focus Group
John Jobe of Riley County
Newsletter Sign-up Form
Note: Fields marked with an * are required.