Kansas Common Sense
Western Kansas Delegation Visits D.C.
This week, I visited with community leaders from Hays, Garden City, Dodge City, Liberal and Seward County about topics important to their local communities. We discussed a number of issues, including transportation, immigration, housing, childcare and preserving access to water.

It was great to receive an update on several projects, including the Hilmar Cheese plant in Dodge City and the airport expansion project in Garden City. We also spoke about the efforts underway to make certain communities in western Kansas have access to water resources for generations to come through conservation and aquifer recharge. I appreciate the efforts of these community leaders to make certain the places we call home are sought-out places to live and work. Thank you to the members of these local chambers of commerce for organizing this annual visit to Washington, D.C.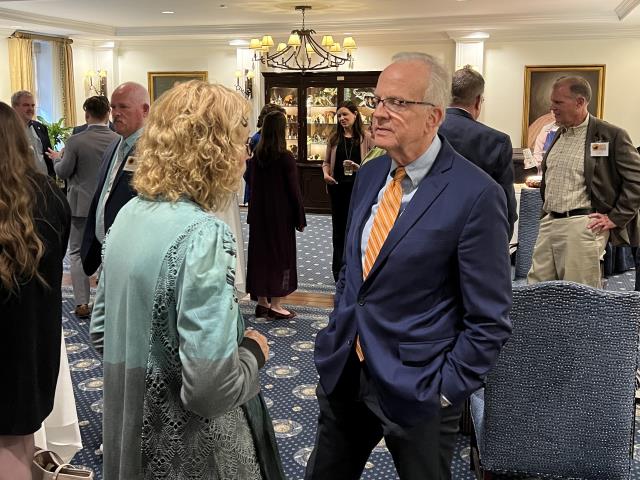 Meeting with Kansans
The Rural Broadband Association
On Tuesday, I met with Kansas rural broadband providers representing The Rural Broadband Association. We spoke about the importance of broadband deployment programs at the Federal Communications Commission and the U.S. Department of Commerce. We also discussed the importance of continuing support at the federal level for these projects in our state. In addition, we spoke about my legislation to make certain broadband deployment grants are not considered taxable income, which would hinder efforts to deploy networks to areas of Kansas unserved by broadband. This bill will help rural broadband providers to fully utilize the broadband deployment grants they receive. I will continue to work with broadband leaders in our state to make certain all Kansans have access to high-quality broadband service.

Thank you to Terry Force of Home, Candace Wright of Home, Brad Rieger of Caldwell, Rob McDonald of Madison, Jimmy Todd of Hays, Rhonda Goddard of Hays, Catherine Moyer of Ulysses, Kasey Krueger of Ulysses, Jason Smith of Everest, Dale Jones of Council Grove, Jason Pettit of Council Grove, Benjamin Foster of Miltonvale, Todd Houseman of Dodge City, Brian Boisvert of Wilson and Craig Freeman of Wilson for meeting with me.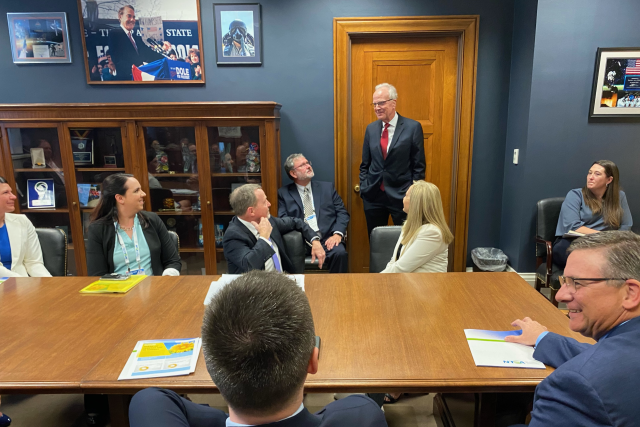 Kansas Electric Cooperatives
This week, I met with members of the Kansas Electric Cooperatives for an update. Our discussion covered the issues most important to Kansas' electric cooperatives and their customers. During this meeting, we also talked about the importance of preserving a reliable and affordable energy supply, modernizing infrastructure permitting and reducing supply chain challenges. As Congress continues its work on the Farm Bill, I will look to prioritize the needs of Kansas electric co-ops. Having a secure and affordable electrical grid is critical to supporting Kansas families, businesses and infrastructure.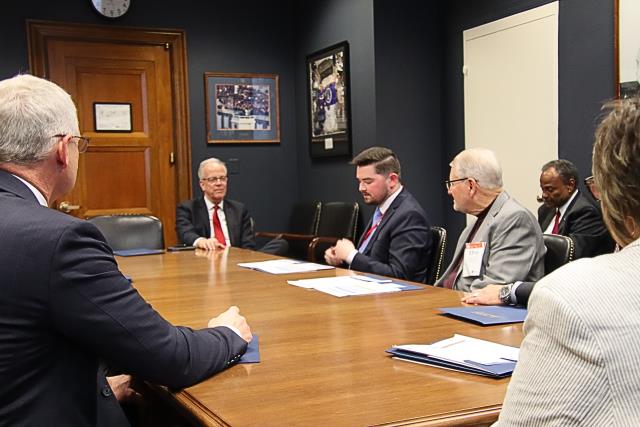 Lawrence Chamber of Commerce
This week, it was great to speak with members of the Lawrence Chamber of Commerce and University of Kansas about current projects in their local community. I appreciated receiving an update on the expansion of the KU Innovation Park in Lawrence and hearing about issues related to infrastructure and workforce recruitment and retainment for the city. Thank you to these business and community leaders for visiting with me.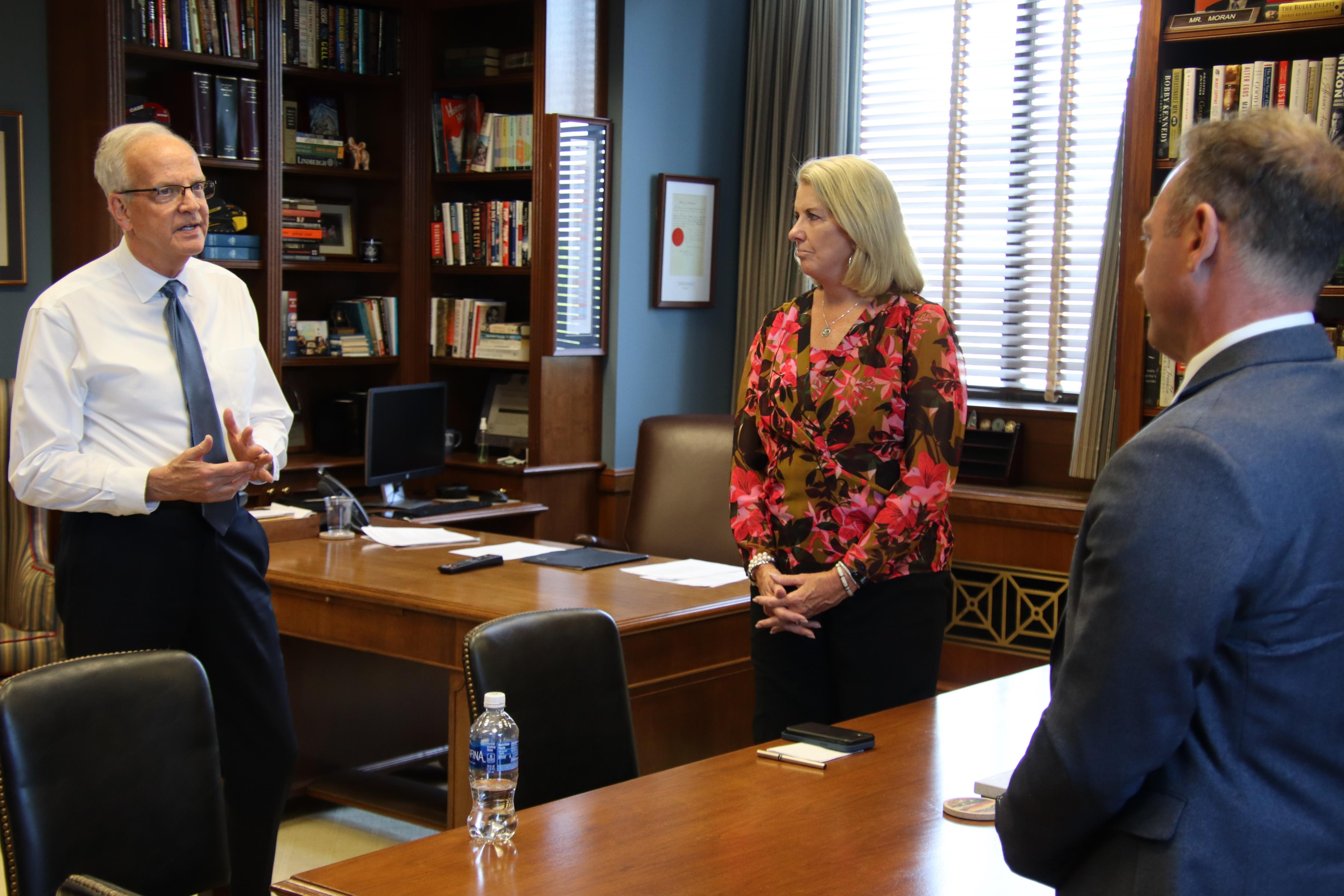 University of Kansas Chancellor Doug Girod
This week, I enjoyed the opportunity to visit with University of Kansas Chancellor Doug Girod. During this meeting, we discussed the work being done at the university to prepare students for success following graduation and how I can continue to support these efforts. Thank you to Chancellor Girod, Provost Barbara Bichelmeyer, Executive Vice Chancellor Dr. Robert Simari, Vice Chancellors Simon Atkinson and Matthias Salathe and Julie Murray for hosting their annual event bringing Kansans together in the nation's capital to discuss the great things happening in our state.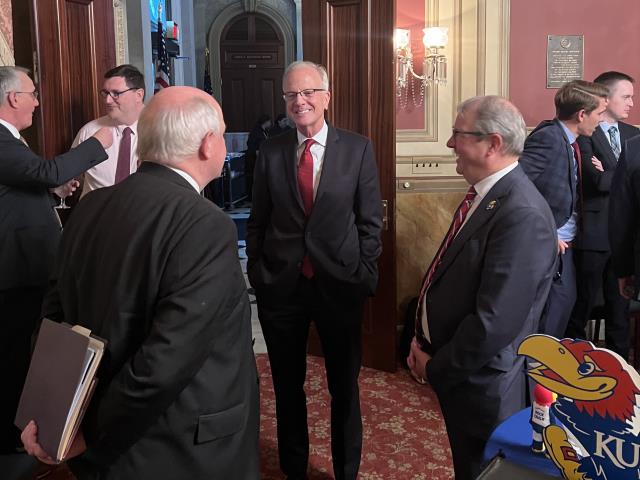 Fort Hays State University
I was pleased to have Fort Hays State University students Ella Burrows and David Schulte, as well as FHSU staff Joseph Bain and Jennie Rose, visit my office to talk about the education and workforce development initiatives happening at FHSU. The recent announcement about FHSU's affiliation with North Central Technical College and Northwest Technical College is an important step towards deeper collaboration among higher education institutions in western Kansas. As we battle a national workforce shortage across all industries, the affiliation of FHSU, North Central Tech and Northwest Tech will play an important role in filling workforce needs and creating paths for students to achieve their career goals.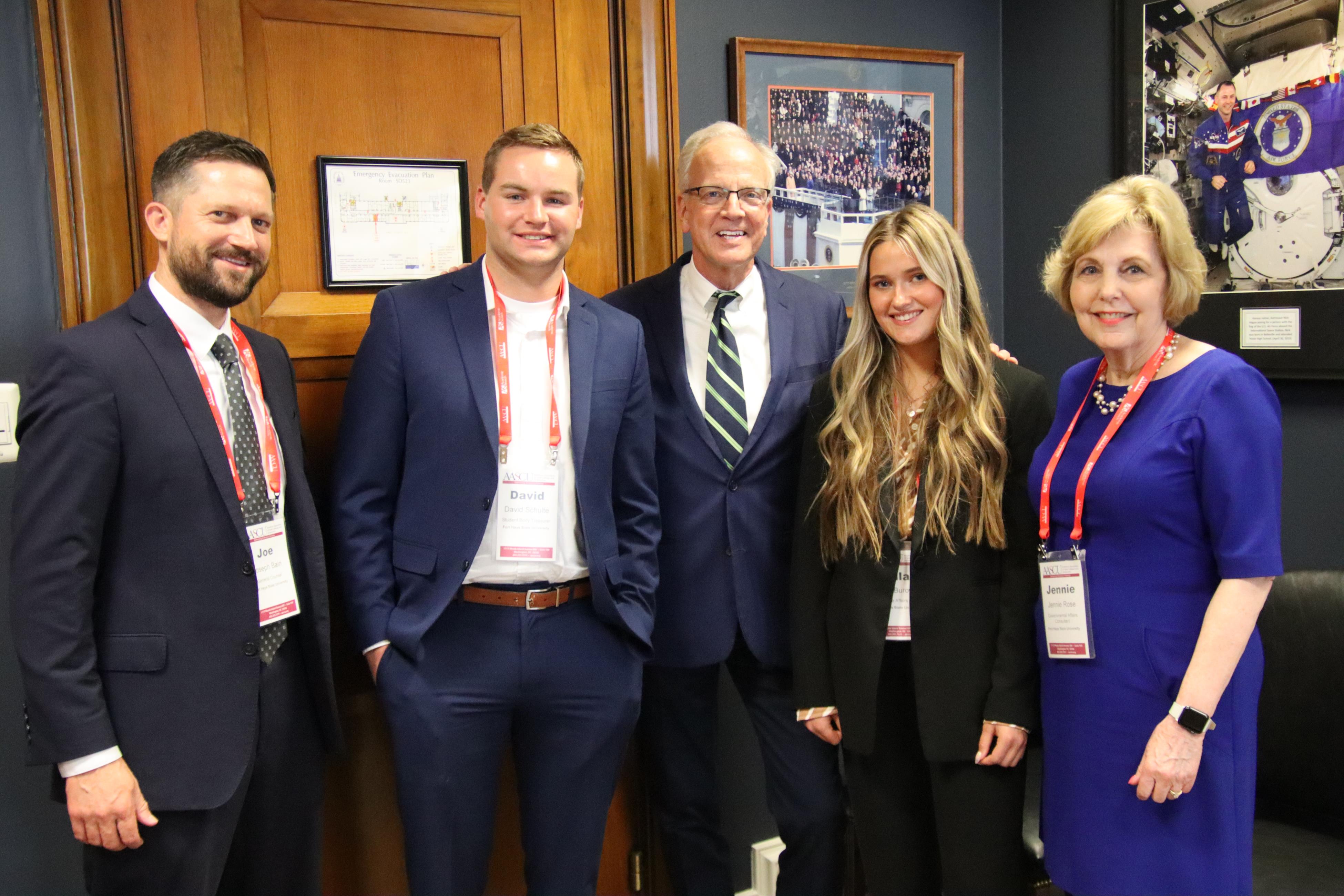 Thomas Treacy and Devin Short
This week, I had lunch with my spring intern Thomas Treacy of St. Marys and my spring Senate Page Devin Short of Maize. It was great to have the opportunity to hear them reflect on their time spent in the nation's capital learning about public service and government. I want to thank Tom and Devin for their hard work serving Kansans during their time in my office.

If you are interested in an internship with my office in Kansas or Washington, D.C., you can learn more here.

Sunrise Christian Academy
It was great to visit with a group of 8th grade students and faculty from Sunrise Christian Academy in Bel Aire on Tuesday. I want to thank these young students and the staff at Sunrise Christian Academy for making the trip out to our nation's capital and taking the time to say hello.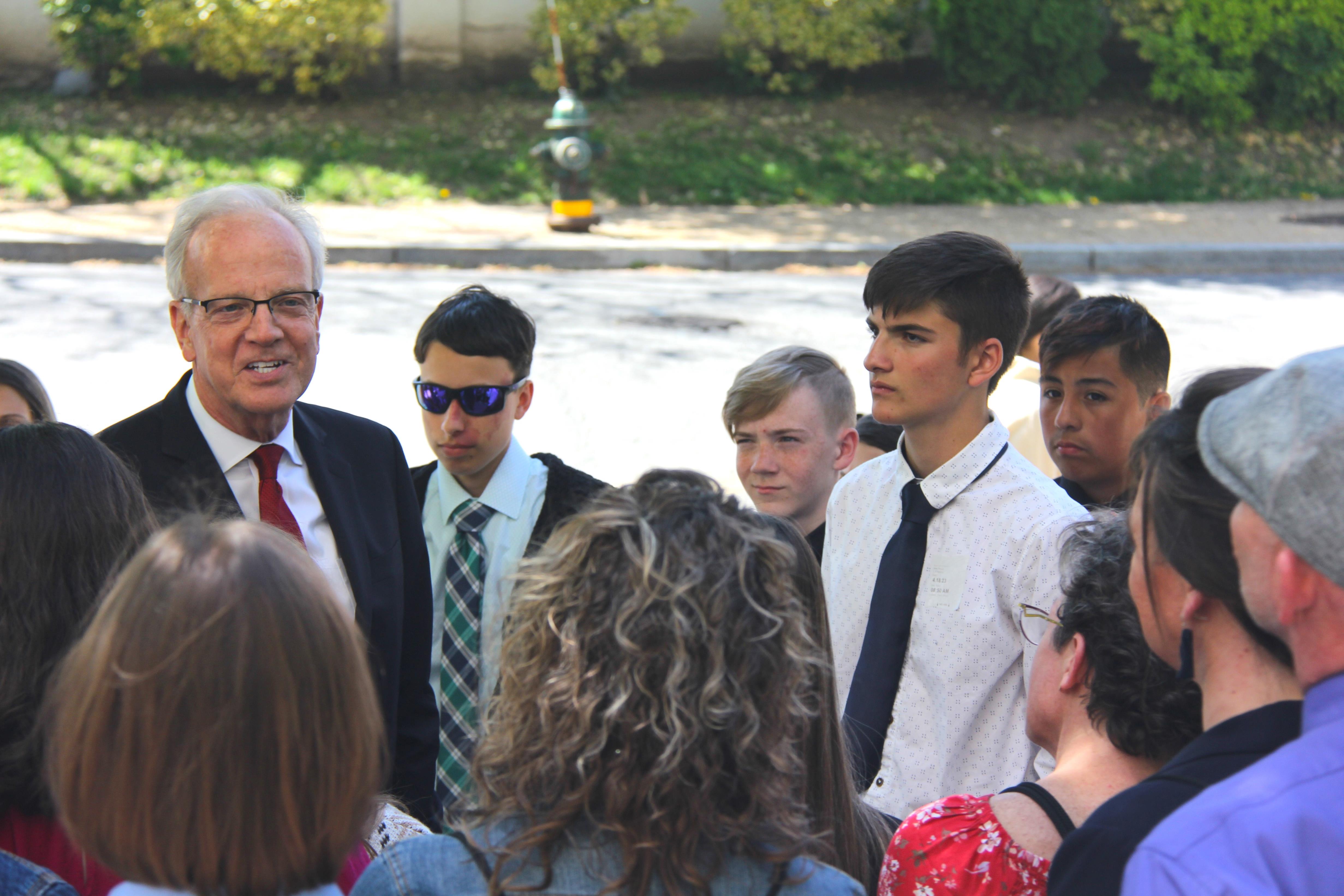 Applauding $191 Million Investment to Improve Wichita's Water Quality
This week, the U.S. Environmental Protection Agency (EPA) awarded a $191 million Water Infrastructure Finance and Innovation Act (WIFIA) loan to the City of Wichita to improve water quality and create 1,250 jobs. Access to clean water is critical for Kansas communities and their long-term success.

In 2021, Senator Roger Marshall, Congressman Ron Estes and I advocated for Wichita to receive this much-needed funding to sustain future growth as the city continues to expand. Improving and updating Wichita's water system is an important investment in the future of our state. This loan will be used to upgrade two of the city's most critical wastewater facilities, reducing nutrient contribution to the Arkansas River and Mississippi River Basin, address local odor concerns and update aging infrastructure to meet growing demand with anticipated population.

Read more from KSN here and The Wichita Eagle here.
Highlighting Cosmosphere During Hearing with NASA Administrator
This week, as ranking member of the Commerce, Justice and Science (CJS) Appropriations Subcommittee, I led a hearing with NASA Administrator Bill Nelson and National Science Foundation (NSF) Director Sethuraman Panchanathan to cover their respective agencies' FY2024 budgets.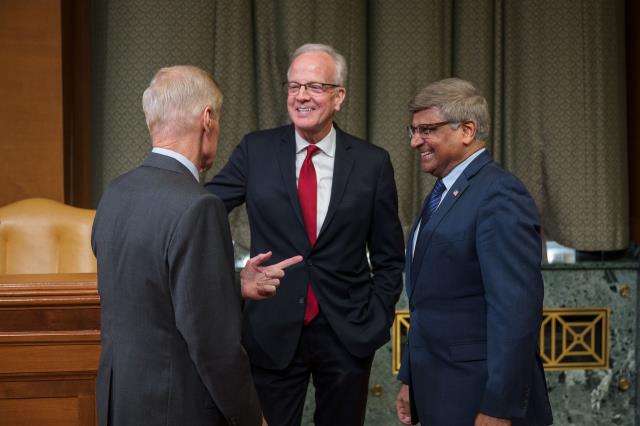 During the hearing, I took the opportunity to pass on to Administrator Nelson the high praise for the Cosmosphere in Hutchinson from the crew of NASA's Artemis II. During our phone call, the crew commander stated, "Kansas has the best space museum on planet Earth," in reference to the Cosmosphere. When I hosted NASA Administrator Nelson in Kansas last August, we visited the Cosmosphere and I was pleased to remind the administrator during the hearing that his crew has given it their stamp of approval.
NASA's budget sets a vision for the future by partnering with the broadest exploration coalition in history demonstrated by the continued progress of the Artemis campaign, and the NSF budget builds upon decades of critical investment that will continue to advance America's global competitiveness. I will work with my colleagues on this subcommittee to craft a bill that supports the goals of both of these agencies, particularly as they relate to our national security.
You can watch my remarks
here
.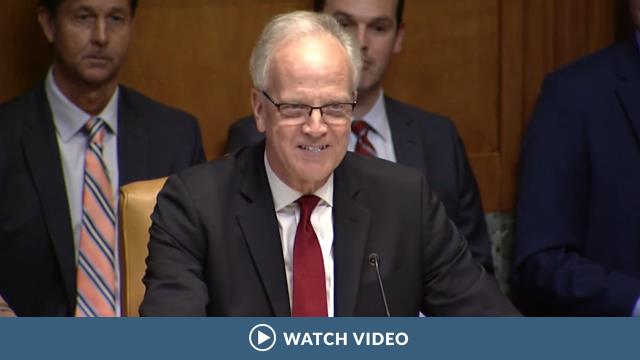 Questioning USAID Administrator on Global Food Security
This week, during a Senate Appropriations Subcommittee on State, Foreign Operations and Related Programs hearing, I questioned U.S. Agency for International Development (USAID) Administrator Samantha Power on the status of the Black Sea Grain Initiative. As Senate Hunger Caucus Co-Chair, I wanted to hear from Administrator Power on what the administration is doing to prevent the agreement's expiration.

Prior to invasion by Russia, Ukraine was one of the world's key breadbaskets, producing enough food to feed millions around the world. However, at the beginning of the invasion, when the Russian navy blockaded Ukraine's Black Sea ports, the country's ability to ship its agricultural products to world markets dropped drastically. This worsened a global food security crisis already underway and threatened the lives of people in countries most dependent on Ukrainian agricultural exports. The announcement of the Black Sea Grain Initiative ended the blockade and allowed safe passage of commercial ships carrying agricultural exports from Odesa and two other Ukrainian ports.

Since then, nearly 25 million metric tons of grain and other agricultural products have been able to leave Ukraine, helping to drive down global food prices by 18% since their peak in March 2022 and injecting much-needed revenue into the Ukrainian economy. Nevertheless, this is not a permanent solution and negotiations continue about extending the deal.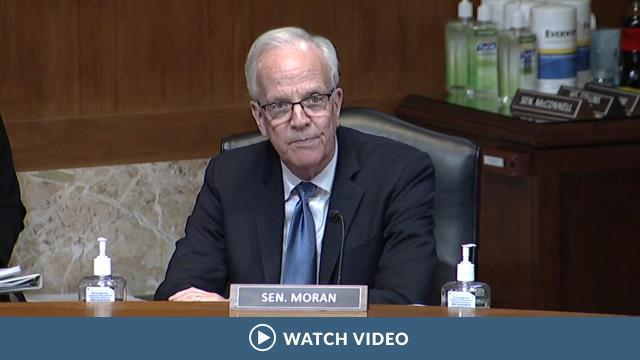 Meeting with Textron CEO and Textron Bell CEO
This week, I met with Textron Chairman and CEO Scott Donnelly and Textron Bell's new President and CEO Lisa Atherton. Bell is the subsidiary company of Textron, which is one of the top employers in Wichita and across the state. We discussed the importance of educating the next generation of aviators and engineers, specifically Bell's efforts to train more flight control engineers. I will continue to identify opportunities to partner on increased collaboration between industry and academia in preparing our students for engineering jobs in Kansas and around the country.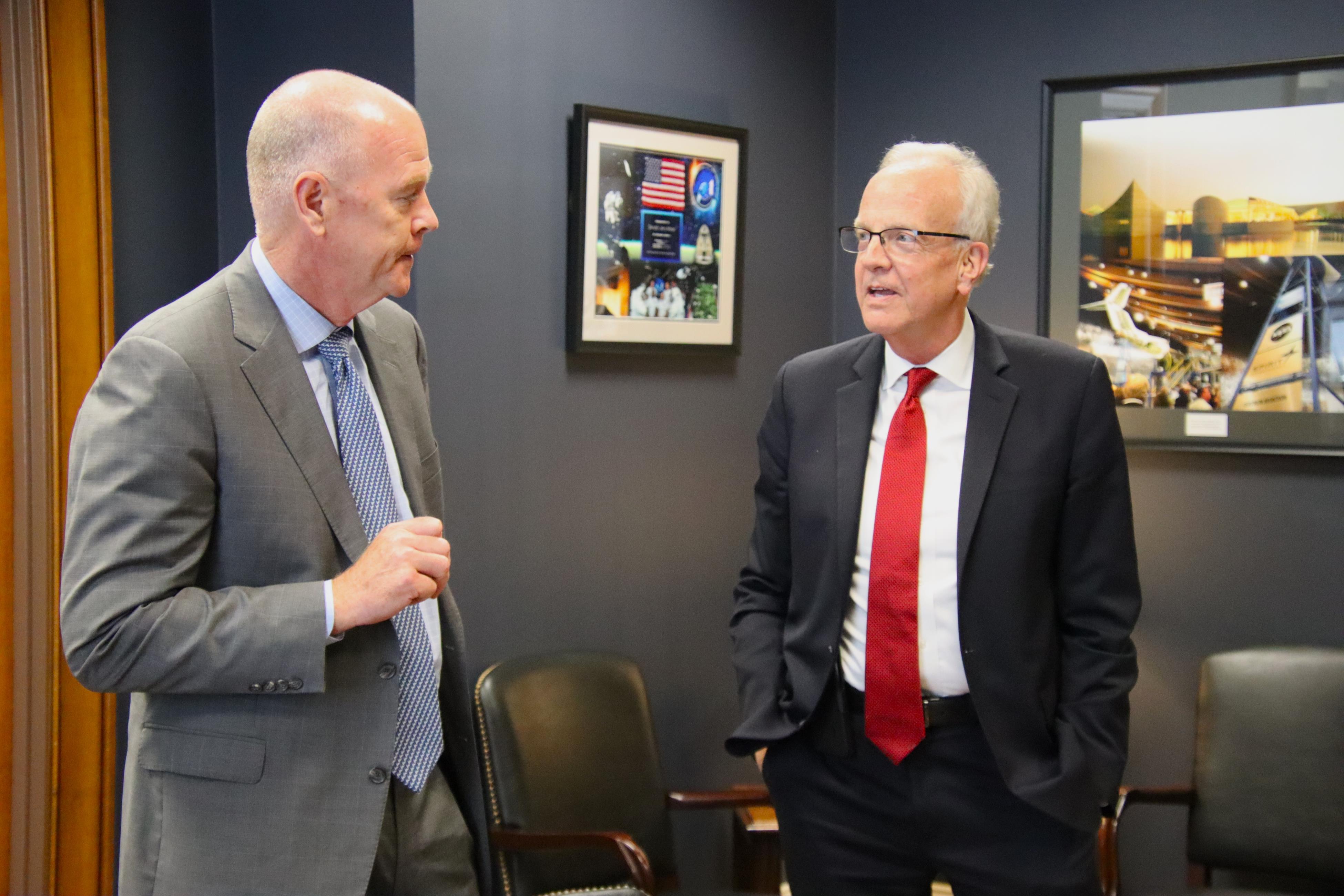 We also discussed the Army's recent decision to select the Bell V-280 as its Future Long Range Assault Aircraft. Kansas' skilled workforce will have a significant role in supporting this program. I value the decades-long partnership with Bell Textron and the company's contribution to Kansas' title as "Air Capital of the World." I am confident our state will continue to have a significant role under Bell Textron's current leadership.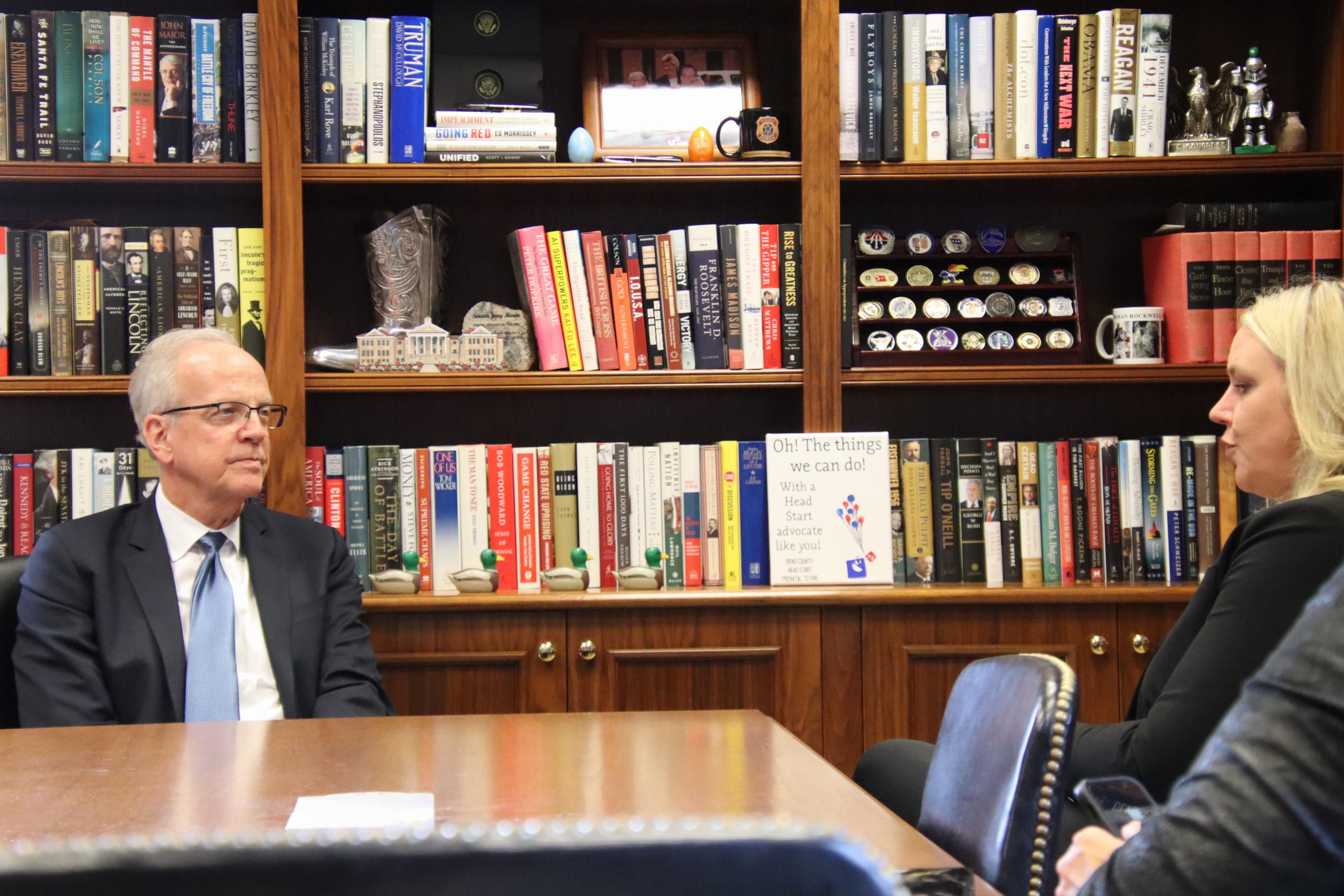 Receiving an Update from Travel Associations
As Senate Travel and Tourism Caucus Co-Chair, I had the opportunity to meet with members of the Travel Association from Topeka, Kansas City, Lindsborg, Abilene, Wichita and Parsons this week. I appreciated hearing from them about the priorities of the hospitality and tourism industries in Kansas. With exciting events occurring in our state and region in the near future, including the 2023 NFL Draft and the 2026 World Cup, I look forward to continuing to support our state's travel industry and make certain Kansas is poised to participate in events that will bring significant economic benefit to our state.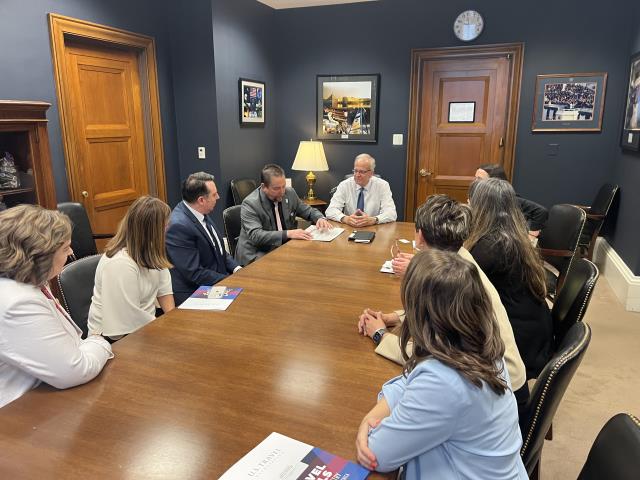 Introducing Legislation to Recruit and Retain Women in Aviation
As ranking member of the Senate Commerce Subcommittee on Aviation, I introduced bipartisan legislation to support women in aviation. This bill would make the Women in Aviation Advisory Board (WIAAB) a permanent body in the Federal Aviation Administration (FAA) in order to continue its work providing valuable insight on best efforts to recruit, promote and retain more women in the aviation sector.
Women play a key role in the Kansas aviation workforce, with the real-world example of Rosie the Riveter working on B-29 assembly lines in Wichita during World War II. Each industry is only as strong as its workforce, and codifying the Women in Aviation Advisory Committee will bolster the aviation sector and make certain women's voices are heard in this important industry. Initiatives such as this one will also recruit and retain a strong talent pipeline for generations to come. As I work to craft the FAA Reauthorization bill this Congress, I will continue to support efforts to encourage more women to pursue careers in aviation and to make certain we retain those who are already a part of this critical sector.
Read more from Sunflower State Radio
here
.
Committee Hearing on Veterans' Consumer Protection
This past week, as the lead Republican on the Senate Committee on Veterans' Affairs, I led an oversight hearing on how to better protect servicemembers, veterans and their families from scammers who want to take advantage of their hard-earned benefits. Individuals from the Department of Veterans Affairs, the Consumer Financial Protection Bureau and the Federal Trade Commission testified before the Senate VA Committee and discussed the work their agencies are doing to keep veterans and their families from financial harm. Veterans can be preyed upon by a multitude of scammers when using the GI Bill, refinancing their VA home loans or filing disability claims.
I have heard far too many stories from Kansas veterans about their experiences with these issues. This committee hearing was a first step to push this administration to not only work to make veterans whole when they fall prey to one of these fraudsters, but also to stop these scams from happening in the first place. I will continue to work with my colleagues to make certain that veterans and military families are protected from exploitation and scams.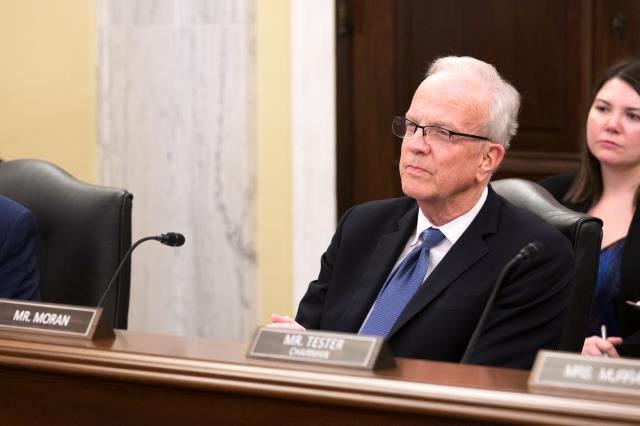 Senate Defense Appropriations Subcommittee Hearing
This week, the Senate Appropriations Subcommittee on Defense held a hearing to discuss the Air Force and Space Force FY2024 budget with Air Force Secretary Frank Kendall, Air Force Chief of Staff General Charles Brown and Chief of Space Operations General Chance Saltzman. During this hearing, I highlighted the Air Force's plans to further research the manufacturability of hypersonics at a lower cost, recapitalization of the Air National Guard and options under consideration to conduct critical space capability currently in the Air National Guard. Non-traditional hypersonic suppliers, like Spirit AeroSystems, have unique manufacturing techniques to support this critical capability's ongoing development and scalable production. The Air Guard is the Air Force's strategic reserve and should be concurrently and proportionately resourced to make certain airmen are equipped and trained to complete their missions. General Saltzman assured me that the best plan for restructuring space capabilities in the National Guard would be cost-effective and minimize the operational impact on the mission by implementing this plan. I look forward to seeing how the Air Force and Space Force tackle these decisions, and I truly appreciate the dedicated service our Airmen and Guardians provide to our nation.
Kansas City Community Visit
On Monday, before returning to Washington, D.C., I joined community and business leaders to announce a federal investment for the Kansas City Board of Public Utilities (BPU). This funding will be used to replace outdated water mains throughout the city. Thank you to General Manager Bill Johnson and Mayor Tyrone Garner, as well as BPU Board President Rose Mulvany Henry, BPU Board Member Mary Gonzales, BPU COO Jeremy Ash and BPU CCO David Mehlhaff.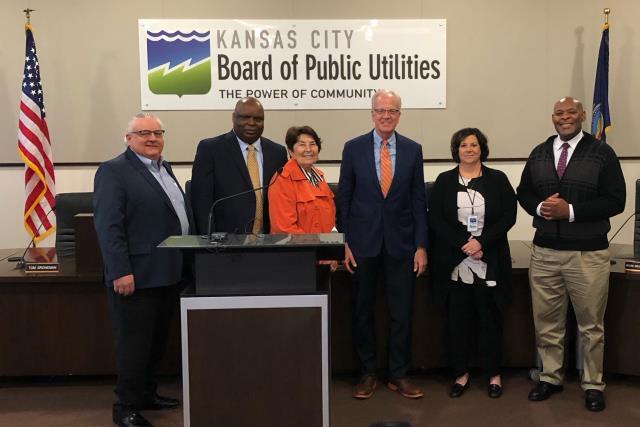 Visiting Huntsville as a Senate Appropriations Leader
Dynetics and Lockheed Martin
On my way back to Kansas this weekend, I stopped in Huntsville, Alabama, to visit with defense contractors involved in hypersonics weapons. As a senior member of the Appropriations Subcommittee on Defense, it is important to witness the work of our defense industry, provide oversight and make certain it is receiving the resources needed to protect our nation. The defense industry is currently working to provide our warfighters with a weapon that can travel at five times the speed of sound to meet current requirements and emerging threats. The manufacturing locations that I visited in Courtland and Huntsville are building major strategic weapons for long range precision fires for the Army, Navy and the Air Force.
I had the chance to meet the men and women involved in delivering the ground-launched hypersonic missile for the Army. This missile will also be used by the Navy and launched from ships and its Virginia-class submarines. Thank you to my hosts for taking the time to explain the scientific and technical challenges that they have overcome.
NASA - Marshall Space Flight Center
It was also great to spend time with the senior leadership of the NASA center on the Redstone Arsenal. The important work that Marshall oversees in preparing to return Americans to the surface of the moon and beyond involves a myriad of technical challenges.
As a lead appropriator for NASA, it was great to see firsthand the additive manufacturing lab, learn about the thermal protection system work and see some of the Artemis hardware that is bound for space.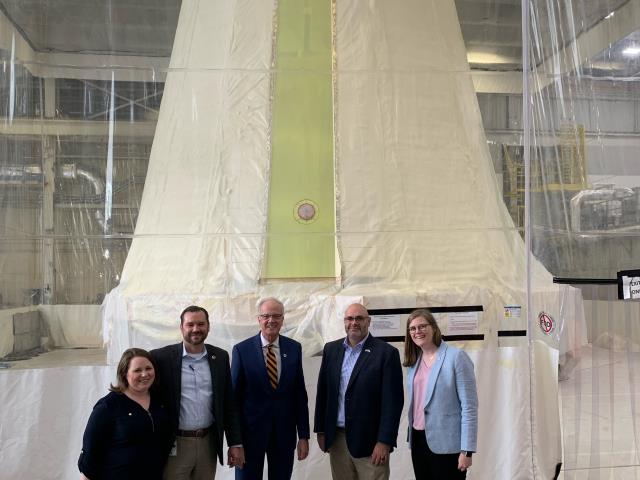 FBI – Training Campus and TEDAC
Also under my jurisdiction as the ranking member for the Appropriations Subcommittee on Commerce Justice and Science, I visited the FBI headquarters in Huntsville for an update on the construction of their training campus. I received briefings on some of the FBI's work in defending the country from the threat of terrorism. The Terrorist Explosive Device Analytical Center (TEDAC) on Redstone Arsenal is where the nation stores and studies IEDs that have been collected or are of interest to the U.S. Government. It was a privilege to meet the public servants who work to understand the specific nature of this type of threat to American citizens and to better prevent a future attack.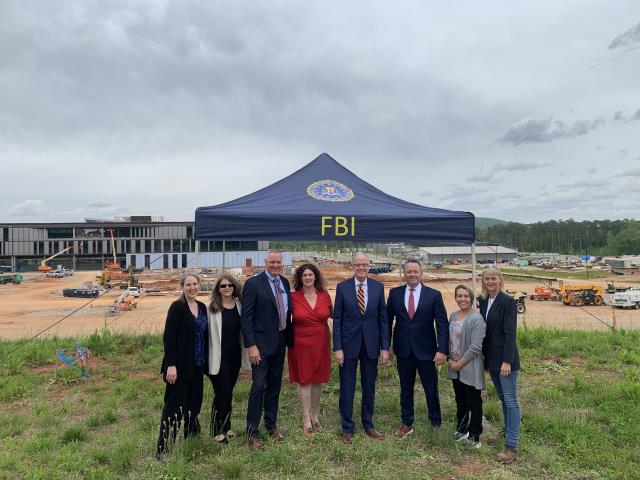 Kansans in the Office

Capitol Tour
Heather Musil of Hays

Corey Musil of Hays

Meghan Musil of Hays

Mason Ruder of Hays

Erin Ruder of Hays

Vernon Ruder of Hays

Ruth Ruder of Hays

Darin Myers of Hays

Michael Berges of Hays

Erica Berges of Hays

Alexis Sinlasath of Olathe

Xayasith Sinlasath of Olathe

Rozelle Webb of Liberal

Scott Carr of Liberal

Presephoni Fuller of Liberal

Jose Lara of Liberal

Janeth Vazquez of Liberal

Mel Patterson of Liberal

Emily Norberg of Lindsborg

Paula Norberg of Lindsborg

Harold Lacy Jr. of Overland Park

Vicki Lacy of Overland Park

Mark Walker of Frontenac

Pam Walker of Frontenac

Amy Carr of Overland Park

Ayax Ron of Overland Park

Patrick Ron-Carr of Overland Park

Ted Iliff of Olathe

Julia Iliff of Olathe

Regina Hummer of Manhattan

Mark Traylor of Olathe

Jacqueline Traylor of Olathe

Bethany Traylor of Olathe

Nadine Smith of Mankato

Karen Stewart of Washington

Debra Kruse of Hanover

Jessica Kelemen of Manhattan

Will Wilk of Basehor

City of Hays
Darin Myers of Hays

Michael Berges of Hays

Collin Bielser of Hays

Mason Ruder of Hays

Reese Barrick of Hays

James Robben of Hays

City of Garden City
Myca Bunch of Garden City

Shonda Collins of Garden City

Deb Oyler of Garden City

Danielle Burke of Garden City

Matt Allen of Garden City

Rachel Powell of Garden City

Mary Ortiz of Garden City

City of Liberal
Rozelle Webb of Liberal

Scott Carr of Liberal

Presephoni Fuller of Liberal

Jose Lara of Liberal

Janeth Vazquez of Liberal

Mel Patterson of Liberal

American College of Surgeons
Kate Dixon of Kansas City

Tyler Hughes of Salina

Robert Amajoyi of Leawood

Josh Brohammer of Fairway

Jack Ayres of Overland Park

Kansas Electric Cooperatives
Coni Adams of Wellington

David Light of Ulysses

Keith Leddy of Norton

Kirk Thompson of Meade

Kirk Girard of Norton

Mike Brewer of Ulysses

Pat Morse of Dodge City

Reagan McCloud of Topeka

Shane Laws of Dodge City

Dodge City Chamber of Commerce
Nick Hernandez of Dodge City

Mollea Wainscott of Dodge City

Eliel Marin of Dodge City

Karla Lees of Dodge City

Alicia Edwards of Dodge City

Corey Kuller of Dodge City

Crop Insurance Professionals Association
Brett Keeler of Assaria

National Water Resources Association
Clay Scott of Ulysses

Randy Hayzlett of Lakin

Jason Norquest of Garden City

Mark Rude of Garden City

Solve M.E.
Tracy Conrad of Kansas City

Coalition for Clinical and Translational Scientists
Bill Brooks of Kansas City

Stephanie Stancil of Overland Park

Online Lenders Alliance
Bart Miller of Leawood

Gayla Huber of Kansas City

Heartland Chamber of Commerce/Heartland Black Chamber of Commerce
Michele Watley of Kansas City

Kim Randolph of Kansas City

State Rep. Eric Smith of Burlington

Robert Skippen of Burlington

National Shooting Sports Foundation
Kenyon Gleason of Topeka

National Down Syndrome Society
Jawanda B. Mast of Olathe

Plastics Industry Association
Steve DeSpain of Maize

Joe Piccini of Maize

U.S. Deputy Sheriff's Association
David Hinners of Wichita

Mike Willis of Wichita

American Veterinary Medical Association
Garry Cowan of Wichita

City of Lawrence, Lawrence Chamber of Congress, KU and Haskell Leaders
Paul Davis of Lawrence

Craig Owens of Lawrence

Lisa Larsen of Lawrence

U.S. Travel Association
Marlee Carpenter of Topeka

Alan Carr of Kansas City

Holly Lofton of Wichita

Susie Santo of Wichita

James Zalenski of Parsons

Melissa Dixon of Hays

Julie Roller Weeks of Abilene

LeadingAge
Rachel Monger of Topeka

United Dairy Industry Association
Orville Miller of Hutchison

Public Background Screening Association
Katie Hartley of Lenexa

Crop Insurance and Reinsurance Bureau
Blaine Hanf of Tonganoxie

Brad Sezhk of Lenexa

American Clean Power
Marty Sneaty of Ellsworth

USD 207 Fort Leavenworth
Dr. Keith Mispagel of Ft. Leavenworth

Nextlink
Ari Storch of Overland Park

Kansas Funeral Directors Association
Donna Mathena-Menke of Topeka

Joshua Meyer of Concordia

Pam Scott of Topeka

American Academy of Ophthalmology
Andrew Kalina of Overland Park

Paul Weishaar of Wichita

State Rep. Bill Clifford of Garden City

Sara Krachmalnick of Kansas City

Travis Mitchell of Kansas City

Newsletter Sign-up Form
Note: Fields marked with an * are required.