Kansas Common Sense
Meeting with Kansans in Washington, D.C.
Kansas Chamber of Commerce & Wichita Regional Chamber of Commerce
I joined business leaders from the Kansas Chamber of Commerce and the Wichita Regional Chamber of Commerce during their time in Washington, D.C. I spoke with them about critical issues facing our state and business community, including the importance of investing in a strong workforce and facilitating efforts to train and retain future generations of talented professionals. I remain committed to prioritizing efforts to support our business community in Kansas.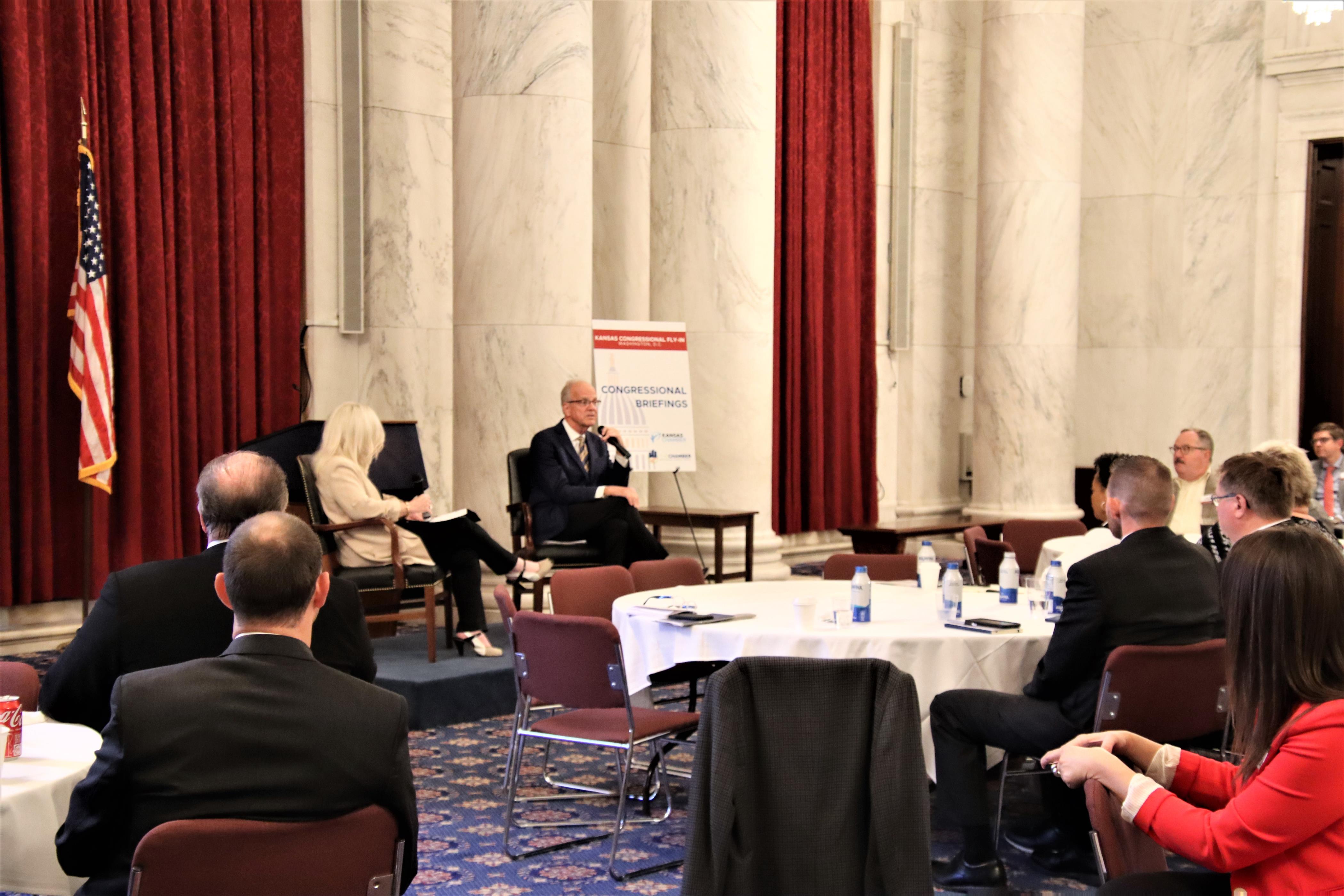 I appreciate the work these organizations do to make certain that Kansas remains a great place to live, raise a family and do business. Thank you to Kansas Chamber President & CEO Alan Cobb, Wichita Chamber President & CEO John Rolfe, their respective Boards of Directors, chamber members and staff for their efforts to invest in our state and our people. It was particularly special to give this group a night tour of the U.S. Capitol during their visit. It is a special experience to see our nation's Capitol at night and share the beauty of this incredible building and all that it represents.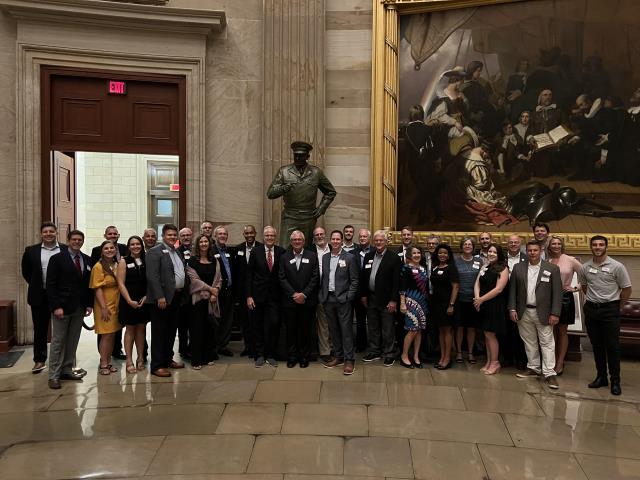 Manhattan Chamber of Commerce
This week, I visited with leaders of the Manhattan Chamber of Commerce to discuss federal opportunities for infrastructure improvements and support for critical city services that would further improve the Manhattan community. We also discussed pressing issues the local community is facing, including a lack of childcare services, the importance of the Manhattan Regional Airport and the recent federal grant we helped secure for the airport.

Additionally, we discussed the important role Fort Riley plays as an essential part of our U.S. Army, and the importance of making certain it receives the resources needed to complete its mission. I remain committed to advocating for additional force strength at Fort Riley and providing support for investments into infrastructure like a new unaccompanied barracks on Custer Hill or modifications to the Bob Dole Intermodal Railyard on post. I look forward to continuing to advocate for Fort Riley and helping to identify federal funding opportunities for Manhattan and all the local communities across Kansas. Thank you to Chamber President Summer Ott-Dierks, Mark Knackendoffel, Jake Wassenberg, Mark Bachamp, Mike Matson, Sue Peterson and Dick Carter for spending time with me.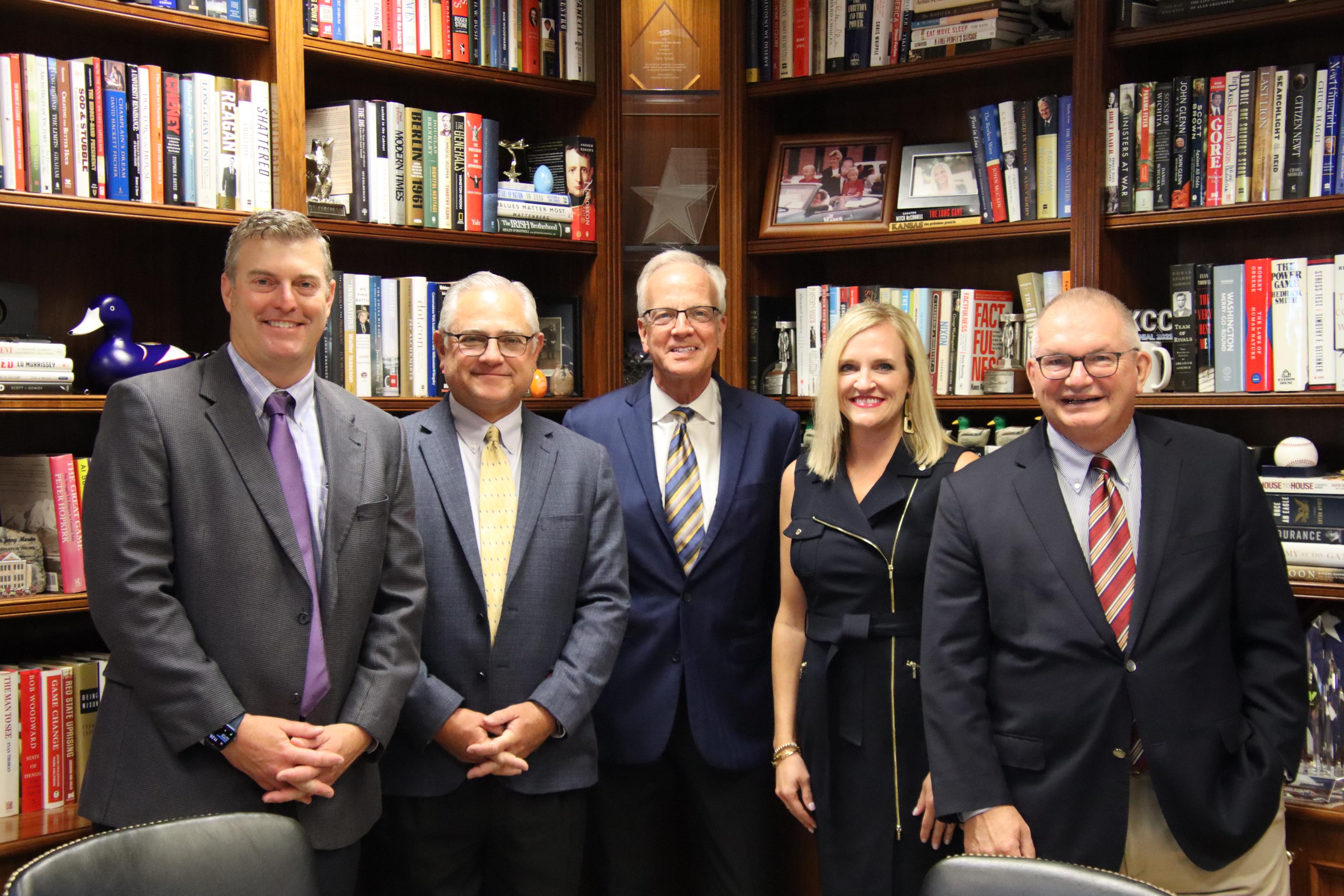 Michelle Hills & Dr. Roy Jensen, University of Kansas Cancer Center
On Wednesday, I also met with Michelle Hills, a Community Advisory Board Member at the University of Kansas Cancer Center, Dr. Roy Jensen, the Director of the University of Kansas Cancer Center and Jennifer Pegher with the Association of American Cancer Institutes to discuss funding for the National Institutes of Health (NIH) research.

I am grateful to Michelle for sharing her personal experiences with cancer and how the results spurred by federal investment into cancer research offers hope to cancer patients. As the Senate works to finalize the federal budget, the NIH and National Cancer Institute (NCI) will continue to be a priority so we can protect and continue the lifesaving advances in cancer research.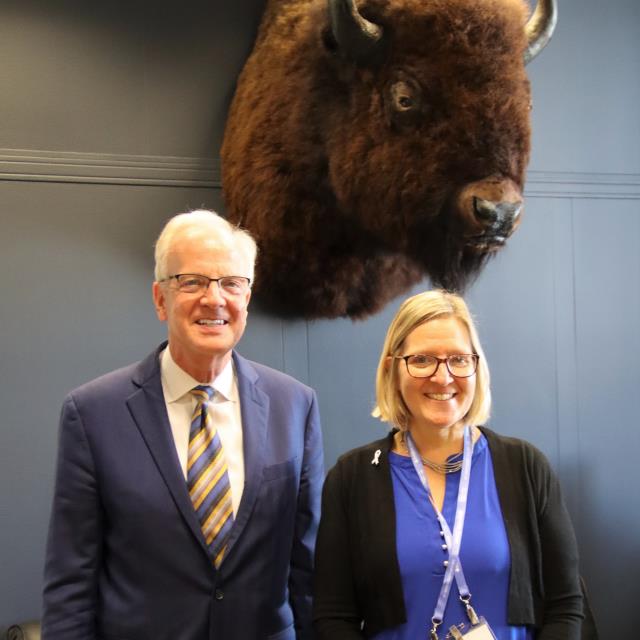 American Cancer Society
On Tuesday, I also met with Kansans from the American Cancer Society in my Washington, D.C. office. We discussed the need for additional cancer research and other prevention programs through additional resources for the NIH and NCI.

As a member of the Senate Appropriations Committee and a senator from a state that is home to many universities and organizations conducting leading cancer research, I am committed to supporting efforts to bolster these programs and to advance this critical research.

I want to thank Patrick Doran of Topeka, Brandi Gutzmer of Wichita, Dr. Roy Jensen of Gardner and Michele Voelker of Greenleaf for meeting with me to advocate for this important issue.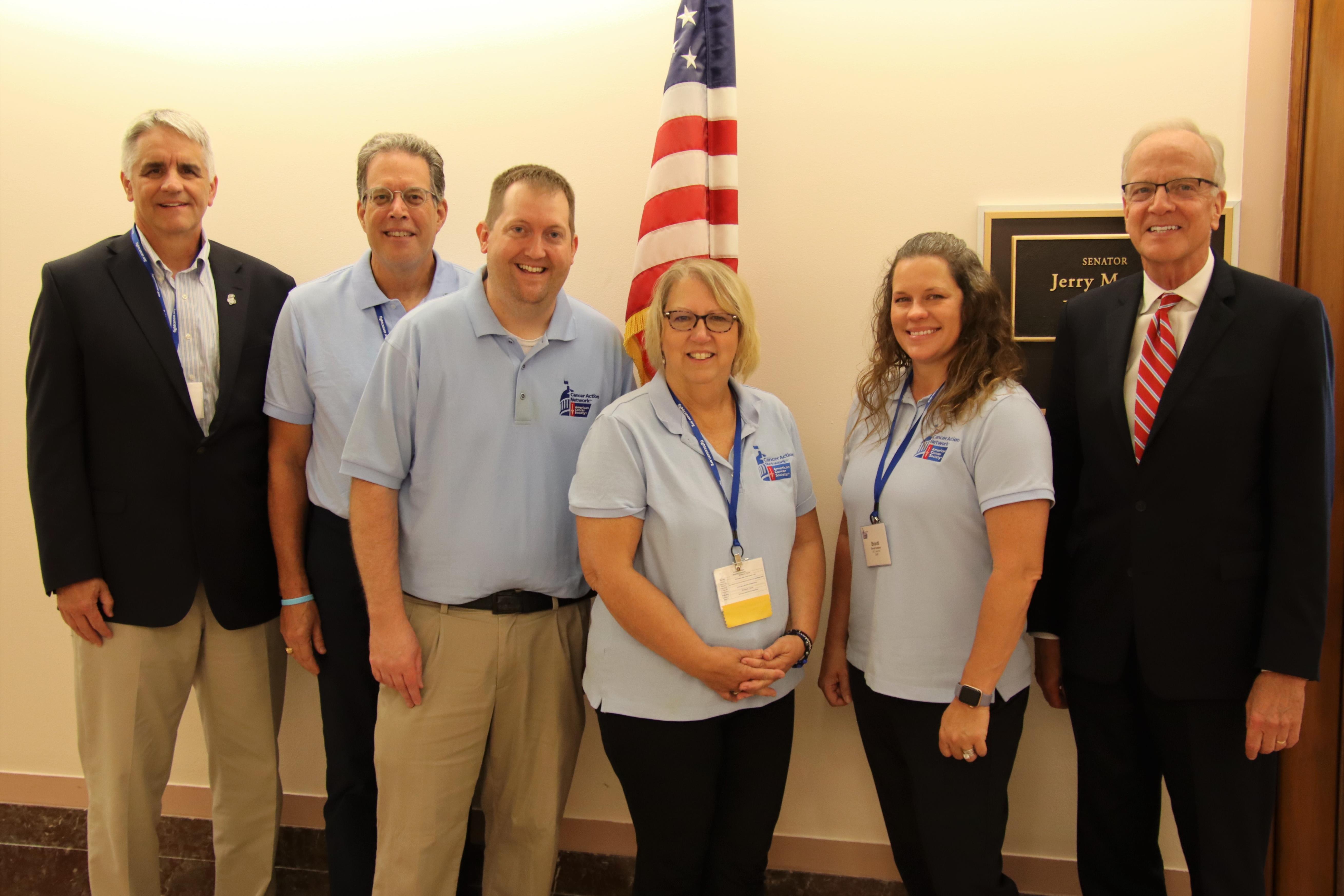 Wounded Warrior Project
On Wednesday, members from the Wounded Warrior Project visited my Washington, D.C. office to discuss their efforts to help our nation's veterans transition from active duty to civilian life. This non-profit organization offers many programs and services to make certain America's veterans have access to the care and benefits they have earned during their time in service. These resources offered by the Wounded Warrior Project include mental health care, career counseling and long-term rehabilitative care for millions of veterans and their families.

I want to offer a special thanks to Brent Whitten of Topeka for his service to our country and for his advocacy on behalf of veterans as a part of the Wounded Warrior Project. Thank you as well to all those who have answered the call to serve our country and have sacrificed much. We owe each of them a debt of gratitude.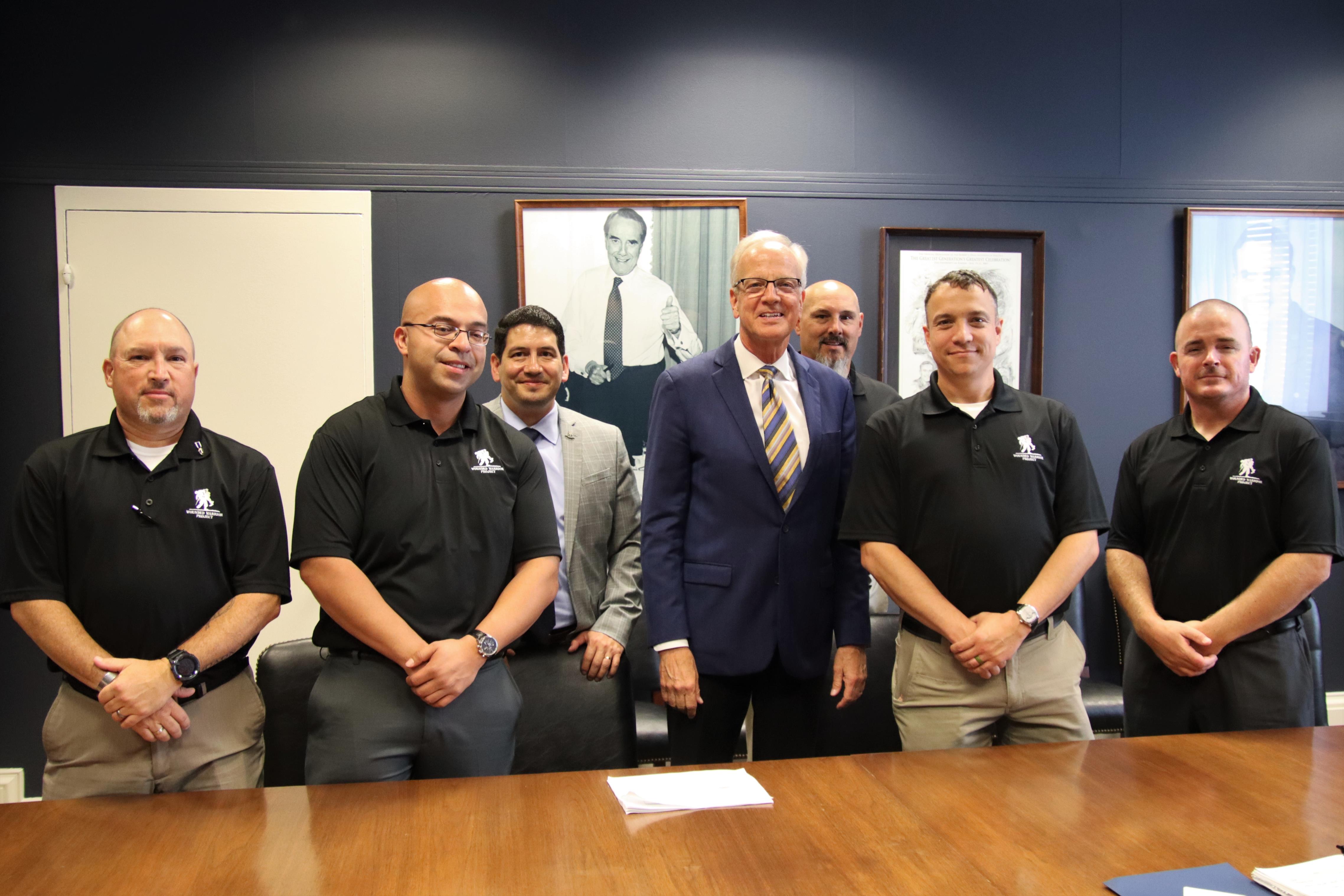 Bruce Fischbach, Veterans of Foreign Wars
I met with Bruce Fischbach of Overland Park, the Kansas National Legislative Representative from the Veterans of Foreign War, during his visit to my Washington, D.C. office on Tuesday. Bruce served our country in the U.S. Army and continues to be a tireless advocate for our nation's veterans. I appreciate his dedicated advocacy for the critical issues impacting our veteran community.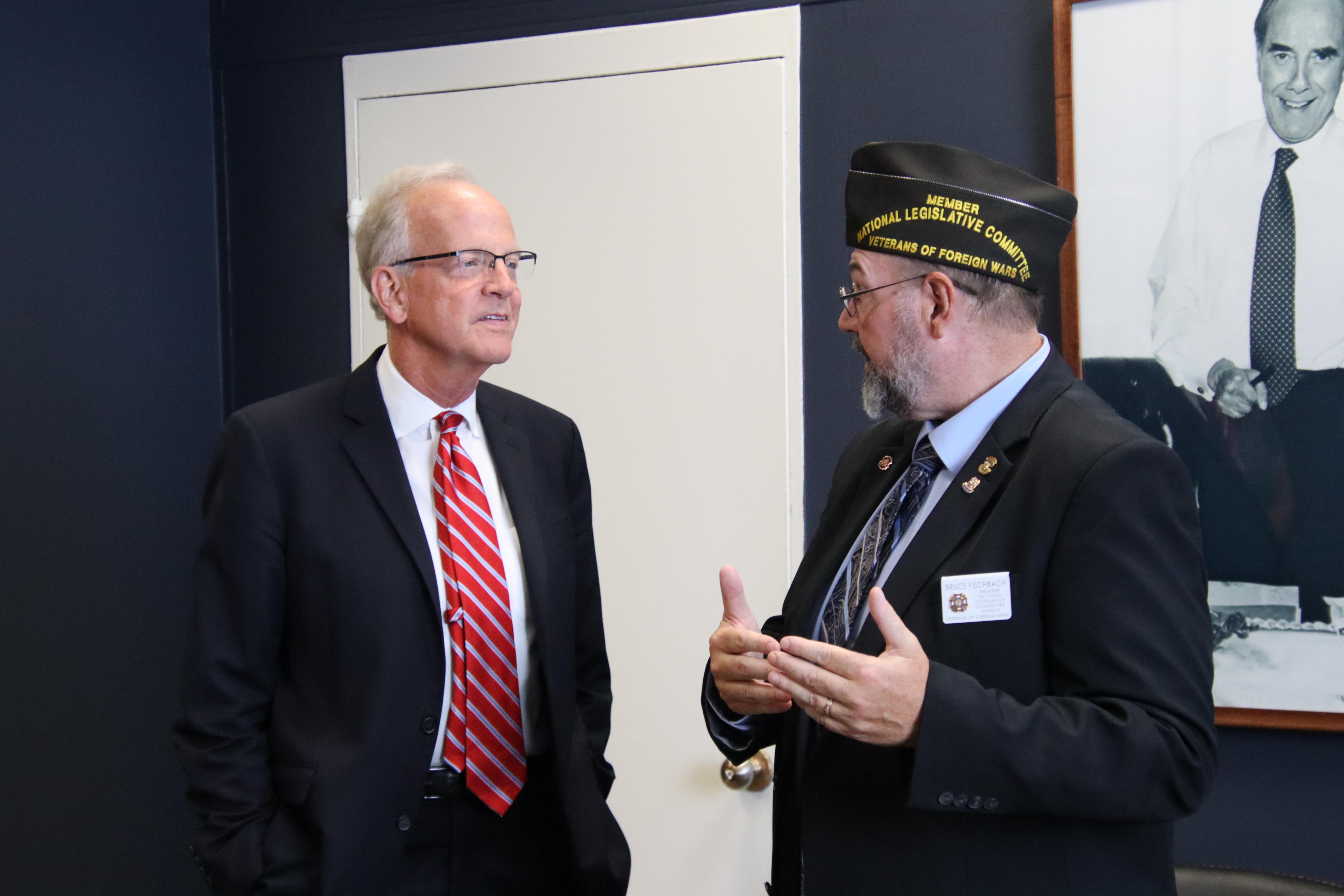 Kansas Farm Bureau Leadership Class
It was great to visit with members of the Kansas Farm Bureau Leadership Class this week during their visit to our nation's capital. These young men and women are dedicated to preserving our rural way of life, and they play a critical role in the future of family farms and ranches across our state. I enjoy speaking with Kansas leaders, especially those who are dedicated to continuing our state's rich history of agriculture. I was honored to accept the Friend of Farm Bureau award from them during our meeting.

Thank you to Jake Bevan of Harvey County; Brad Duncan of Pottawatomie County; Alissa Kirchhoff of Phillips County; Shanda Mattix of Thomas County; Dyann Parks of Jackson County; Dani Riggs of Chautauqua County; Lance Tilton of Dickinson County; Evan Woodbury of Osage County and Beth Zillinger of Franklin County.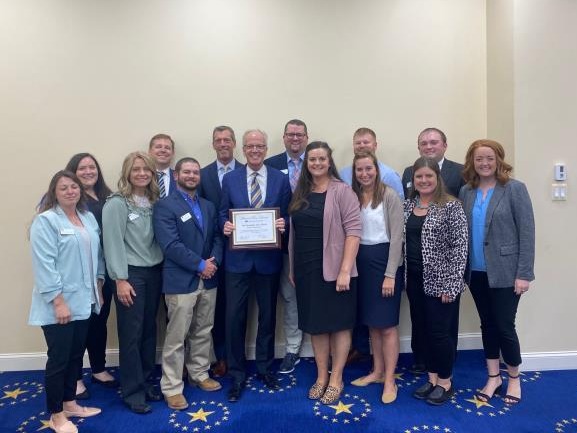 Kansas Farmers Union
I also spoke with members of the Kansas Farmers Union this week in my Washington, D.C. office. During our meeting, we discussed the upcoming reauthorization of the Farm Bill, which is currently scheduled to expire in 2023. We spoke about the importance of crop insurance as a risk management tool for producers and the need to support family farms here in Kansas.

We also discussed their efforts to reduce food deserts here in Kansas and to make certain that everyone has access to healthy food through local initiatives to provide fresh produce to the food insecure in our state. I appreciated hearing from Donna Pearson-McClish about her work with Common Ground, a local food program she founded and currently operates in Wichita to provide farm-fresh produce directly to senior centers and low-income areas through collaboration with local farmers – including her own farm. As co-chair of the Senate Hunger Caucus, I am committed to facilitating partnerships that will result in healthy Kansas communities and will reduce hunger across our state and throughout the world. Our farmers here in Kansas play a vital role in producing food for a hungry world, and I will continue to work to make certain that our state remains a partner in these important efforts.

Thank you to Donn Teske of Wheaton, Nick Levendofsky of Courtland, Jeff Kindel of Concordia, Donna Pearson-McClish of Wichita, Donna's daughter Keisha Couts of Wichita, Randy Couts of Wichita and Lavern Potuzak of Agenda for taking the time to speak with me about this critical topic for our state.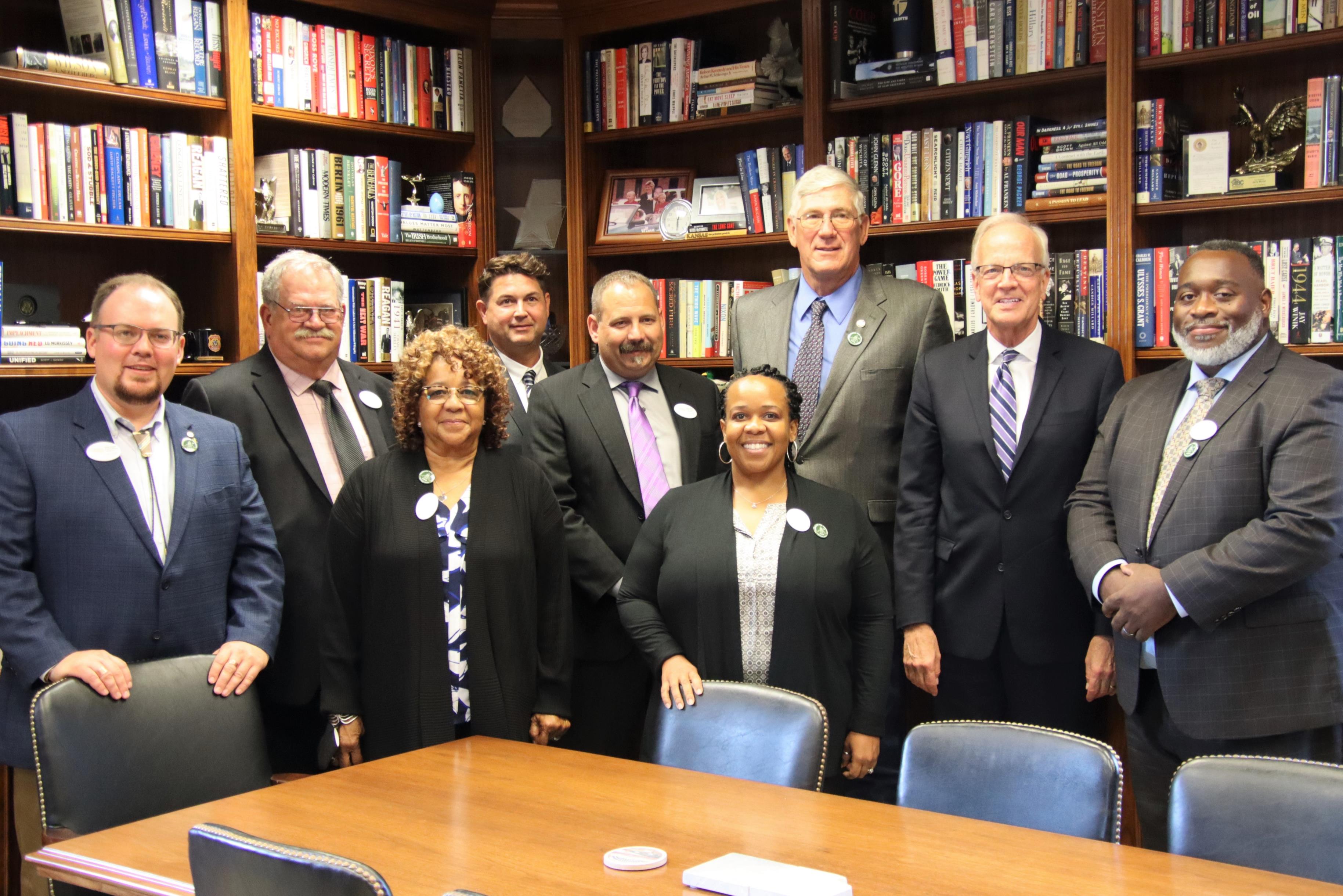 National Association of Wheat Growers
On Tuesday, I met with Kansans from the National Association of Wheat Growers to discuss current issues facing this important industry including the upcoming Farm Bill which must be reauthorized by 2023. It is important to me that I hear directly from our farmers and ranchers in Kansas, and I appreciate the valuable input these individuals offer as I work to make certain rural America is represented and advocated for in Washington, D.C. We also discussed the importance of investing additional resources in Title I farm programs and the need for greater support for working land conservation programs to encourage better stewardship of our land and soil. Thank you to Kyler Millershaski of Lakin, Chris Tanner of the Norton County, Clay Schemm of Wallace County and Shayna DeGroot of Manhattan for taking the time to speak with me about farm priorities for Kansas.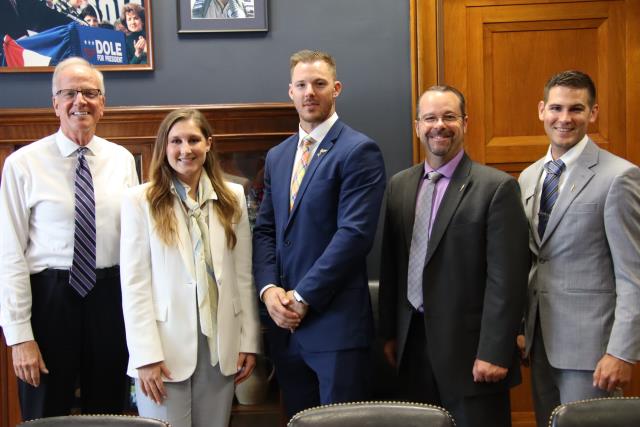 Faith Baptist Church
This week, I visited with Pastors Dr. David Byford and Nathan Herbster of Faith Baptist Church in Manhattan. During our conversation, they updated me on their church's work in the local community and throughout the state. Churches, religious groups and their congregations play an important role in serving our local communities and caring for our most vulnerable. We also spoke about conservative values in life and religious freedom.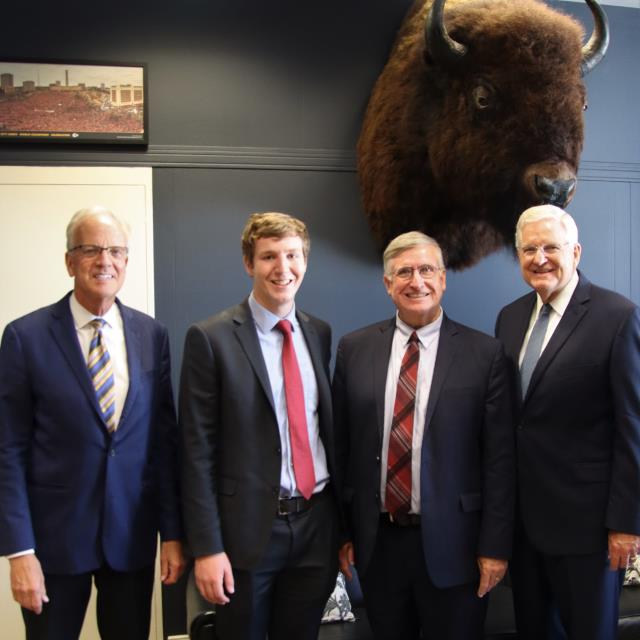 Capitol Tours
It is always great to meet with Kansans while they are in Washington, D.C. for a tour of our nation's Capitol. This week, I met with several folks who organized a tour through my office. If you are interested in touring the U.S. Capitol or other federal buildings in Washington, D.C., please contact my office here.

Brian & Jodi Carey of Basehor, Steven & Sharon Lucas of Basehor and Gary & Susan Henry of Seneca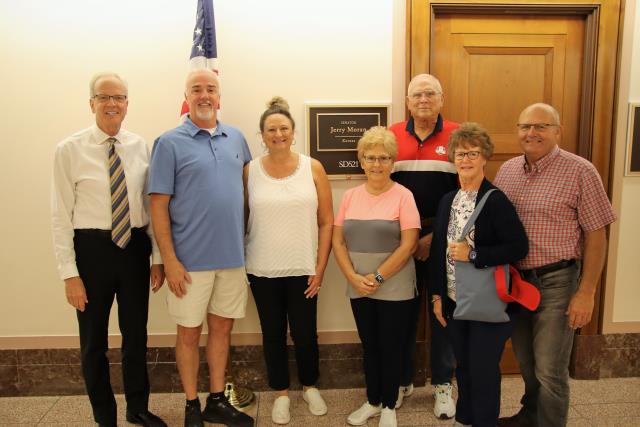 Roy & Jayne Inlow of Hays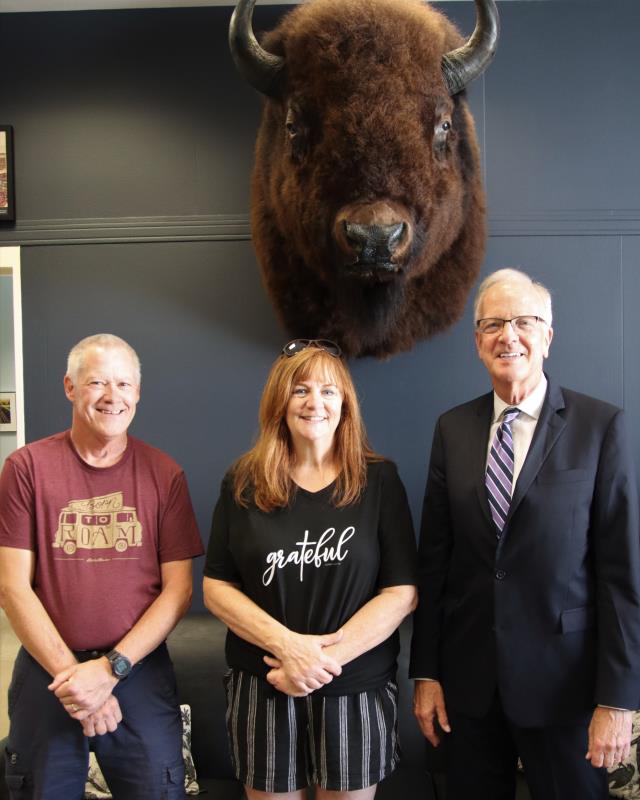 Celebrating the Heath Robinson Honoring Our PACT Act
This week, hundreds of veterans and advocates from many Veterans Service Organizations (VSOs) gathered in the Capitol to celebrate the passage and enactment of the Sergeant First Class Heath Robinson Honoring our PACT Act – legislation I introduced along with my colleague Senator Jon Tester. Recently passed by Congress and signed into law, this historic, bipartisan legislation provides comprehensive relief for all generations of veterans, from Agent Orange to the 3.5 million post-9/11 veterans exposed to burn pits during their deployments.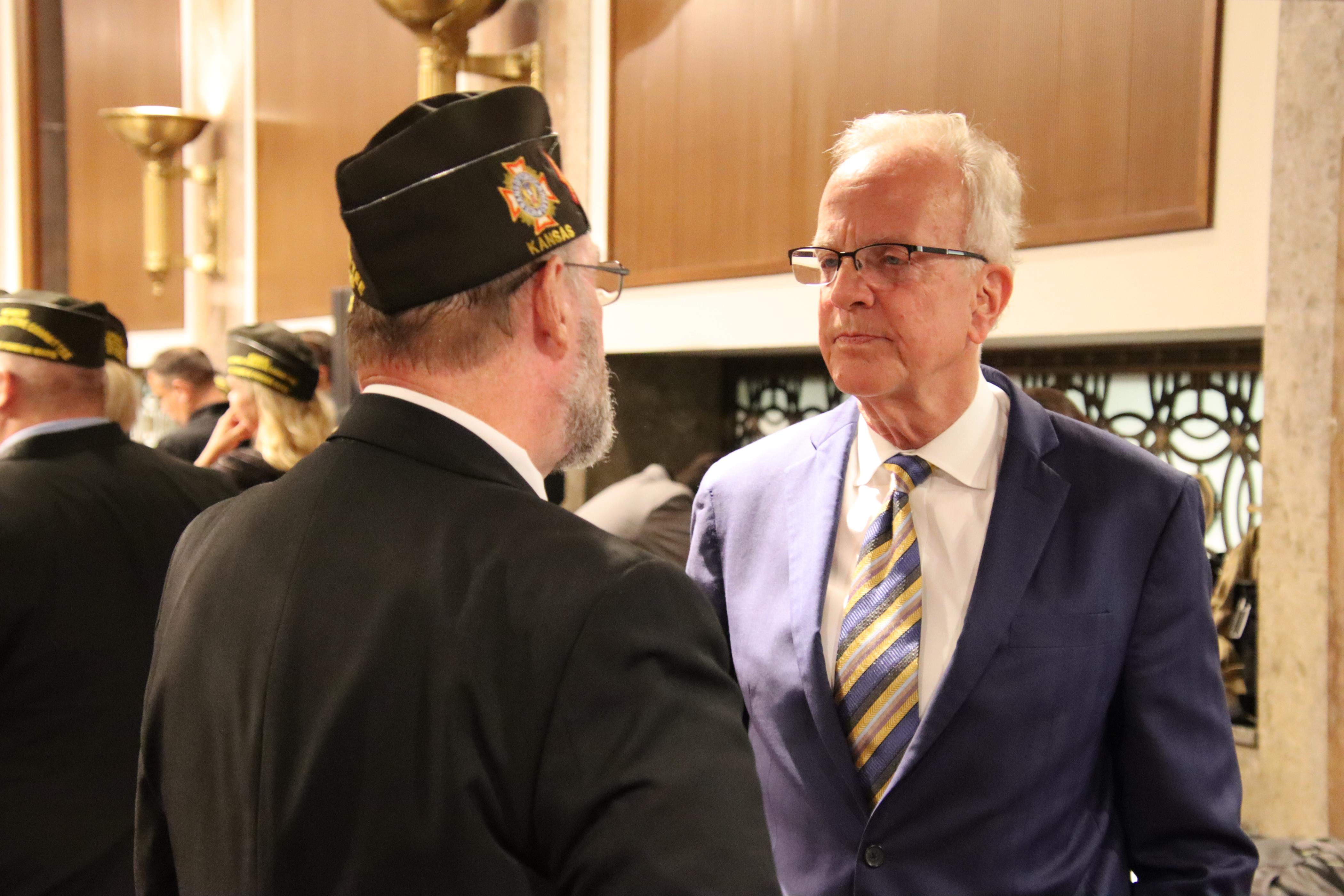 Now that the PACT Act is law, I am committed to working with the Department of Veterans Affairs, VSOs and my colleagues to make certain that this legislation is implemented effectively and efficiently.




Speaking on the Senate Floor on Rail Dispute
I spoke on the Senate floor this week to encourage a resolution to the railway labor-management dispute. In Kansas, harvest is well underway and farmers need to be able to ship their crops by train around the country and to our ports where the grain will be sent to feed a hungry world. According to the Association of American Railroads, a nationwide rail shutdown could idle more than 7,000 trains and lose more than $2 billion a day in missed economic output.

I am hopeful that the tentative agreement will be finalized to avoid a rail shutdown, but in the event that it is not, I will utilize my opportunities as a member of the Senate for congressional intervention and work to shield the impact of a rail shutdown across the nation. Our constituents deserve the certainty that will come from reaching a resolution.

Click here to watch my full remarks.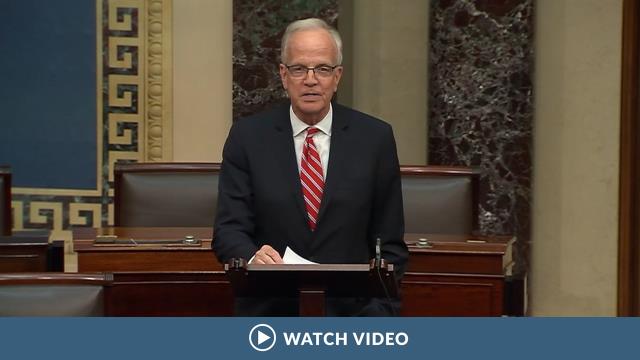 Meeting with Honeywell CEO Darius Adamczyk

This week, I met with Darius Adamczyk, chairman and CEO of Honeywell for an update on the work Honeywell is doing to expand and advance our nation's aerospace and aviation capabilities. We also discussed the importance of the Honeywell location in Olathe which employs hundreds of Kansans and acts as a vital part of the local community's economy. We also spoke about a variety of issues currently facing our aerospace and aviation manufacturing sector, including supply chain issues and the impact of inflation.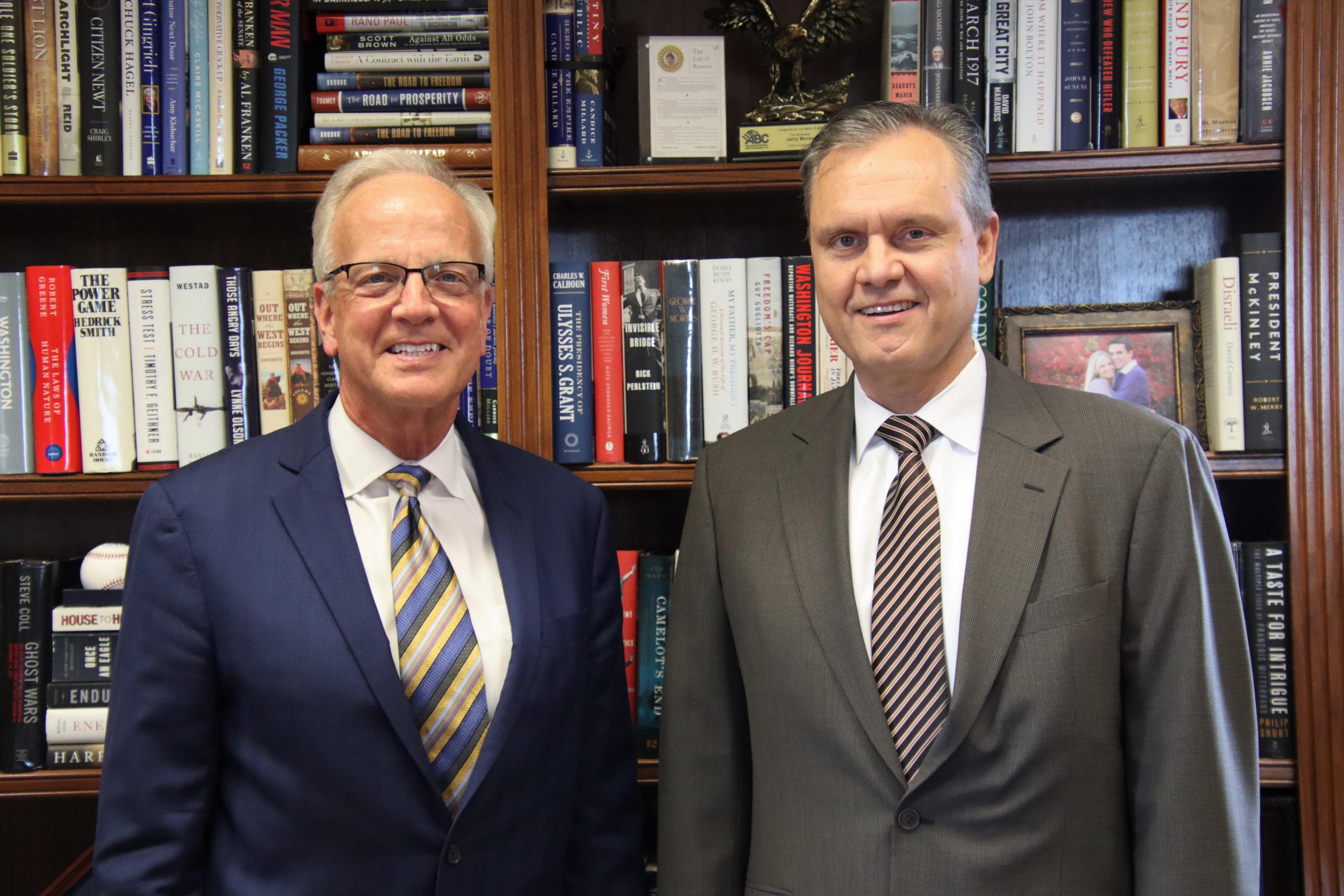 Touring STARBASE Youth Program in Salina
I joined Kansas Adjutant General Maj. Gen. David Weishaar to tour the Department of Defense youth program STARBASE in Salina. STARBASE offers students from Windom and Wilson to participate in interactive, hands on STEM education programs.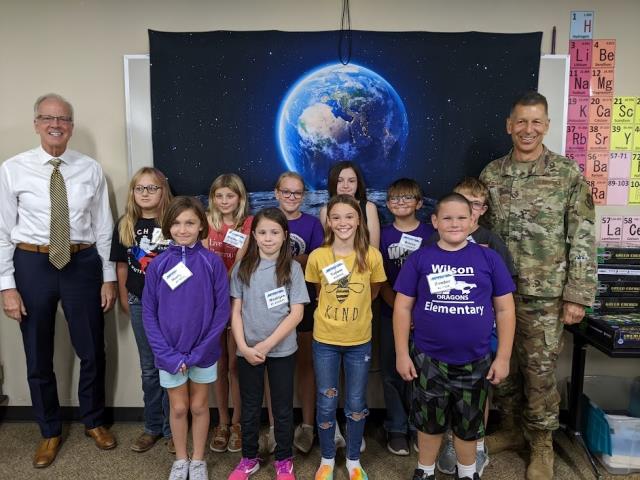 Equipping students to excel in STEM fields is one of my top priorities, and I am confident these young students have bright futures ahead. I want to thank Salina Director Dixie Tipling and everyone at STARBASE across Kansas and nationally for investing in our young people and helping teach STEM education.

Read more here in the Salina Post.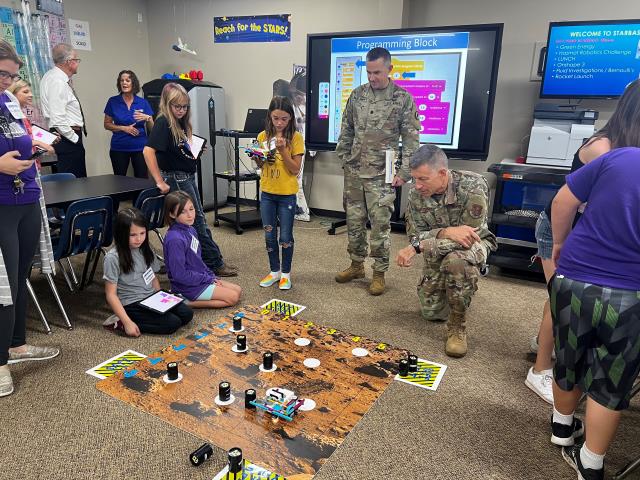 Announcing New Federal Resources for Hiawatha Police Department
It was great to be in Hiawatha to announce new federal resources for the Hiawatha Police Department. As the lead Republican on the Appropriations subcommittee that funds the Department of Justice, I helped secure federal resources for the police department to replace outdated technology. Our local law enforcement members keep our families and communities safe, and I remain committed to making certain they have the resources they need to carry out this mission. Thank you to City Administrator Larry Paine, Mayor Bill Collins, Police Chief Mickey Gruber and all other local community members who joined for this announcement.

Read more here in the Hiawatha World.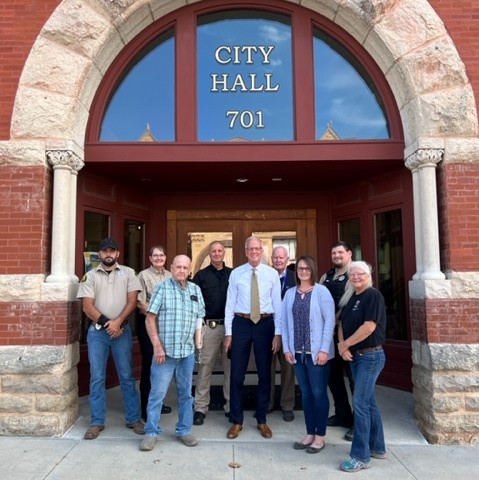 Travel Reimbursement Rates for Veterans
This week, I introduced legislation that will increase reimbursement rates for veterans who must travel to receive medical care provided through the Department of Veterans Affairs. This legislation is endorsed by the American Legion, Veterans of Foreign Wars of the U.S., Disabled American Veterans and Wounded Warrior Project.

Inflation and rising costs have resulted in more and more veterans shouldering additional costs when traveling to receive health care provided by the VA. Raising reimbursement rates will help keep the Beneficiary Travel Program relevant and make certain travel-related costs are not inhibiting our veterans from receiving the care they deserve.


Supporting Surviving Spouses of Fallen Servicemembers
I joined my colleagues in the Senate to introduce bipartisan legislation to allow spouses of deceased servicemembers to retain their survivor benefits upon remarriage. Currently, a surviving spouse could lose survivor benefits if they are under the age of 55. This bill will make certain surviving spouses retain many benefits from both the Department of Veterans Affairs and Department of Defense upon remarriage at any age and includes surviving spouses from active-duty, veteran and retired servicemembers.

Military service is family service, and our country owes a great debt to the surviving spouses of fallen servicemembers. As Gold Star spouses heal from their loss and choose to remarry, they should not have to worry about losing their earned survivors' benefits provided by the VA.


National Student Parent Month
I led a bipartisan Senate resolution recognizing September as the National Student Parent Month. Currently, approximately 70% of student parents are women and 43% of those women are single parents who also juggle school and work. Additionally, there are almost 3,000 surviving military spouses, a majority of whom are also a parent, currently attending school to provide for their families following the loss of their spouse in service to our country.

Being a parent while juggling homework and classes requires tenacity and endurance. This is especially true for many of our military-connected students who are parents and are seeking a degree or professional certification while on active duty, transitioning back to civilian life, or while a spouse is deployed.

Affirming Federally Recognized Tribal Land
I joined my colleague from the Senate Committee on Indian Affairs Montana Senator Jon Tester in introducing legislation to reaffirm that any land taken into trust by the United States for Indian tribes is federally recognized from the day it was first taken into trust. Under the Indian Reorganization Act (IRA) passed in 1934, the Secretary of the Interior was given authority and guidelines for taking land into trust for Indian tribes. The Supreme Court's 2009 decision in Carcieri v. Salazar denied the secretary's authority for tribes who received federal recognition after IRA's enactment. This legislation would make certain any land taken into trust after the IRA is still recognized and protected and shall remain in Indian country.

Since the Carcieri decision, tribes throughout the country recognized after 1934 have faced uncertainty regarding their lands taken into trust. Short of a full legislative fix, which I support, this bill will assure tribes of the status of their lands already in trust and enable stable economic development going forward.
Constitution Day
Each Constitution Day, we reflect on the important ideals and principles preserved by our Founding Fathers in this document, and we reaffirm our commitment as Americans to cherish and defend these rights and freedoms for future generations.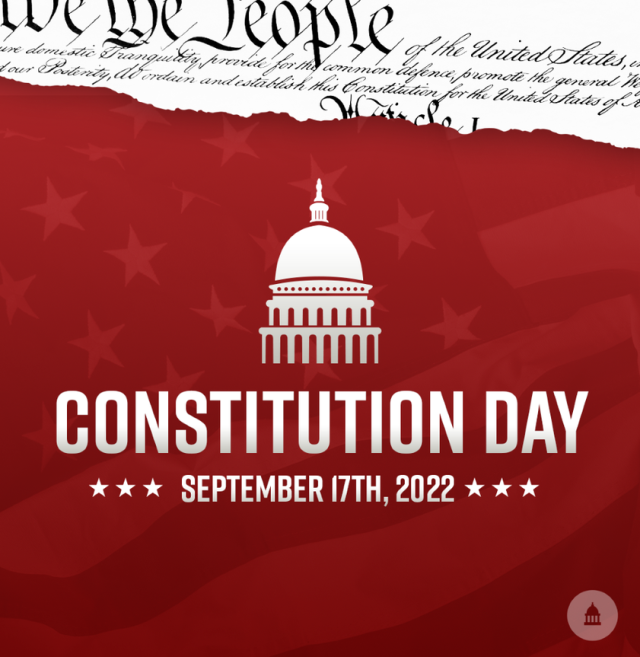 Celebrating 75 Years of the U.S. Air Force

Happy 75th birthday to the United States Air Force! Thank you to McConnell Air Force Base in Kansas, and all of the men and women in our military who bravely protect and defend our nation from the sky.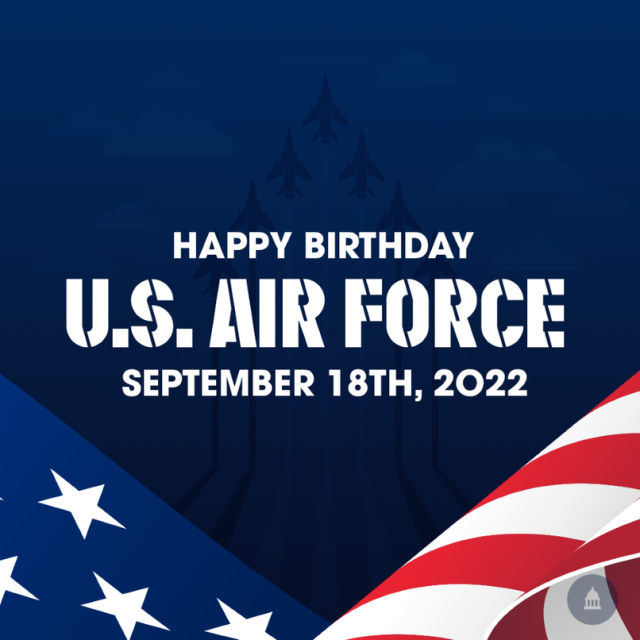 Kansans in the Office

Capitol Tours
Pamela Jo Besser

Brian Carey of Basehor

Jodi Carey of Basehor

Susan Cochran of Topeka

Glenda Herl of Topeka

Susan Henry of Seneca

Roy Inlow of Hays

Jayne Inlow of Hays

Steven Lucas of Basehor

Sharon Lucas of Basehor

Diane Malloy of Topeka

Aaron Miller of Lawrence

Kylee Miller of Lawrence

Mason Miller of Lawrence

Londyn Miller of Lawrence

Jesse Perron of Olathe

Lou Perron of Olathe

Trang Tran of Olathe

Suyapa Journey of Wichita

Lauren Journey of Wichita

Souraphon Keodouangkham of Wichita

Kongkham Keodouangkham of Wichita

Soupahn Keodouangkham of Wichita

Bill Mavel of Salina

Lacey Seemann of Overland Park

Clara Seemann of Overland Park

Gary Sheneman of Leawood

Mary Sheneman of Leawood

Nate Stein of Salina

Marci Stein of Salina

National Association of Wheat Growers
Shayna DeGroot of Manhattan

Kyler Millershaski of Lakin

Clay Schemm of Sharon Springs

Chris Tanner of Norton

Association of Orthopedic Surgeons

Randall Hildebrand of Great Bend

Neal Lintecum of Lawrence

Council for Opportunity in Education
Chris Fanning of Topeka

Legal Services Corp
Marilyn Harp of Lawrence

Matt Keenan of Leawood

International Brotherhood of Teamsters
Matthew Hall of Lawrence

American Society of Health-System Pharmacists
Nathan Hanson of Shawnee

Carolyn Huninghake of Shawnee

Zahra Nasrazadani of Salina

Manhattan Chamber of Commerce
Mark Baschamp

Mark Knackendoffel

Mike Matson

Summer Ott-Dierks

Sue Peterson

Jake Wassenberg

Dick Carter

Faith Baptist Church
Pastor Dr. David Byford of Manhattan

Pastor Nathan Herbster of Manhattan

Rally for Medical Research
Michelle Hills of Overland Park

Dr. Roy Jensen of Gardner

America's Travel Plazas and Truck Stops
Matt Mildenberger of Oakley

Misty Mildenberger of Oakley

Wounded Warrior Project
Brent Whitten of Topeka

7-Eleven
Khalid Asad of Leawood

Asian American Hotel Owners Association
Jignesh Patel of Overland Park

DC Project
Rebecca Schmoe of Ottawa

Kansas Automobile Dealers Association
Robert Brogden of Olathe

Don McNeely of Topeka

Growth Energy
Scott Allen of Wichita

Mark Hobrock of Leawood

Derek Peine of Hays

Megan Vincent of Sterling

Midwest Transplant Network
Salama Gallimore of Westwood

Alliance for Pharmacy Compounding
Tyler Chamberlain of Shawnee

Kristy Timmons of Overland Park

Newsletter Sign-up Form
Note: Fields marked with an * are required.