Kansas Common Sense
Celebrating Progress in Down Syndrome Research

As co-chair of the Senate Down Syndrome Caucus, I hosted a roundtable discussion this week on scientific advances in Down syndrome research. As we mark the five-year anniversary of the National Institutes of Health (NIH) INCLUDE Project, which increased resources for Down syndrome research, we gathered together leaders in Down syndrome advocacy and medical communities for a discussion on the successes we have seen from this project.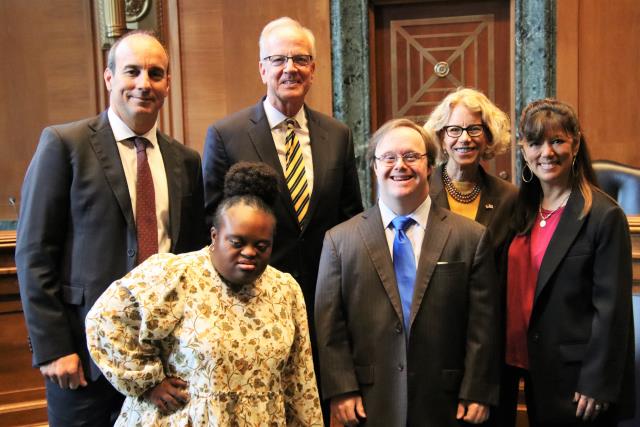 Federal funding in medical research is an area of investment where we have seen incredible returns and, specifically within biomedical research. It was encouraging to hear from these participants about the progress we have made in biomedical and Down syndrome research. New research and development offers hope to millions of Americans, and I will continue to support these crucial efforts.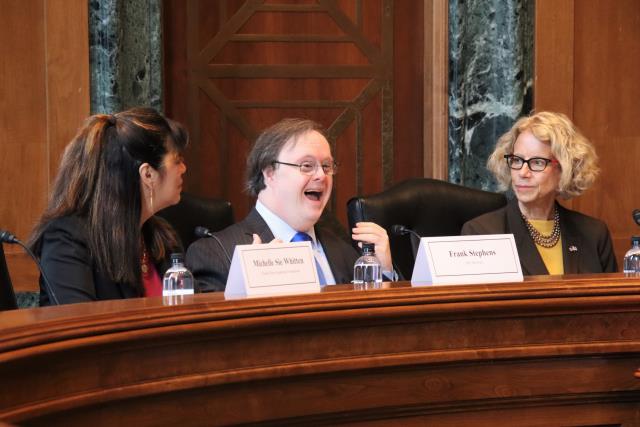 I want to thank Dr. Diana Bianchi, Director of the National Institute of Child Health and Human Development at NIH, Dr. Joaquin Espinosa, Executive Director of the Crnic Institute for Down Syndrome at the University of Colorado, Michelle Whitten, President and CEO of the Global Down Syndrome Foundation, and Frank Stephens, a self-advocate with the Global Down Syndrome Foundation for joining in this conversation.
Click
here
to watch the full roundtable discussion.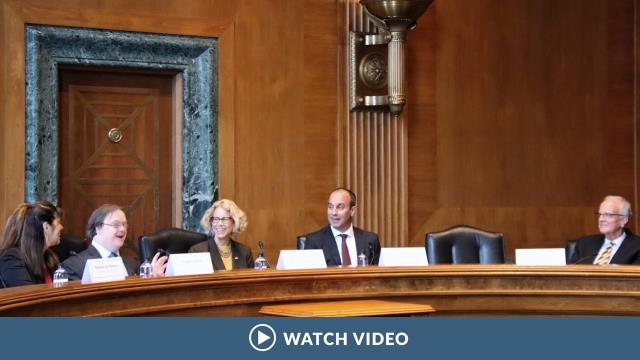 Recognizing a Revitalized Humboldt

On Wednesday, I highlighted the city of Humboldt on the Senate floor as a model for rural towns across our state and country. It was timely because last week the New York City mayor joked that our home state of Kansas has "no brand" and then chuckled at his own joke. I had planned to give this speech before the mayor of New York City used Kansas as a punchline, but it seemed more fitting afterward.
Humboldt is a success story. It demonstrates how teamwork, creative thinking, hard work, treating others with respect and caring about the future of our communities can make a positive difference for our state and entire country. That's our brand in Kansas.
Click
here
to watch my full remarks on Humboldt.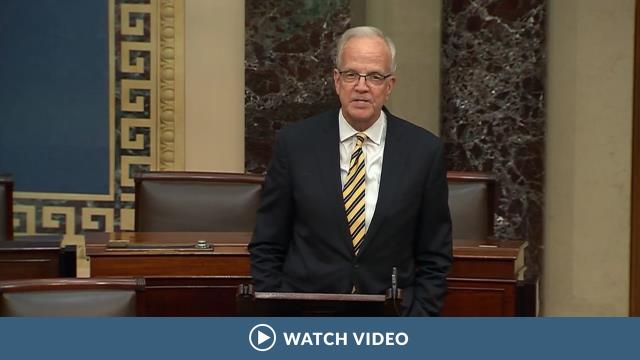 Speaking at Hilmar Cheese Plant Groundbreaking in Dodge City

I was honored to speak at the groundbreaking of Hilmar Cheese Company's newest production facility in Dodge City. This groundbreaking was part of an effort that started decades ago when a coalition of leaders in Western Kansas created WKREDA – the Western Kansas Rural Economic Development Alliance. WKREDA was designed to recruit new business to Western Kansas and foster an environment that encourages growth and educational opportunities.


A few years ago, we broke ground on a milk powder plant in Garden City, and now we are diversifying the industry by adding a cheese plant to Dodge City. Western Kansas has always been a key player across the nation in dairy production, and we are strengthening Kansas' footprint on a global scale. This project will generate approximately 1,000 jobs for the region, including 250 jobs at the Hilmar Cheese facility and 750 at dairy farms and other support positions. This fulfils the dreams of many people that helped start WKREDA, and I'm proud that dairy farms across Kansas will continue to flourish for years to come.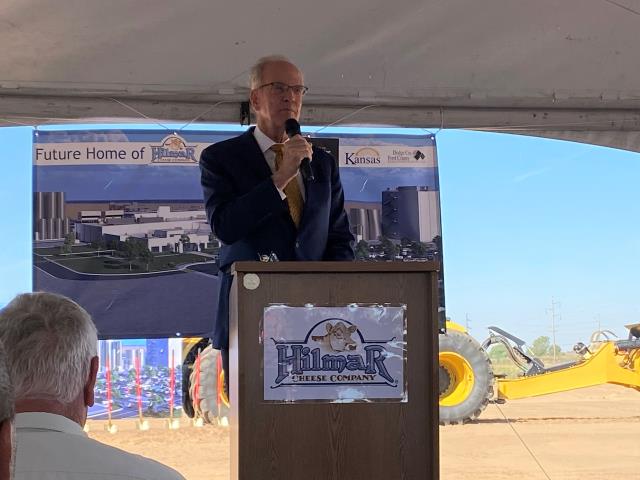 My vision for Kansas – especially rural Kansas – is a place where our kids can receive a quality education, have opportunities to find good-paying jobs, and then raise their family, the next generation, right here in Kansas. This project will bring more than $1 billion in investments to Southwest Kansas, including $600 million for the Hilmar facility and $400 million in associated dairies and suppliers.

Hilmar's investment is a great example of public-private collaboration, as this project was made possible in partnership with the State of Kansas, the City of Dodge City, and Dodge City Ford County Development Corporation. I want to thank Hilmar's leadership, David Ahlem and Jim Ahlem, for choosing to invest in Kansas by selecting Dodge City as the site of this new facility. Thank you as well to Mayor Kent Smoll, City Commissioners Michael Burns, Chuck Taylor, Rick Sowers and Joe Nuci, County Commissioners Sean Tasset, Chris Boys and Ken Snook, City Manager Nick Hernandez, Assistant City Manager Ernestor De La Rosa and Economic Development Director JoAnn Knight.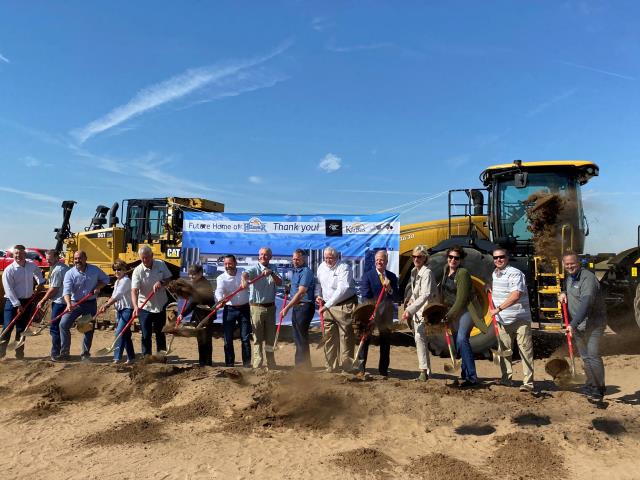 Meeting with Kansans

Kansas City Area Transportation Authority
This week, I met with Frank White, interim CEO of the Kansas City Area Transportation Authority (KCATA). He has served with KCATA for more than six years, and it was great to speak with him about the work being done to make certain the area has safe and reliable transportation. KCATA serves both Kansas and Missouri with a mission to create a connected Kansas City region. These services will be especially critical with the upcoming events that are scheduled to take place in the area, and I look forward to seeing the success of these events.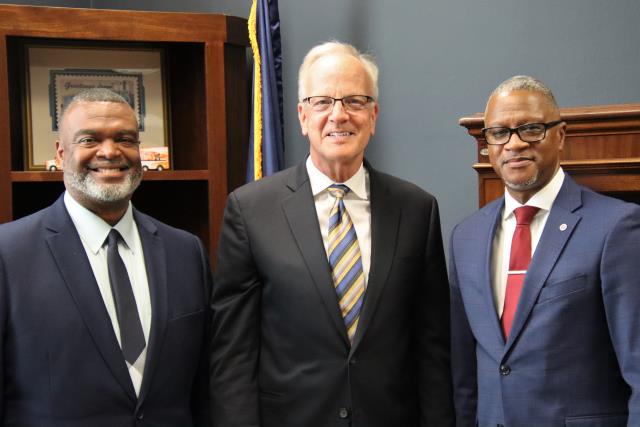 Kansas Water Rural Association
On Wednesday, I met with members of the Kansas Rural Water Association to discuss the importance of the U.S. Department of Agriculture (USDA) Rural Development and the U.S. Environmental Protection Agency (EPA) water programs in helping rural communities address their critical water needs. As a member of the Senate Appropriations Committee, I work to prioritize funding for the USDA Grassroots Source Water Protection Program and Circuit Rider Program to make certain Kansans have access to safe, affordable water. During the meeting, we also spoke about the need for EPA to apply common sense to rules and regulations for lead and copper line replacement initiatives. Thank you to Elmer Ronnebaum of Baileyville and Bill Shroyer of Sabetha for taking the time to speak with me about these important issues.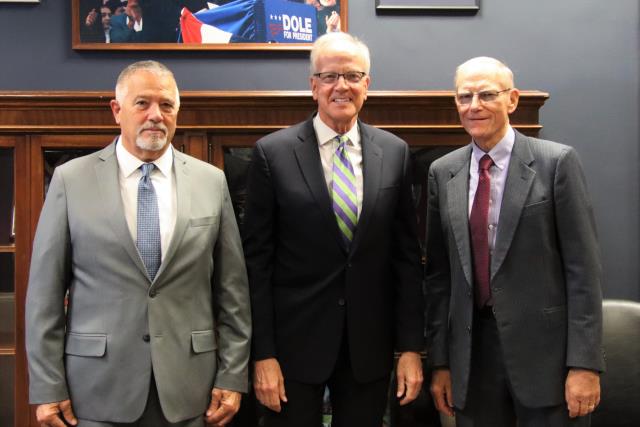 Capitol Tours
This week, I enjoyed the chance to meet a group of Kansans before their Capitol tour. Thank you to Trevor and Erin Giebler of Hays, Richard and Anna Coleman of Olathe, Phillip and Ilonda Griffee of Wichita and Nathan and Adrienne Tormala of Clearwater for taking the time to visit with me.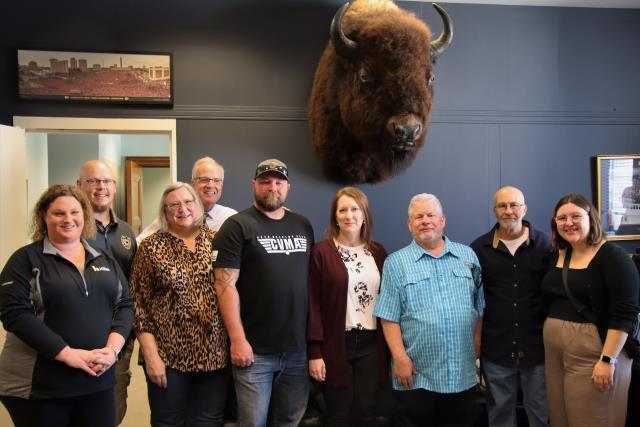 If you are interested in touring the U.S. Capitol or other federal buildings in Washington, D.C., please contact my office
here
.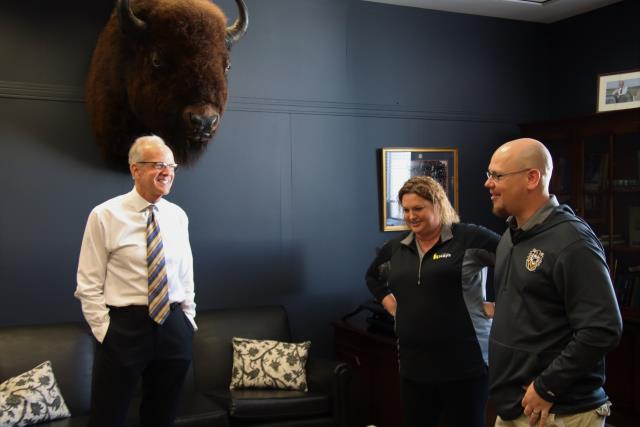 Protecting Seniors from Scams
On Thursday, the Federal Trade Commission (FTC) convened the first meeting of its newly-formed Scams Against Older Adults Advisory Group. I introduced bipartisan legislation to create this advisory group in order to make certain seniors have the resources they need to identify and avoid harmful scams. According to the FBI, more than 92,000 Americans over the age of 60 were the victims of scams in 2021, leading to financial losses of $1.7 billion.
Scammers frequently target seniors to steal their money, identity and dignity. This advisory group brings industry and government leaders together to make certain we are doing all we can to protect our seniors. This advisory group will tackle four topics:
1) Expanding consumer education efforts;
2) Improving industry training on scam prevention;
3) Identifying innovative or high-tech methods to detect and stop scams and
4) Developing research on consumer or employee engagement to reduce fraud.
I will continue to work to reduce scams and predatory behavior from harming seniors in Kansas and across the country.
Supporting Children with Disabilities and Their Caretakers
This week, I joined my colleague Senator Robert Menendez to introduce legislation to bolster U.S. support for children with disabilities, helping support local disabilities rights organizations and families of children with disabilities around the world.
The
International Children with Disabilities Protection Act
would create the "International Children with Disabilities Protection Program," a grant program within the State Department to empower individuals with disabilities. Additionally, this legislation reinforces U.S. policy to protect against the unnecessary institutionalization of children with disabilities and to help promote the development of laws and policies that support the full inclusion of children with disabilities in families.
Children with disabilities deserve a place in society where they are respected, loved and treated with basic human dignity. This legislation helps protect the most vulnerable children around the globe and gives them opportunities to succeed by helping keep children out of harmful institutions and supporting their families.
Making Certain Kansans Have Access to Reliable Internet

This week, I also introduced legislation with Senator Mark Warner to make certain that specific broadband grants authorized and funded by Congress are not counted as taxable income for companies working to connect Americans unserved by broadband. Currently, grants awarded to broadband providers are factored into a company's income and will soon be subject to additional taxes because of scheduled changes to the corporate tax code.
Reliable, high-speed internet is more crucial than ever for Kansans to run their businesses, access telehealth or pursue an education, and this commonsense legislation would make certain federal grants provided for broadband deployment are not counted as taxable income to maximize the impact and success of these resources.
Meeting with U.S. Air Force General Minihan, Commander of Air Mobility

On Wednesday, I met with U.S. Air Force General Mike Minihan, Commander of the Air Mobility Command. The Air Mobility Command is headquartered at Scott Air Force Base in Illinois, and supports the Joint Force, our allies and partners with its 1,100 aircraft to execute missions at home and abroad. During this meeting, we discussed the vital role of McConnell Air Force Base in Wichita, and the important contributions of the men and women who are stationed there. This base performs many critical functions for our military, including the execution of the KC-46A aerial refueling tanker mission by the servicemembers at McConnell Air Force Base. McConnell Air Force Base was one of the first bases to receive the KC-46A, and General Minihan praised the airmen and airwomen there for setting the standard for training on this aircraft that is so critical to our nation's defense. I want to thank General Minihan for meeting with me and for the update on these important efforts.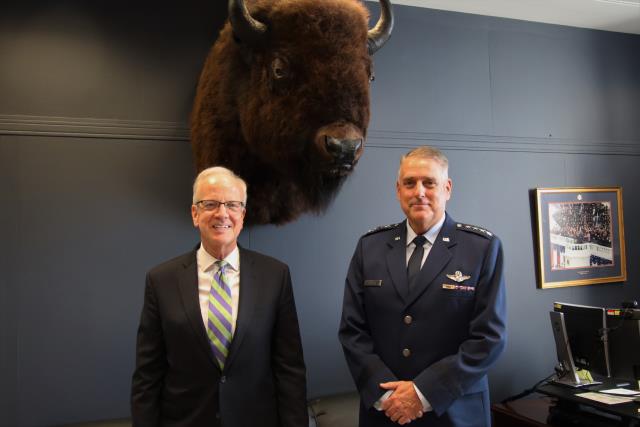 Senate Commerce
Subcommittee
Hearing
During a Senate Commerce Subcommittee on Aviation Safety, Operations, and Innovation hearing, I questioned witnesses in the aviation sector about the future of the industry, as well as innovation occurring such as advanced air mobility and unmanned aerial systems operators. This committee hearing was the first in a series of discussions regarding the upcoming 2023 reauthorization of the Federal Aviation Administration (FAA). The committee hearing also focused on my recently-passed legislation, the
Advanced Air Mobility Coordination and Leadership Act
, which will soon be signed into law by the President. Kansas has a rich history of aviation, and I will continue to support our state as this important industry enters a new chapter of innovation.
Touring Boot Hill Museum in Dodge City
I stopped at the Boot Hill Museum in Dodge City this week to tour the museum and speak with Kansans. This museum educates local residents and visitors alike about the rich history of Dodge City and the Old West through a variety of exhibits, historical artifacts and reenactments. I enjoyed the chance to visit and see the work being done to preserve Kansas' history.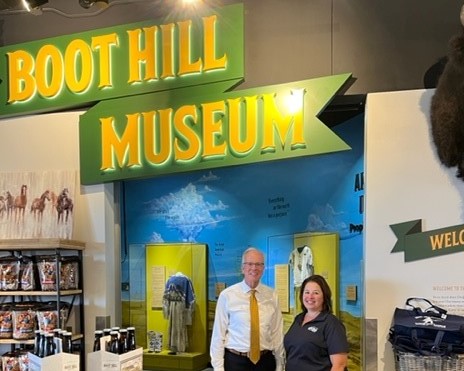 Visiting Edwards County Courthouse
T

his week, I was in Kinsley to visit with local residents at the Edwards County Courthouse. While there, it was great to speak with folks at the offices of the County Clerk, County Treasurer and Register of Deeds. Thank you to everyone there for the work they do for the local community and for taking the time to visit with me.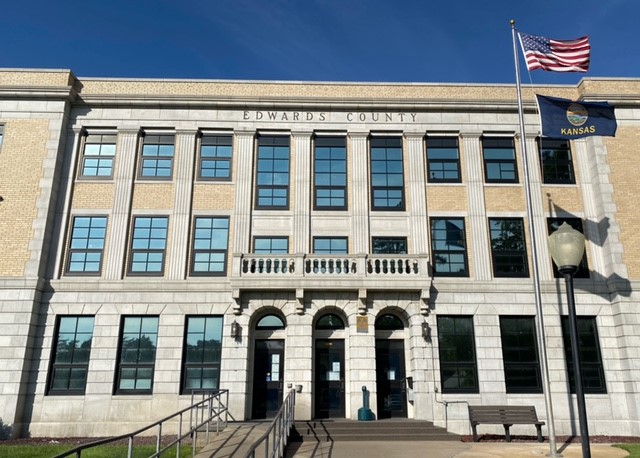 Attending KU's Win Over Iowa State
It was great to be at David Booth Memorial Stadium this weekend with a sold-out crowd for KU's win over Iowa State! Special shout out to Jared Casey for representing my hometown of Plainville for the Jayhawks. Rock Chalk!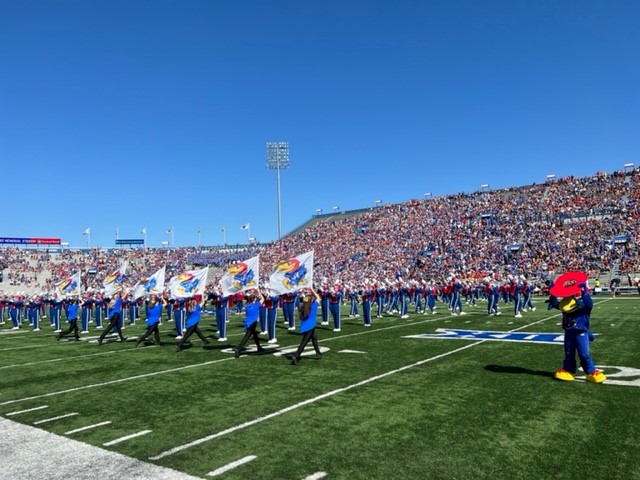 Newsletter Sign-up Form
Note: Fields marked with an * are required.