Kansas Common Sense
The Kansas City Chiefs are Super Bowl LVII Champions!
After a hard-fought victory last night, the Kansas City Chiefs are once again Super Bowl Champions! For the second time in four seasons, the Vince Lombardi Trophy is headed to Kansas City. What an incredible season and well-deserved win for the Kansas City Chiefs. Congratulations to the entire team, Coach Andy Reid, the Hunt family and all of Chiefs Kingdom.

The Chiefs Kingdom Champions Parade will be held this Wednesday, February 15, starting at 12:00 p.m. CT. Following the parade, there will be a victory rally at Union Station at 1:45 p.m. CT. You can stay up-to-date on all the details at ChiefsParade.com.

I want to thank all of our law enforcement officials for their tireless work to keep everyone safe during this exciting time for Chiefs Kingdom. Let us all remember to be respectful of those in uniform during our celebrations throughout the week. Go Chiefs!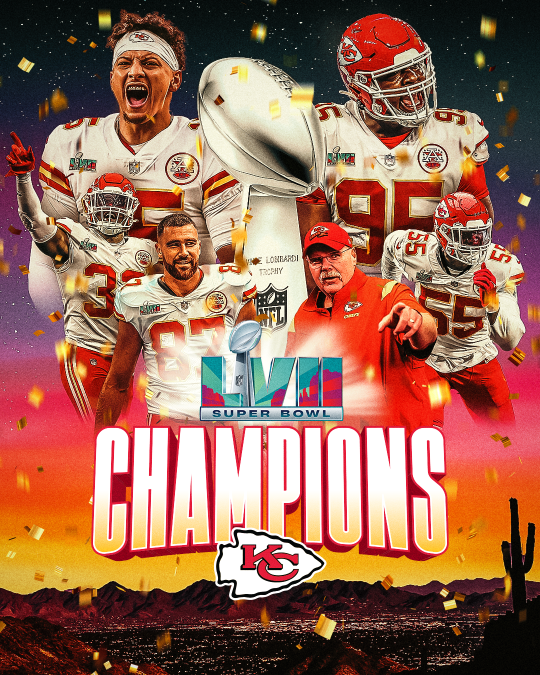 My Response to President Biden's State of the Union Address
The American people need look no further than their grocery receipts and bank accounts to understand the grave state of our union. President Biden's policies have contributed to high inflation, driven up prices by more than 13 percent over the past two years and stifled American energy production – leading to higher energy bills and high gas prices. Additionally, on my recent visit to the southern border, it was clear that the administration's policies over the past two years have exacerbated the crisis at the border.

Our country's strength at home projects strength abroad where it is sorely needed. As seen by Kansans and Americans last week, China is using its increasing capabilities to threaten and intimidate the United States and our allies. If we don't have leadership that utilizes our nation's capabilities, we've lost our ability to defend our homeland against our adversaries.

While political rancor and gridlock are often the theme in Washington, D.C., supporting our veterans is a mission that often breaks through the dysfunction in Washington. Through a bipartisan effort, the Senate Veterans' Affairs Committee was able to pass an historic expansion of benefits and health care for all generations of veterans exposed to burn pits and other toxic substances. I appreciate President Biden signing this legislation into law, and I will work with the VA to see that the PACT Act is implemented so that Kansas veterans receive the health care and benefits they deserve.

When President Biden was running for office, he stated he would be a middle-ground President. I urge President Biden to work with elected officials across the aisle to pass policies that reduce inflation, find consensus on the border crisis and send a clear message to our adversaries that we are a strong, unified nation.


Hosting Kansas State University President Dr. Linton for State of the Union
I was pleased to have the opportunity to host one of Kansas' leaders, Dr. Richard Linton, as my guest for the State of the Union. As the president of Kansas State University, a consequential position that impacts each of our state's 105 counties and is vital to Kansas' current and future success, Dr. Linton plays an important role in training and equipping our state's talented workforce.

Kansas State University is a national leader in research and development significant to our nation and is at the forefront of our efforts to increase Kansas' global competitiveness in the agriculture, food, animal science and biodefense industries.

You can read more in The Manhattan Mercury here.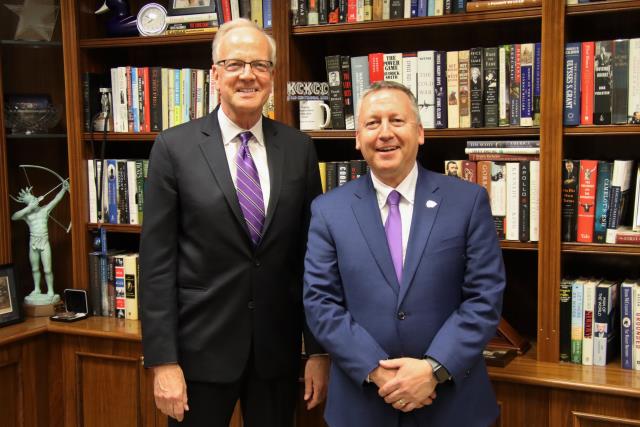 Subcommittee Hearing on Chinese Surveillance

This week, I attended a Senate Appropriations Subcommittee on Defense briefing on the high-altitude surveillance of the United States conducted by People's Republic of China (PRC). It is essential that we understand the Biden administration's handling of this spy balloon that was able to cross the continental United States and parts of Kansas last week. While I continue to attend classified briefings to discuss shortfalls in the administration's handling of this incident, this week's public hearing was an important opportunity to let Kansans and Americans hear directly from department officials. The American public expects that our military will have the wherewithal to defend our national sovereignty, and I intend to support efforts to strengthen homeland defenses and close vulnerabilities. The American public deserves to understand how and why this surveillance balloon was able to cross United States sovereign territory. I will continue pressing the administration on this important issue.
Announcing Down Syndrome Task Force for New Congress

I joined my colleague U.S. Senator Bob Casey and U.S. Representatives Cathy McMorris Rodgers and Eleanor Holmes Norton in announcing the launch of the Congressional Down Syndrome Task Force for the 118th Congress. This bipartisan, bicameral group is dedicated to making certain the needs of the Down syndrome community are a priority in Washington, D.C.
Through increased federal resources and great partners in the medical research field, Down syndrome research has improved significantly in recent years. I am grateful to continue co-chairing the Down Syndrome Task Force to accelerate research on Down syndrome, including its connection to Alzheimer's disease, and to promote policies that support individuals with Down syndrome and their families.
You can read more from Sunflower State Radio
here
.
Challenging President Biden's Student Loan Cancellation
I also joined my Senate colleagues in filing an amicus brief to the United States Supreme Court in
Biden v. Nebraska
and
Department of Education v. Brown
, dual cases challenging the Biden administration's student loan cancellation plan. Our brief argues that the Biden administration's unilateral decision to forgive federal student debt in these circumstances is an overreach of executive power and circumvents the authority of Congress.
As we stated in the brief, "The executive has failed in its constitutional duty to faithfully execute the law, exploiting the end of a pandemic to adopt policies at odds with those of the people's representatives in Congress. The cancellation program is contrary to law and the Constitution, and reflects an unprecedented executive aggrandizement of the fiscal powers vested exclusively in Congress. Where the President has failed in his duty to faithfully execute the law, it is the province and duty of the court to remind him of that obligation."
You can find the full amicus brief
here
.
You can read more from WIBW
here
.
Meeting with NATO Secretary General Jens Stoltenberg
I had the opportunity to meet and speak with NATO Secretary General Jens Stoltenberg to discuss matters important to the alliance, especially as it relates to support for Ukraine and the process to approve Sweden and Finland joining NATO. I asked him about alliance unity behind an end goal in Ukraine, and I also raised the necessity of European countries contributing more to their continent's security as America shifts focus to Asia. As a member of the Senate NATO Observer Group, I am intent on making certain the alliance is strengthened by all members meeting their obligations for collective security. Doing so will defend against Russian aggression and Putin's imperialist ambitions.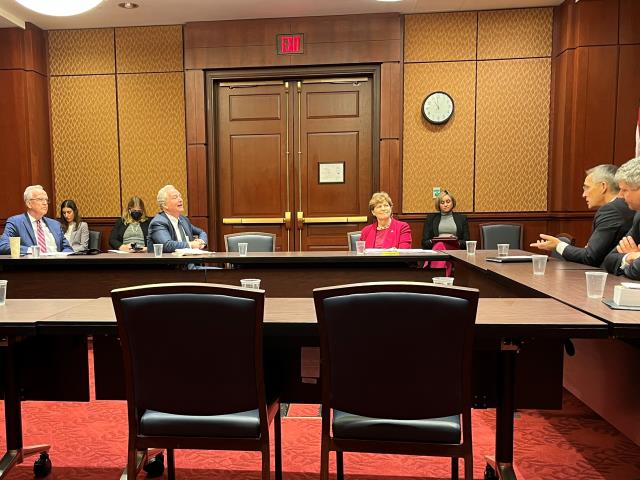 Commerce Hearing on Southwest Airlines
On Thursday, the Senate Commerce Committee hosted a hearing with Andrew Watterson, COO of Southwest Airlines, regarding the recent operational meltdown that left millions of people stranded in December 2022. I have heard from many Kansans whose travel was impacted and as a result, their holiday plans upended due to these issues. While unavoidable weather led to the initial problems, an outdated scheduling system allowed the existing failures to snowball into an unprecedented meltdown. Since Southwest's operational challenges last winter, the company drafted near-term action items to improve readiness and response, including the establishment of a committee to investigate the meltdown, no-charge rebooking on the next available flight in the event of a cancellation, and other proposals. FAA Reauthorization will occur later this year, and it is important that we work to prevent future situations like we saw this past December.
I encourage any Kansan who is still in need of resolution stemming from a Southwest Airlines flight they booked during the operational meltdown to reach out to our office for assistance.
Attending Senate National Guard Caucus Breakfast
This week, I attended the annual Senate National Guard Caucus breakfast where I had the opportunity to meet with Major General Weishaar, the Kansas Adjutant General. We discussed ways we can continue to support the airmen and soldiers serving in our Kansas National Guard. The guard is a critical resource to our communities and goes above and beyond to serve our state, nation and ally countries when duty calls.
I want to congratulate Major General Weishaar on his upcoming and well-earned retirement. I am grateful to him for his decades of service to the Kansas and the nation.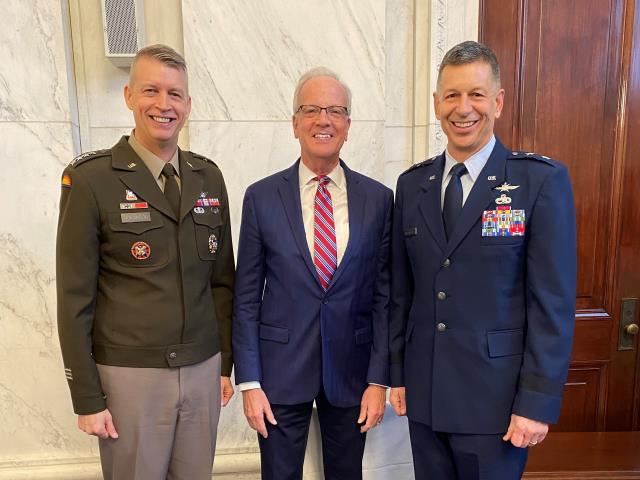 Meeting with Kansans
Kansas Hospital Association
It was great to visit with several members of the Kansas Hospital Association to hear their input on federal efforts to prevent rural hospital closures through the new Rural Emergency Hospital designation. While the health care industry as a whole has faced challenges since the COVID-19 pandemic, rural hospitals in particular have struggled to remain financially solvent. Local access to health care is essential to Kansas communities, and I am grateful to our hospitals and health care providers for their efforts to preserve local access to quality care.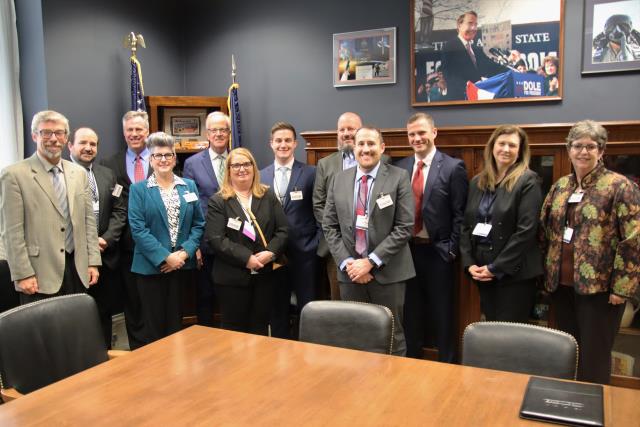 Wichita State University, College of Engineering

This week, I met with Wichita State University's Dean of the College of Engineering, Dr. Anthony Muscat. During our visit, he provided me with an update on current programs offered by the college, as well as future proposals being considered to help students be better able to contribute to the aviation industry after graduation. We also discussed the importance of working together to identify solutions to fill workforce gaps, particularly when it comes to increasing opportunities for women in STEM. I want to thank Dean Muscat for his visit, as well as his dedication to making certain Kansas produces competitive engineers ready to participate in any industry.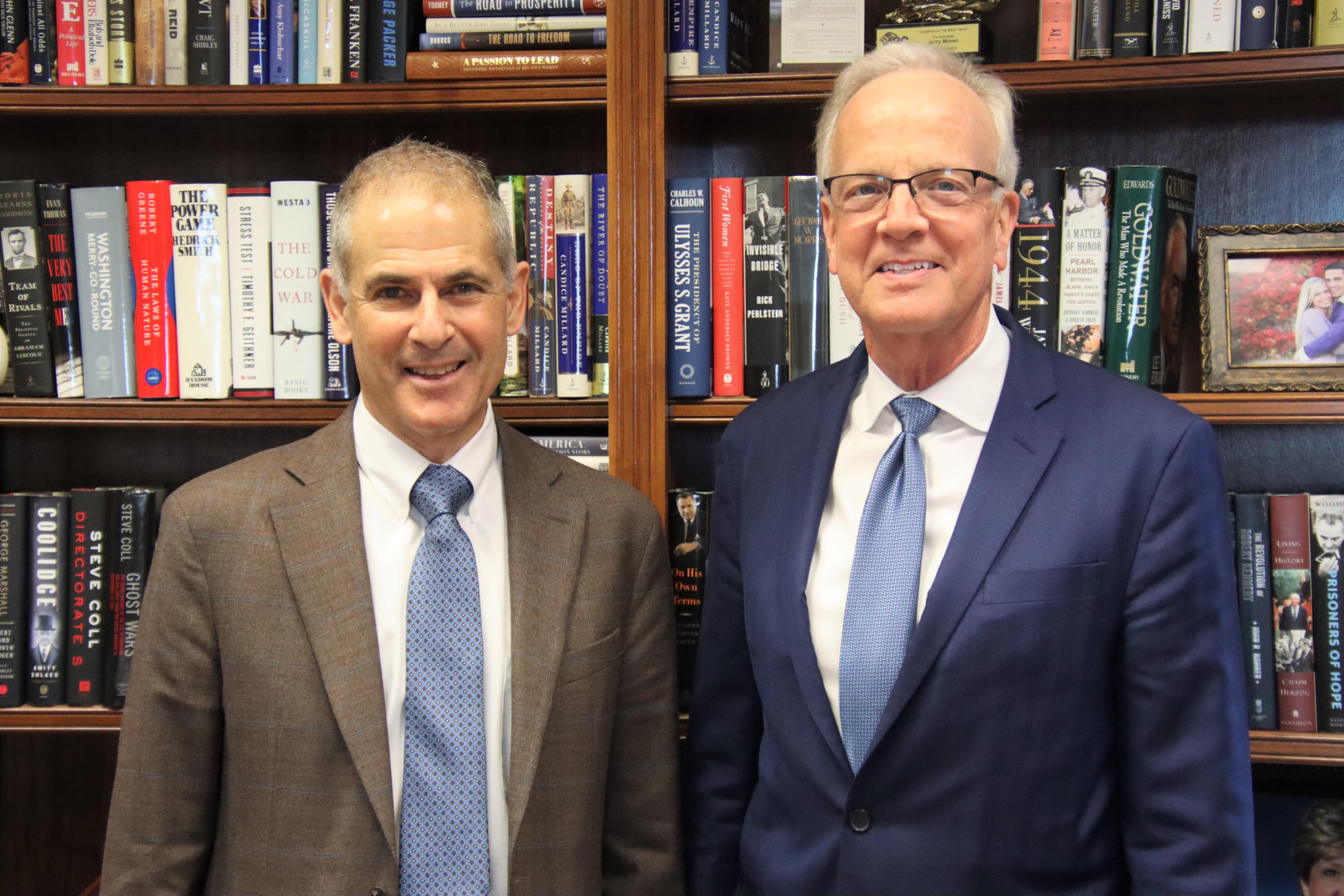 Colby Community College
I enjoyed visiting with Colby Community College President Seth Carter and Arlen Leiker, one of the college's board members, to discuss new initiatives at the college. President Carter's efforts to improve Colby Community College will benefit not only the students but also the community and its businesses. President Carter also shared updates on the college's dental hygiene program, an effort for which I helped secure funding in the FY2023 appropriations package for the college to purchase updated equipment. The dental hygiene program not only trains future dental hygienists but also provides free dental care to the surrounding region. Under President Carter's leadership, Colby Community College is an excellent example of how a community college can offer high-quality education while also investing in the surrounding community.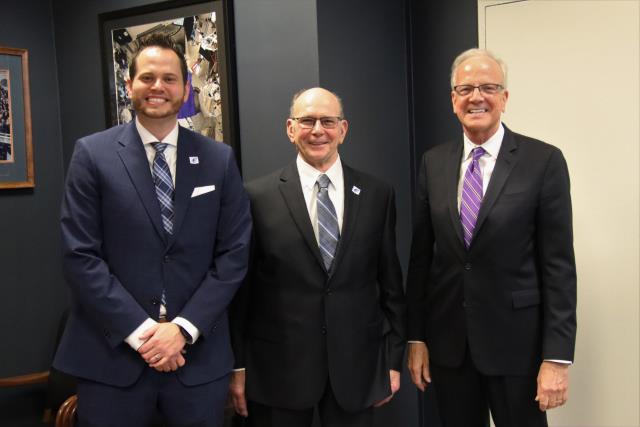 Seward County Community College
This week, I met with Seward County Community College President Brad Bennett to speak about the college's new project to help fill the commercial driver workforce gap. Seward County Community College is developing a facility to improve the capacity of their Commercial Driver's License (CDL) Truck Driving Program in order to better meet the high demand of interested students and to offer local businesses with well-trained employees prepared to enter the CDL workforce. I look forward to supporting President Bennett and Seward County Community College with this project as they offer students a quality education while also filling gaps in our state's struggling workforce.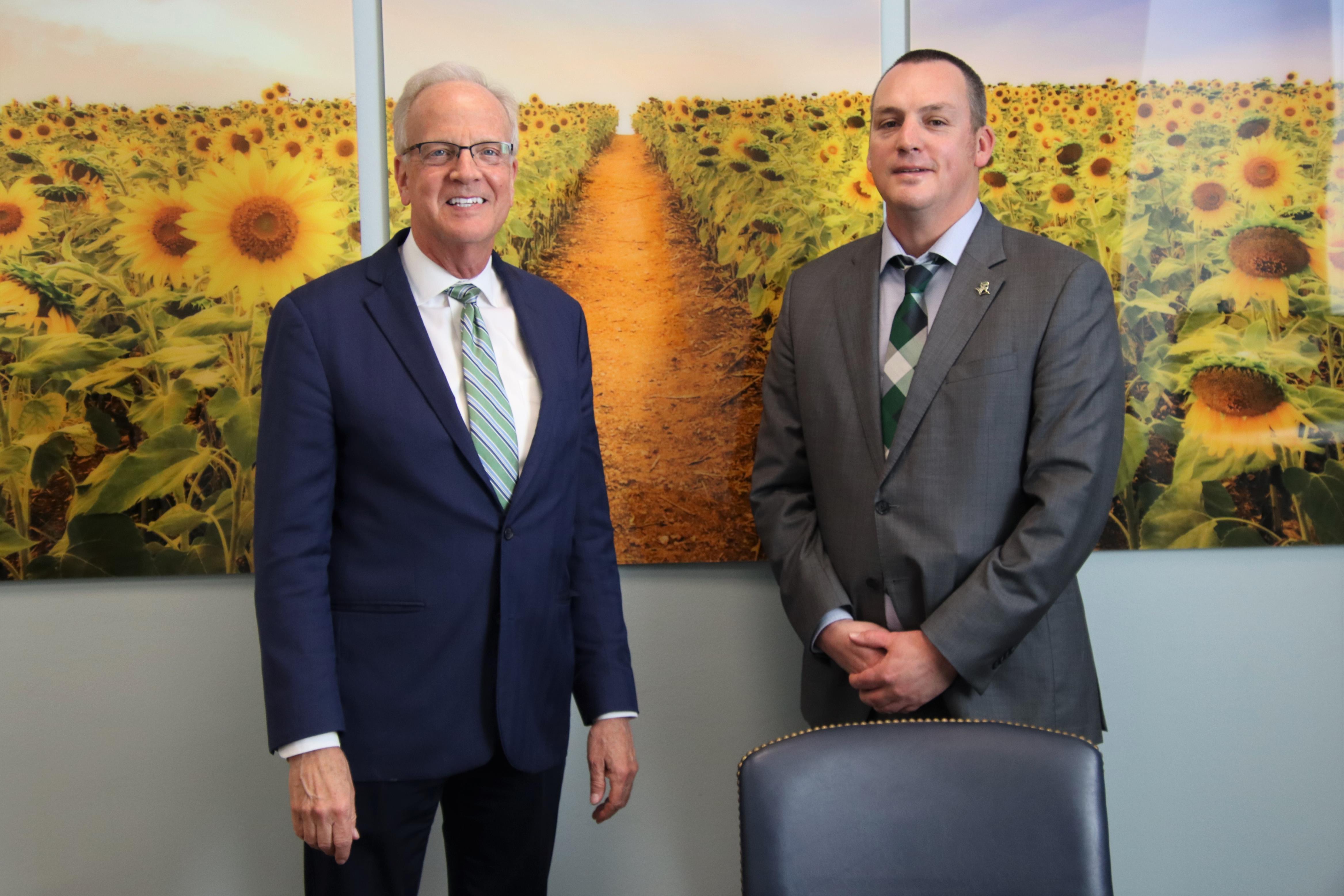 Benedictine College
On Wednesday, I met with Benedictine College President Steve Minnis to discuss the college's plans for important facility upgrades to better improve student experience and increase tourism to Atchison. President Minnis also shared an update on the college's library construction project, which would provide an educational experience for schools in the surrounding region and visitors to Kansas, providing an economic benefit to the Atchison community. Benedictine College plays a vital role of making certain students receive quality education to prepare them for a successful future, as well as identifying opportunities to improve the nearby community's economy.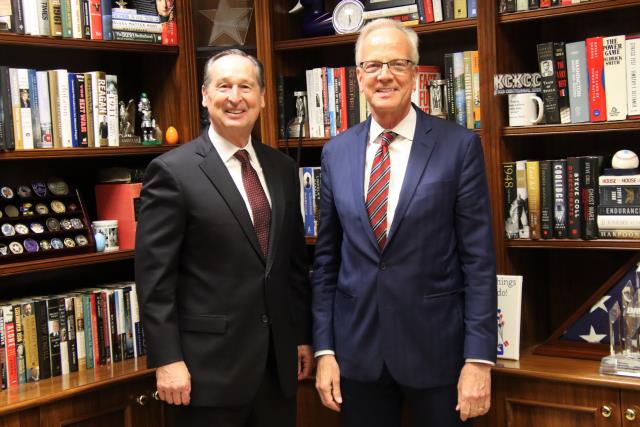 Kansas State University
I appreciated the opportunity to meet with leadership of Kansas State University – President Dr. Richard Linton, new Vice President and Chief of Staff Dr. Marshall Stewart and Vice President of Research Dr. David Rosowsky. During this meeting, we discussed the importance of K-State remaining focused on serving Kansas farmers and ranchers and keeping agriculture at the heart of the university's continued expansion. I was also grateful to hear Dr. Stewart's desire to find opportunities to help our state improve mental health care, including for veterans, and I look forward to working with him in his new position at K-State.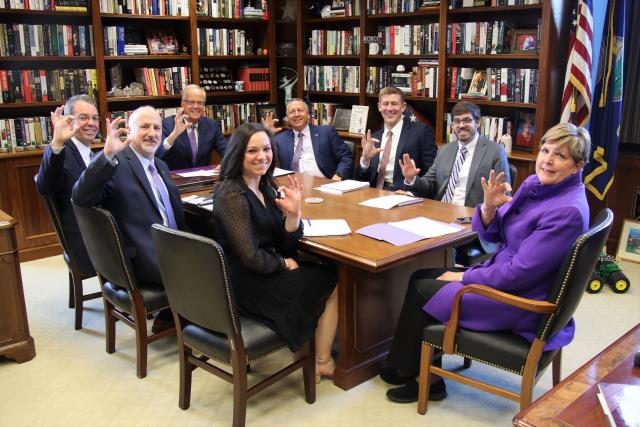 Kansas Independent College Association and Foundation
On Tuesday, it was great to have the Kansas Independent College Association and Foundation in town to visit about their mission to serve students and make certain they have the opportunities necessary to achieve success. Dr. Elizabeth Mauch of Bethany College, Dr. Amy Bragg Carey of Friends University, Dr. Kathleen Jaffer of Newman University, Dr. David Spittal of MidAmerica Nazarene University and Matt Lindsey with the KICA updated me on the increased enrollment rates their institutions have seen following the COVID-19 pandemic. I am grateful for the work of Kansas' independent colleges as they provide quality education to prepare our students for future success and draw new students to our state.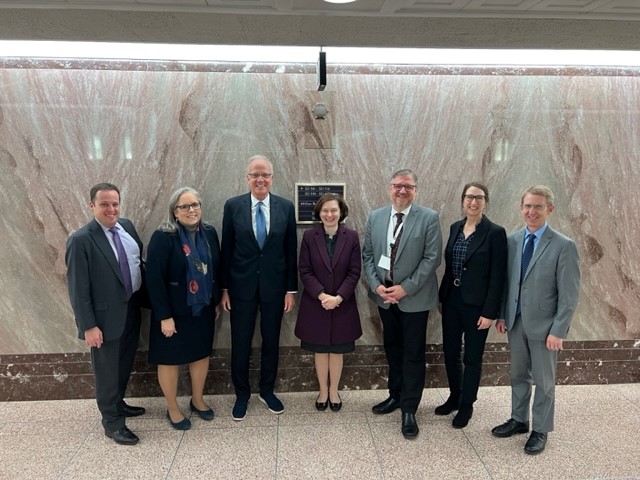 Fraternal Order of Police
This week, I had the privilege of meeting with several members of the Fraternal Order of Police from around Kansas. The National Fraternal Order of Police is the world's largest organization of law enforcement officers with more than 364,000 members. During this meeting, we discussed the challenges our law enforcement officers face on a daily basis as they work around the clock to answer calls for help. I want to thank Matt Blassingame of Topeka, Ben Heusted of Topeka, Scott Kirkpatrick of Kansas City, Kansas, David Inkelaar of Wichita and Casey Slaughter of Wichita for taking the time to share their stories with me and for their sacrifices to protect our state and communities.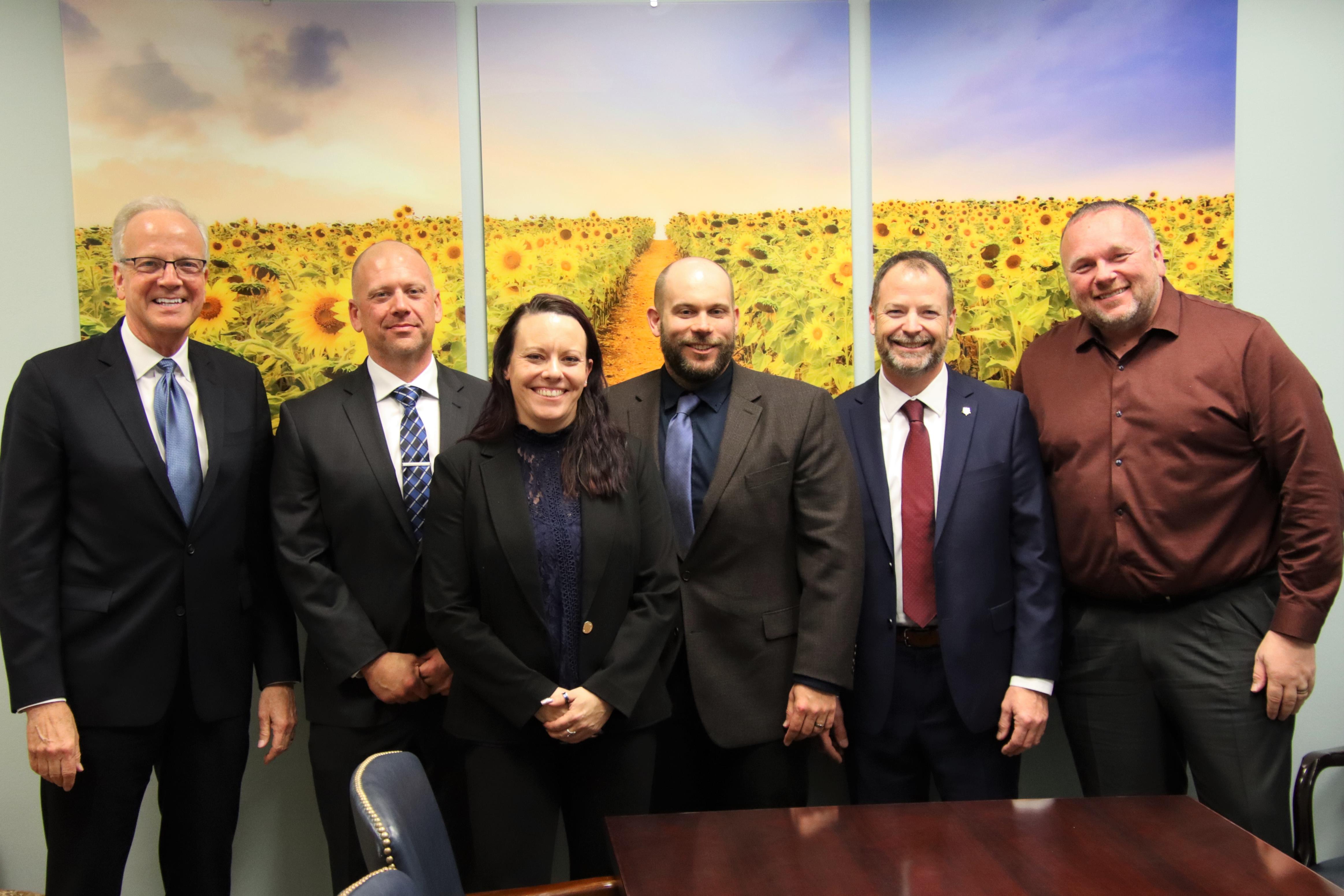 American Indian Higher Education Consortium
On Thursday, I met with Haskell University's Board of Regents, faculty members, students and the school's new president. They were visiting during Tribal Colleges Week to share their priorities. I appreciated hearing their commitment to improving Haskell to better serve Native American young adults throughout the country, and I told them of my desire to help them in pursuit of that goal. In my visits with tribal leaders throughout the country, almost all of them tell me of a connection to Haskell. The school is important to Lawrence, Kansas, and Indian Country as a whole, and I look forward to working with President Dr. Francis Arpan when he officially assumes his new role.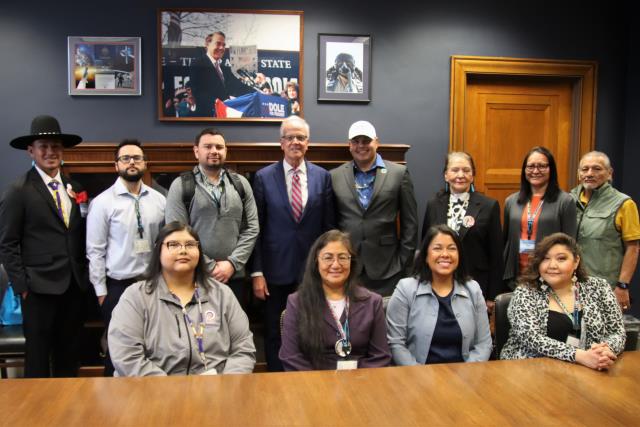 Meeting with General Aviation Manufacturers Association
I met with members of the General Aviation Manufacturers Association, an organization that supports almost 40,000 jobs in Kansas, and is an invaluable industry to our country as a whole. We discussed ways to strengthen and bolster this industry and support the needs of its vital workforce. With FAA Reauthorization set to expire this fall, I look forward to continue working to strengthen the general aviation industry both in Kansas and the nation.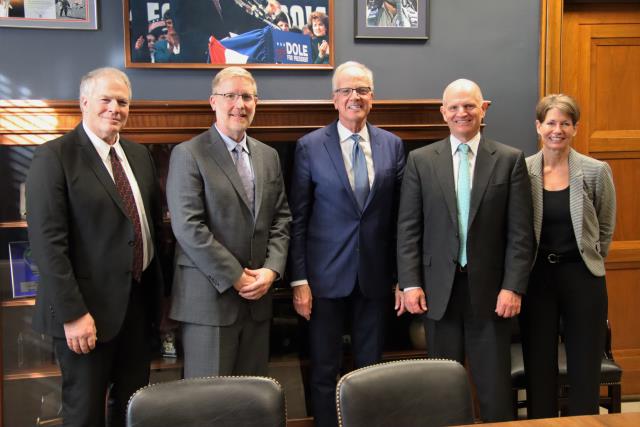 Receiving National Association of State Approving Agency's 2023 Lifetime Leadership Award

This past week, I was grateful to be the recipient of the 2023 Lifetime Leadership Award from the National Association of State Approving Agencies (NASAA), which represents State Approving Agencies (SAAs) from across the country. These SAAs are vital entities in each state to approve schools and training programs to make them eligible for education benefits from the Department of Veterans Affairs. They also work each and every day to make certain these programs remain in compliance so that bad actors do not take advantage of veterans and their dependents attending schools. SAAs bring concerns and gaps in services to their respective states and to Congress in order to improve educational programs for our nation's veterans and families.
I am grateful to have worked with NASAA and our other Veterans Service Organizations to pass legislation to help lessen challenges for veterans and their dependents attending school. I want to thank NASAA for their ongoing partnership and efforts to protect and improve educational benefits for veterans, survivors and other dependents.
Expanding Broadband Internet Access
I joined my colleagues in reintroducing the bipartisan
Broadband Grant Tax Treatment Act
, legislation that would ensure more federal broadband deployment resources are actually spent on deployment efforts. This bill would make certain that federal broadband deployment grants will not be considered taxable income for broadband providers, increasing the number of Americans who can be connected to high-quality broadband with these funds. I am urging my colleagues to support this commonsense measure that makes certain the federal government will not take back dollars it is providing for the vital purpose of increasing access to telehealth, pursuing an education and connecting to the economic benefits of broadband.

Kansans in the Office

Capitol Tour


Dr. Amy Carey Bragg of Wichita





Bryan Carey of Wichita



Kansas State University
President Dr. Richard Linton of Manhattan



Dr. Marshall Stewart of Manhattan





Dr. David Rosowsky of Manhattan



Kansas State SNAP-Ed Program


Tandy Rundus of Manhattan





Lisa Ross of Manhattan





Stacy Thowe of Topeka



Kansas Broadband Development Office


Jade Piros of Topeka



Agricultural Retailers Association
David Spears of Valley Center

Ron Seeber of Topeka



Jeff Jones of Newton


Troy Coon of Hutchinson

Kevin Dieckmann of Olathe

Bradley Sponsella of Bocyrus



Mayor Dustin Kuntz of Harveyville



Ducks Unlimited


Mike Bulk of Sabetha





Lynne Rozine of Kansas City



Neurofibromatosis Central Plains
Jill Meyer of Shawnee

Elizabeth Balch of Prairie Village

Society of Professional Engineering Employees in Aerospace
Emily Forest of Wichita

Matthew Joyce of Derby

Susanne Murphy of Derby

Colby Community College
Seth Carter of Colby

Arlan Leiker of Colby

Kansas City Kansas Community College
Dr. Greg Mosier of Kansas City

Linda Hoskins Sutton of Kansas City

Brad Isnard of Kansas City

Kansas Independent College Association and Foundation
Dr. Elizabeth Mauch of Lindsborg

Dr. Amy Carey Bragg of Wichita

Dr. Kathleen Jagger of Wichita

David Janzen of Hillsboro

Klaus Arnold of Lenexa

Fraternal Order of Police
Matt Blassingame of Topeka

Ben Heusted of Topeka

Scott Kirkpatrick of Wichita

Casey Slaughter of Wichita

Amanda Wood of Wichita

Future Business Leaders of America
Sophie Weber of Herington

Lisa Beye of Herington

Bret Beye of Herington

State Department FLEX Program
Sargis Armenia of Manhattan

Children's Mercy
Paul Kempinski of Leawood

Dallas Polen of Overland Park

Habitat for Humanity
Ann Patterson of Wichita

Kathy Lefler of Wichita

Danielle Johnson of Wichita

Wichita State University
Dr. Anthony Muscat of Wichita

Seward County Community College
Brad Bennett of Liberal

Security Benefit
John Guyot of Topeka

Zoe Gruber of Topeka

Kansas Hospital Association
Jason Barb of Wichita

Tyler Boss of Wichita

Benjamin Fischer of Seneca

Kiley Floyd of Seneca

David Jordan of Hutchinson

Jenny Niblock of Colby

Jodi Schmidt of Westwood

Michael Seward of Olathe

Julie Wood of Leawood

Graham Morsch of Olathe

Audrey Drahel of Topeka

Association of Small Business Development Centers
Greg Jordan of Topeka

Susie Pryor of Topeka

Vince Haworth of Paola

Benedictine College
President Steve Minnis of Atchison

IRS
Shirl Thomas of Wichita

American Indian Higher Education Consortium
Jessica James of Lawrence

Lester Randall of Topeka

Jakoby Stump of Lawrence

Alexander Manyguants Jr. of Lawrence

Phefelia Nez of Lawrence

Jacqueline Barjd of Lawrence

Zach Wilkerson of Kansas City

Dr. Francis Arpan of Lenexa

Brittany Hall of Lawrence

Kansas National Education Association
Angie Powers of Olathe

Selex
Bill Colligan of Overland Park

Thales
Chris Giacopello of Overland Park

Newsletter Sign-up Form
Note: Fields marked with an * are required.