Kansas Common Sense
Visiting Andover One Year After Severe Tornado Hit City
On the week of the one-year anniversary of the Andover tornado, I joined Police Chief Buck Buchanan and USD 385 Superintendent Bret White to announce federal investments for the Andover Police Department and for Prairie Creek Elementary School. The funding for Prairie Creek Elementary will be used to replace and update technology infrastructure that was damaged in the tornado. The resources for the Andover Police Department will be used to update the community's 911 services technology.

Last year, on the day after the 2022 tornado, I visited Andover to thank first responders and speak with those impacted by the tragedy. During this visit, I was not at all surprised to see that the worst of circumstances brought out the best in Kansans. This spirit has continued to shine bright as the United Way of the Plains has so far spent more than $250,000 helping 73 families while donations have reached nearly $900,000 in the year since the tornado.

Thank you to Mayor Ronnie Price, City Administrator Jennifer McCausland, City Council and Board of Education members and State Representative Susan Humphries for joining me to share this positive news for the community.

You can read more from KSN here and KWCH here.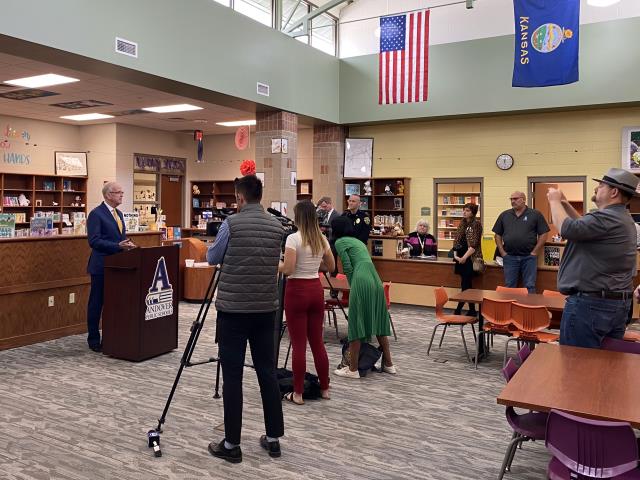 Improving Quality and Access to Care for Veterans
This week, I introduced the Veterans' Health Empowerment, Access, Leadership, and Transparency for our Heroes (HEALTH) Act to protect and expand access to care for veterans, safeguard veterans' ability to choose their own providers and require the Department of Veterans Affairs (VA) to improve the quality of care veterans receive. This legislation expands on the MISSION Act and makes critical improvements to the VA health care system.

Veterans deserve access to timely high-quality care and a greater ability to choose when, where and how to use the health care benefits that they earned through their service and sacrifice. Despite the steps Congress has taken to increase access to care for veterans in VA and in the community, I continue to hear from far too many veterans in Kansas and across the country who are not being given the choices they are owed from VA. This legislation will help make certain VA fulfills its mission to care for veterans by safeguarding care in the community, expanding access to care for veterans with mental health and substance use disorders, empowering veterans with the information they need to make the health care decisions that best serve them and requiring VA to improve quality of care.

I am pleased to have the support of numerous veterans' groups for this legislation, including the Veterans of Foreign Wars of the United States, Wounded Warrior Project, The American Legion, America's Warrior Partnership, The Independence Fund and Concerned Veterans for America.

You can read more from Military.com here and the Washington Examiner here.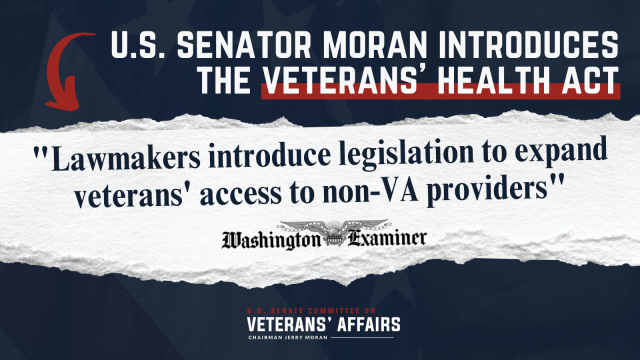 Designing the 6888th Battalion Congressional Gold Medal
The Citizens Coin Advisory Committee and the U.S. Committee of Fine Arts recommended the U.S. Mint proceed on designs for the 6888th Central Postal Directory Battalion Congressional Gold Medal. The "Six Triple Eight" was the only all-African American, all-female unit sent overseas during World War II, where they sorted and routed mail for millions of American servicemembers and civilians. Though the odds were set against them, the women of the Six Triple Eight processed millions of letters and packages, helping connect WWII soldiers to their families back home and maintaining troop morale.
Last March, my legislation to award the Congressional Gold Medal – the highest expression of national appreciation from Congress – to the members of the Women's Army Corps assigned to the 6888th Central Postal Directory Battalion was signed into law. I am pleased with the progress of the design process and look forward to the unveiling of the finalized Congressional Gold Medal.
You can view the potential designs for the 6888th Battalion Central Postal Directory Congressional Gold Medal
here
.
Introducing Legislation to Provide Reliable and Affordable Energy to Kansans
I introduced legislation this week with Sen. Roger Marshall to help provide stable energy rates and a reliable energy grid to states in the Southwestern Power Administration (SWPA), including Kansas, Arkansas, Louisiana, Missouri, Oklahoma and Texas.

The Southwestern Power Administration Fund Establishment Act would give the SWPA the authority to operate on a self-funding, revolving Treasury fund to help provide long-term stability to SWPA. This would give the SWPA more stable funding in order to lower customer rates, which can be highly volatile due to market demand and weather. The bill is supported by Kansas Electric Cooperatives, the National Rural Electric Cooperative Association and the American Public Power Association.

It is critical that Kansans have access to reliable electricity at stable rates, especially during extreme and dangerous weather. This legislation will provide funding stability that will allow energy providers to make needed infrastructure improvements and prevent Kansans from suffering mass power outages.

Read more from WIBW here.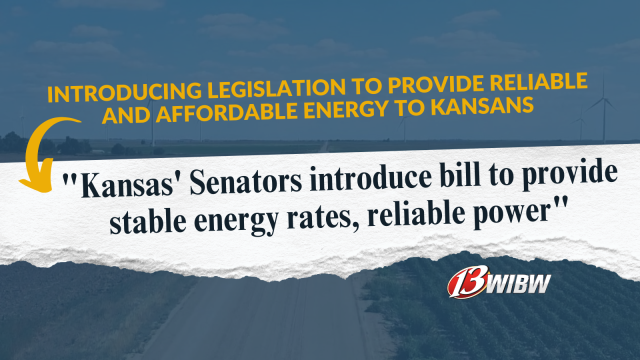 Meeting with Kansans
Kansas Insurance Commissioner Vicki Schmidt
On Wednesday, I was pleased to meet with Kansas Insurance Commissioner Vicki Schmidt to discuss how best to protect policyholders and businesses in Kansas. We spoke about the importance of protecting our state-based insurance system, the reauthorization of the National Flood Insurance Program (NFIP) and the need to lower health insurance costs. I appreciate Commissioner Schmidt's work on behalf of Kansans and look forward to partnering in the future to strengthen insurance markets and increase affordable choices.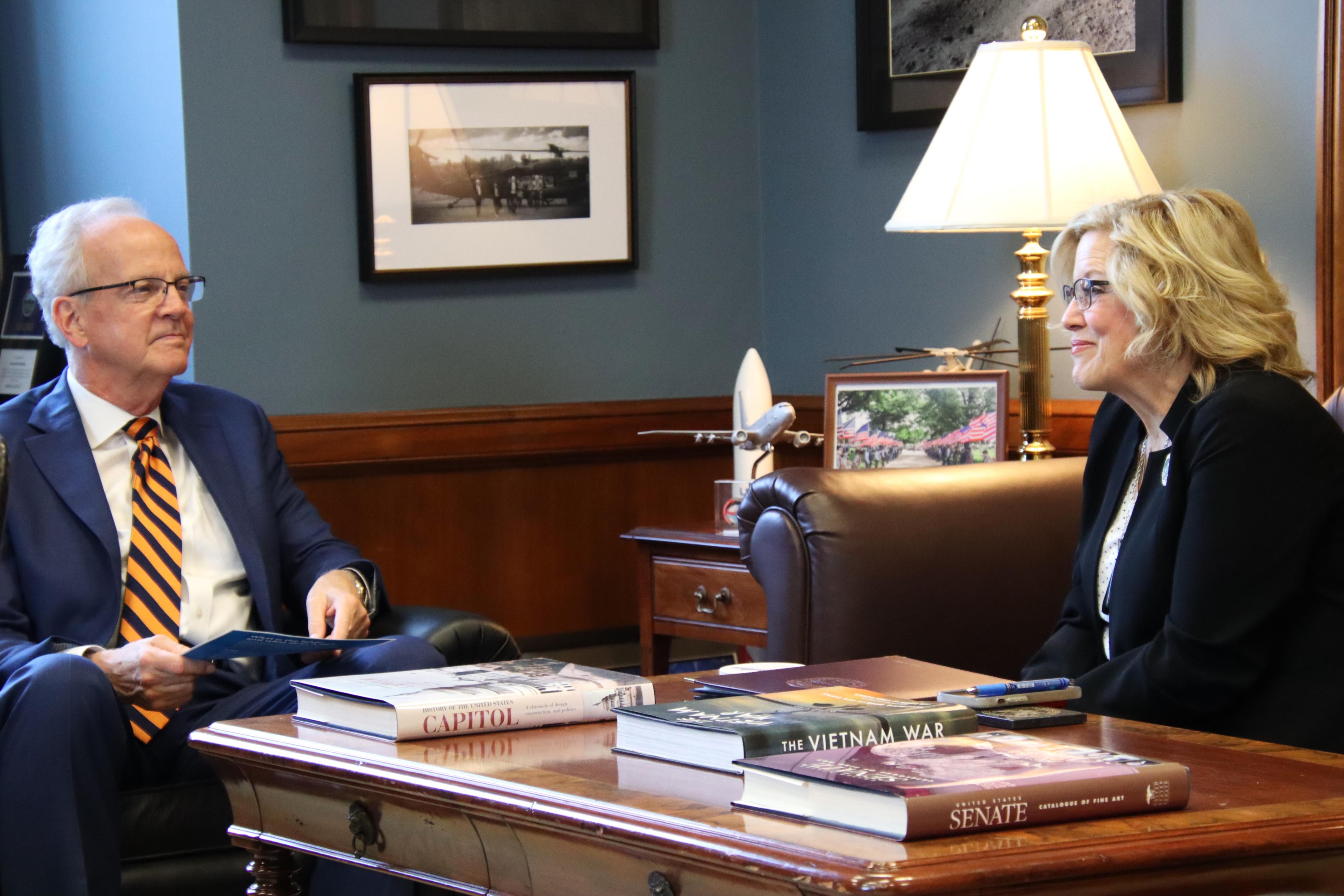 Kansas Livestock Association
This week, I met with leadership from the Kansas Livestock Association (KLA). During our meeting, KLA members discussed their priorities for the livestock industry, including certainty for cattle marketing. We also discussed timely reauthorization of the Farm Bill, which includes critical conservation programs to address water resources in Kansas, disaster programs for drought and wildfires and protecting animal health.
Thank you to Shawn Tiffany, KLA President, Herington; Philip Weltmer, KLA President Elect, Smith Center; Phil Perry, KLA Past President, Oskaloosa; Keith Bryant, Cattle Feeders Council Chair, Garden City; Jackie Garagiola, Associate Counsel, Topeka; Taylor Nikkel, Director of Stockgrowers Division, Topeka; and Matt Teagarden, KLA CEO, Topeka for taking the time to visit and speak on their Farm Bill priorities.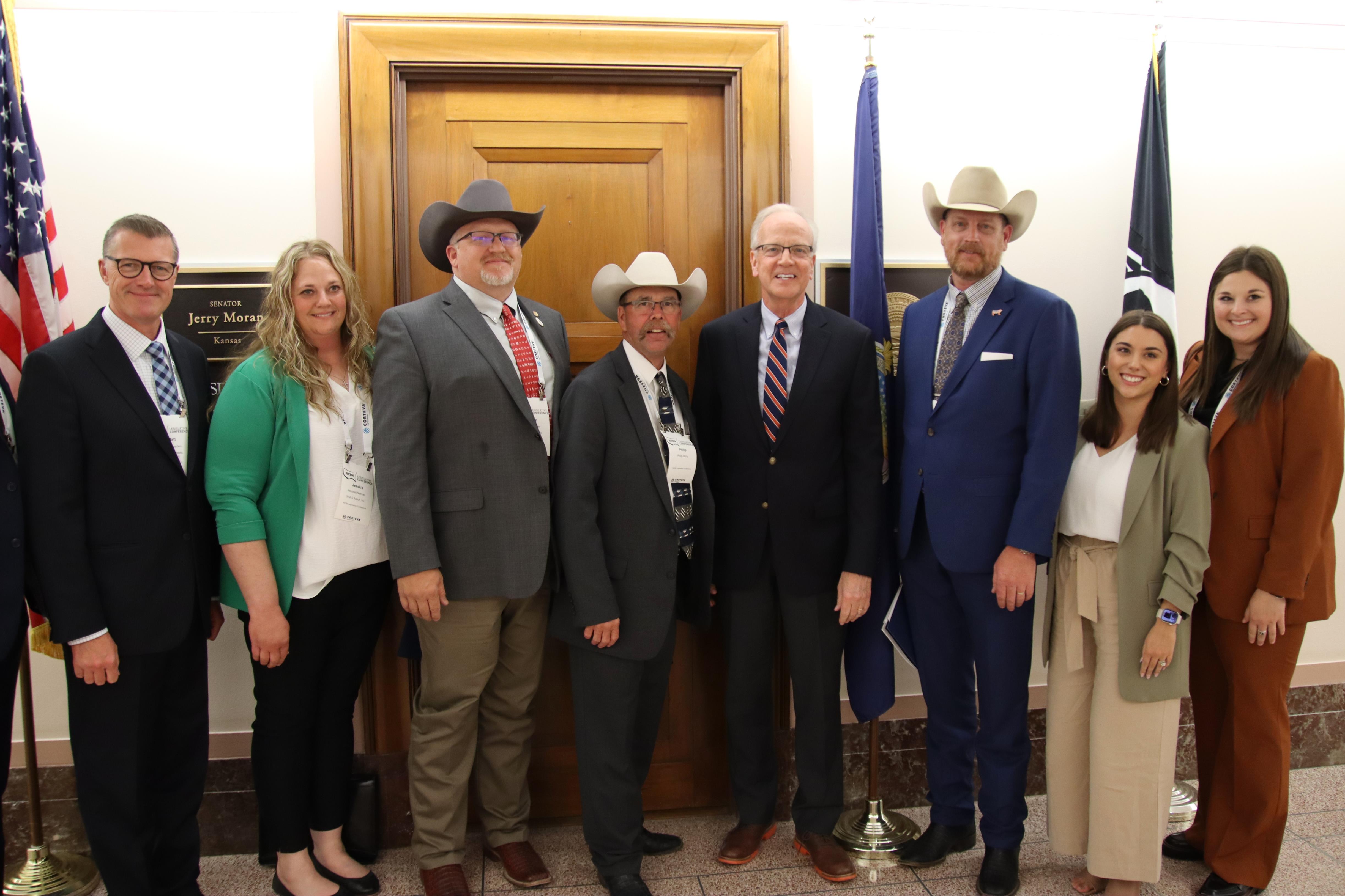 Kansas Hospital Association
I appreciated the chance to meet with members of the Kansas Hospital Association to speak about a number of issues, including the critical need to address the workforce shortage that is harming our state's hospitals and care centers. We also discussed the closure of rural hospitals and health care facilities which has increased at an alarming rate in Kansas over the past several years. We also spoke about the important role Critical Access Hospitals play as one of the most essential ways for rural patients to have access to care.
In my role as an appropriator on the Senate Labor, Health and Human Services Appropriations Subcommittee, I will continue to prioritize funding for health centers to make certain these facilities continue delivering quality care. Thank you to Chad Austin, Molly Haase, Dallas Polen, Tim VanZandt and Curt Sudbeck for taking the time to meet with me and for their work to protect Kansas hospitals.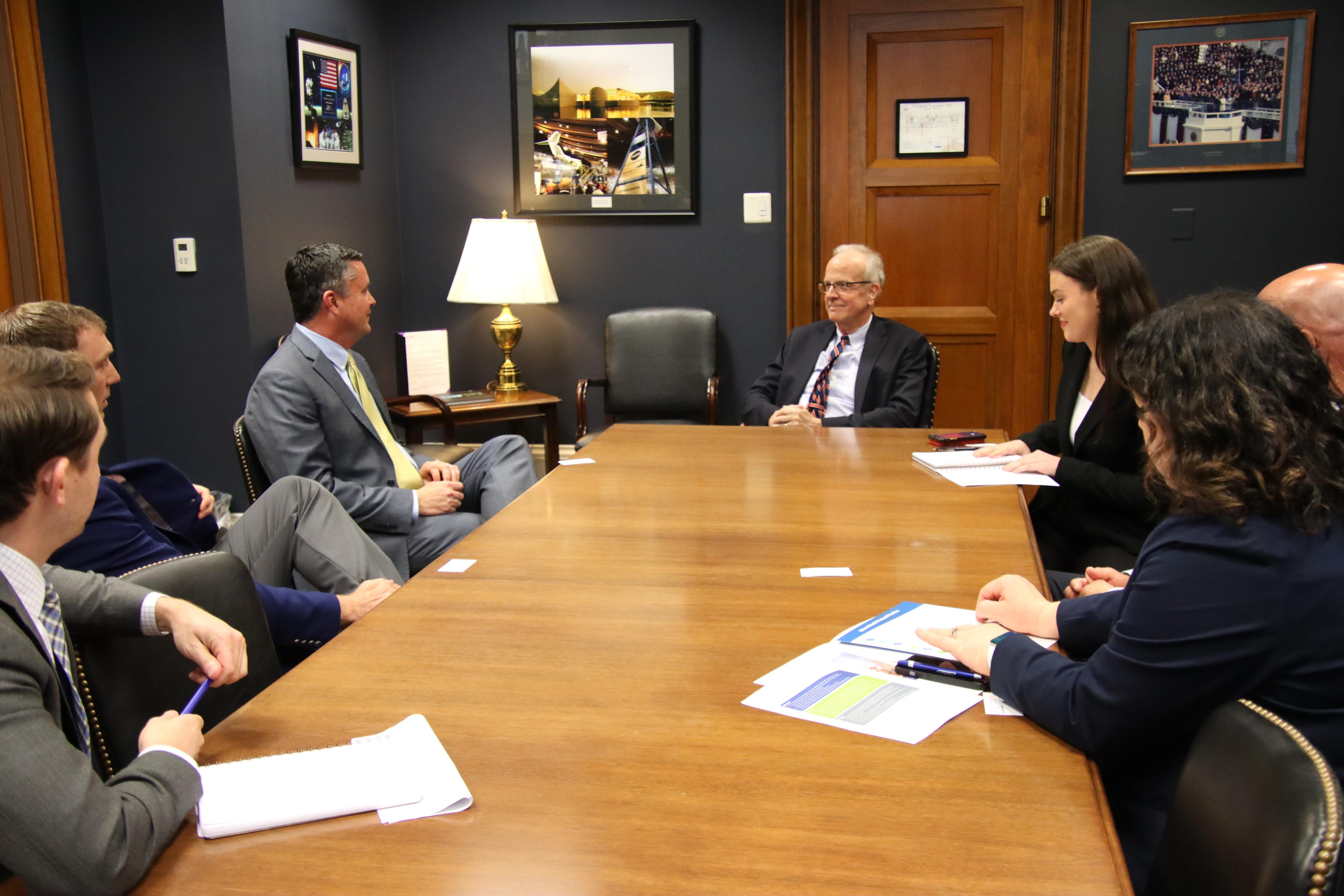 Dr. Jim and Mrs. Jo Hardy
I enjoyed catching up with Dr. Jim and Mrs. Jo Hardy from Wichita during their visit to Washington, D.C. this week. It is always good to visit with Kansans during their trips to our nation's capital.
Prudent Tours Group
It was great to have the chance to visit with Kansans from all across the state this week during their tour of the U.S. Capitol as a part of a trip organized by Prudent Tours, based out of Hillsboro. I appreciated the chance to meet and speak with each of these Kansans.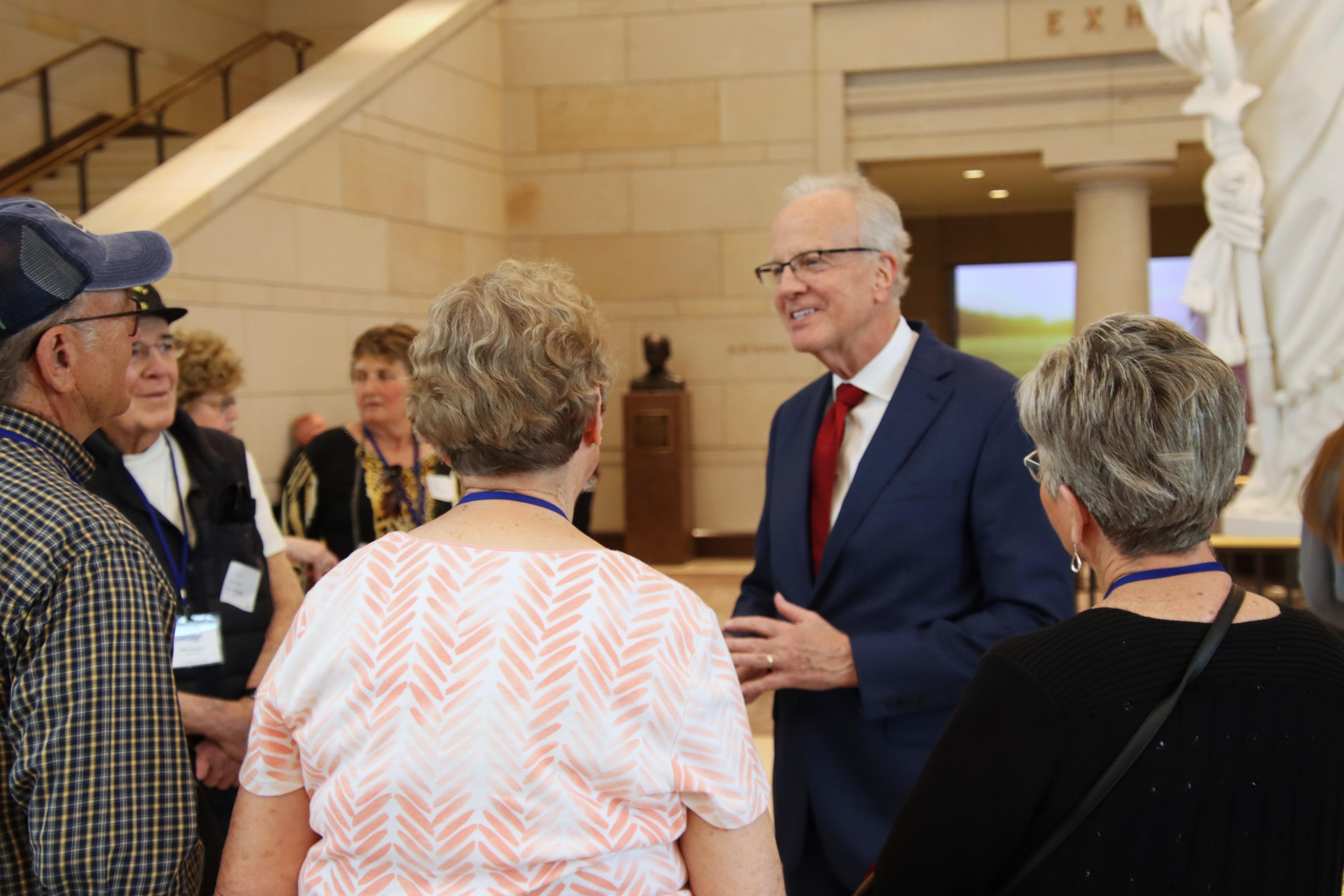 Receiving Updates from Veterans' Groups
Meeting with Veterans Justice Commission
This week, I had the opportunity to sit down with former Secretary of Defense Chuck Hagel and Colonel Jim Seward to discuss their work on the Veterans Justice Commission on the Council on Criminal Justice. They provided an update on the important work the commission is doing to examine the extent and nature of veterans' involvement in the criminal justice system and their recent report on recommendations on evidence-based policy changes that enhance safety, health and justice for our veterans.
As the lead Republican on the Senate Committee on Veterans' Affairs and the Senate Appropriations Subcommittee on Commerce, Justice, and Science, making certain our veterans have access to Veterans' Treatment Courts and working to prevent veterans' justice involvement are key priorities of mine. I look forward to continuing to work with the Veterans Justice Commission to find ways of implementing their innovative policy solutions.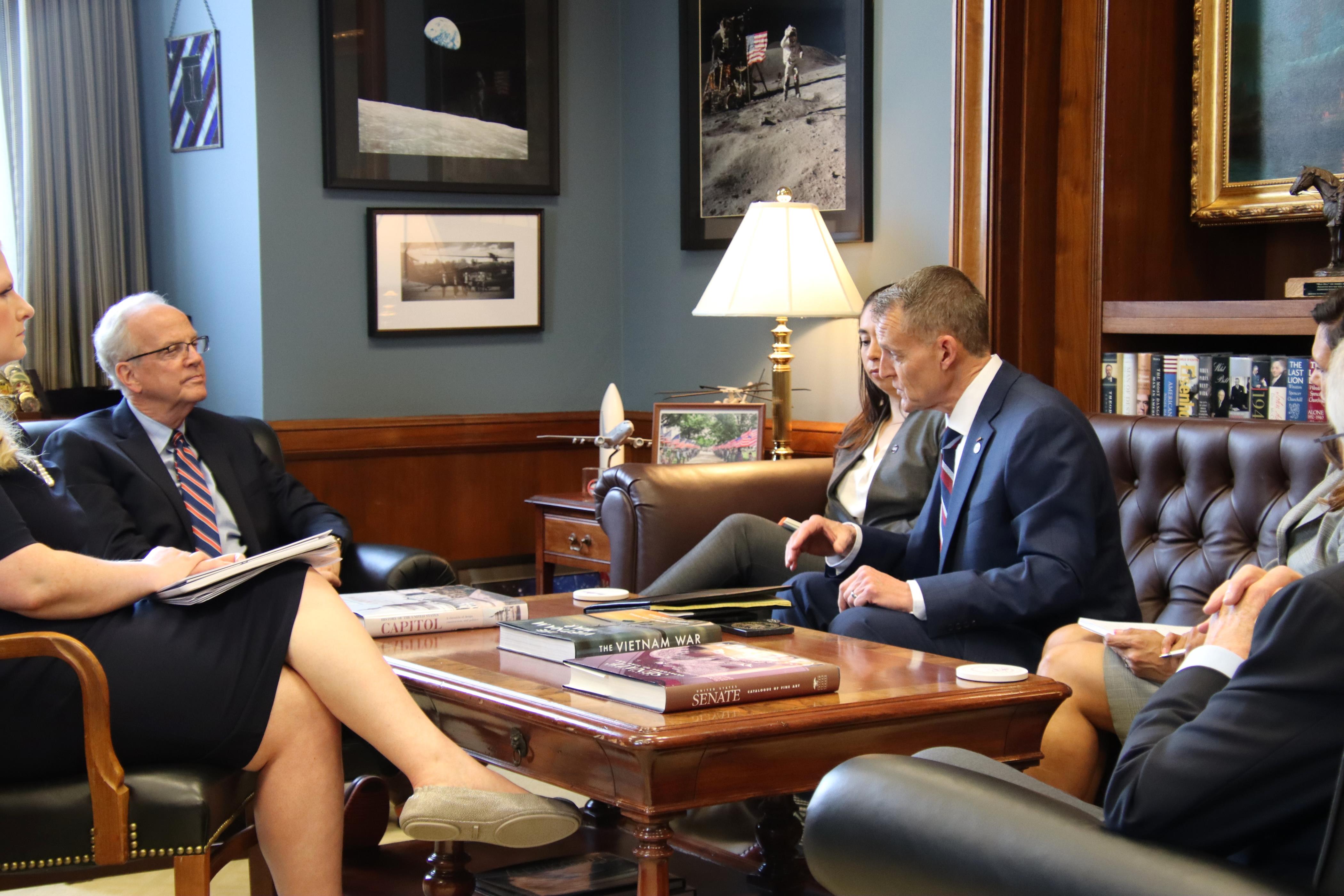 Military Officers Association of America
I appreciated the chance to meet with members of the Military Officers Association of America (MOAA) this week. During our meeting, I was honored to receive their Colonel Arthur T. Marix Congressional Leadership Award. The award, named in honor of Colonel Marix, recognizes members of Congress who have demonstrated strong support for national defense and the uniformed services community. I am grateful for organizations like MOAA, which generously devote resources to supporting our servicemembers and veterans. I look forward to continuing to work with this organization to make certain that our servicemembers and veterans receive the care they deserve.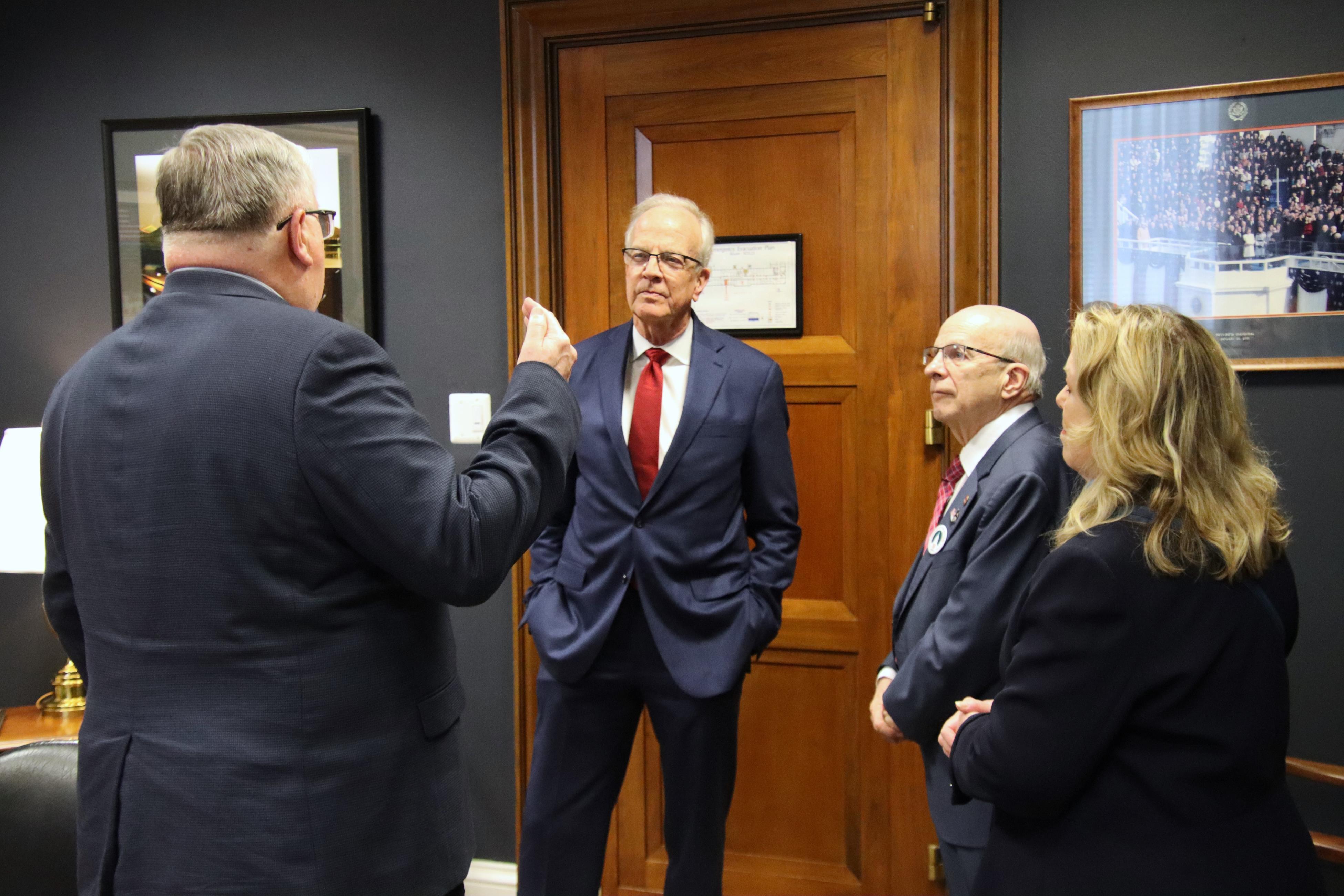 National Organization of Veterans' Advocates
This week, I visited with individuals from National Organization of Veterans' Advocates (NOVA), a membership organization for attorneys and non-attorney agents who represent veterans and their families in the Department of Veterans Affairs (VA) disability claims and appeals process. I particularly appreciated the chance to speak with NOVA's Board President Virginia Girard-Brady from Lawrence and Javier Centonzio, a Kansan who served in the U.S. Marine Corps and the Kansas National Guard.
During our meeting, we discussed veterans' access to NOVA's services as they navigate the VA disability claims system, as well as the ongoing concern of unaccredited companies which may target veterans during the claims process. It is important that we protect veterans from bad actors, while also making certain veterans have choices in how to access and use the benefits that they earned through their service. I will continue to work with my colleagues and organizations like NOVA to strike that balance for our nation's veterans as they navigate the VA's disability claims process.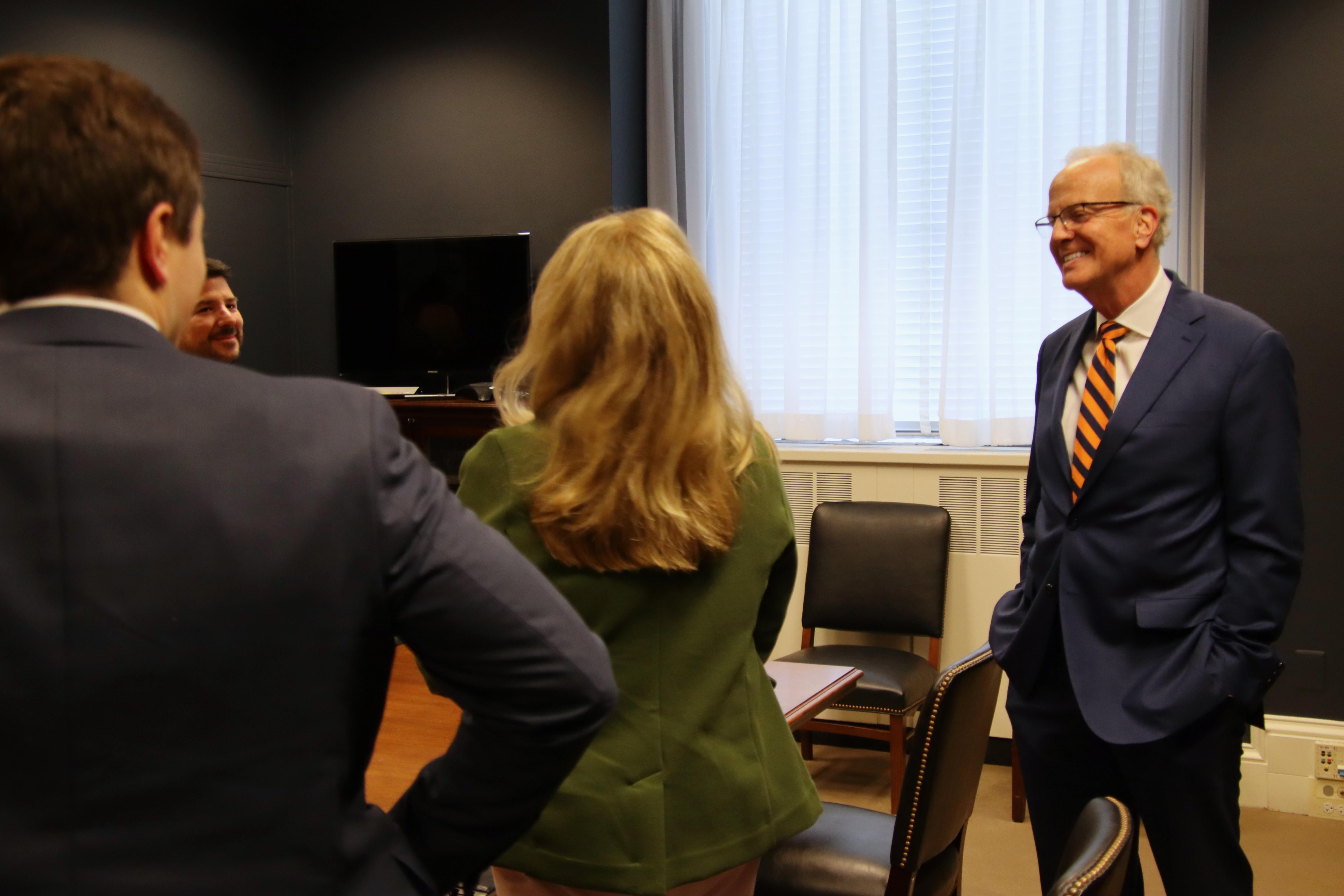 Questioning Commerce Secretary During CJS Hearing
Part of my responsibility as the Ranking Member of the Commerce, Justice, and Science Appropriations Subcommittee is to help allocate funds to Department of Commerce programs and oversee how those programs are implemented. On Wednesday, I led an oversight hearing with U.S. Secretary of Commerce Gina Raimondo to examine the department's FY2024 budget request and its use of previously appropriated funding. Over the past two years, the department has been allocated significant resources for programs focusing on economic development, domestic semiconductor production and broadband deployment –priorities which will have a significant impact on American success in the coming decades.
During the hearing, I asked Secretary Raimondo about how the Commerce Department will target economic development funding through the Tech Hubs program, making certain small and medium sized semiconductor companies are able to participate in the semiconductor incentives program, a NOAA pilot pipeline program and securing Americans personal data from foreign adversaries. Secretary Raimondo spoke about the importance of smaller semiconductor companies to the resiliency of the semiconductor supply chain. She also mentioned the strengths of Kansas companies that she saw during her visit to our state earlier this month at my invitation. I look forward to working with Secretary Raimondo to make certain programs implemented by this department are conducted in an efficient, fair manner that matches Congressional intent
You can watch my remarks during the hearing
here
and
here
.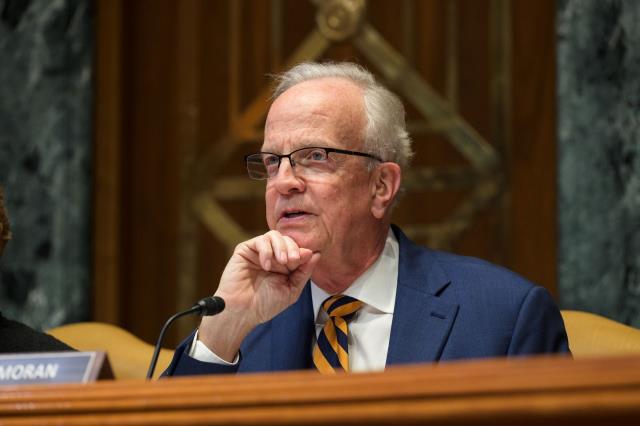 Protecting Military Spouses' Survivor Benefits
This week, I introduced the
Love Lives on Act
, which would provide the spouses of deceased servicemembers and veterans the ability to retain certain benefits from the Department of Veterans Affairs (VA) and Department of Defense (DOD), if they remarry after the loss of their military spouse before the age of 55. This is the largest reform for surviving military spouses that has been introduced in Congress in decades. In Kansas alone, there are approximately 4,000 surviving spouses; almost a quarter of them are under the age of 55 and would benefit from this bill.
For example, Marcie Robertson from Manhattan lost her husband, Army Sergeant First Class Forrest Robertson, in November 2013 when he was killed in action in Afghanistan. At the time, she was 34 years old and had three daughters under the age of 15. Nine years after Forrest's death, Marcie met someone she would now like to marry. However, if Marcie remarries any time before she is 55, she will lose her survivor benefits. My bill would make certain Marcie and her girls could keep receiving their benefits.
Losing a loved one as a result of military service is already the greatest sacrifice a spouse can make. Denying them the opportunity to remarry before age 55 without losing their survivor benefits only compounds that sacrifice. This bill is a small price to pay to take care of the families of our fallen. The
Love Lives On Act
is supported by 41 Veterans Service Organizations, and I look forward to working with my colleagues to advance this bill to honor those who have experienced the ultimate loss on behalf of our country.
Urging the EPA to Strengthen Renewable Fuel Standard
I joined a bipartisan group of my Senate colleagues in urging the Environmental Protection Agency (EPA) to strengthen the Renewable Fuel Standard (RFS). The RFS creates competition in the marketplace, keeping fuel costs low for consumers while bringing down carbon emissions. In a letter to the EPA Administrator, we outlined critical steps that the EPA must take to provide stability and growth for the U.S. biofuel sector. I will continue to support biofuels that lower gas prices, bolster economic growth and create good-paying, manufacturing jobs across rural America.
Meeting with Plains Cotton Growers
On Thursday, I met with members of the Plains Cotton Growers to speak about the upcoming Farm Bill and their priorities for this bill in order to address challenges on the farm and throughout the supply chain. Our discussion was focused on The Agriculture Risk (ARC) and Price Loss Coverage (PLC) programs, which provide certainty for cotton growers and the need to maintain a strong safety net. It is important to me to hear from farmers and ranchers from all commodities as Congress gets closer to drafting a new Farm Bill. Thank you to the leadership team and farmers from the Plains Cotton Growers for visiting with me to discuss their priorities.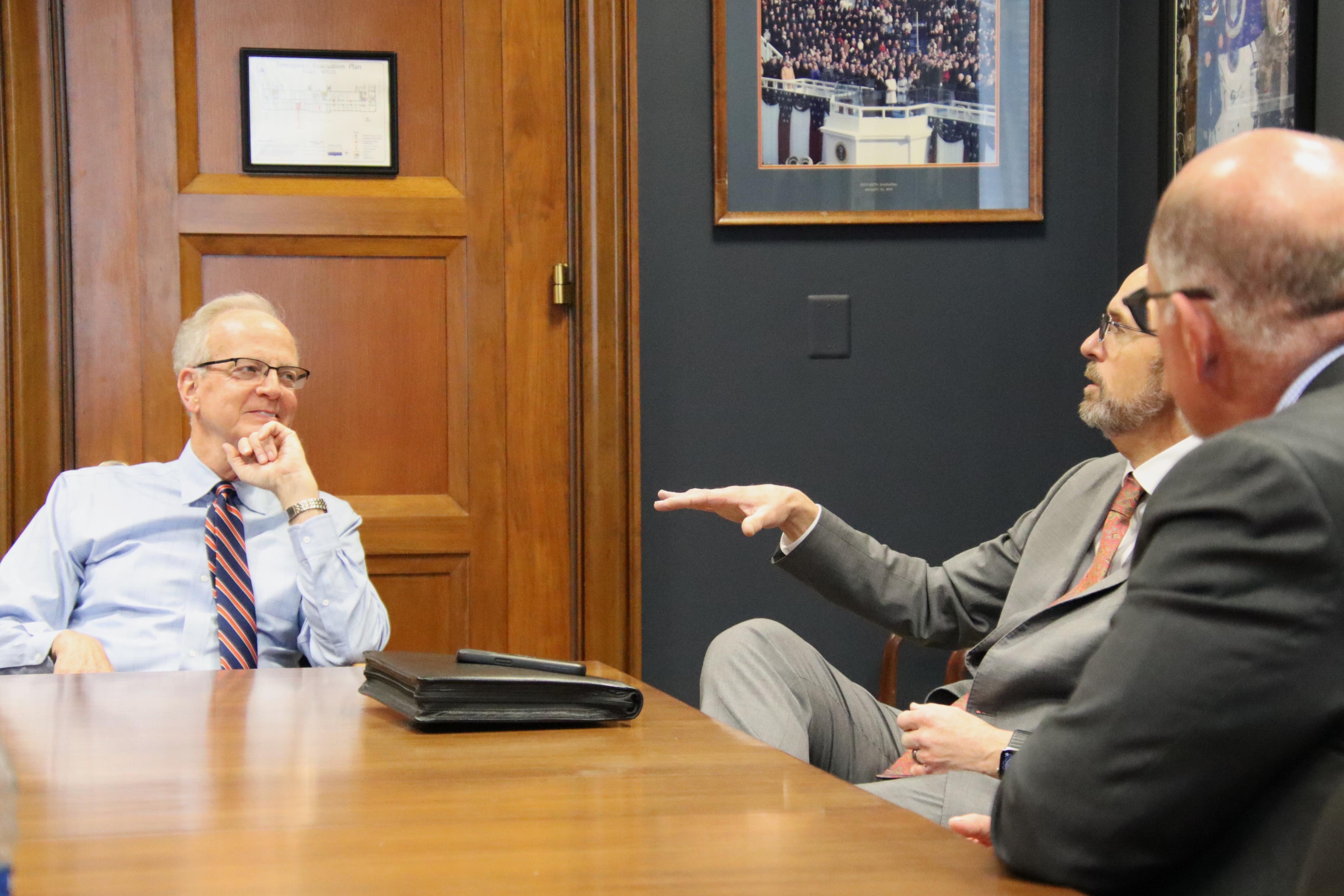 Introducing Bill to Help Students Receive Financial Aid
This week, I joined my colleagues in the Senate in introducing the
Family Farm and Small Business Exemption Act
. This legislation would reverse recent changes made to the Free Application for Federal Student Aid (FAFSA) process that could reduce or even eliminate access to need-based student aid for farm families and small business owners. Requiring students to list family farms where they reside or small businesses as assets on their applications for federal student aid could prevent students from receiving the support needed to pursue a college education. Our farms and small businesses are the backbone of our economy, and we shouldn't penalize students who have a background in either of these vital professions.
Community Visit to Kinsley
On Friday, I visited Kinsley after area residents there received some much-needed rain. While there, I joined Sheriff Bryant Kurth to announce a federal investment to update the county public safety communications network. This funding will modernize radios and dispatch equipment to make certain the sheriff's department, fire department and emergency medical personnel can better serve the surrounding communities in times of need.
Thank you to Sheriff Bryant Kurth, County Commissioner LaVerne Wetzel, Economic Development Director Heather Strate, Susan Roenbaugh and Greg Ebert for joining for this announcement.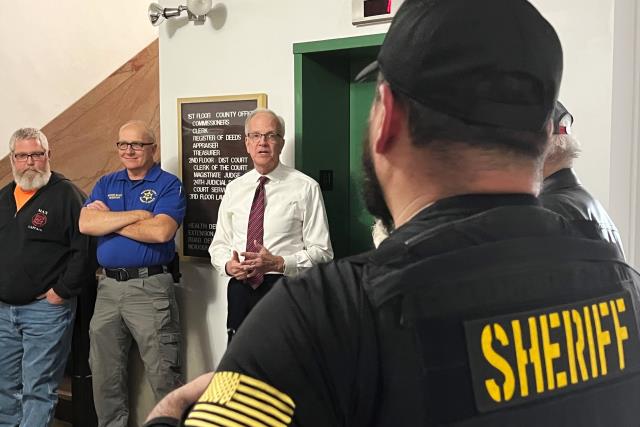 Visiting Glassman Corporation
It was also great to stop in Hays to visit with Joe Glassman of Glassman Corporation and speak with the team there. Pictured here are Brandy Sherfick, Accounting Clerk; Danielle Lang, HR Specialist; Angel Ramirez, PreFab Technician; Dave Schoendaller, Senior Project Manager/PreFab; Isaac Guzman, Warehouse Assistant; Colton Schoendaller, Service Technician; and Tim Kostycz, Sales Engineer.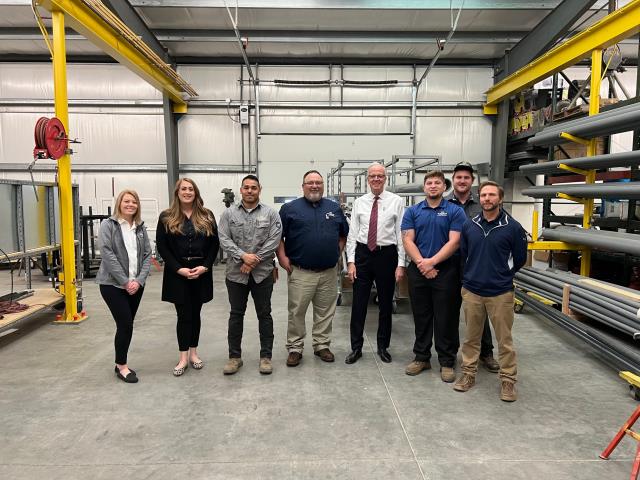 Catching up with KSU President Linton
Over the weekend, I joined K-State President Richard Linton for a walk of the school campus and to catch up on the work being done at KSU.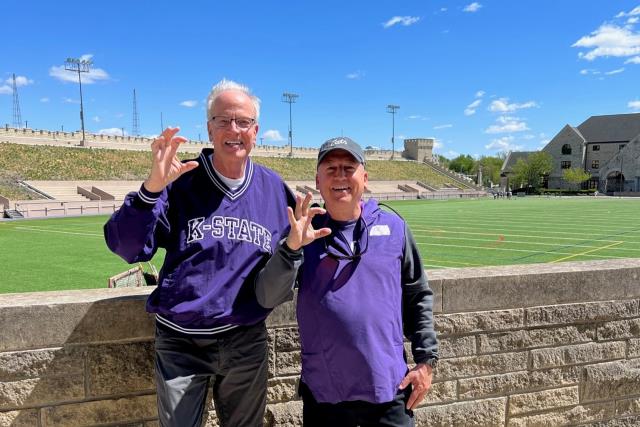 Kansas City Hosts the 2023 NFL Draft
Kansas City just wrapped up hosting the 2023 NFL Draft. This event drew hundreds of thousands of football fans to the KC metro area, and Chiefs Kingdom showed up in full force. Thank you to all the law enforcement who worked overtime to keep the city safe and make certain travelers from across the country enjoyed their visit to the metro area. I also want to thank the NFL, the KC Sports Commission and all the local leaders who helped make this event a huge success for the Kansas City metro area.
I also want to congratulate Kansas City native and K-State Wildcat Felix Anudike-Uzomah – King Felix – on being selected by the Kansas City Chiefs in the first round! Kansans are proud of him, and we look forward to continuing to cheer him on as a Chief.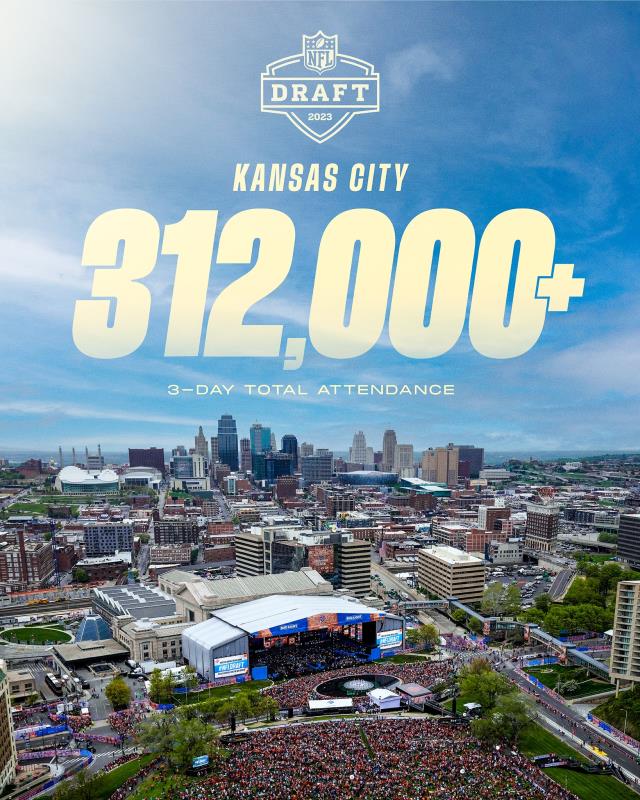 Kansans in the Office

Capitol Tour
Cory Smith of Olathe

Jenny Smith of Olathe

Kelly Brown of Rossville

Dr. Troy Burns of Overland Park

Catherine Burns of Overland Park

Jenna Hack of Overland Park

Gina McRae of Overland Park

Brian McRae of Overland Park

Mark Neis of Topeka

Dr. Jim Hardy of Wichita

Jo Hardy of Wichita

Kathy Amrein of Hays

Carla Zimmerman of Hays

Ryan Vogt of Olathe

Danelle Vogt of Olathe

Julian Dedeaux of Wichita

Abigail Dedeaux of Wichita

Remy Dedeaux of Wichita

Ronin Dedeaux of Wichita

Ariana Brancato of Leawood

Claire Kearney of Olathe

Kristina Rogers of Paola

Alliance for Nuclear Accountability
Ann Suellentrop of Kansas City

MOARC and the Kansas City Industrial Council
Melissa Sieben of Lawrence

Trevor Flynn of Lawrence

Jennifer Switzer of Overland Park

Ellen Parker of Mission

Heartland Coca-Cola Leaders
Edward Bryant of Lenexa

Justin Bridgeman of Lenexa

Lupus Foundation
Curtisha Anderson of Kansas City

James Anderson of Kansas City

Next Generation Leadership Institute
Daryl Donohue of Fredonia

National Automobile Dealers Association
Robert Brogden of Olathe

National Beer Wholesalers Association
Jason Watkins of Topeka

Casey Mussatto of Osage City

Cheryl Mussatto of Osage City

Steve Beykirch of Pittsburg

Tyler Powell of Pittsburg

Kris Hardaway of Wichita

Christopher Welsh of Hutchinson

Kevin O'Malley of Lawrence

Kansas Livestock Association
Matt Teagarden of Topeka

Shawn Tiffany of Herington

Philip Weltmer of Smith Center

Jessica Weltmer of Smith Center

Phil Perry of Oskaloosa

Keith Bryant of Garden City

Taylor Nikkel of Topeka

Jackie Garagiola of Topeka

Kansas Hospital Association
Molly Haase of Mission

Chad Austin of Topeka

Curt Sudbeck of Seneca

Tim Van Zandt of Overland Park

Military Officers Association of America
Col. Mike Kelly of Lawrence

Capt. Joel Feder of Leawood

KC Tech Council
Neelima Parasker of Overland Park

Scott Woodward of Lawrence

Land Grant Universities
Dr. Marty Vanier of Manhattan

Dr. Stephen Higgs of Manhattan

Dr. Juergen Richt of Manhattan

Farm Bureau Mutual Group
Ryan Sampsell of Manhattan

Jesse Rhoads of Wamego

National Organization of Veteran Advocates
Javier Centonzio of Overland Park

Virginia Girard of Lawrence

Kansas Insurance Commissioner
Commissioner Vicki Schmidt of Topeka

Mandy Roe of Topeka

National Limousine Association
Jason Taylor of Leawood

National Community Pharmacists Association
Nate Rockers of Paola

David McNeal of Topeka

Phillip Wilkins, Jr. of Kansas City

Tyler Woods of Kansas City

Brian Caswell of Baxter Springs

Kansas Association of Insurance Agents
Lucas Raleigh of Little River

Robert Richey of Wichita

Beth Smoller of St. George

Haley Marsicek of Manhattan

Jordan Crow of Olathe

Kevin O'Brien of Leawood

Dan Murray of Lawrence

Johnson County Wastewater
Estell Johnson of Towanda

Susan Pekarek of Olathe

Immune Deficiency Foundation
Molly Keehn of Gardner

Kennedy Keehn of Gardner

Kitti Seavey of Wichita

General Visitor
Mike Jenkins of Salina

Newsletter Sign-up Form
Note: Fields marked with an * are required.