Kansas Common Sense
Welcome to "Kansas Common Sense." Thanks for your continued interest in receiving my weekly newsletter. Please feel free to forward it on to your family and friends if it would interest them.
KLA Wildfire/Storm Relief Fund Application Now Open
The Kansas Livestock Foundation has opened its Wildfire/Storm Relief Fund application for Kansas farmers, ranchers and producers affected by recent wildfires and severe storms. To receive assistance from KLF, producers must complete the application available here. Applicants do not need to be members of the Kansas Livestock Association to apply.

The deadline to apply is January 31, 2022. More information is available here or you may call KLA directly at 785-273-5115.
Recognizing National Law Enforcement Appreciation Day
Law enforcement officers of every rank and file have chosen a profession that puts their lives on the line every day for their communities. They work around the clock and under difficult circumstances to keep our communities safe, often without the recognition they deserve. As the lead Republican on the Senate Appropriations subcommittee with jurisdiction over the Department of Justice, I am committed to making certain our law enforcement officers have the resources and support they need to do their jobs effectively and safely.
I join all Kansans in thanking them for their daily sacrifice and tireless work to protect our communities on National Law Enforcement Appreciation Day.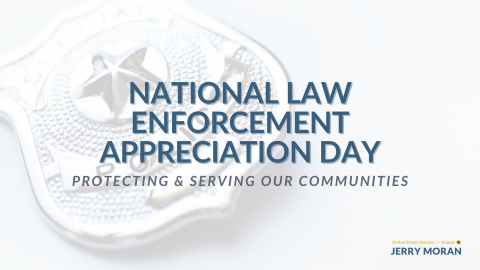 Honoring the Life of Sen. Johnny Isakson
This week, I spoke on the U.S. Senate Floor to honor the life of Senator Johnny Isakson, a champion for our nation's veterans.

Sen. Isakson knew the debt we owe to our veterans and kept that at the forefront of his mind and his heart as he led the Senate Veterans' Affairs Committee. His service was motivated by the stories of the veterans who touched his own life. Watch my remarks here or below.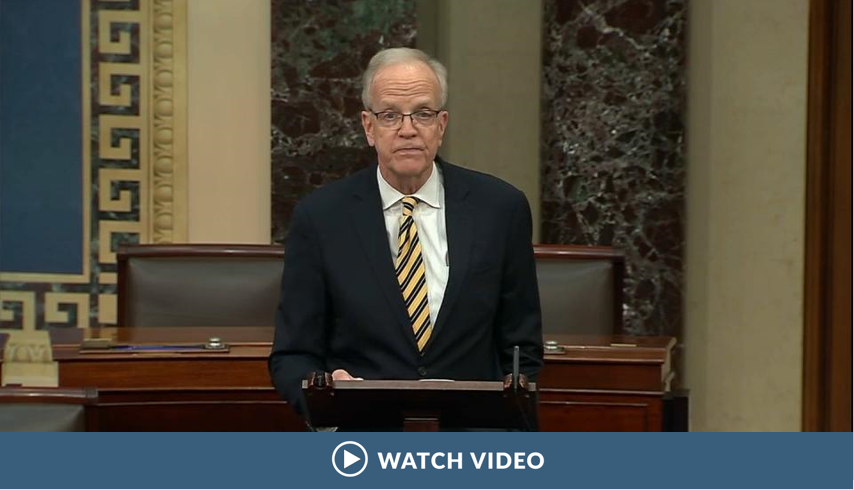 Hosting a Business Roundtable in Pratt
This week, I appreciated the opportunity to meet with business and community leaders in Pratt. I spoke with representatives across a wide array of sectors that drive the Pratt community forward: agriculture, education, finance, utilities and local government. Those in attendance brought up issues such as the hiring and supply chain challenges that continue to threaten the certainty of small businesses, adapting the workforce to an ever-changing 21st century economy and protecting ourselves from growing cybersecurity threats. Pratt's community leaders, like those in towns across Kansas, foster the future of their communities and protect the fragile way of life we value in rural Kansas. I thank these individuals for their partnership and their leadership.

Thank you to Vice President of Stanion Wholesale Electric John Keller for allowing us to meet in their offices in Pratt, and thank you also to the Pratt Chamber for their assistance in organizing this meeting. To all those who took time out of their busy schedules to visit with me, thank you for our conversation and your feedback.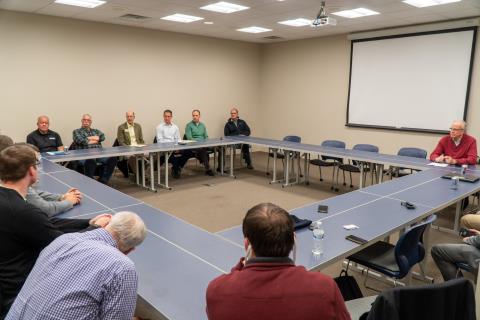 Visiting with Businesses in South Central Kansas
Touring MDI in Cheney
On Friday, I visited MDI in Cheney, an aerospace manufacturer of precision sheet metal fabrication and assembly employing over 50 Kansans. I appreciated speaking with MDI President Marcia Mies and seeing firsthand the company's metal shop and craftsmanship, as well as learning more about their specialty operations, including Hydro, Drop Hammer, Stretch Press Forming, Titanium Hot Forming and Laser Trim.

With the highest concentration of aerospace manufacturing workers in the nation, the Wichita area is the future of flight, and local companies like MDI continue to put Kansas on the map. Thank you to Marcia for the kind invitation, and thank you also to General Manager Jack Johnson and Quality Manager Cody Olthoff for taking time out of your day to speak with me.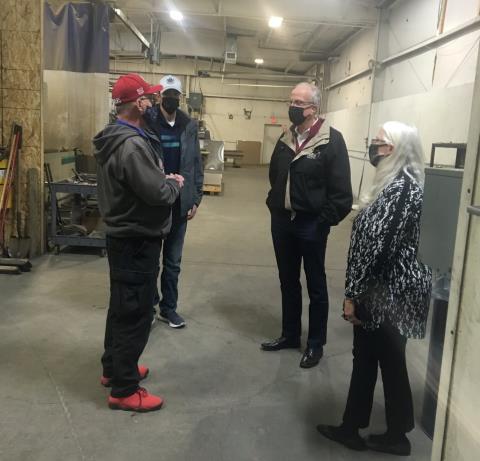 Visiting American Packaging in South Hutchinson
On Friday, I was in South Hutchinson to visit the American Packaging Division of Lawrence Paper Company which designs, produces and labels custom shipping boxes. Founded in 1987 by local businessman Dave Claxton, American Packaging has grown from seven employees and an 18,000 square feet footprint to having just invested $15 million in a newly completed facility. American Packaging now employs 60 Kansans in its new 154,000 square foot, state-of-the-art facility that serves more than 500 customers.

As Dave Claxton and American Division President Tony Schleich continue to build this multi-generation family owned business, it's great to see their growth bolstering the Hutch community. Thank you to South Hutchinson Council Members Brian Garretson and Megan Weber, Hutchinson/Reno County Chamber of Commerce Board Members Pat Fallon, Joe Ontjes and Carter File, Hutchinson/Reno County Chamber of Commerce staff members Chelsey Dawson and LeAnn Cox, and Reno County Administrator Randy Partington for joining me.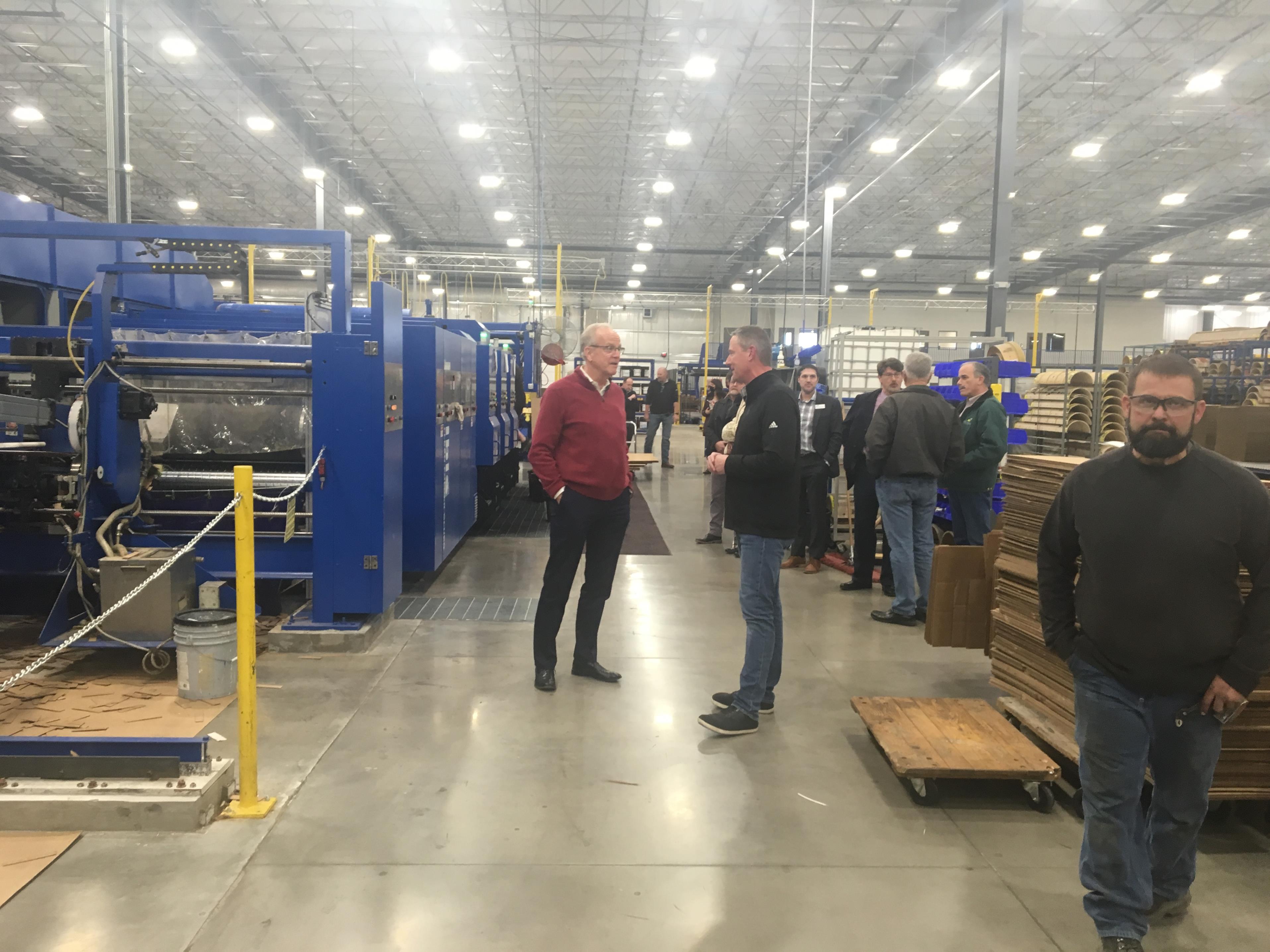 Meeting with Newman University President Kathleen Jagger in Wichita
On Friday, I met with President of Newman University, Dr. Kathleen Jagger, in Wichita, where we discussed the value of Pell Grants and student loan flexibility. Education-related decisions are best made closest to home, and the insight I gain from Kansas educational leaders is valuable to the work I do on the Senate HELP Committee, which has oversight of federal programs like Pell Grants. As Newman University's 12th president, I thank President Jagger for her commitment to leading Wichita's Catholic university and for her time meeting with me.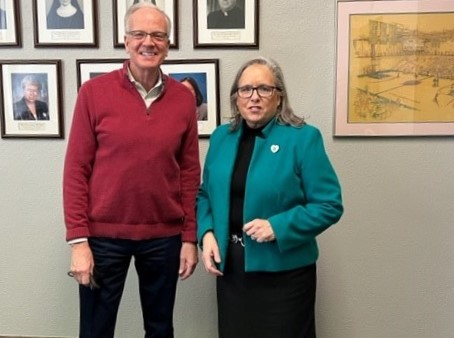 Meeting with Lions Club members in Goddard
On Thursday, I was pleased to visit with Lions Club in Goddard. I have been a Lions Club member for over 40 years, and this was another opportunity to connect with Kansans who make civic clubs and a sense of community a priority in their lives. I would like to thank Dan Funk and Club President Gordon Grimm for allowing me to attend; thank you also to Club District Governor Richard Caldwell for traveling to Goddard to visit with me and Lions Club members.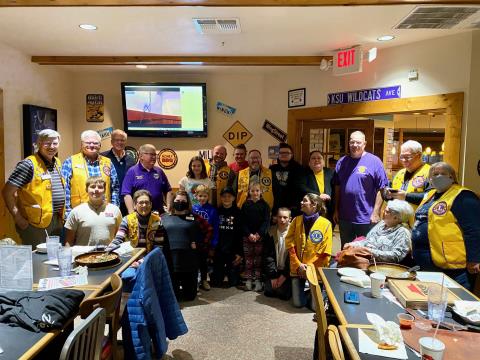 Remembering Keith Mull
Keith was a man of integrity, hard work, faith and love for his family. Like so many of the Greatest Generation, he served in World War II and continued a lifetime of service by advocating for his community, whether that be on the school board, as a leader in his church, through the Farm Bureau or any of the many causes he dedicated his time and energy. Keith and I often reflected on when I announced my first run for the state legislature in his living room. I respected Keith greatly, as did many Kansans and feel fortunate to have called him a friend.
Robba and I extend our heartfelt condolences to Keith's family and friends. Though he has left us, it is my hope that he has once again joined his wife Marian and the loved ones he tragically lost nearly eight years ago. Read more about his life from the Great Bend Tribune here.
Honored to Serve You in Washington
It is an honor to serve you in Washington, D.C. Thank you to the many Kansans who have been calling and writing in to share their thoughts and opinions on the issues our state and country face. I appreciate the words of Kansans, whether in the form of a form of letter, a Facebook comment or a phone call, who wish to make their voice heard.
Please let me know how I can be of assistance. You can contact me by email by clicking here. You can also click here to contact me through one of my Kansas offices or my Washington, D.C. office.
Newsletter Sign-up Form
Note: Fields marked with an * are required.