Kansas Common Sense
Welcoming Kansas Honor Flights to the Nation's Capital
This week, I welcomed Kansas Honor Flights, including veterans from Plainville and Hays, to Washington, D.C. This program provides veterans with the opportunity to visit the nation's capital. It pays tribute to their service by visiting various memorials dedicated to their sacrifices, including the WWII Memorial, Vietnam Veterans Memorial, Korean War Veterans Memorial, and Arlington National Cemetery.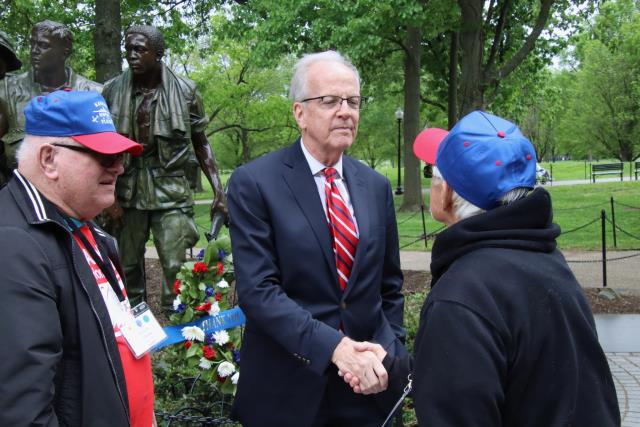 I'm grateful to recognize these Honor Flights and witness the impacts these trips have on the men and women who have served our country – especially at the memorials built in their honor. These meetings with veterans, who have given so much to our nation, remind me of the importance of showing gratitude and appreciation to those who have served our country. These moments also serve as an important reminder to the rest of us that we owe a great deal to those who have served and sacrificed.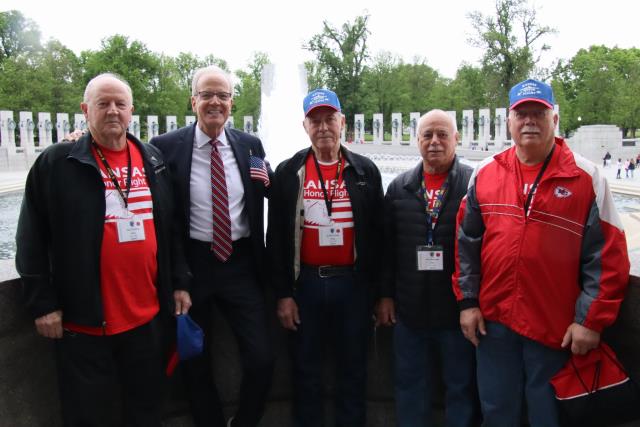 It is Time to Reform Our Government's Broken Classification System
This week, as a member of the Senate Select Committee on Intelligence, I spoke on the Senate floor to highlight the importance of reforming our government's broken classification system. Our government is so overwhelmed protecting outdated documents that we have failed to meet the basic purpose of our classification system – protect classified information from bad actors.

It is important to improve our broken classification system to reduce costs, eliminate years of backlog and create a more efficient system. But there is another reason to do these beyond just the efficiency of good government. We now know it is also making our country more vulnerable. The disclosure of classified information threatens our country's security, diminishes the safety of our military and damages our relationships with our allies. This week, I will join my Senate colleagues on the Intelligence Committee to introduce legislation to reform our classification system. Read more in the Wall Street Journal here.

You can watch my full speech here.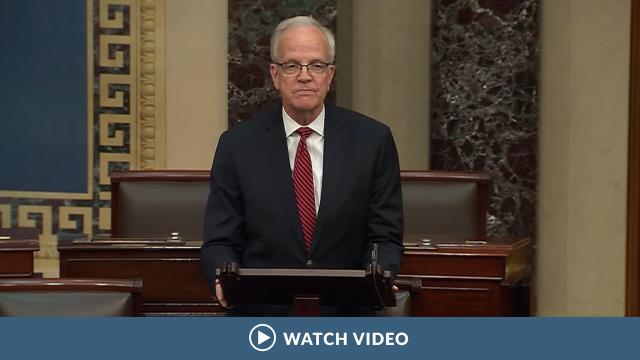 Leading Defense Appropriations Subcommittee Hearing on Army Budget
I served as Ranking Member of the Senate Appropriations Subcommittee on Defense during a hearing this week on the Army's FY2024 budget. Army Secretary Christine Wormuth and Chief of Staff of the Army General James McConville testified and answered questions on the Army's budget request. We are in a challenging national security situation. Despite these concerns, this administration's budget request represents real growth of negative 2.4%.

As Co-Chair of the Senate Army Caucus and member of this important subcommittee, I emphasized this inadequate level of funding and the Army's recruitment struggles, as well as the potential negative impacts it will have on Army Force Structure in the near future. The Army is in the midst of its most severe recruiting crisis since the Vietnam War. Our Army's strength is its people, and recruiting is critical to the readiness of the service. The Army must adapt and train for new challenges and increasing requirements that require robust and established force structures across all military installations. I am grateful that General McConville recognized Fort Riley's vital part in this future warfare, and I will continue to highlight Kansas' role in the nation's safety and security.

I have the utmost appreciation for the sacrifices made by our brave servicemembers and their families, who selflessly serve and protect our great nation. I am committed to advocating for their continued care and well-being, and I will continue to highlight their significant contributions to upholding our freedoms and safeguarding our democracy.

You can watch my full remarks during the hearing here.
Calling for Spending Reforms in the Debt Ceiling Legislation
I joined 42 of my Republican Senate colleagues in signing a letter to Senate Majority Leader Chuck Schumer stating we will not vote on any measure to raise the debt ceiling without substantial spending cuts and budget reforms.

As stated in our letter: "Our economy is in free fall due to unsustainable fiscal policies. This trajectory must be addressed with fiscal reforms. Moreover, recent Treasury projections have reinforced the urgency of addressing the debt ceiling. The House has taken a responsible first step in coming to the table with their proposals. It is imperative that the President now do the same."

You can read our full letter here.
Questioning National
Institutes
of Health Officials During Hearing
This week, the Senate Labor, Health and Human Services, and Education Appropriations Subcommittee held a hearing focused on the National Institutes of Health (NIH) FY2024 budget request. I questioned NIH Acting Director Dr. Lawrence Tabak on the positive impact congressional funding for Alzheimer's research has on the more than 6 million Americans battling the disease and their families. In addition to the agency-wide research into Alzheimer's, I reiterated the importance for the National Institute of Aging (NIA) to increase its focus into the intersection of Down syndrome and Alzheimer's.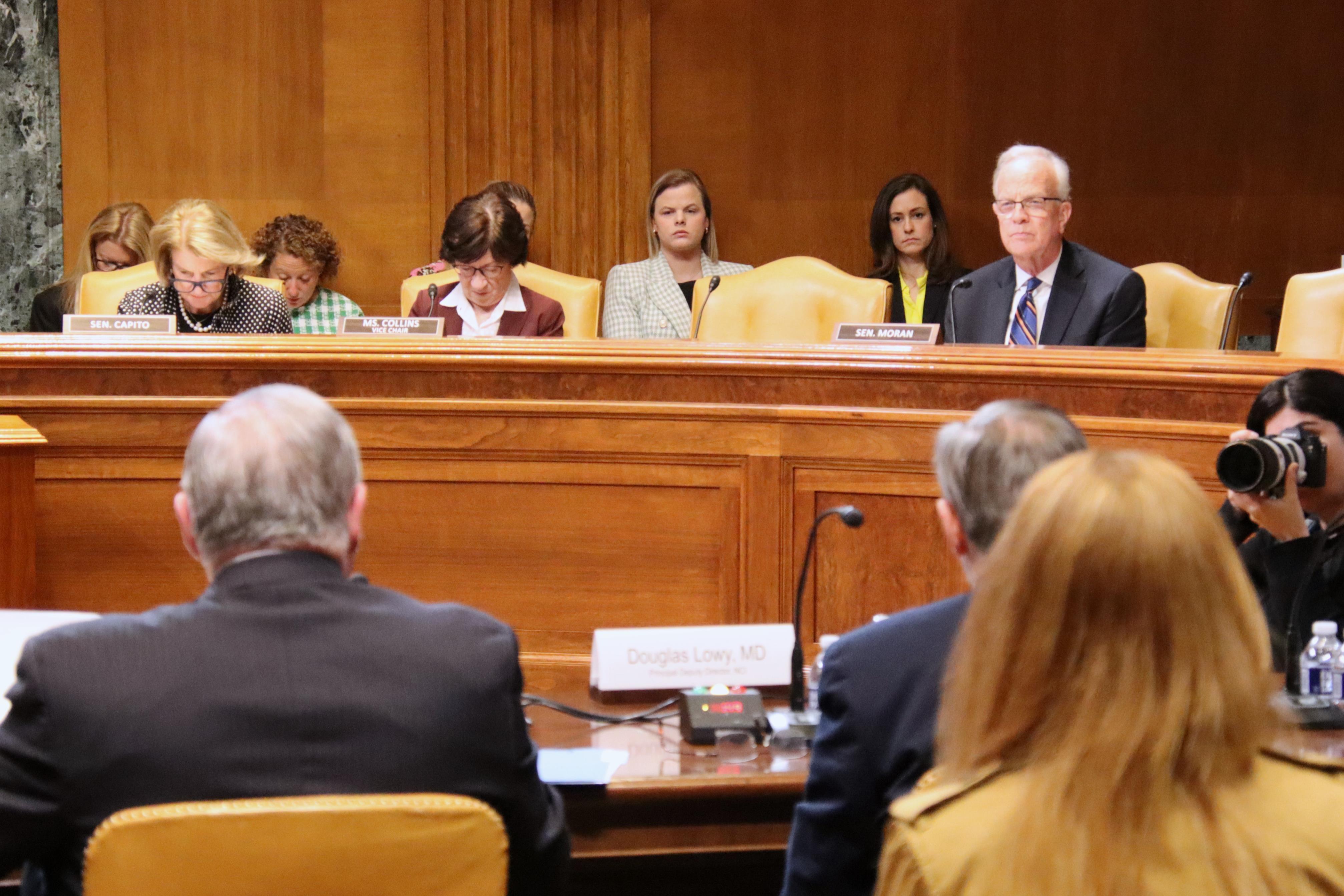 Finally, as the search for a cure for cancer remains a national priority, I received a commitment from Dr. Douglas Lowy, the National Cancer Institute (NCI) Principal Deputy Director, that NCI will allocate robust funding from its FY2024 discretionary budget to competitive cancer grants. Dr. Lowy stated NCI was able to fund an additional 100 cancer grant applications last year due to an increase in NCI funding, and I appreciated his willingness to maintain NCI's engagement with our nation's medical research institutions in the upcoming fiscal year.
You can watch my full remarks during the hearing
here
.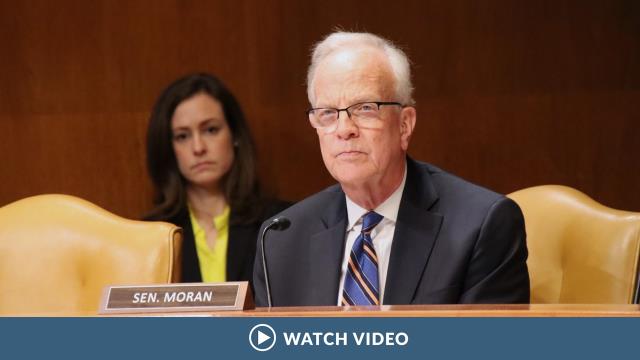 Introducing Legislation to Bolster Air Service at Small Airports
I introduced legislation with Sen. Jon Tester to bolster and attract new air service to small communities across the country. The Small Community Air Service Development Program (SCASDP) was designed to allow small airports to apply for grants to help support and draw air carrier service to their airports. Our legislation, the
Small Community Air Service Enhancement Act
, will improve the SCASDP by increasing available funding for this competitive program and ensuring airports which have experienced a significant reduction in air service are prioritized.
Every flight counts in small communities with limited access to air travel, where each flight can have a significant impact on drawing new businesses and families to a region. Strengthening the Small Community Air Service Development Program will help small airports attract commercial flights increasing connectivity across the state of Kansas.
You can read more from WIBW
here
.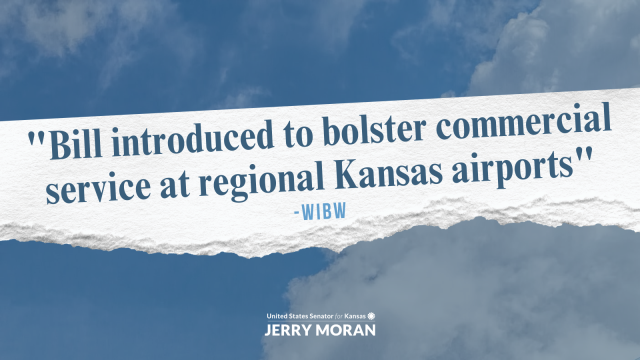 Senate Passes Measure to Nullify Listing of Lesser Prairie-Chicken as Threatened Species
This week, the Senate passed a Congressional Review Act (CRA) joint resolution of disapproval to overturn President Biden's rule listing the lesser prairie-chicken on the Endangered Species List. I joined my colleagues in voting to protect Kansas and rural America from the consequences of listing the lesser prairie-chicken. Listing the lesser prairie-chicken as threatened or endangered would harm many rural communities with nearly $14 billion in economic damages to our country's agricultural economy. Kansans, for years, have worked a careful balance between conserving the bird's habitat and economic development.
Farmers and ranchers have always been and will always be the original conservationist. Their livelihoods depend on the continued conservation efforts of the land they tend. I am pleased the Senate overturned this harmful action, and I urge President Biden to sign this resolution of disapproval.
You can watch my full speech
here
.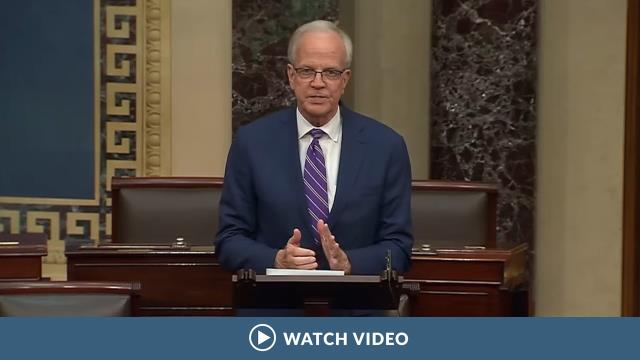 Meeting with Kansans
Kansas Association of Nurse Anesthetists
On Tuesday, I was grateful for the opportunity to speak with members of the Kansas Association of Nurse Anesthetists. We discussed the importance of retaining and protecting our state's medical providers, as well as the need to establish national standards of practice in various health care occupations. Thank you to the Kansas Association of Nurse Anesthetists for visiting with me and for their service to our state. Kansas patients and providers are better off because of their work and dedication.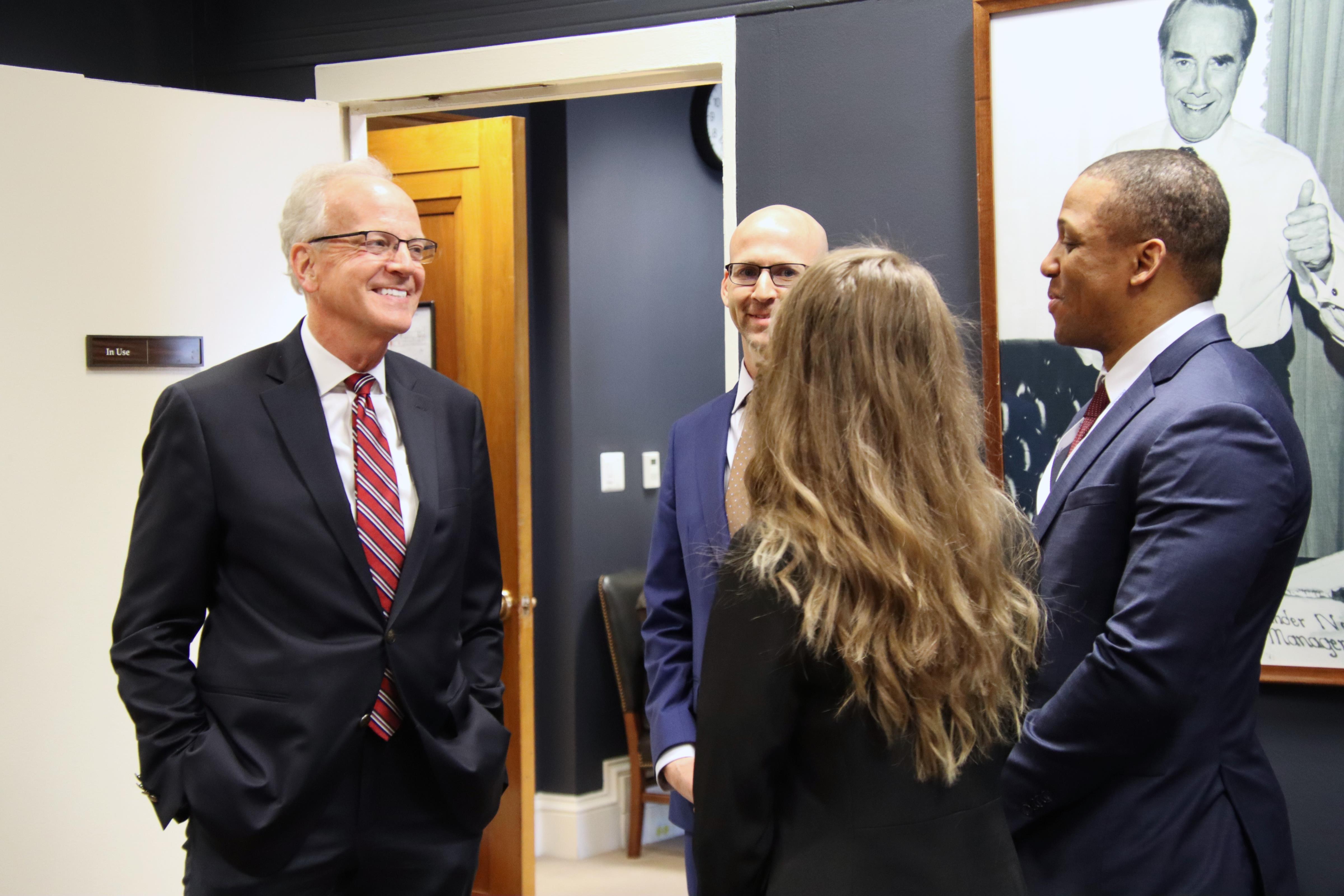 CoBank
This week, I welcomed Catherine Moyer of Ulysses and Duane Anderson of Seneca, visiting with CoBank to discuss the Kansas agriculture economic outlook and reauthorization of the Farm Bill. Access to credit and capital availability is critical to so many rural Kansas communities, and preserving a strong crop insurance program makes certain Kansas farmers and ranchers can provide food and fiber in Kansas and around the world. I appreciate them taking the time to speak with me about their priorities.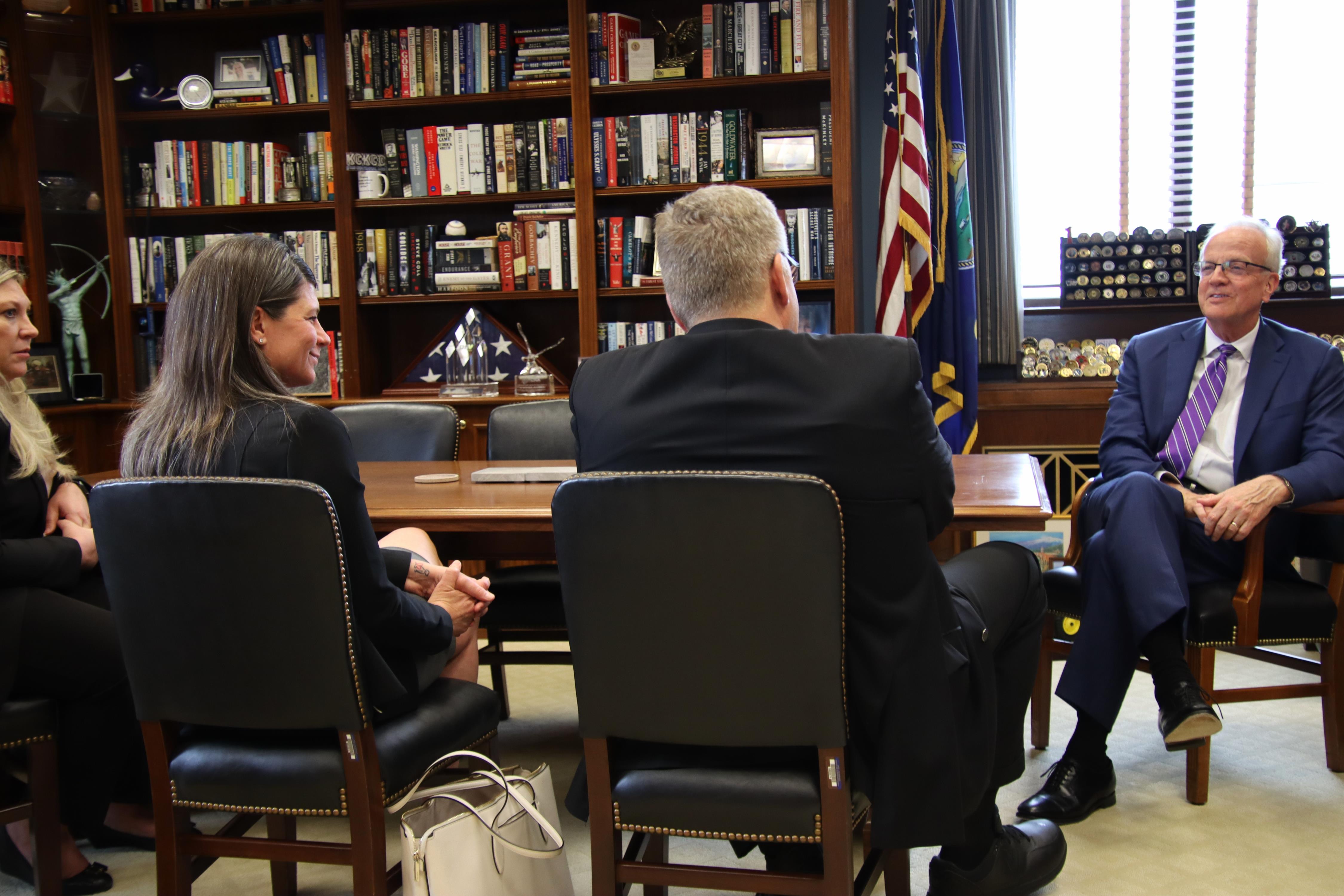 Bloch School of Management's Executive MBA Program
On Wednesday, I had the opportunity to speak with students from the UMKC Bloch School of Management's Executive MBA Program. We discussed a number of topics, including the national security issues facing the nation with recent intelligence leaks and the war in Ukraine. As these MBA candidates prepare to dive further into their business careers within their respective industries, I hope they will always consider Kansas home, continue investing in their professional development and help their fellow Kansans to reach their full potential in the business world.




Christ Lutheran School
I enjoyed the chance to speak with students from Christ Lutheran School in Lenexa during their 8th grade field trip to the nation's capital. During this visit, I had the opportunity to show them around the United States Capitol. It is always special to see this incredible building through the eyes of young Kansans who visit.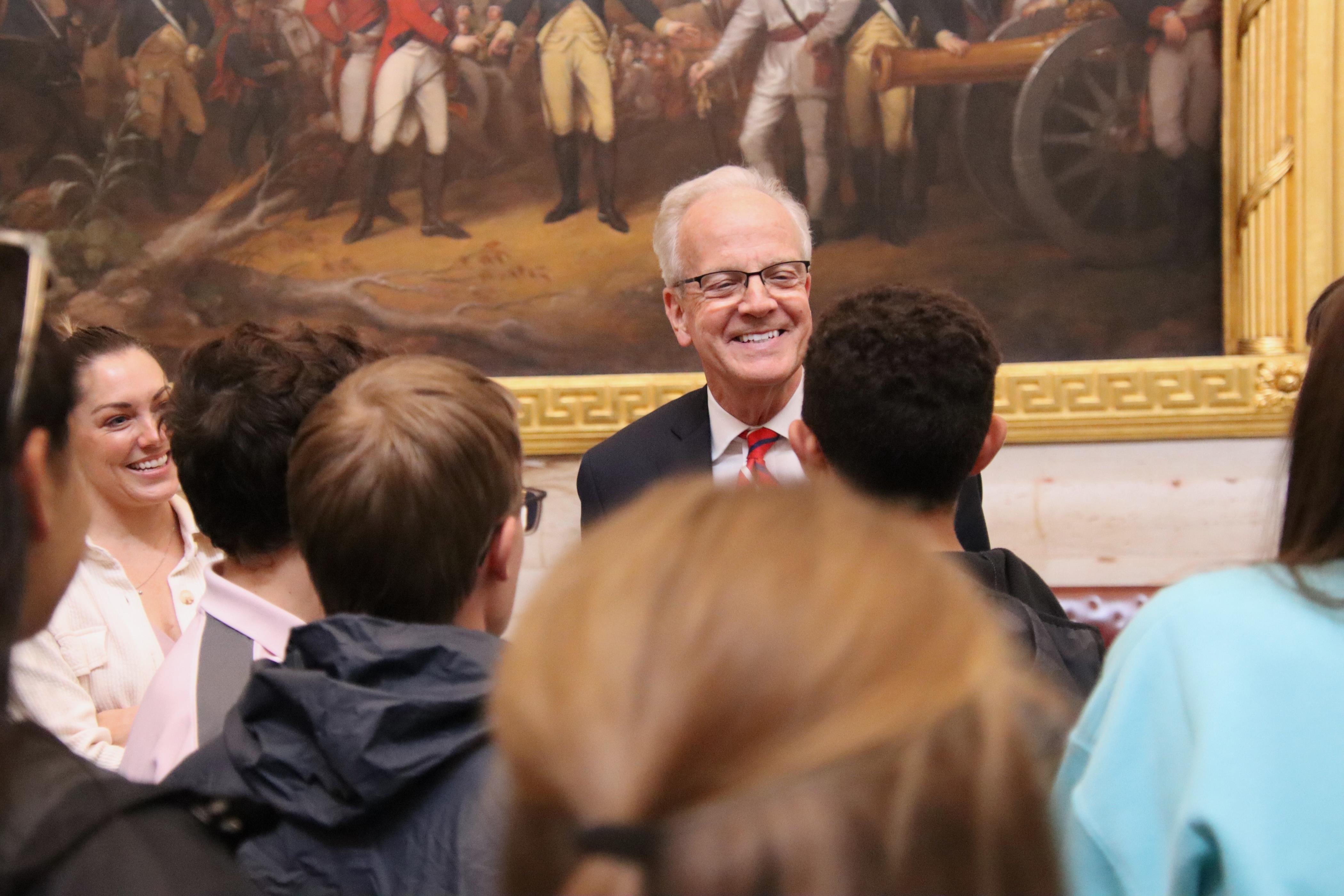 Meeting with NightHawk Biosciences
I was pleased to meet with Jeff Wolf, CEO of Nighthawk Biosciences, to discuss expansion plans in Kansas. This new 500,000-square-foot facility, operated by Nighthawk subsidiary Scorpion will support biodefense and biomanufacturing in Manhattan and will provide more than $1 billion in economic value to Kansas. The combined crisis of the pandemic and the war in Ukraine have provided an urgent reminder that we must prioritize investment in our domestic supply chain to increase our nation's biodefense and biotechnology capabilities. I appreciated the updates on the Scorpion facility and Nighthawk's decision to invest in Kansas – capitalizing on the incredible Kansas skilled workforce and universities.

Supporting Service-Disabled Veteran-Owned Small Businesses
Service-disabled veterans have the right to access certain benefits and programs specifically designed to help them overcome the challenges they may face due to their service-connected disabilities. Using self-certification for small business goals may seem like a quick and easy solution for federal agencies looking to meet their small business procurement goals. Still, it may not provide the necessary level of scrutiny and validation required to ensure that the benefits and programs are going to those who truly deserve them. The Stop Stolen Valor for Service-Disabled Veteran-Owned Small Business Contractors Act requires agencies to only take credit for contract awards made to certified service-disabled veteran-owned small businesses.

Leading Effort to Restore Sovereign Status of Tribal Governments
Last week, I introduced the Tribal Labor Sovereignty Act, legislation to restore the sovereign status of tribal governments across the nation. This bill amends the National Labor Relations Act to exempt tribally-owned entities operated on tribally-owned lands from the National Labor Relations Board and is supported by more than 160 Indian tribes and tribal corporations. The Tribal Labor Sovereignty Act would rightfully restore the sovereign status of tribal governments, and I will continue working with my colleagues to get this bill to the President's desk.


Speaking at Ribbon Cutting for Indra, Inc.
On Monday morning before traveling to Washington D.C., I spoke at the ribbon cutting ceremony for Indra Air Traffic, Inc., formerly Selex ES, in Overland Park. Selex ES is a technology company that manufactures various aviation navigation technologies. Indra, headquartered in Spain, is a leading technology provider of air traffic management, ensuring the safe, fast and efficient flow of air traffic. This acquisition is Indra's largest investment in the American air traffic management market, enabling Indra to consolidate its global leadership – based right here in Kansas. The combination of Selex assets and Indra's global leadership will advance a new era of opportunity for the aviation manufacturing industry in Kansas. Thank you and congratulations to CEO Bill Colligan and to all of the team at Indra.
You can read more from the Kansas City Business Journal
here
.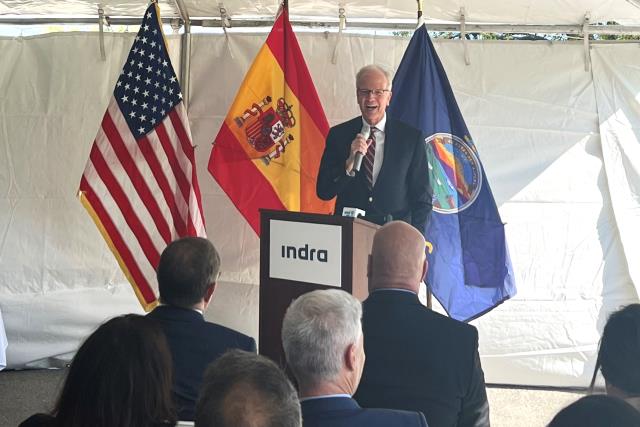 Visiting Marysville Jr./Sr. High School
On Friday, I visited Marysville Jr./Sr. High School to speak with students and faculty members about their spring semester. The students who I met impressed me with their knowledge, talent and plans after graduation. Thank you to Principal Tom Woodcock for arranging this visit and to each of these students for an excellent tour.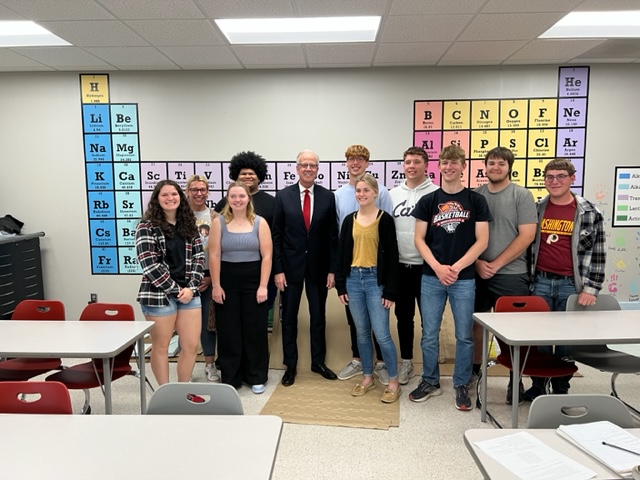 Touring Nemaha Valley Community Hospital
I was in Seneca this week to tour Nemaha Valley Community Hospital and meet with the center's CEO Kiley Floyd. During our meeting, we discussed the hospital's daily operations and the services they offer to Kansans, including a walk-in clinic, emergency and testing services, physical and speech therapy, pharmacy services and more. I also had the opportunity to meet with members of the Nemaha Valley Community Hospital staff to hear from them the challenges they face working in rural health care, particularly in the aftermath of the COVID-19 pandemic. Our rural health centers provide quality care for residents in the surrounding communities and region, even in the most challenging of times. Thank you to Kiley Floyd for the warm welcome and to the health care providers at Nemaha Valley Community Hospital for visiting with me.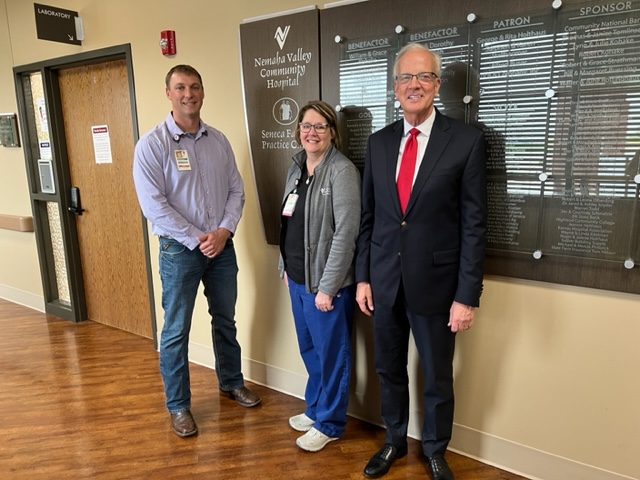 Receiving an Update From the Kansas Rural Water Association
While in Seneca, I stopped by the Kansas Rural Water Association to speak with General Manager Elmer Ronnebaum and receive an update on the work being done on water issues in rural Kansas. I want to thank Elmer and his team for the informative update.
National Auctioneers Week
This week was National Auctioneers Week. Located in Overland Park, the National Auctioneers Association is one of many organizations that support auctioneers across the country and their important role in the commerce of local communities.
Celebrating National Small Business Week
This week, we celebrated National Small Business Week – a time to recognize the many small businesses across our state and nation. I want to highlight the hardworking, dedicated Kansans who own and operate these businesses. Remember to shop local and support Kansas businesses!
National Day of Prayer
Thursday marked the National Day of Prayer, a time to pause and pray for our country and neighbors. It is always important to reflect on the power of prayer and the comfort it brings.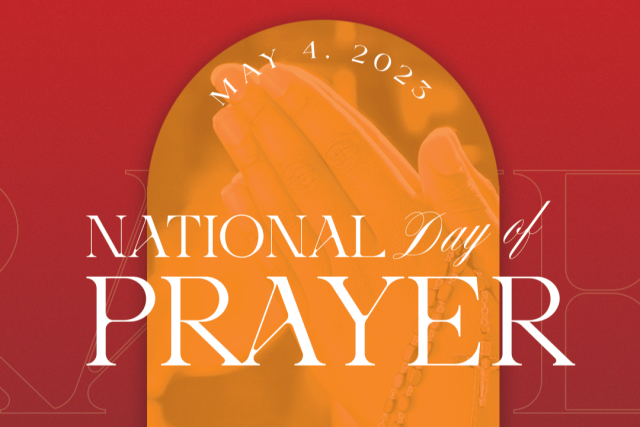 Kansans in the Office

Capitol Tour
Dr. Natalie Sollo of Whitewater

Gretchen Homan of Wichita

Caleb Homan of Wichita

Alan Lies of Kechi

Teresa Lies of Kechi

William Krogman of Derby

Sarah Krogman of Derby

Robert Campbell of Overland Park

Lori Campbell of Overland Park

Ryan Campbell of Lenexa

Marlene Cordry of Overland Park

Clint Cordry of Overland Park

Frank Tra of Wichita

Molly Tra of Wichita

Robert Carlson of Topeka

Judy Carlson of Topeka

Association for Clinical Oncology
Ronald Chen of Overland Park

Katie Gifford of Leawood

Lauren Nye of Leawood

Kansas Association of Nurse Anesthetists
Jacob Deeds of Wichita

Stephen Cox of Overland Park

Roth Morris of Overland Park

Savannah McCullough of Wichita

American College of Emergency Physicians
Bryn Dekosky of Overland Park

Marianna Poulose of Shawnee

Nancy Blanchat of Wichita

John McMaster of Wichita

National Air Traffic Controllers Association
James Heath of Olathe

Kristen McTee of Prairie Village

Jami Davis of Olathe

Todd Mariani of Olathe

Aaron Morrech of Lenexa

CEVA Animal Health
Jody Donohue of Lenexa

Katy Hernandez of Lenexa

National Teachers Hall of Fame
Ken Weaver of Emporia

Kansas Farm Bureau
Joe Jury of Ingalls

Tim Tyson of Parker

Douglas G. Zillinger of Logan

American Pharmacists Association
Emily Albers of Overland Park

Newsletter Sign-up Form
Note: Fields marked with an * are required.