Kansas Common Sense
Hello,
Welcome to "Kansas Common Sense." Thanks for your continued interest in receiving my weekly newsletter. Please feel free to forward it on to your family and friends if it would interest them.

On September 11, 2001, Americans were devastated by the worst domestic terrorist attack in our nation's history. Each year on the 9/11 I am reminded not only of how important the fight against terror is, but also how powerful our nation can be when we come together. Today we honor those who lost their lives and give thanks for the first responders, emergency personnel and law enforcement who made all the difference on that day and continue to do so today.

As I mentioned last week, I spent Labor Day weekend visiting American servicemembers overseas in Germany, Poland and Afghanistan. I spoke to Military Times this week about the progress I saw in Afghanistan and the importance of our presence there in protecting our nation from further terrorist attacks. Please click here to read more.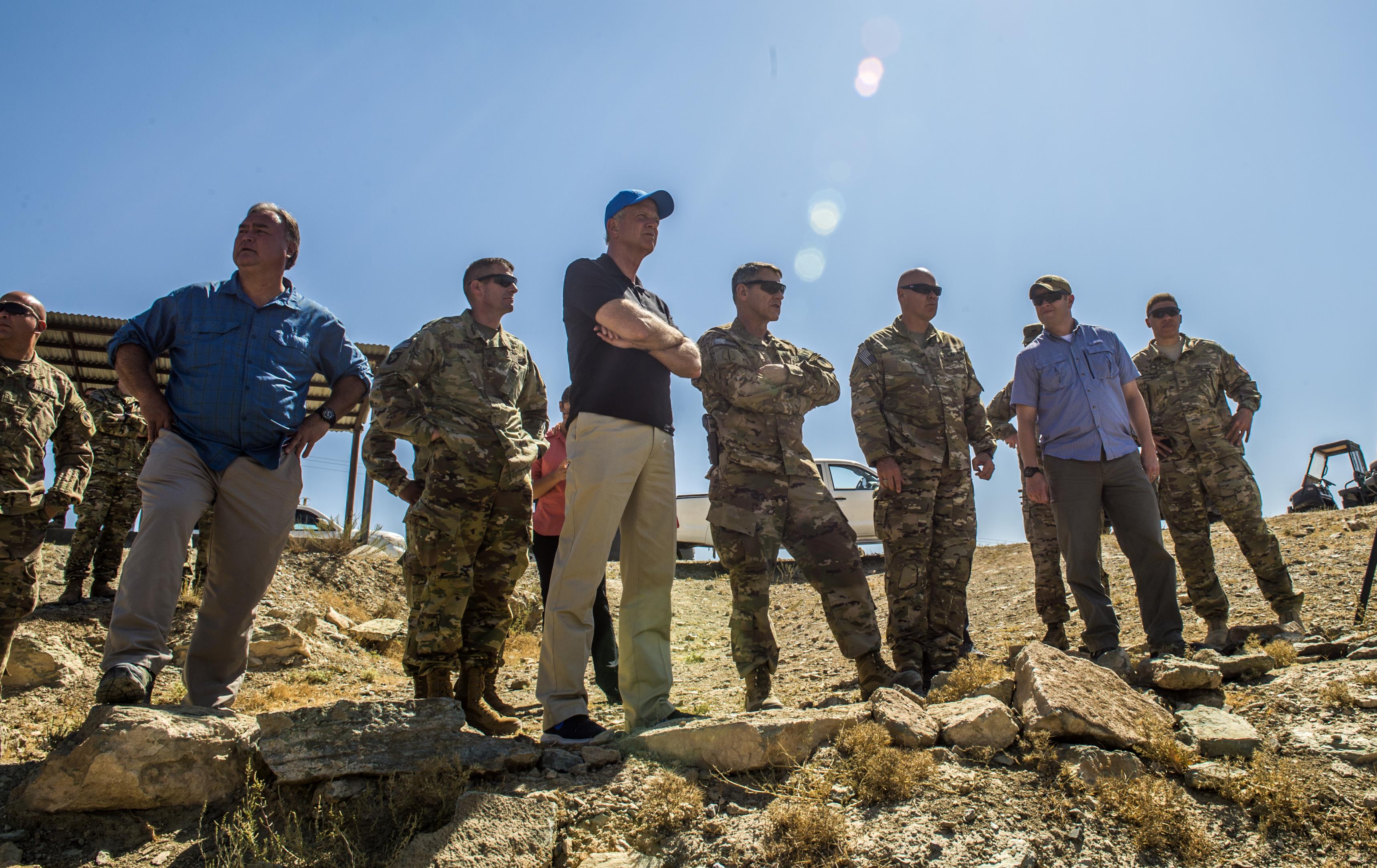 Meeting Kansans at the State Fair

More than a century ago, a group of Hutchinson business leaders formed the Reno County Agricultural Society and hosted a fair in a small wooden livery stable behind the town's only bank. In the years since, the Kansas State Fair has grown to become our state's largest single event, attracting more than 365,000 attendees. I visited the State Fair this weekend and had the opportunity to meet with many Kansans who traveled there from across the state to enjoy the rides, food, exhibit halls, livestock barns and countless educational opportunities. This is the 21st consecutive year I have had a booth at the fair, and members of my staff are available each day to answer questions and provide information. Thanks to all those that have stopped by so far, and I hope you and your family can visit Booth #4 in the Pride of Kansas Building sometime this week! Thank you to the Kansas State Fair Board Members and staff who put in hours of planning to make our fair a fun and educational event for all.

To watch my video at this year's State Fair, click here.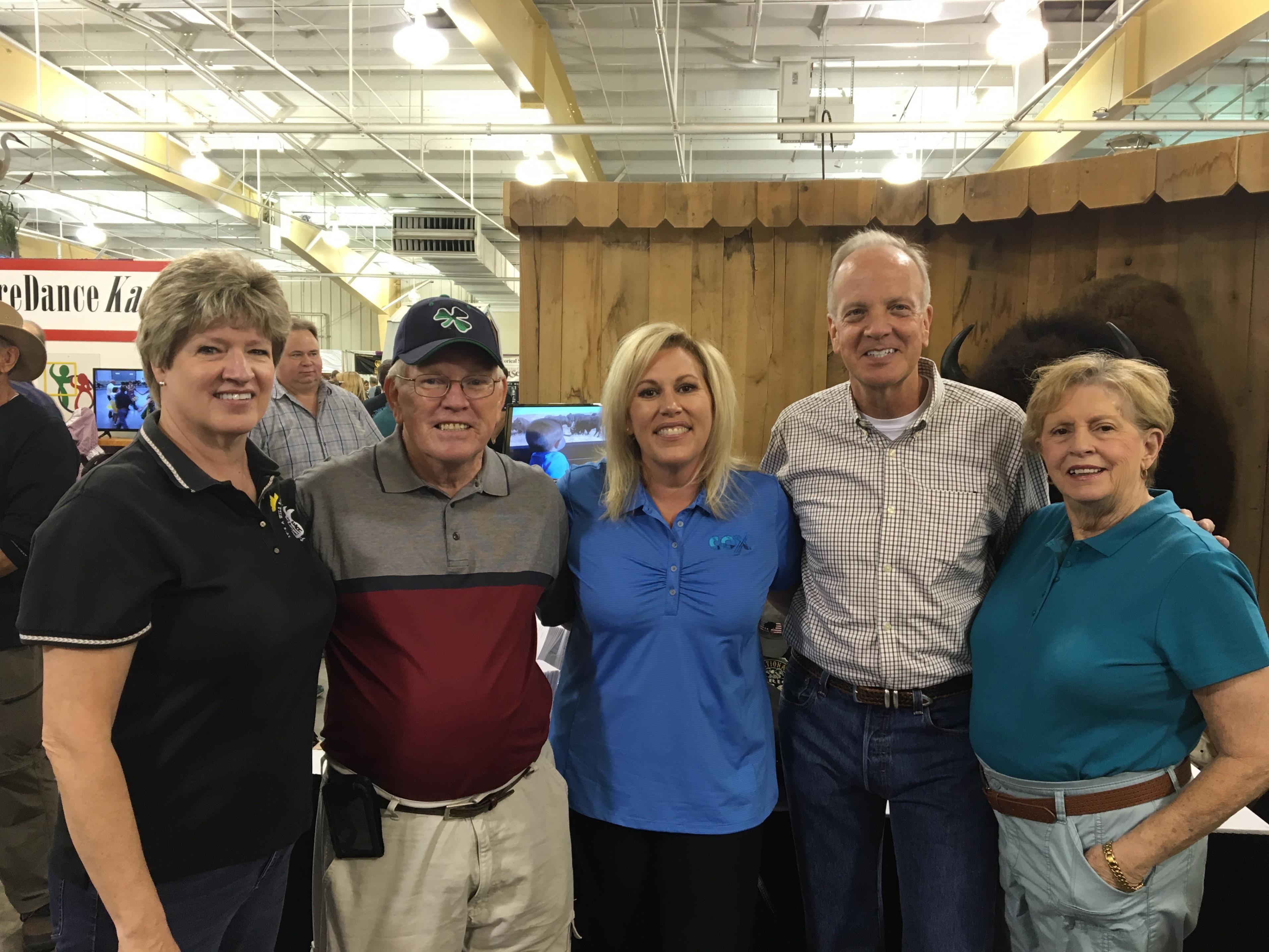 Regarding the President's Announcement on DACA

DACA is an example of President Obama exceeding his authority under the constitution. At the same time, we must take care of the children who are here not because they violated the law, but because someone else did. It is Congress' responsibility to work together to find a constitutional, practical and humanitarian solution to protect our borders and not encourage further illegal immigration.

Meeting with Johnson County Officials

Before heading back to Washington for votes this week, I stopped by the Johnson County Emergency Management Headquarters for a briefing with the Emergency Preparedness Director and members of the county commission to get an update on the July and August Storm damage within the county. Deputy Director for Emergency Management and Communication Dan Robeson told me that these storms were the first time in 15 years that the county has requested assistance from the federal government. The storm on July 22 and the subsequent flooding produced over $5 million in damages across the county while the storm on August 21 produced $1.7 million in damages which hit the city of Edgerton particularly hard. On August 31, federal assistance with the cost incurred was requested. I appreciate then sharing this information with me as Johnson County works to recover and make certain we are prepared for future storms. Thanks to Chairman Ed Eilert, County Commissioners Ron Shaffer, Jason Osterhaus, and Michael Ashcraft and County Manager Hannes Zacharias for joining me at the briefing.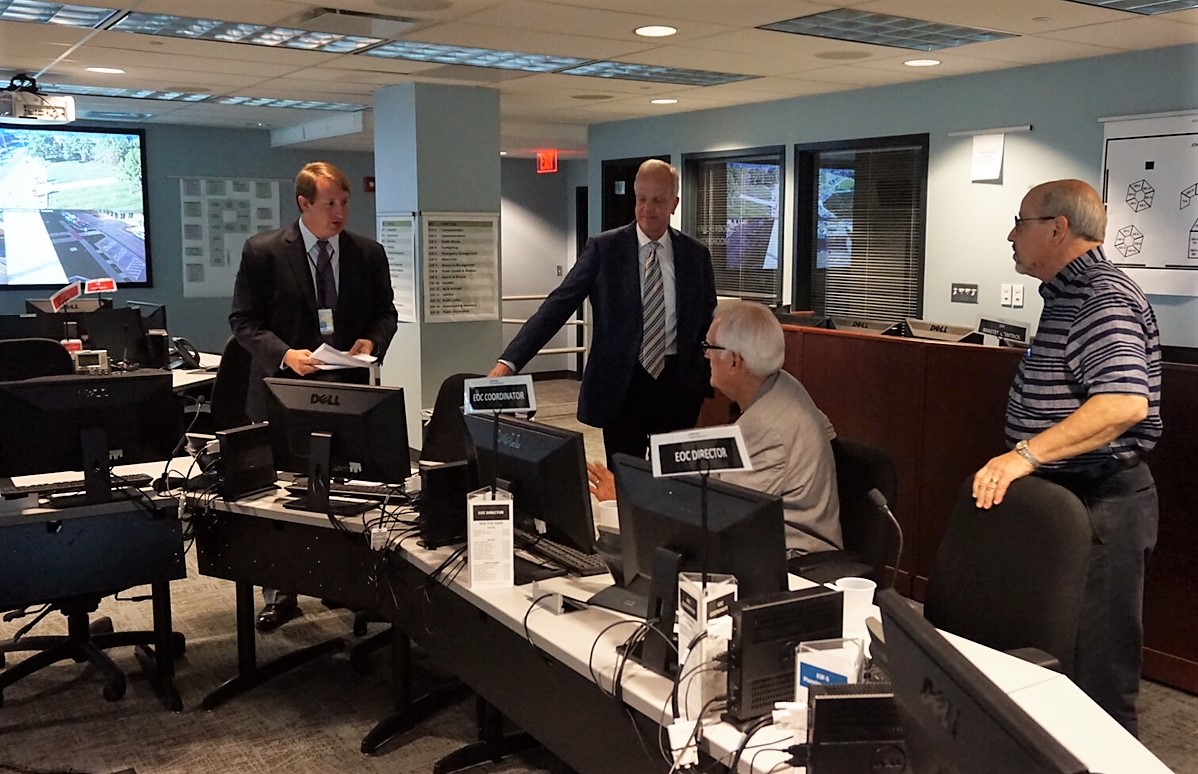 Joining Veterans at a Kansas Honor Flight
It was an honor to attend an Honor Flight this week recognizing Kansas veterans at the World War II Memorial. This group included two World War II veterans; including a 94-year-old who was accompanied by his children and grandchildren.
On this Honor Flight, I met John Richeson from WaKeeney, who not only served 2 ½ tours in Vietnam, but has earned five Purple Hearts and three Bronze Stars for his service. He told me that after his first Vietnam tour, he lasted "about three hours" working a desk job at the Pentagon before convincing them to send him back to Vietnam for a second tour.
John, and all of the veterans I met with on Thursday, are examples of our country's best and I'm proud to know them.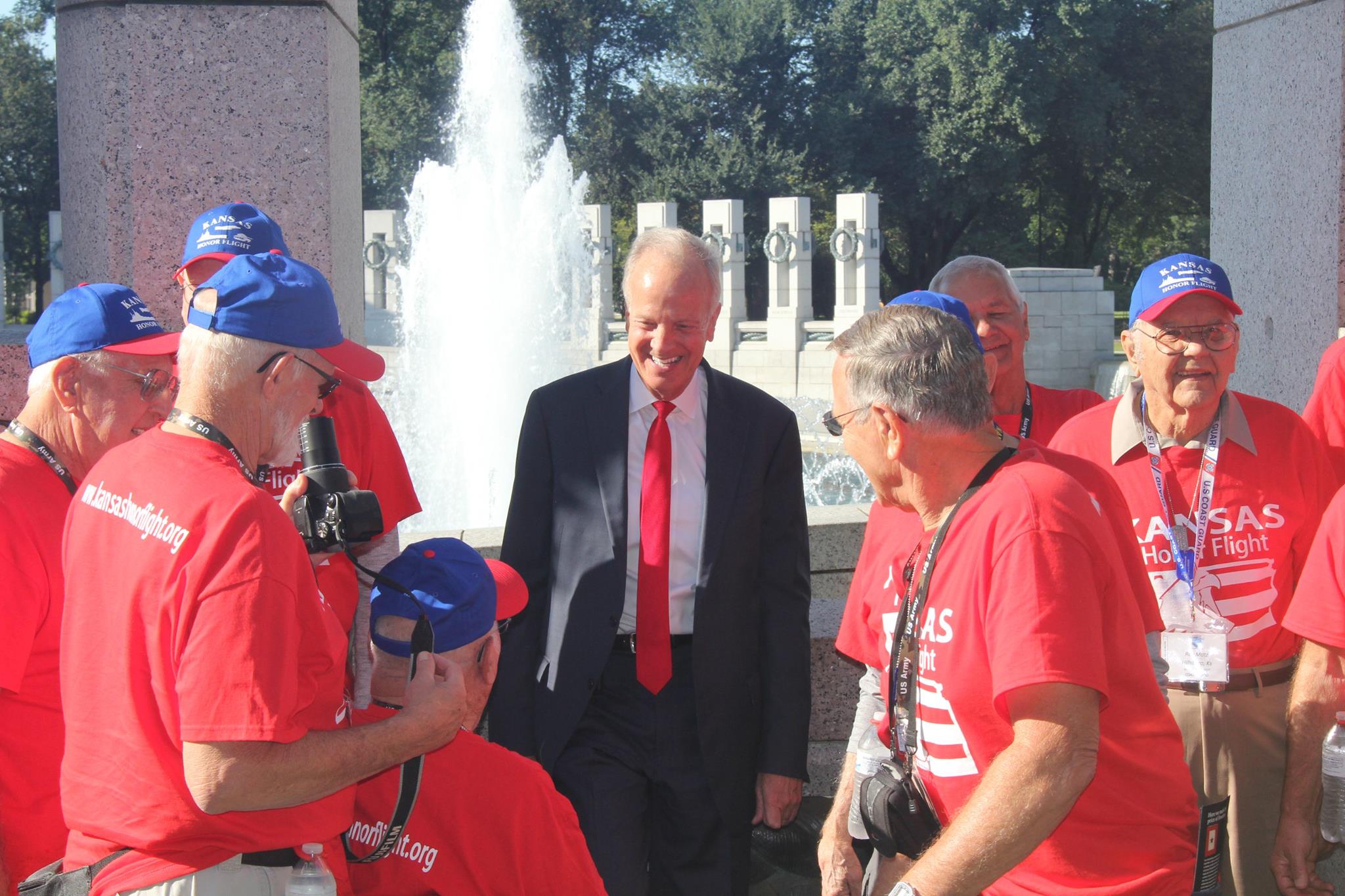 Addressing Members of the Kansas Hospital Association
I spoke with members of the Kansas Hospital Association (KHA) at their annual convention on Friday. We discussed hospital reimbursement issues and the importance of the 340b pharmacy program. We also spoke about the continued importance of the Veterans' Choice program and how KHA member hospitals directly contribute to improving the care our veterans receive. The Kansas Hospital Association has been a valuable resource in our state in ensuring that the hospitals in our communities are able to keep their doors open, provide quality care and provide greater access to health care overall. I appreciate the dedication and hard work of KHA staff and members in advocating for the best ways to provide care to Kansans and ensure Kansans have a brighter, healthier future to look forward to. My thanks to Tom Bell and the team for their exceptional leadership.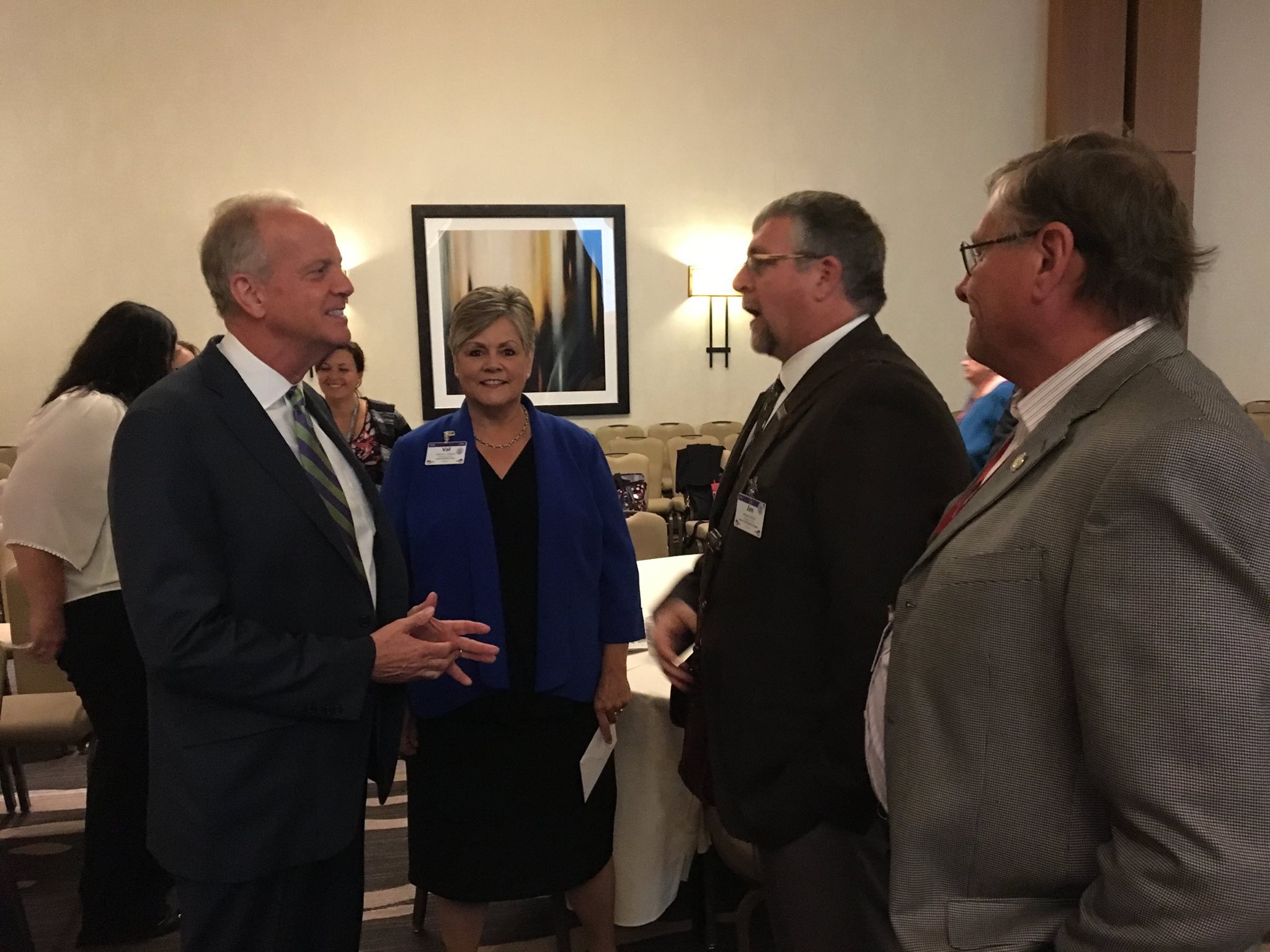 Supporting Kansas Judicial Nominations
This week the President nominated two highly qualified Kansans to federal judicial positions – Stephen McAllister as United States Attorney for the District of Kansas and John Broomes as Federal District Court Judge for Kansas.

Mr. Broomes earned his J.D. at Washburn School of Law, where he graduated first in his class. He has an impressive record that makes him uniquely qualified to fill this judgeship. He has demonstrated an unwavering commitment to the law throughout his career in Wichita serving under a federal district court judge and in private practice. In addition, he has served our nation as a Lieutenant in the United States Navy Submarine Force, where he earned the Navy and Marine Corps Commendation Medal and three Navy and Marine Corps Achievement Medals. I urge the Senate Judiciary Committee to swiftly act on his nomination so the full Senate can quickly confirm Mr. Broomes.

Professor McAllister has a bright legal mind and extensive litigation experience. He is a veteran attorney and has had a distinguished career in federal litigation, as Kansas solicitor general and during his time clerking for two Supreme Court Justices. I look forward to supporting his confirmation.
Fighting Scams in the Wake of Hurricane Harvey
It's disturbing that scammers and phishers would use something as tragic as a natural disaster to mislead Americans looking to help the victims of Hurricane Harvey. According to the Department of Homeland Security, these scams "could include fraudulent emails masquerading as charity donation requests that are designed to get targets to click on a malicious link, commonly referred to as 'phishing scams.'"

DHS recommends that you ensure your computer's anti-virus software is upto date and avoid opening any suspicious emails soliciting hurricane relief donations. If you think you might be a victim of fraud, please report it here.

As chairman of the Senate Consumer Protection, Product Safety, Insurance and Data Security Commerce Subcommittee, I convened a hearing in March on the topic of consumer scams, and much of what we learned in that hearing is unfortunately consistent with fraudsters in this scenario. Fraudulent behavior like this remains on my radar, and my subcommittee will continue to explore ways to curb all forms of fraud through state and federal law enforcement and consumer outreach and education programs.
Praying for Those Impacted by Wildfires
As wildfires continue to sweep the Northwest portion of the country, Kansans have stepped up and offered their assistance when it matters most. After suffering devastation on their own properties, Clark County farmers and ranchers have trekked to Montana to deliver materials to people who have lost their own in these raging fires. Click here to read more about how Kansans are helping Montana fire victims.
I think we can all learn from the kindness exhibited by these Kansans and hope we can incorporate their "pay it forward" attitudes into our everyday lives.
Honored to Serve You in Washington
It is an honor to serve you in Washington, D.C. Thank you to the many Kansans who have been calling and writing in to share their thoughts and opinions on the issues our state and country face. I appreciate the words of Kansans, whether in the form of a form of letter, a Facebook comment or a phone call, who wish to make their voice heard.
Please let me know how I can be of assistance. You can contact me by email by clicking here. You can also click here to contact me through one of my Kansas offices or my Washington, D.C., office.
Very truly yours,
Jerry
Newsletter Sign-up Form
Note: Fields marked with an * are required.