Kansas Common Sense
Welcome to "Kansas Common Sense." Thanks for your continued interest in receiving my weekly newsletter. Please feel free to forward it on to your family and friends if it would interest them.
Touring Andover Tornado Devastation
On Friday a tornado ripped through southeast Wichita and Butler County, with the city of Andover absorbing a direct hit. I visited the area on Saturday with Governor Laura Kelly and Congressman Ron Estes to receive a damage and recovery update, personally thank first responders and speak to those affected by this tragedy. As bad as the physical damage is, there were no lives lost and few injuries, and for that we are grateful.

Not surprisingly, the worst of circumstances is already bringing out the best in Kansans. Andover Fire Chief Chad Russell said it best when describing all that it is being done to help those in need: "What a great neighbor to neighbor effort."

At this time, local leaders shared the most effective way to help residents in need is by making a monetary donation to Andover Tornado Relief via United Way of the Plains.

Watch more from my visit here or below.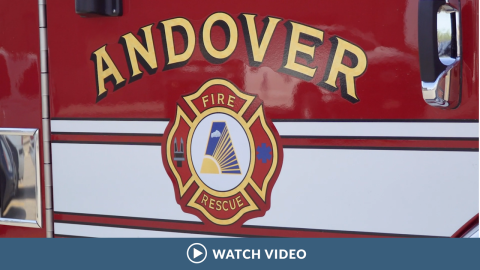 Thank you to Chief Russell, Andover Police Department Captain Ben Graber and Butler County Emergency Management Director Keri Korthals for providing an informative briefing and for their leadership during this challenging time. I also appreciate Andover Mayor Ronnie Price, Butler County Commissioner Kelly Herzet and Kansas Senate President Ty Masterson for the warm welcome. Special thanks to Wichita City Councilman Bryan Frye for organizing his fellow Wagonmaster volunteers to feed first responders and local residents.
Questioning Attorney General Garland
Rising Violent Crime
Since President Biden took office, violent crime in America – murder, assault and robbery – has risen to record-level highs.

While the Biden administration has pledged increased funding to the Department of Justice, its rhetoric and behavior sends a different signal that has discredited law enforcement and the role they play in protecting our communities. If police officers are not respected or shown respect from our leaders, then they will not be respected within their own communities. We have also seen an appalling increase in attacks against police officers. It is no surprise that police departments and sheriff offices are short-staffed and have issues recruiting new officers.

On Tuesday, I questioned Attorney General Garland regarding the administration's plans to address violent crime in our country. It is absolutely critical the DOJ support state and local law enforcement, both through grant programs and through joint operations, critical tools to address this country-wide surge in violent crime. Watch my opening remarks here or below.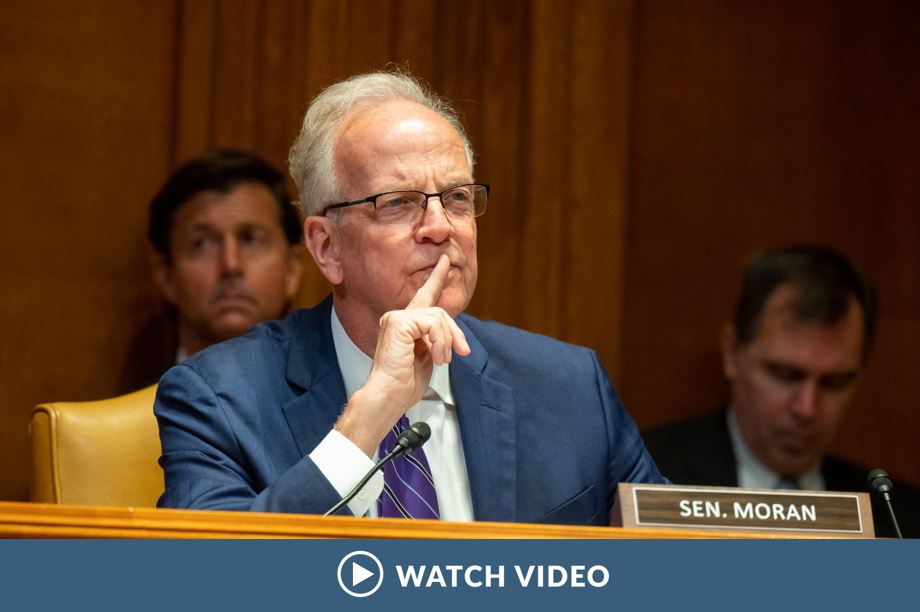 Repealing Title 42 Will Lead to a Greater Crisis at Our Southern Border
Currently, the Biden administration is expected to end the use of Title 42 at our southern border as our facilities are overwhelmed and our border patrol agents are underequipped. In March, 7,000 migrants crossed the southern border each day. If Title 42 is repealed on May 23, that number is expected to double.

Repealing Title 42 will lead to an even larger influx of migrants, and this decision would overwhelm border agents and threaten our security – leading to a greater humanitarian crisis.

Watch my questioning regarding Title 42 here.

FBI's Mishandling of Larry Nassar Investigation
In July 2021, the DOJ Office of the Inspector General (OIG) released a report that revealed multiple agents at the FBI mishandled the investigation into former USA Gymnastics physician Larry Nassar and subsequently lied about their misconduct.

I questioned AG Garland on the FBI's failure in regard to the Larry Nassar investigation and his known abuse, and I raised my strong concerns with the fact that these agents have not been held fully accountable for this institutional failure. Read more from Fox News here or watch my questioning on the OIG report here.
Questioning Secretary of State Antony Blinken on Ukraine
As a member of the State and Foreign Operations Appropriations subcommittee, I had the opportunity to question Secretary of State Antony Blinken about Russia's unjustified and illegal war in Ukraine. It is essential that the United States plans for a lengthy conflict, and we need to have our allies onboard. I asked Secretary Blinken if our European allies are prepared to sustain the sanctions that have been levied on Russia and to impose more. I also made clear to him that it is not enough to arm Ukraine to withstand the Russian assault—we need to provide Ukraine with the weapons to win their fight. I concluded my time by noting my letter to him encouraging the reopening of the embassy in Kyiv, and I thanked him for the recent announcement that embassy operations will soon resume. I appreciate the importance of diplomacy advancing American security and prosperity, and I thank all who serve our country in the State Department. Watch my questioning here or below.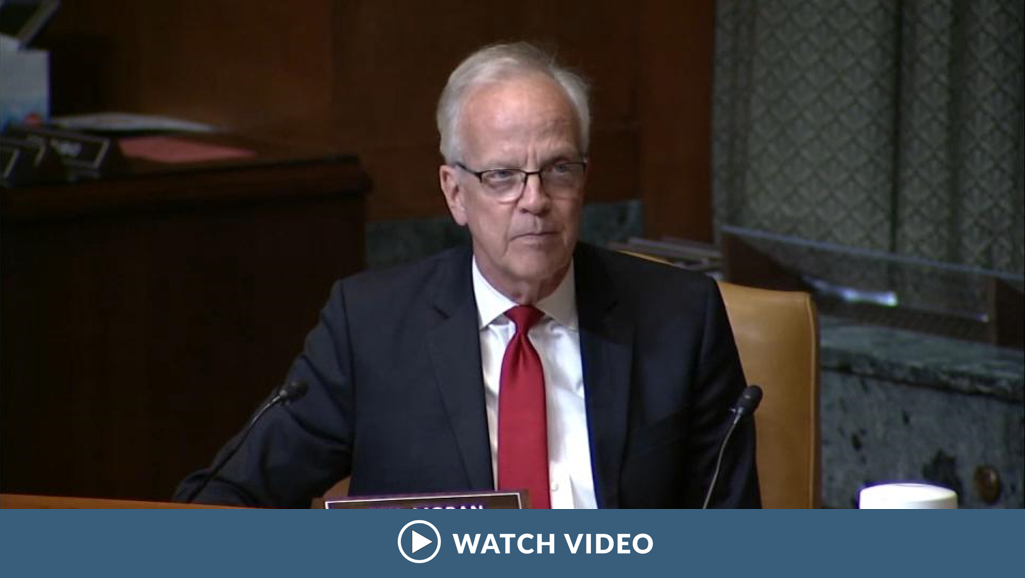 Senate Veterans' Affairs Nominations Hearing
On Wednesday, the Senate VA Committee held a hearing to consider the nominations for Under Secretary of Health and Under Secretary for Benefits at the Department of Veterans Affairs. I questioned Dr. Shereef Elnahal about how he would lead the Veterans Health Administration, if confirmed, and emphasized the importance of VA enacting federal laws as Congress intended them. I made clear to Dr. Elnahal that this includes the law prohibiting VA from providing abortions, and I expect him to follow the law if he is confirmed. Another area I focused on with Dr. Elnahal is ensuring veterans have timely access to care in the location that works best for them. Specifically, I confirmed with the nominee that VA's current standards for when a veteran can choose to see a doctor in their community are reasonable. With broad support for these access standards, I believe they should be mandated in law to provide veterans consistency and the assurance that the standard will not arbitrarily be changed.

I also spoke to Mr. Raymond Jefferson about his qualifications to lead the Veterans Benefits Administration. If confirmed, he would be responsible for leading a workforce of more than 25,000 people who administer more than $150 billion annually to nearly 6 million veterans and survivors. I stressed to Mr. Jefferson that the Under Secretary for Benefits must have a proven track record leading a large federal workforce. Our veterans deserve no less than the very best leaders we can find. Watch more here.
Meeting with Leaders in D.C.
Kansas Hospital Association Executive Committee
This week, I spoke with Kansas Hospital Association's (KHA) leadership and members of their executive committee. KHA, Kansas hospitals and health care workers have provided nonstop care across the state during the pandemic, and I remain grateful for their service. Our discussion centered around the financial difficulties our health care facilities, especially in rural and health care professional shortage areas, are facing. The struggles associated with re-stabilizing after the pandemic, in regard to both finances and workforce, are being exacerbated by the high inflation and impending Medicare sequestration. Along with ensuring Congress provides necessary support to our hospitals, I will continue urging Centers for Medicare and Medicaid (CMS) Administrator Chiquita Brooks-LaSure to quickly approve Kansas' tax provider assessment waiver, which will allow our hospitals improvised reimbursement for services provided to Medicare and Medicaid patients.

Thank you to KHA President Chad Austin, VP of Government Relations Audrey Dunkel, Landon Fulmer and the entire executive committee for spending some of their afternoon with me.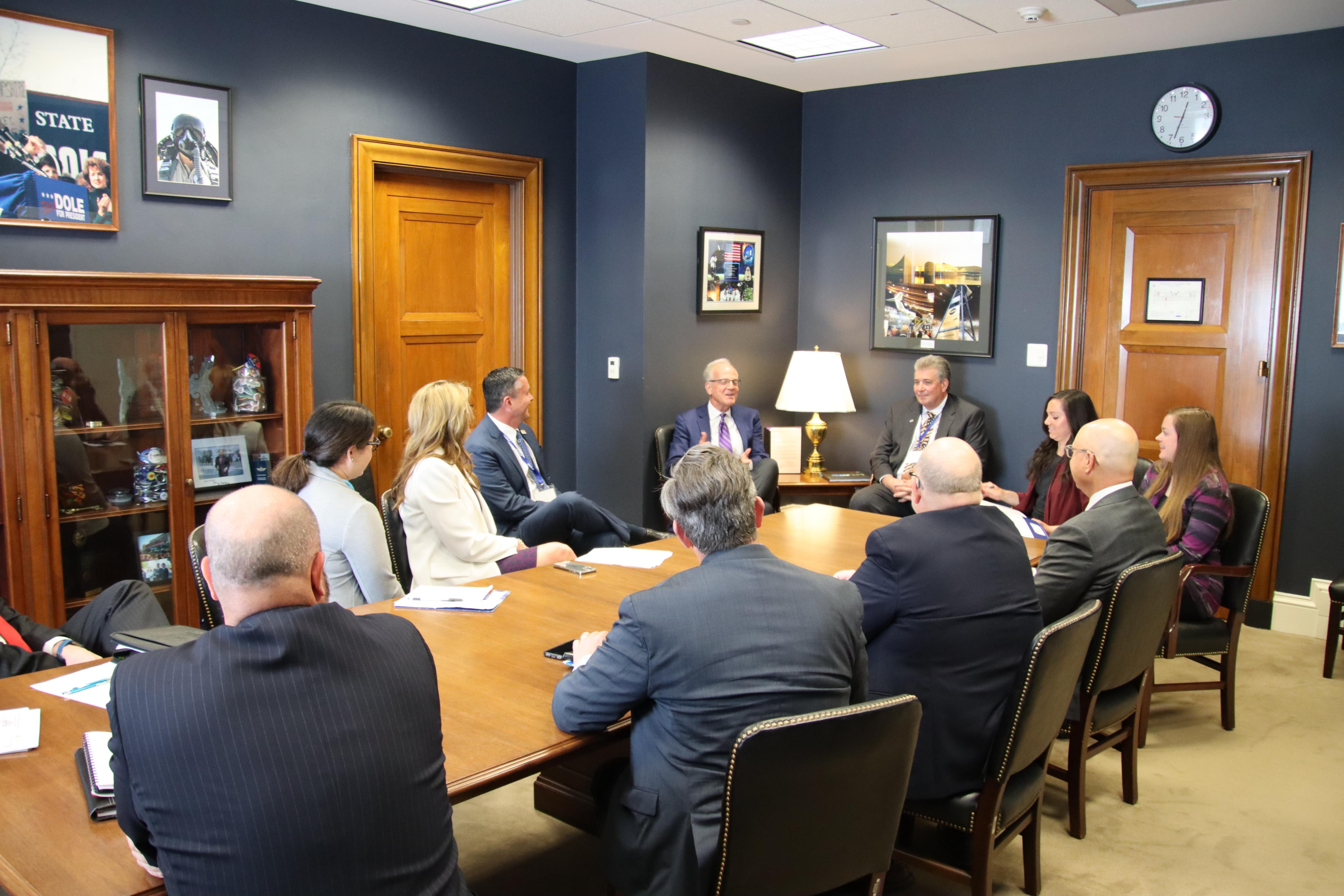 Thermo Fisher Scientific
Paul Parker, the Senior Vice President of Strategy and Corporate Development at Thermo Fisher Scientific, met with me to discuss the company's growth options as the country moves out of its pandemic response posture. We also talked about the future plans for their plant in Lenexa, which was built in six weeks to meet the surge in domestic manufacturing demand during the height of the pandemic. The Lenexa plant manufactured products essential to COVID-19 testing capabilities and will continue to play an important role in Thermo Fisher's focus on biotechnology. One of the most important lessons learned over the past two years has been the need to invest in domestic manufacturing of biotechnology and pharmaceutical. Thermo Fisher is leading the way by bringing manufacturing back home, including to Kansas, and I'm grateful for their efforts.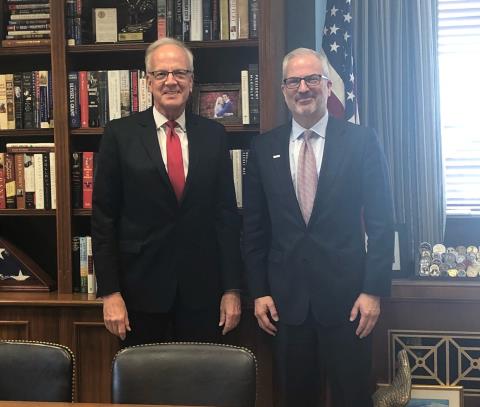 General Atomics
On Tuesday, I welcomed Neal Blue, CEO of General Atomics, to my office to discuss the work their company does and to discuss their efforts to deliver much needed lethal aid to Ukraine. General Atomics specializes in diversified research, development and manufacturing in defense, energy and other advanced technology arenas. I have supported their efforts to supply the Department of Defense with the MQ1C-Gray Eagle, an unmanned aerial vehicle (UAV) that is used for reconnaissance and targeting missions. This capability is a critical force multiplier for our active, guard and reserve soldiers, and I am happy to advocate for the MQ1C-Gray Eagle. I hope that all of our units stationed here in Kansas receive this critical weapon system and have the opportunity to train with it.

The MQ1C-Gray Eagle is also a capability that can benefit Ukraine's military, and we discussed their efforts with the DOD to put the Gray Eagle in Ukrainian soldiers' hands. I have reached out to the Office of the Secretary of Defense to ensure that they are working to send Ukraine this critical capability. Thank you to Neal Blue and his team for their time on Tuesday and as they supply our servicemembers, allies and partners with what they need to complete their missions at home and abroad.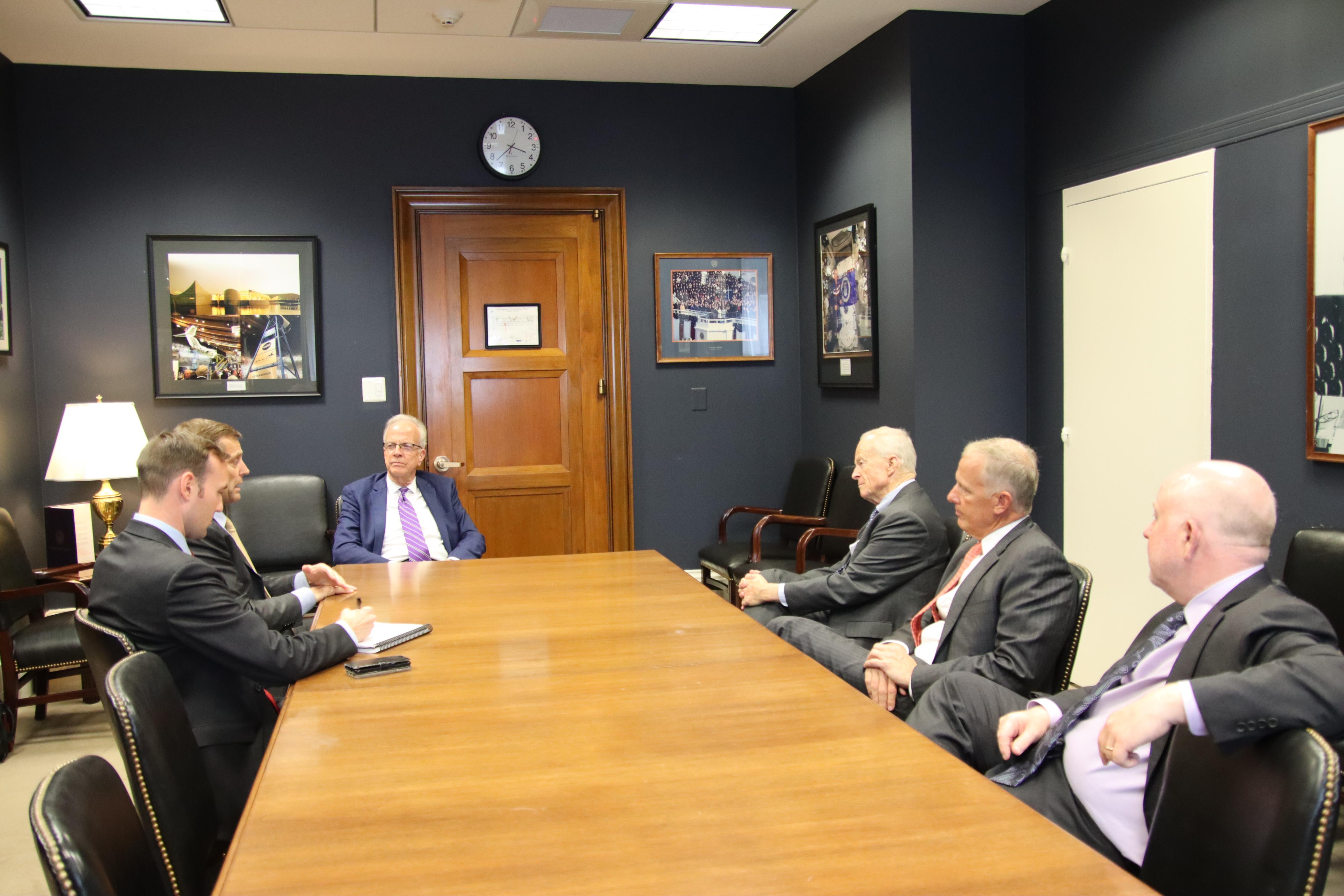 National Automotive Dealers Association
On Tuesday, I met with representatives from the National Automotive Dealers Association (NADA). We discussed the potential tax burdens on small businesses and the impact supply chain disruptions have had on the auto industry. Car dealerships have an important role in the Kansas economy, producing over 20,000 jobs within our state. Thank you to Robert Brogden, the Kansas NADA Director, for making the trip to Washington, D.C.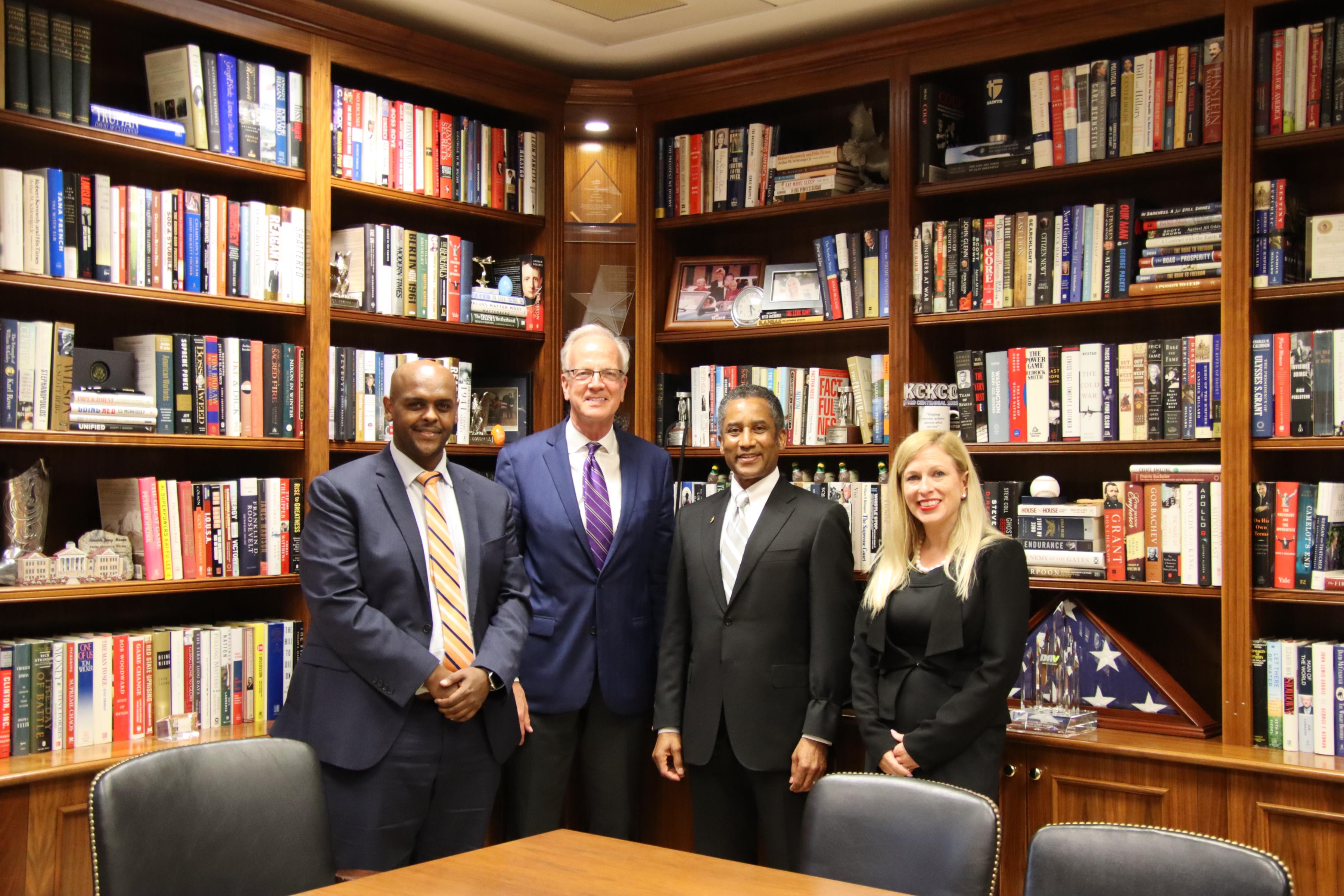 WaterOne
On Thursday, I met with representatives from WaterOne, as well as some of their engineers and contractors. As part of the American Water Works Association (AWWA), WaterOne is responsible for water and wastewater utility projects in the Kansas City region. They updated me on the status of their current projects, as well as discussed the need to bolster their cybersecurity platforms. Threats to the cybersecurity infrastructure of utility services is growing exponentially every day, and I appreciated their concern and desire to defend themselves against such ransomware and malware attacks. The work WaterOne does to provide alternative sources of energy and high-quality water to Kansas residents is pivotal, and I thank their representatives for their time.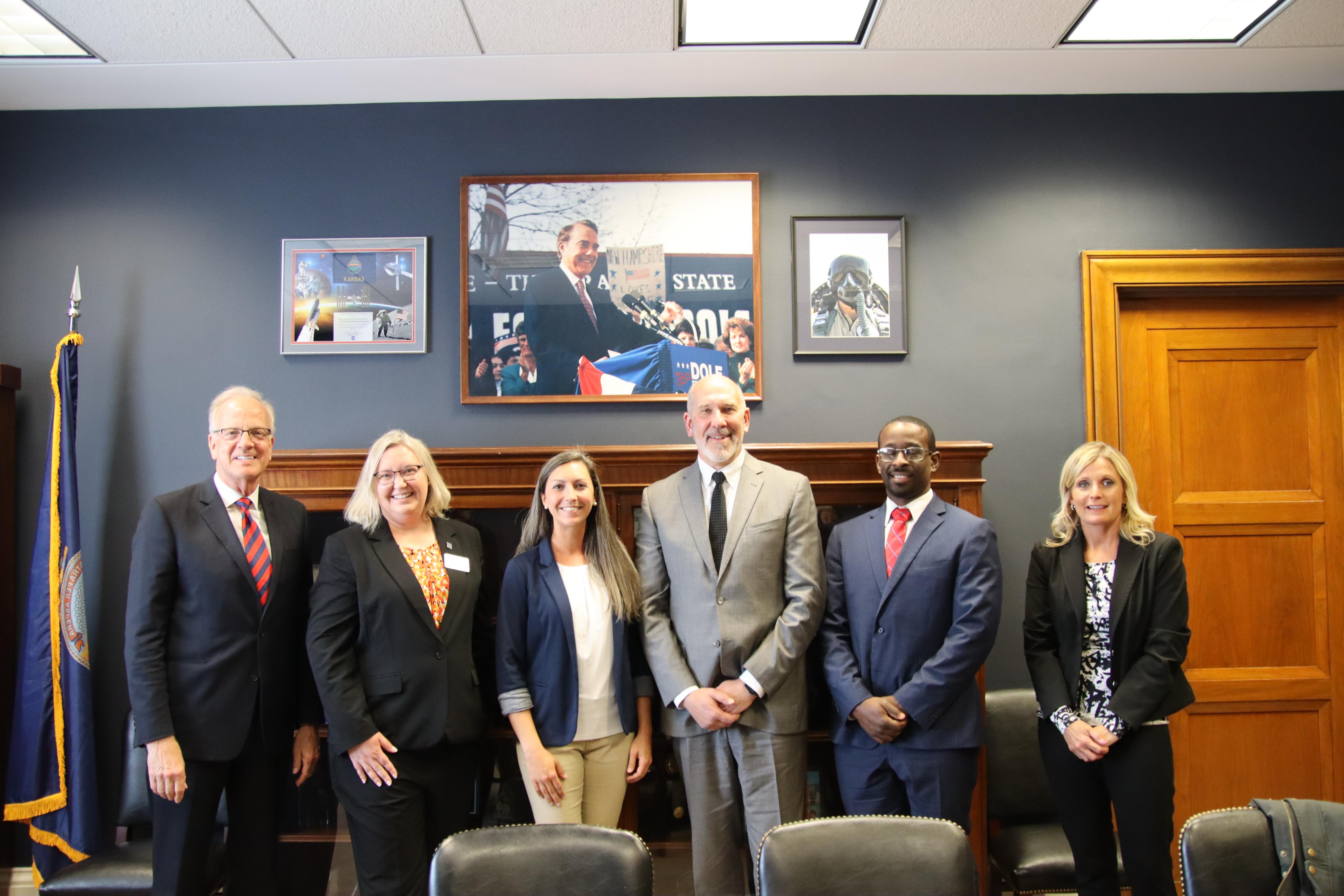 Ash Grove Cement Company
I met with Ash Grove Cement Company employees during their Portland Cement Association fly-in to our nation's capital this week. Our conversation focused on the company's sustainability efforts and commitments, federal investment in carbon capture and sequestration, and federal legislation to bolster our nation's workforce and workforce development, including my DRIVE Safe Act. I am a cosponsor of the DRIVE Safe Act, which would establish an apprenticeship program that would allow for the legal operation of a commercial motor vehicle in interstate commerce by Commercial Driver License holders under the age of 21. I thank the group from Ash Grove Cement Company for sharing their insights into their industry and the challenges they are facing in acquiring skilled labor, as well as an update on their company's operations in Kansas.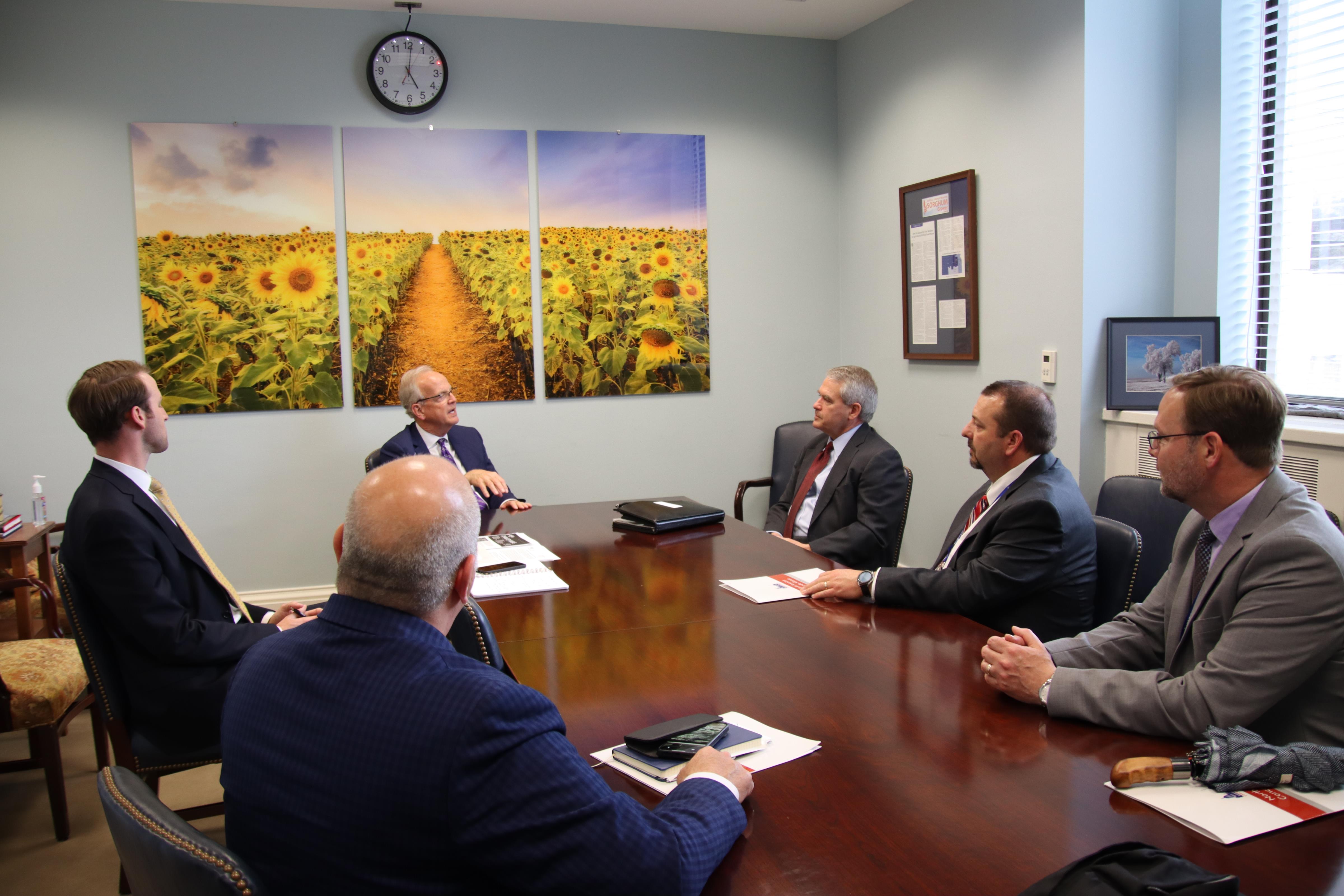 Aligned Industry Leaders
I met with a number of aligned industries this week to discuss supply chain disruptions, workforce needs and U.S. competitiveness with China. The groups included apple growers, corn refiners, railroad suppliers, vinyl industries, commodity markets, forest and paper producers and cleaning supply producers. We spoke about companies struggling to find an available workforce, as well as disruptions in supply chains that are impacting consumers. I spoke about being named to the conference committee tasked with reconciling the House and Senate bills aimed at bolstering our nation's competitiveness with China. I appreciate each of these groups coming by to educate me on issue they are facing.
CLEAR
On Tuesday, I met with Caryn Becker, CEO and founder of CLEAR, and Norm Brownstein. CLEAR is a service at airports and some sports stadiums that uses biometrics to verify one's identity, expediting the verification process at security checkpoints. I enjoyed learning more about this unique service that creates a smoother travel experience overall, and I look forward to opportunities for CLEAR to connect with our Kansas airports.
Highlighting Kansas Aerospace at This Year's Space Policy Institute Dinner
This week, I had the opportunity of speaking at the Space Policy Institute dinner, a gathering of the space policy community, including government, industry and international representatives. The discussion allowed a chance for me to highlight the talent and unique capabilities of the Kansas aerospace community and provide an invitation to Kansas for industry and government officials to witness firsthand what Kansas has to offer. As the lead Republican on the Commerce, Justice and Science Appropriations Subcommittee with jurisdiction over NASA, I appreciated hearing of the pressing issues encountering the space community, and I look forward to continuing to champion our nation's leadership position in the space domain. Thank you to Dr. Scott Pace for the invitation.
Applauding House Passage of Bill to Commemorate Brown v. Board of Education Sites
This week, the House of Representatives passed my legislation with Senator Marshall to commemorate the historic sites that contributed to the 1954 landmark Supreme Court decision, Brown v. Board of Education of Topeka. The bill, which unanimously passed the Senate earlier this month, now heads to President Biden's desk to be signed into law. This legislation will expand the Brown v. Board of Education National Historic Site in Kansas and designate National Park Service Affiliated Areas in Delaware, South Carolina, Kansas, Virginia and the District of Columbia. The bill text is available here.

Kansan Linda Brown and her parents took their case all the way to the Supreme Court in Brown v. Board of Education, leading to the unanimous overturn of the 'separate but equal' doctrine that discriminated against school children because of their skin color. I look forward to the President signing this legislation into law to expand and preserve the historic sites in Kansas and around the country connected to this case. Kansas has played a key role in the civil rights movement, and we must seek to preserve this legacy which calls on all Americans to uphold the self-evident truth that all men and women are created equal.
Receiving Ag Retailers Award
This week, I received the Agricultural Retailers Association's 2021 Legislator of the Year Award. Ag retailers play an essential role in providing necessary crop nutrients for our farmers in Kansas and across the country to feed the world. As producers grapple with higher input costs, including skyrocketing prices for fertilizers, I am committed to working across the supply chain to finding solutions to meet these challenges and deliver American-produced food around the world. As a Plainville native, I am proud to be a voice for agriculture and rural communities across Kansas.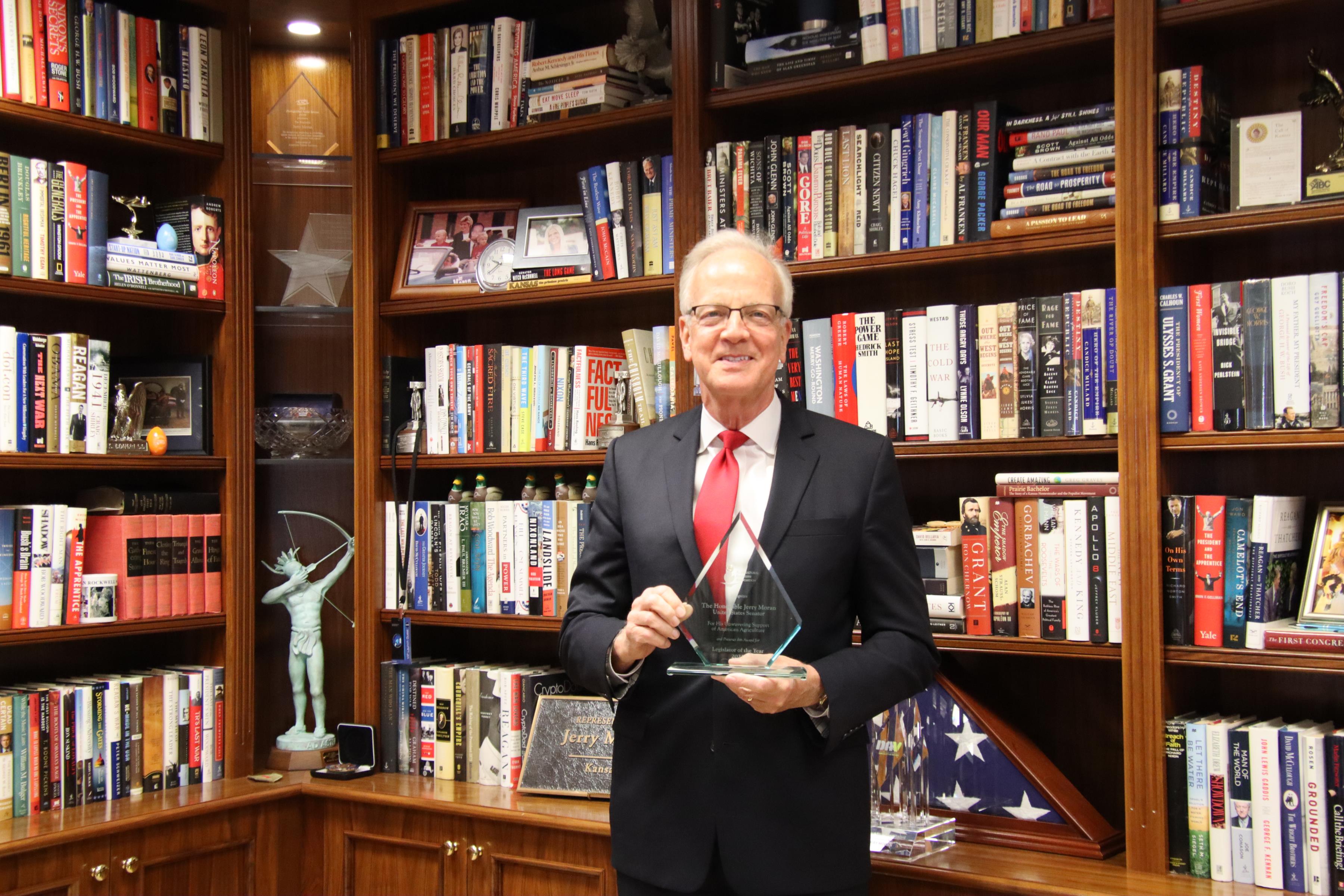 Independent Insurance Agents and Brokers of America Keynote
On Thursday, I gave the keynote speech at the Independent Insurance Agents and Brokers of America (IIAB) annual conference. Our independent insurance agents are residents and often family businesses in our local communities who know how to best meet the needs of their customers. I will continue to be a strong advocate for preserving our state-based regulatory and independent agency system to thrive. Thank you to Bob Fee and the Kansas IIAB members for inviting me. Following his role as the Kansas director on IIAB's national board and other leadership roles, Bob is currently serving as chairman of the IIAB. The independent insurance agent industry is fortunate to have him in this leadership role, and I appreciate Bob's dedication to our Kansas communities.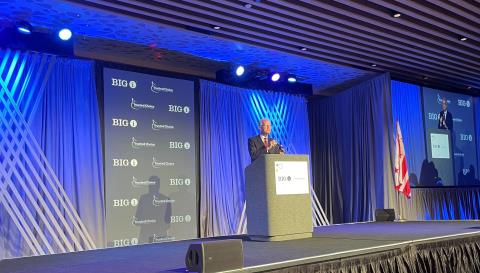 Visiting Kansas City's New Airport Terminal
Nearly every week, I travel between Kansas and Washington, D.C. On Monday, I toured construction of the new Kansas City International Airport (MCI) terminal with Pat Klein, KCMO Director of Aviation and Deputy Director of Aviation Justin Meyer, before flying back to our nation's capital. As a MCI frequent flyer, I appreciated this update and hearing how this new single terminal will help meet travel needs as the region expands its opportunities. Currently, 80 percent of the construction has been completed to increase Kansans' travel capabilities and improve its amenities, and the new terminal is set to open in early 2023. Just last month, JetBlue held their inaugural flight from KCI. The carrier will provide daily nonstop air service to Boston and New York – JFK. I was pleased to see the progress that has been made at MCI to support those who travel to and from Kansas, and to bolster the KC metro area and Kansas at large.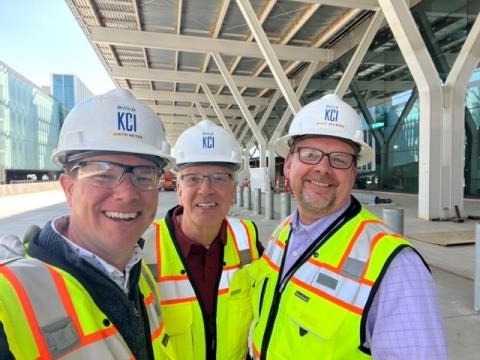 Time in Montgomery County
Recognizing Coffeyville Community College Red Ravens Championship
On Friday, I travelled to Coffeyville to recognize the Coffeyville Community College Red Ravens on winning the 2021 NJCAA Division I men's basketball championship game. The 2021 season was the first time the Red Ravens had won the national championship since 1962, and it was an honor to present President Dr. Marlon Thornburg, Athletic Director Jeff Leiker and the team with the Senate resolution in their honor. This team should be incredibly proud of their accomplishment. As an underdog in the national tournament with a No. 10 ranking, this victory was a result of hard work, determination and grit, and I'm pleased I was able recognize these dedicated student athletes and Coach Jay Herkelman in the United States Senate.

Congratulations again to the Coffeyville Red Ravens on an outstanding season and for bringing home their first national championship trophy in nearly six decades. Thank you to State Rep. Doug Blex and Kansas Rural Prosperity Director Trisha Purdon for joining us.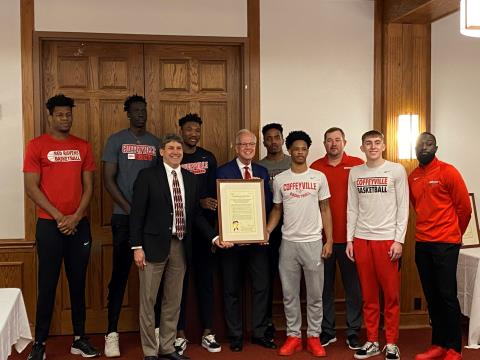 Visiting Coffeyville Regional Medical Center
While in Montgomery County, I also visited Coffeyville Regional Medical Center (CRMC). Staff shared with me information on their response to the pandemic and how they are utilizing federal funding to help rural health care providers implement telehealth programs, renovate their facilities and buy medical equipment and supplies. This hospital was built in 1949, and we touched on some of the challenges of providing modern health care in an aging facility. I appreciated hearing how the hospital plans to continue to provide quality, accessible care to area residents and their plans to do so from CEO Brian Lawrence and board chair Monte Coffman. Thank you to Kansas Hospital Association President Chad Austin for joining me on the tour and to CRMC Foundation Director Lisa Kuehn and Governmental Relations Director Melissa Summer for the invitation.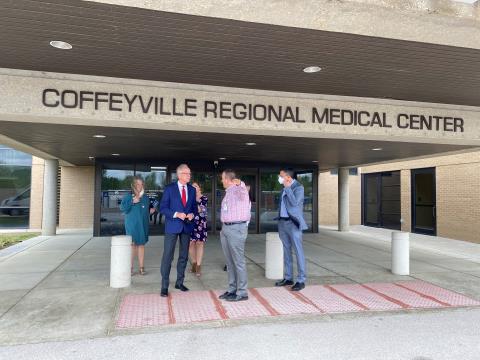 Visiting Iola High School
On Friday morning, I stopped into Iola High School where I spoke with students Josie and Samuel and school reporter Shelby Peters as the end of the school year approaches. We visited Iola High's science building where we discussed tech education. Thanks also to Principal Scott Carson for taking time out his day to speak with me. Read more from my visit from the Iola Register here.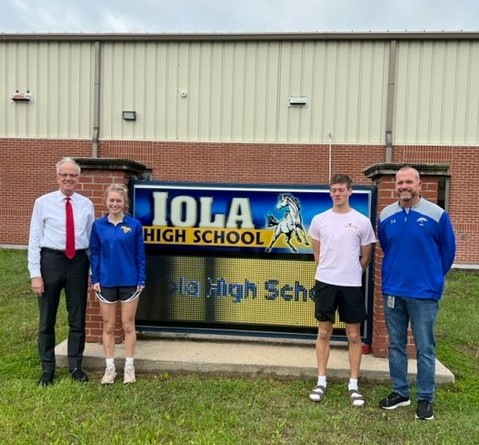 Honored to Serve You in Washington
It is an honor to serve you in Washington, D.C. Thank you to the many Kansans who have been calling and writing in to share their thoughts and opinions on the issues our state and country face. I appreciate the words of Kansans, whether in the form of a form of letter, a Facebook comment or a phone call, who wish to make their voice heard.
Please let me know how I can be of assistance. You can contact me by email by clicking here. You can also click here to contact me through one of my Kansas offices or my Washington, D.C. office.
Newsletter Sign-up Form
Note: Fields marked with an * are required.