Kansas Common Sense
Welcome to "Kansas Common Sense." Thanks for your continued interest in receiving my weekly newsletter. Please feel free to forward it on to your family and friends if it would interest them.
Freedoms and Liberties Are Protected by Process
On Wednesday, Majority Leader Chuck Schumer and Senate Democrats attempted to pass partisan election reform legislation. Prior to the vote, I spoke on the U.S. Senate Floor regarding the Democrats' attempt to eliminate the filibuster and pass their election reform legislation.

Americans voted for a Congress that is nearly a 50-50 split between the parties in the House and precisely 50-50 in the Senate. Americans did not vote to give one party free rein to implement an unprecedented power grab, to nationalize elections and fundamentally reshape the way the Senate passes legislation by eliminating the filibuster. Federalizing elections would export a traditional state authority to the federal government and defer decisions on how citizens elect their Congressional representatives to Congress. This is inherently less responsive and less accountable.

Freedoms and liberties are protected by process. Process is set by the Constitution and the rules of the United States Senate, which requires 60 votes for legislation to be considered and passed. In the circumstance that those processes are eroded, we erode the personal freedoms of Kansans and all Americans as a result.

Thankfully there is bipartisan opposition to weakening the filibuster for one issue because a majority of senators agree it would bring about massive uncertainty for Americans who don't want to be subjected to dramatic political swings on issues affecting their everyday life. This attempt to abolish the filibuster failed 48-52. Watch my remarks here or below.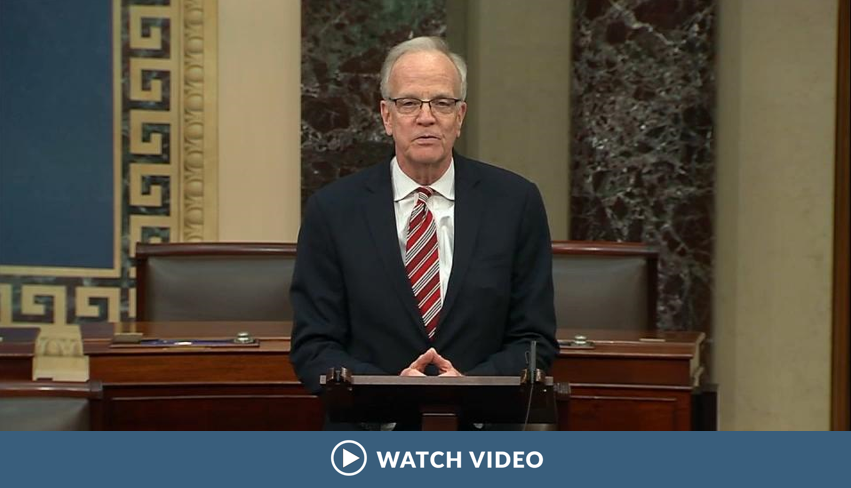 Protecting and Marching for Life
On Friday, I welcomed the many Kansans who traveled to our nation's capital to join the tens of thousands of other Americans in being witnesses to the sacred right to life during the March for Life. I appreciated the large number of Kansans who made the trip to Washington, D.C., especially after the event was forced to be held virtually last year. They marched on behalf of the voiceless and for the well-being of expectant mothers, to see that the laws of our country are formed to protect human life at all stages. Watch my remarks here or below.
Bolstering Kansas' Aerospace Manufacturing Capabilities
Kansas' rich aviation history makes it the perfect location to launch into the booming space industry. I continue to work with the Greater Wichita Partnership to find new opportunities for aviation and space manufacturing in the Air Capital of the World to keep Kansas as leader in the future of flight.

Aerospace companies are looking for a workforce that can do quality work. In space, defense and aviation manufacturing, everything has to be perfect for anything to work; and in Wichita we have a workforce that is capable of meeting those standards.

Learn more about our work to bolster the space and defense portfolios of Wichita manufacturers from KWCH here.
Requesting Emergency Food Aid to Combat Global Hunger
As co-chair of the Senate Hunger Caucus, I joined a bipartisan group of senators in urging President Biden to request that emergency food aid be included in any potential supplemental package the White House may submit to Congress.

Due to COVID, severe drought and armed conflicts, more people are going hungry now than at any time in the last ten years. Nearly 12 percent of the world's population – 928 million people – suffer severe food insecurity, and another 30 percent face at least moderate food insecurity. Nearly 150 million children under the age of five suffer stunted growth as a result of hunger or malnutrition. The situation is particularly dire in Afghanistan, where more than half the population faces potentially life-threatening levels of food insecurity. Global food insecurity can be destabilizing: it can give rise to extremism, illicit trade such as narcotics and human trafficking and mass migration. Using commodities grown by Kansas farmers, the Food for Peace program reduces global hunger while promoting stability. This assistance is not only the right thing to do; it's the smart thing to do.
Protecting Veteran Benefits
This week, Chairman Tester and I urged Department of Veterans Affairs (VA) Secretary Denis McDonough to protect veterans from losing their earned compensation and pension benefits as a result of administrative and mailing delays by the VA and Government Printing Office. Veterans and their families should not be penalized due to issues that are outside of their control.

Last fall, these issues created circumstances in which veterans and their families faced significant delays in receiving notification letters regarding their disability claims and the process for protesting decisions related to those claims. During this delay, VA told Congress it was providing an extension to any veteran's response required by those letters. While we appreciated the response due-date extension, we are urging VA to reexamine the department's plan to deal with these delayed notices so that claimants are not unfairly penalized. I will continue to work in my role as the lead Republican on the Senate Veterans' Affairs Committee to ensure veterans are not negatively impacted by this issue.
Reforming America's Declassification System
For the past several years, Senator Ron Wyden and I have worked to reform our nation's declassification system. In addition to introducing the Declassification Reform Act, last fall we urged Director of National Intelligence Avril Haines to take swift action to reform the system. We recently received a response from DNI Haines acknowledging that the U.S. declassification system is failing and is eroding the public's trust in government. Her letter gave Senator Wyden and I encouragement about programs underway within the Intelligence Community to respond to modernizing the declassification process. There is a need to prioritize and fund these programs, and we will continue to push the Biden administration to address this critically important reform.
VA Facilities Providing Aid to Kansas Hospitals
Department of Veterans Affairs facilities in Kansas are providing resources and aid to Kansas hospitals that need additional support to care for COVID-19 patients.

The VA plays an integral role in our nation's health care safety net through its Fourth Mission to support local hospitals and make sure patients have access to the critical care they need. Throughout the pandemic, I have worked through my leadership role on the Senate Veterans' Affairs Committee to make certain VA has the resources needed to support our health care system. Thank you to the Kansas VA hospitals, VA health care personnel and Kansas National Guardsmen who are assisting medical facilities across the state and to all of our health care workers who continue to care for Kansans while experiencing bed and staff shortages.
Touring Amelia Earhart Hangar Museum
On Monday, I visited the Amelia Earhart Hangar Museum to hear about the new exhibits and how the COVID-19 pandemic has impacted the museum. I was also extremely pleased to hear that they are expecting as many as 78,000 visitors this year. This is great news for the museum.

Thank you to Karen Seaberg, Makinzie Burghart, Allison Balderrama and Jacque Pregont for the update and tour. Read more about my visit from the Atchison Globe here.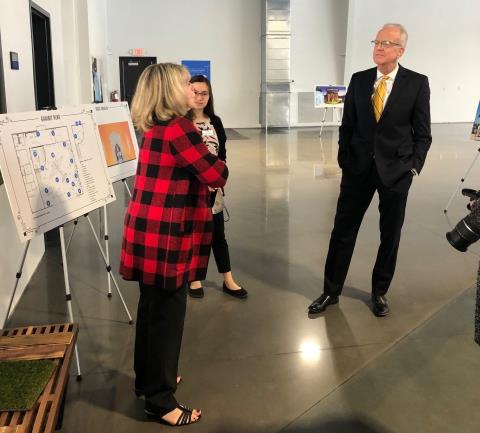 Visiting with Leavenworth Kiwanis
I visited with Leavenworth Kiwanis members Tuesday during their weekly meeting where our conversation focused on Kansas' strong veteran and military community. We discussed the issues afflicting veterans and my work on the Senate VA Committee to bolster their access to health care and housing. We also talked about my work with Senator Blunt to reverse the flawed policy that determines the national liver allocation process and its bias against states in the Midwest and South. I appreciated hearing the questions and concerns from those in attendance, and I thank Club President Cindy Henry, Former State Senator Kevin Braun, Mayor of Leavenworth Camalla Leonhard and County Commissioners Jeff Culverson, Doug Smith and Mike Smith for our conversation.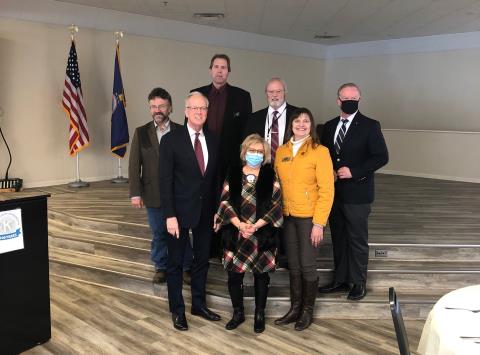 Visiting with Kansas Businesses
More than Lemons
Thank you to the More Than Lemons team for speaking with me this week. Located in Holton, this local business incorporates a venue for regional artists with a hot shop for glass blowing. It was fascinating to learn about the process for building out glass ornaments, lighted globes and memorial glass, as well as to see the range of artwork produced by artists here in the Heartland.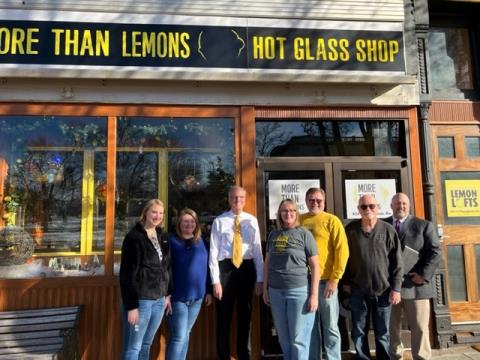 Rx Savings Solutions
On Tuesday, I met with Rx Savings Solutions in Overland Park. The start-up company is focused on helping Kansans see reduced costs on their prescription drug prices. Through a patented algorithm created by former pharmacists, the company assists members in ensuring they are getting the right drugs at the most affordable rates. I am committed to protecting Kansans' access to quality health care at lower costs as our country continues to navigate an ongoing pandemic. Thank you to Dr. Michael Rhea, Rx Savings Solutions' CEO, for the tour and the work his company does to find marketplace solutions to high health care costs.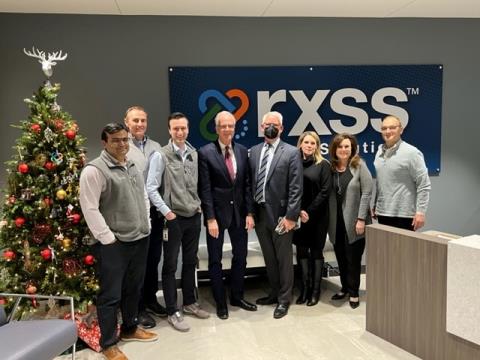 KLA Wildfire/Storm Relief Fund Application Still Open
The Kansas Livestock Foundation opened its Wildfire/Storm Relief Fund application for Kansas farmers, ranchers and producers affected by recent wildfires and severe storms. To receive assistance from KLF, producers must complete the application available here. Applicants do not need to be members of the Kansas Livestock Association to apply.

The deadline to apply is January 31, 2022. More information is available here or you may call KLA directly at 785-273-5115.
The Blood Shortage is Affecting Kansans. Here's How to Help.
America continues to face a critical blood shortage, with Kansas' blood supply standing at a 1-2 day inventory. COVID-19 has added extra volatility to the blood supply, and this shortage continues to strain hospitals and patient care throughout Kansas.

Donation centers provide specific guidance on the blood donation process and safety measures taken within their centers. Locations for blood donation can be found at the following organization websites below.

Save A Life Now, America's Blood Centers and American Red Cross.
Honored to Serve You in Washington
It is an honor to serve you in Washington, D.C. Thank you to the many Kansans who have been calling and writing in to share their thoughts and opinions on the issues our state and country face. I appreciate the words of Kansans, whether in the form of a form of letter, a Facebook comment or a phone call, who wish to make their voice heard.
Please let me know how I can be of assistance. You can contact me by email by clicking here. You can also click here to contact me through one of my Kansas offices or my Washington, D.C. office.
Newsletter Sign-up Form
Note: Fields marked with an * are required.