Kansas Common Sense
Appointed Ranking Member of Senate Aviation Subcommittee
This week, I was appointed to serve as the new ranking member on the Commerce Subcommittee on Aviation Safety, Operations and Innovation. Kansas is the aviation capital of the world with over a century's worth of rich aviation history. The FAA is at a crucial junction, and we must do everything in our power to ensure the United States remains a leader in aerospace innovation and safety. We need to be able to address rapidly advancing new technologies in order to maintain our status at the forefront of this industry and to remain competitive in this world.

I spoke at a Commerce Committee hearing with the Federal Aviation Administration (FAA) regarding my priorities for the Aviation Subcommittee. It's imperative for the Commerce committee to pass long-term reauthorization. It's no wonder there is uncertainty at the FAA and in the industry when we are so challenged in getting our work done. Multi-year reauthorization is necessary for long-term planning and growth in the civil aviation industry, including maintenance and modernization of aviation infrastructure and technology. I look forward to working with my colleagues on the subcommittee and the full committee.

You can watch my full remarks here.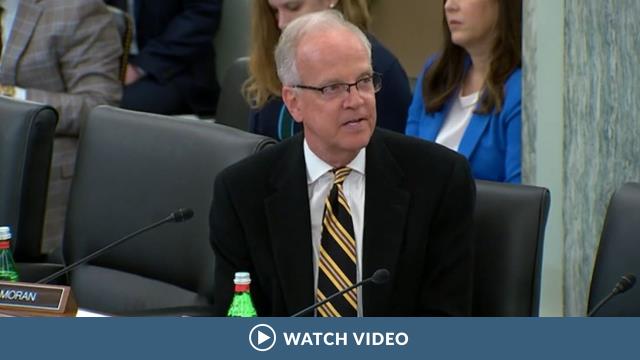 Senate Resolution to Congratulate the Kansas City Chiefs as Super Bowl LVII Champions

This week, I requested unanimous consent on the Senate Floor to adopt the Senate resolution to officially recognize the Kansas City Chiefs as Super Bowl LVII Champions. The Senate unanimously passed the resolution introduced with Senators Josh Hawley, Roger Marshall and Eric Schmitt.
You can find the resolution
here
.
Watch as I live pass the resolution on the Senate floor
here
.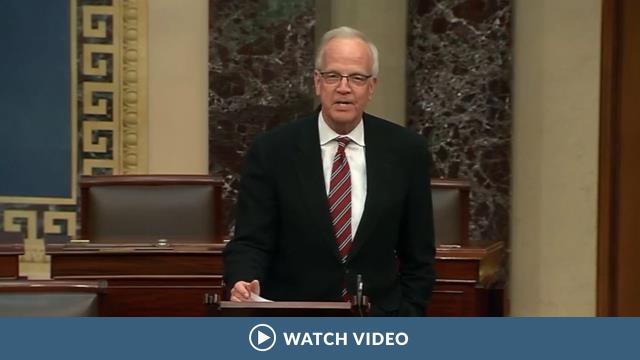 Calling for Restrictions of TikTok's Operations
This week, I joined Sen. Richard Blumenthal in raising concerns over the risks TikTok poses to U.S. national security and consumer privacy and calling for structural restrictions on TikTok's American operations. Our letter to the Committee on Foreign Investment in the United States (CFIUS) comes after ByteDance, TikTok's Chinese parent company, disclosed that its employees used data on U.S. TikTok users to surveil American journalists.

In this letter, we referenced many concerning practices stemming from ByteDance's ownership of TikTok, including misuse of Americans' private data, control over algorithmic systems and censorship of topics deemed critical of the Chinese government and other authoritarian regimes.

You can read our full letter to CFIUS Chair and Secretary of the Treasury Janet Yellen here.


Meeting with Kansans
Kansas Medical Society
I met with members of the Kansas Medical Society this week to discuss the challenges facing the doctors and nurses in our state. Health care providers are battling a workforce shortage, and we discussed the importance of supporting a variety of methods to increase the number of physicians and nurses in the country. I am committed to working with our health care providers to find ways to attract and retain talented health professionals to our state, particularly to our rural communities. I want to thank the members of the Kansas Medical Society for meeting with me and for their work to care for Kansans.




Johnson County Government
This week, I met with members of the Johnson County local government. It was great to speak with them about how the Farm Bill impacts the county and the importance of upcoming FAA reauthorization to the county's operation of the New Century AirCenter. Thank you to Chairman Mike Kelly, Commissioners Jeff Meyers, Michael Ashcraft, Shirley Allenbrand, County Manager Penny Postoak Ferguson, Assistant County Manager Joe Connor and Principal Management and Budget Analyst Mark Dapp.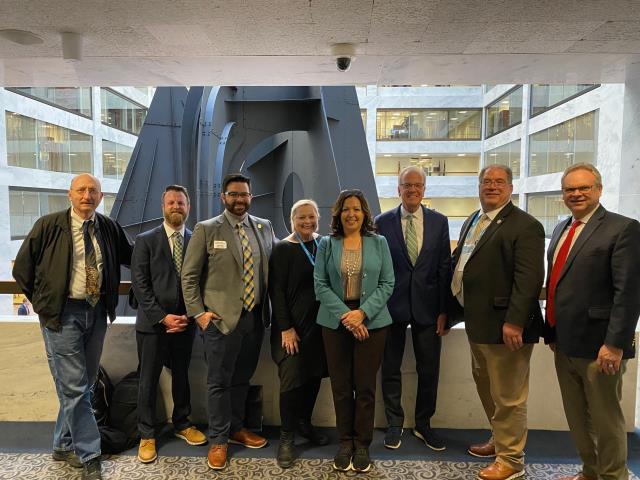 Secretary of State Scott Schwab
It was great to visit with recently re-elected Kansas Secretary of State Scott Schwab this week during his visit to Washington, D.C. for the National Association of Secretaries of State Winter Conference. I want to thank Secretary Schwab for taking the time to visit with me during his time in our nation's capital.

Urging VA Secretary to Delay Proposed Air Ambulance Rule Change
As ranking member of the Senate Committee on Veterans' Affairs, I joined Chairman Jon Tester in calling on Department of Veterans Affairs (VA) Secretary Denis McDonough to delay an upcoming proposed rule change for air ambulance and other special mode transportation service rates.

In our letter, we urged the VA to delay finalizing this rule. We further asked the VA to conduct extensive internal and external outreach to appropriately inform stakeholders of the implications of the proposed rule change and the tools prospective air ambulance partners may require to begin the contracting process and ensure continuity of care and services for veterans. Finally, we also asked that the VA take steps to make certain that the Veterans Health Administration demonstrates improved responsiveness and transparency on this and all other matters moving forward.

You can read our full letter to Secretary McDonough here.

Committee Advances Veterans' Legislation
This week, the Senate Committee on Veterans' Affairs (SVAC) held a meeting to consider and pass nine pieces of legislation. These bills included my Elizabeth Dole Home Care Act, which would expand community-based services for aging veterans as well as improve VA support for veterans and caregivers of all ages. In addition, SVAC also passed the Reinforcing Enhanced Support through Promoting Equity for Caregivers Today (RESPECT) Act, my legislation to improve access to mental health care for veterans' caregivers and improve the VA's Family Caregiver Program for veterans with neurological disorders, mental health issues or at risk for suicide. We also advanced bills to address the VA's workforce and major construction projects, improve local veteran outreach and transition programs and strengthen the Native American Direct Loan Program.

Committee Considers Nomination of VA Under Secretary for Benefits
The Senate Committee on Veterans' Affairs also held a hearing to consider the nomination of Joshua D. Jacobs to be Under Secretary for Benefits at the Department of Veterans Affairs. During this hearing, I questioned Mr. Jacobs on how, if confirmed, he would lead the Veterans Benefits Administration (VBA) and emphasized the importance of the VA implementing federal laws as Congress intends them. VBA is critical to the well-being of the veterans and dependents it serves. Disability payments provide financial security to veterans who are unable to work due to service-connected injuries, and survivors' benefits help families mitigate the financial challenges of losing a loved one. I look forward to working with Mr. Jacobs, if confirmed, to make certain veterans are getting the benefits they deserve in a timely manner.


Meeting with American Bankers Association CEO
On Thursday, I met with Rob Nichols, President and CEO of the American Bankers Association. We discussed ways to support the community banks that rural Kansas depends on. As rural areas deal with challenges like outmigration and limited job markets, the supply and affordability of housing remains a hurdle to economic growth. Increasing access to credit in rural Kansas to meet the demand for housing will only increase in importance. Small lenders are crucial to the prosperity of rural Kansas, and I remain committed to making certain community financial institutions are able to continue serving the needs of our state's rural towns.
Announcing Federal Resources for Kansas Law Enforcement
This week, I was in Shawnee County to announce a federal investment for law enforcement there. As the lead Republican on the Senate Appropriations Subcommittee on Commerce, Justice, Science (CJS) and Related Agencies, I helped secure federal resources for the Shawnee County Sheriff's Office to purchase mobile camera technology and the Topeka Police Department to purchase hazardous device response equipment.
Our law enforcement professionals make daily sacrifices to keep our country safe, and they deserve our respect and gratitude. I am committed to making certain that our law enforcement have the tools and resources they need to protect and serve our local communities. I want to thank Sheriff Brian Hill and Chief Brian Wheeles for joining me for these announcements.
You can read more from WIBW
here
and KSNT
here
.
Photo by KSNT
Touring Philip Billard Municipal Airport
As ranking member of the Senate Commerce Subcommittee on Aviation Safety, Operations and Innovation, I toured Philip Billard Municipal Airport in Topeka on Friday to see operations firsthand and to speak with local officials about the functions of this airport. During this visit, we discussed the needs of local airports like this one and the important role they play in bolstering economic and community growth. Supporting our regional airports is vital to maintaining thriving communities. In my role on the Senate Aviation Subcommittee, I look forward to continuing to support general aviation and fund our regional airports.
You can read more from KSNT
here
.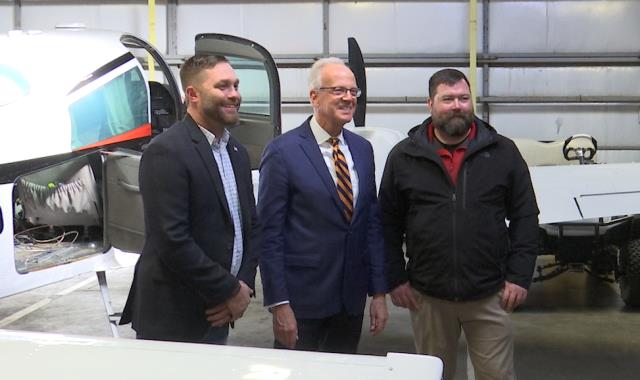 Photo by KSNT

Recognizing Presidents' Day
On Presidents' Day, we recognize the contributions and sacrifices made by our nation's presidents to lead and serve the country. In particular, I think of Abilene native and Kansas' favorite son, President Dwight D. Eisenhower. Ike, a five-star general in the United States Army and the Supreme Commander of Allied Forces in Europe, left a lasting legacy for all Kansans and Americans, and his life was an example of service, leadership and sacrifice.

For those able, I encourage you to visit the Eisenhower Presidential Library and Museum, a testament to our 34th President and a man who represented the very best of our nation.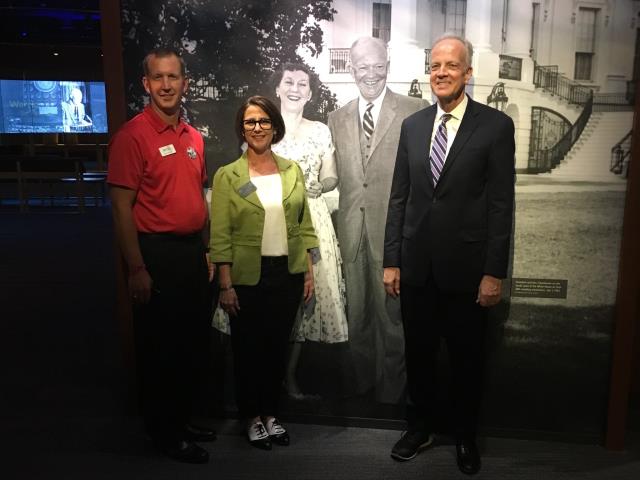 Delivering for Kansas Veterans

This Congress, I will continue serving veterans as the Ranking Member of the Senate Committee on Veterans' Affairs. Traveling across our state, I have had the opportunity to hear from thousands of Kansas veterans, their families and caregivers, sharing their military experiences and the challenges they face when returning home from service.
At a time when partisan rancor and gridlock seem more prevalent than ever, the Senate Committee on Veterans Affairs breaks through the dysfunction and delivers real solutions for our nation's heroes. I will keep listening to Kansans and bring our home state's ideas, dedication to service and deep respect for our veterans to Washington.
You can read my full op-ed which ran in the Topeka Capital-Journal
here
.
Speaking with FWS Director on Quivira National Wildlife Refuge
he U.S. Fish and Wildlife Service's decision to submit a request to secure water for Quivira National Wildlife Refuge creates significant challenges, uncertainty and unpredictability for farmers and ranchers and impedes the voluntary efforts made to satisfy the needs of both the refuge and the local economy.
This week, I spoke with FWS Director Martha Williams about the future of the Rattlesnake Creek Watershed and asked that she commit to working with local stakeholders and state leaders to find a solution that works for everyone.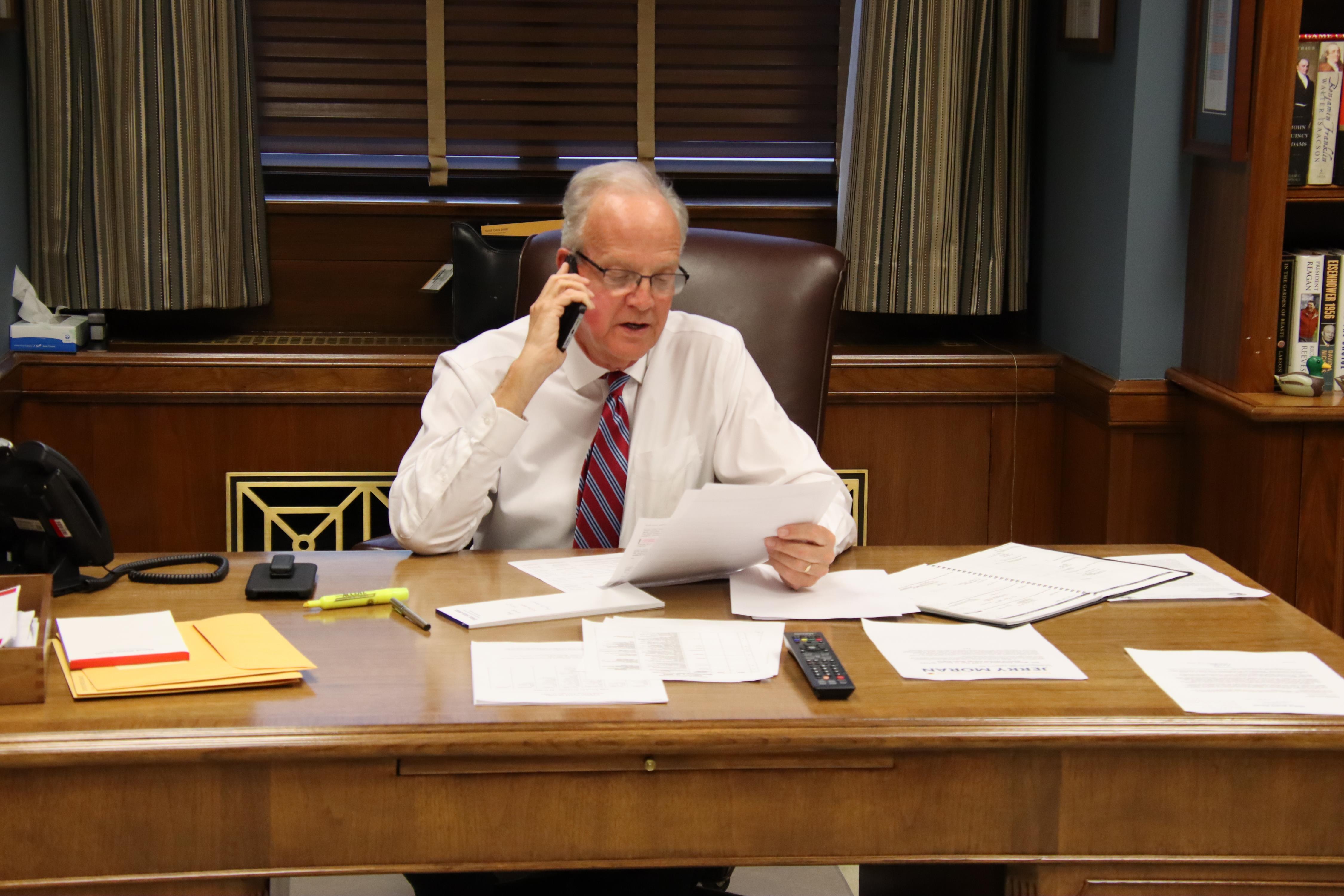 K-State Basketball
Great crowd and great win for the Wildcats this weekend!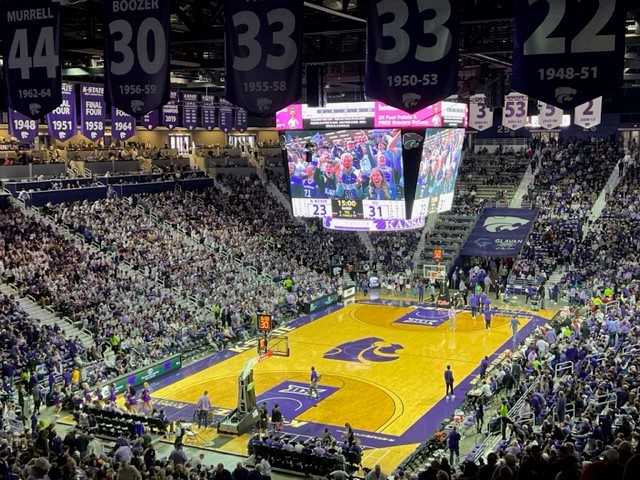 Kansans in the Office

Capitol Tour
State Representative Jesse Borjon of Topeka

Garrett Borjon of Topeka

Dorothy Barnett of Hutchinson

Emma Barnett of Hutchinson

Mr. Jon Kozel of Leawood

Dr. Jessica Kozel of Leawood

Kansas Secretary of State
Secretary Scott Schwab of Overland Park

Johnson County Government
Mike Kelly

Jeff Meyers

Michael Ashcraft

Shirley Allenbrand

Penny Postoak Ferguson

Joe Connor

Mark Dapp

Religious Action Center of Reform Judaism
Rabbi Kramer of Overland Park

Miles Cohen of Shawnee

Isabel Bernstein of Leawood

Marissa McLain of Overland Park

Abby Reeves of Leawood

Audrey Bryant of Olathe

Leah Martin of Overland Park

Kansas Volunteer Commission
Jessica Dorsey of Topeka

Amy Pinger of Topeka

Kansas City Clean Cities
Brydon Ross of Overland Park

Michael Scanlon of Osawatomie

Larry Carl of Overland Park

Terry Manies of Lecompton

Enlisted Association of the National Guard of Kansas
Eugene Bradley of Lawrence

Michelle Hutchison of Topeka

Jerry Gardinier of Wichita

Brian Heilman of Wichita

Federal Home Loan Bank
Ryan Gilliland of Topeka

Special Olympics Kansas Delegation
John Lair of Shawnee

Riley County Commissioner
Commissioner John Ford of Manhattan

Kansas Medical Society
Aron Fast of Hesston

Maurice Duggins of Wichita

Phillip Brownlee of Wichita

Nancy Sullivan of Holton

Parker Montgomery of Salina

Ladona Schmidt of Lawrence

American Endurance Ride Conference
Monica Chapman of Pleasanton

The Akana Group: The Iowa Tribe of Kansas and Nebraska
Brandi Ross of White Cloud

American Federation of Government Employees Local 906
Diana Hicks of Topeka

Shane Reedy of Topeka

FGE District 9
Benji King of Gardner

SHAPE America
Jackie Hall of Redfield

Claudia Welch of Topeka

Sunnin Keosybounheuang of Emporia

American Institute of Architects
Terry Humphrey of Topeka

Lisa Shaffer

Kansas Agricultural Aviation Association
Steve Hitchcock of Baldwin City
Newsletter Sign-up Form
Note: Fields marked with an * are required.