Kansas Common Sense
Celebrating This Season of Giving Thanks
Wishing You a Happy Thanksgiving
Robba and I hope everyone had a happy Thanksgiving and that the holiday was a blessed one spent with your friends, family and loved ones.

We also want to express our gratitude for the servicemembers, law enforcement, first responders and many others who are serving their country and community this holiday season. We are grateful for their sacrifices and are praying for their safety.

Serving Thanksgiving Meals to Fort Riley Soldiers
This week, I had the honor of serving Thanksgiving meals to Fort Riley soldiers and their families. I am thankful for the men and women at Fort Riley and throughout our armed forces who are serving and sacrificing to protect our nation at home and abroad.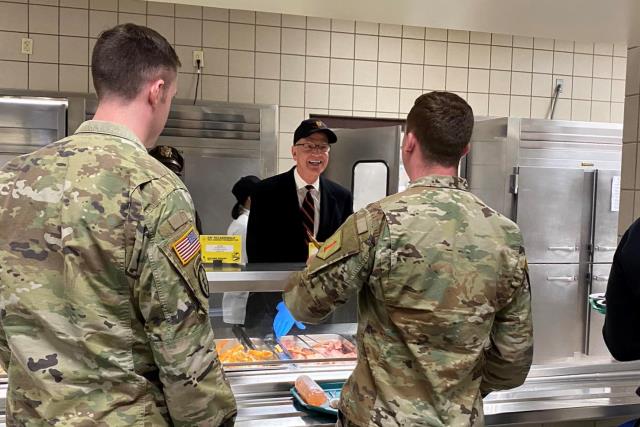 Special thanks to First Infantry Division Deputy Commanding General Niave Knell for inviting me to join her for this special occasion and thanks to chef leader SSG Rodrigo Espana who helped coordinate the Thanksgiving meal for 1,000 soldiers, families and community members.

Read more in the Manhattan Mercury here.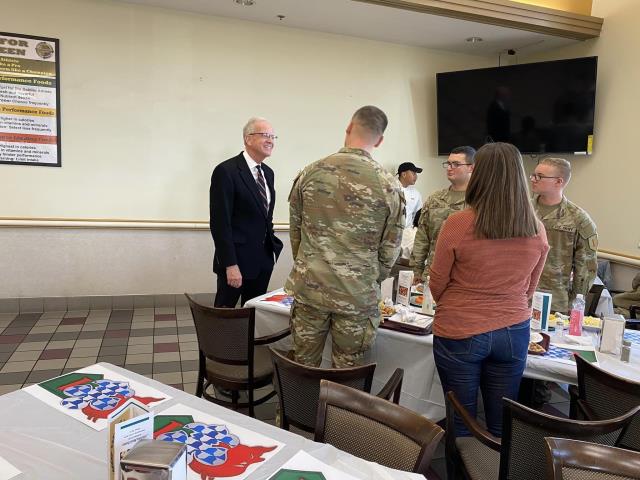 Helping Process Food Donations at Hays Community Center
On Wednesday, I had the opportunity to help process food donations at the Hays Community Assistance Center. I appreciate Kansans who generously give groceries to food banks and community centers around the state to help make certain families had a meal on Thanksgiving Day. Thank you to all the volunteers, donors and Director Theresa Hill for giving back to the Hays community.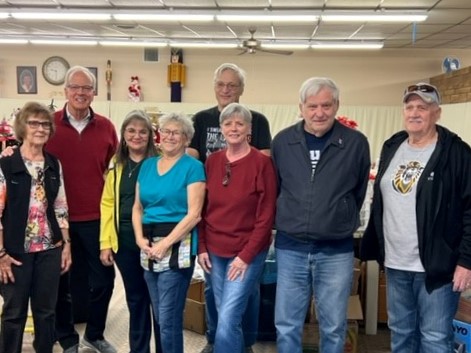 Thanking Volunteers Packaging Food at Northern Rice County Food Bank
On Tuesday, I had the opportunity to thank volunteers helping package food at the Northern Rice County Food Bank in Lyons. The days before Thanksgiving are the busiest time of year for this food bank as they work hard to provide groceries and meals to families across the region.
I was encouraged and humbled by the people who gave their time and donated food to help feed their neighbors. Thank you to Director Robert Johnson for the work he does to organize the food bank and feed Kansas families.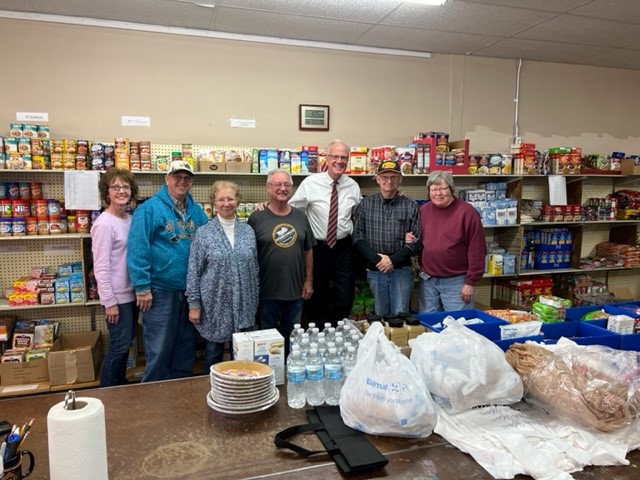 Visiting Horse Solider Monument and 9/11 Memorial
Earlier this week, I visited the Mark Nutsch Horse Soldier Monument and 9/11 Memorial in downtown Washington to honor those who courageously risked their lives serving our country as a part of the Special Forces team known as the "Horse Soldiers" that fought alongside Afghanistan's Northern Alliance. The newly-added monument recognizes the heroism of Washington native Mark Nutsch. Captain Nutsch was chosen to lead the first unit to go into Afghanistan in response to 9/11 – known as the Task Force Dagger mission.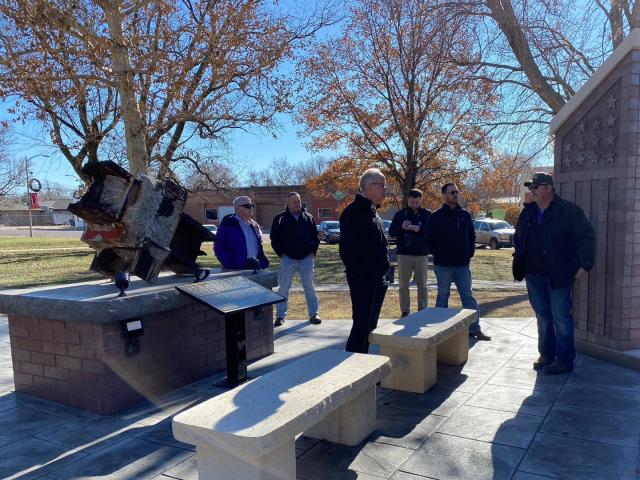 Growing up on a cattle ranch in Kansas, Captain Mark Nutsch may have never expected he would use the skill of horseback riding during his time serving as a Green Beret in the United States military. However, on October 19, 2001, as part of a mission following the September 11 terrorist attacks, Nutsch and his team of 11 with the 5th Special Forces Group's Operational Detachment Alpha 595 were ordered into Afghanistan to liberate the region from the Taliban. In this mission, they did not have tanks or trucks – only horses. Each of these soldiers embodied true courage, service and selflessness, playing a critical role in the fight against terrorism.
I want to thank everyone from the Washington area who joined me for this visit. Special thanks to organizer Ron Nutz for his work to coordinate this moving tribute to one of Washington's finest and the team who rode with him.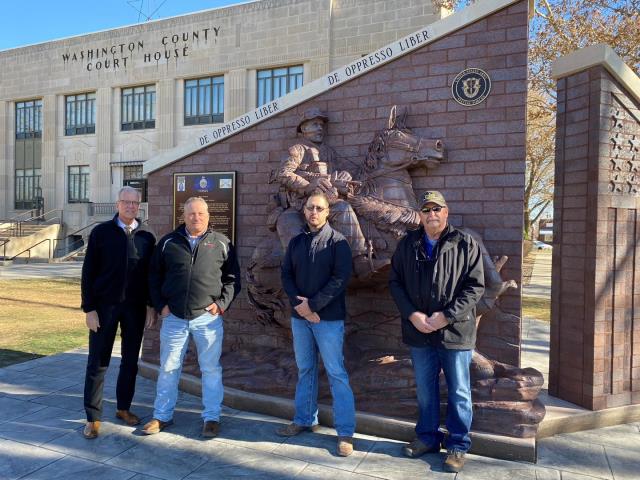 Giving Keynote Address at Washington Rotary Club

While in Washington, I also visited the Rotary Club to give the keynote address for their meeting. I appreciated the opportunity to discuss a number of issues and to hear from local residents and community leaders. Civic organizations like the Washington Rotary Club play a vital role in maintaining thriving local communities, and I always enjoy the chance to visit these groups.
I want to thank Club President Ron Nutz for inviting me and for his leadership in these important efforts for the Washington Rotary Club. Thanks as well to all of the local residents from Washington who joined during the holiday week.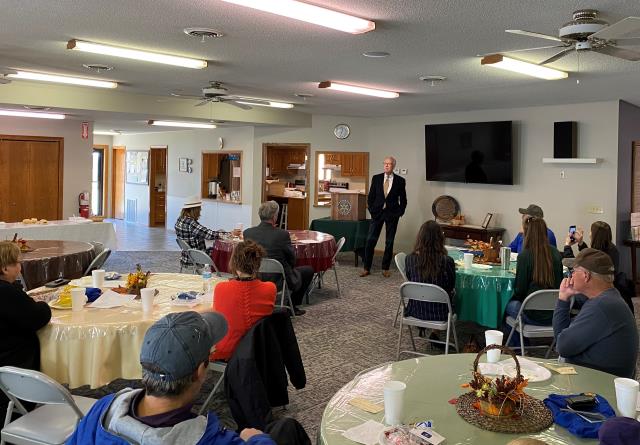 Visiting Linn High School
This week, I visited Linn High School to hear from students and faculty members about the opportunities this school provides and the resources offered to make certain young Kansans have a bright future.
The students I met with impressed me with their knowledge, talent and plans after graduation. Thank you to Principal Jeff Edwards for arranging this visit and to each of these students for an excellent tour.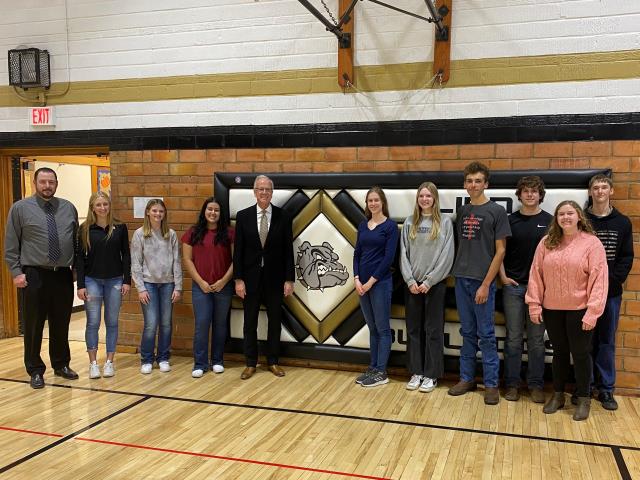 Touring Textron eAviation in Wichita

On Tuesday, I was in Wichita to visit Textron's recently created eAviation division which focuses on sustainable aircraft for urban air mobility, general aviation, cargo and special mission roles. I appreciated the opportunity to learn how Textron is utilizing assets across its aerospace and defense businesses to develop new opportunities and take advantage of its fixed-wing and rotorcraft expertise in emerging technologies.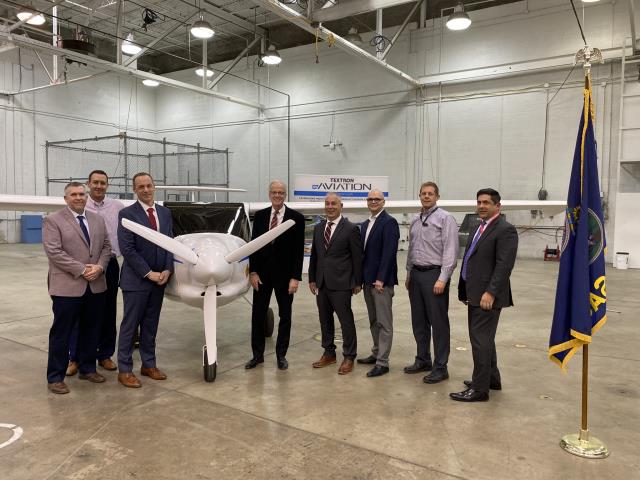 As co-chair of the Senate Aerospace Caucus and a member of the Commerce Committee which oversees civil aviation, I will work to make certain that Wichita and Kansas remain leaders in sustainable air mobility. Thanks to Textron eAviation Chief Executive Officer Rob Scholl and his team for an informative tour and conversation. Special thanks to Textron Chairman Scott Donnelly for bringing this important company mission to Wichita.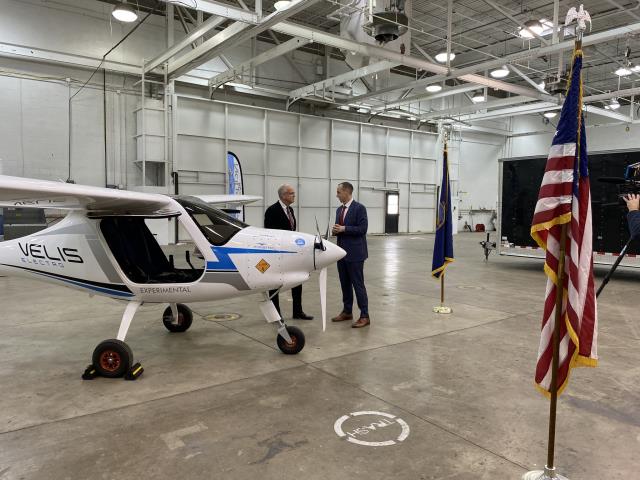 Kansans in the Office

Capitol Tour
Donald Calhoun of Overland Park

Jill Calhoun of Overland Park

Bryson Calhoun of Overland Park

Chuck Grier of Manhattan

Susie Grier of Manhattan

Grayson Grier of Wichita

Craig Horak of Andover

Jessica Horak of Andover

Nicole Horak of Andover

Andrew Horak of Andover

Brynn Horak of Andover

Ruth Horak of Andover

Mark Johnson of Overland Park

Angela Johnson of Overland Park

Dylan Johnson of Overland Park

Tyler Johnson of Overland Park

Trevor McKeeman of Manhattan

Leah McKeeman of Manhattan

Fynn McKeeman of Manhattan

Wyatt McKeeman of Manhattan

Cora McKeeman of Manhattan

Gage McKeeman of Manhattan

Matt Morgan of Overland Park

Amanda Morgan of Overland Park

Drew Morgan of Overland Park

Dylan Morgan of Overland Park

Amy Rose of Leawood

Grace Rose of Leawood

Caroline Rose of Leawood

Carter Rose of Leawood

Jared Rose of Leawood

Kendall Schoenrock of Junction City

Meghan Schoenrock of Junction City

Elizabeth Schoenrock of Junction City

Katherine Schoenrock of Junction City
Newsletter Sign-up Form
Note: Fields marked with an * are required.