Kansas Common Sense
Announcing Federal Resources for Kansas Law Enforcement
As the lead Republican on the Senate Appropriations Subcommittee that provides funding to the Department of Justice, my priority is to make certain law enforcement have the tools and resources they need to protect and serve our local communities.

Wyandotte County Sheriff's Office
In Kansas City, I announced new federal resources I worked to secure for the Wyandotte County Sheriff's Office. These resources will go towards a new force simulator to help train law enforcement in Wyandotte County. Thank you to Police Chief Karl Oakman, Mayor Tyrone Garner, Commissioners Chuck Stites, Tom Burroughs and Christian Ramirez, Assistant County Administrator Bridgette Cobbins and Interim County Administrator Cheryl Harrison-Lee for joining me.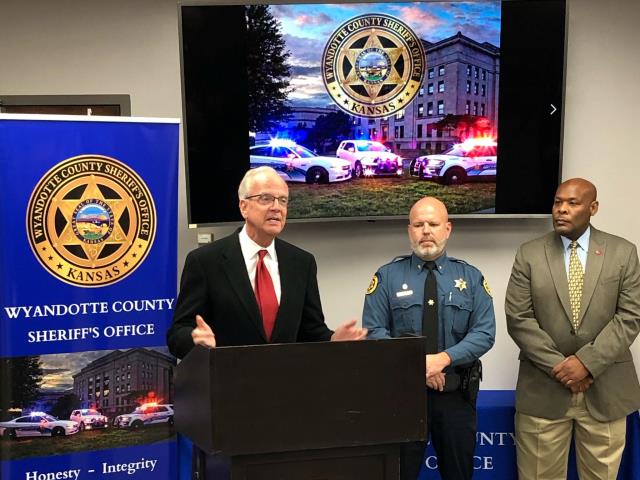 Sedgwick County Sheriff's Office & Wichita Police Department
In Wichita, I announced new federal resources I worked to secure for the Sedgwick County Sheriff's Office and Wichita Police Department. I want to recognize the work of Sheriff Jeff Easter, Interim Chief Troy Livingston and everyone who serves with the Sedgwick County Sheriff's Office and Wichita Police Department.

You can read more from KWCH here.

EPA's Science and Technology Center Will Stay in KCK
While I was in Kansas City, I announced the EPA Science and Technology Center will stay in Kansas City for at least 20 more years. The Science and Technology Center houses the laboratory for EPA Region 7, which has been recognized as the most productive lab in the EPA. This 20-year lease renewal will save taxpayers approximately $1.9 million in rent and utilities per year and keep more than 50 science and tech jobs in Kansas City. Not only is the renewal of this lease key to the city's economic development, it shows the importance of keeping the lab close to the constituents it serves.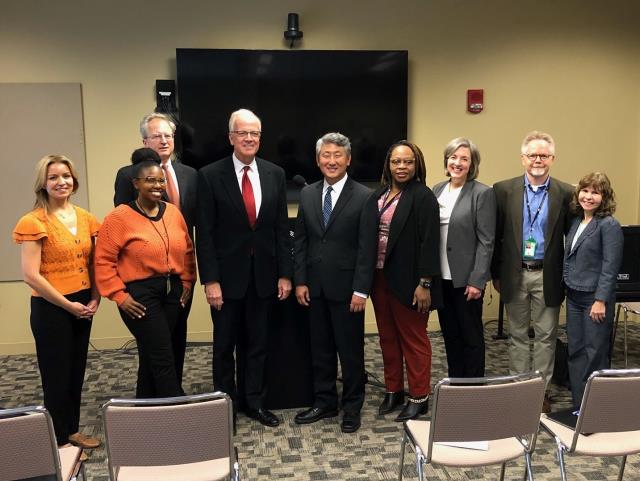 In 2018, I toured the center with then-Acting EPA Administrator Andrew Wheeler to advocate for keeping the lab in Kansas. Due to the expense of keeping regional labs open, the General Services Administration was considering moving or consolidating the lab center into another state's facility. The EPA's Science and Technology Lab is a source of high-quality jobs for the Kansas City and Wyandotte County communities. Renewing this lease will make certain the work being done at the lab to promote clean air and drinking water for Kansas communities continues, while also bolstering the Kansas City economy. I want to recognize the hard work of those who fought to keep this facility here, from local stakeholders to city and state officials, and I appreciate the EPA's commitment to Kansas City.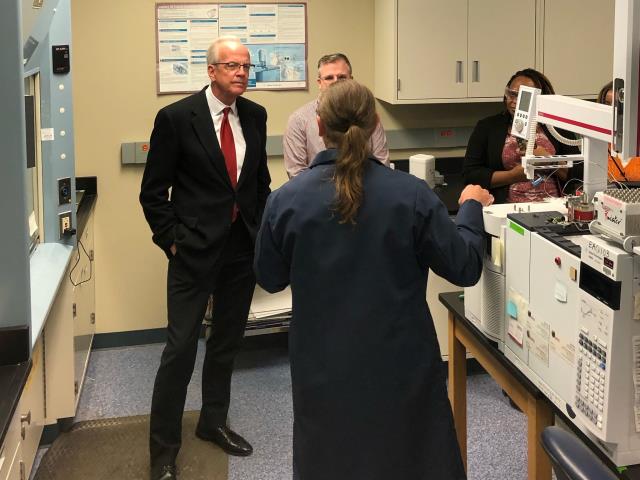 Honoring WWII Veterans in Plainville
On Sunday, I was in my hometown of Plainville to present WWII veterans Richard Cherry and William Wilson with flags flown over the U.S. Capitol in their honor and in recognition of their service to our country. There is no group of Americans I hold in higher regard than our nation's veterans, and I want to express my gratitude to Richard and William for the sacrifices they made to protect and defend our nation.
Thank you to American Legion Post 187 Commander Gary Hicks for his assistance in planning this event. Thank you as well to the family members of Richard and William who were in attendance, Reverend Dennis Irwin from the Plainville United Methodist Church and the staff of Redbud Village Nursing Care.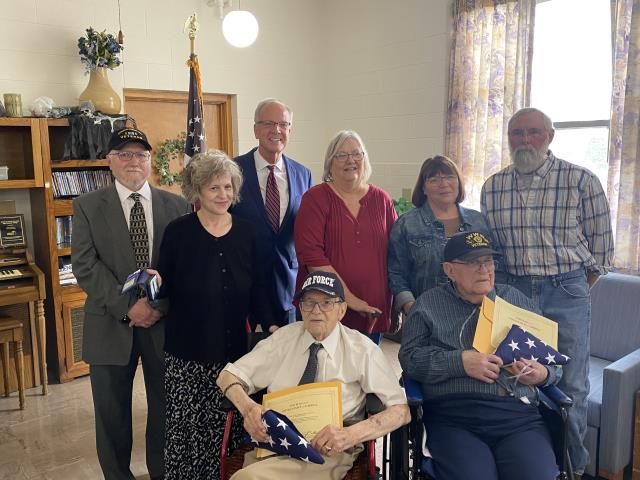 Visiting Boys & Girls Clubs of Topeka
One of the highlights of my week was visiting with students at the Boys & Girls Clubs of Topeka. This organization plays a key role in helping children in the community succeed and reach their full potential. During my visit, I appreciated the chance to hear how the staff and volunteers are equipping and empowering the next generation of young Kansans. Thank you to Dawn McWilliams, CEO of the Boys & Girls Clubs of Topeka, for hosting me and for her work to prepare these children for a bright future ahead.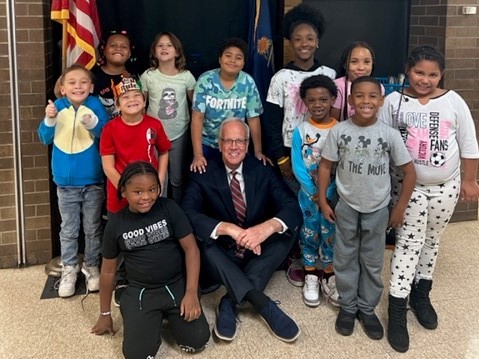 Breaking Ground for the Kansas National Guard's New Headquarters

In Topeka, I attended the groundbreaking ceremony for the new Kansas National Guard Joint Forces Headquarters Building. As a member of the Senate Appropriations Subcommittee on Defense, I secured more than $17 million to construct this important facility which will manage command and control capabilities for the National Guard across Kansas. When complete, this modern headquarters building will increase the Kansas National Guard's ability to respond to threats at home and abroad and to further this important collaboration with communities in Kansas.
The Kansas National Guard is essential in defending our country, and the continued investment by the Department of Defense is a testament to the critical role that Kansans play in defense of our country. The National Guard is uniquely positioned to facilitate collaboration between stakeholders at the federal, state and local level. This headquarters in Kansas is a prime example of the National Guard leveraging its resources to help the state and local community better share information and understand threats.
I want to thank Major General Dave Weishaar, the Kansas National Guard Adjutant General, for his leadership on this important project. Thank you as well to all who serve in the Kansas National Guard and to everyone who attended this important event.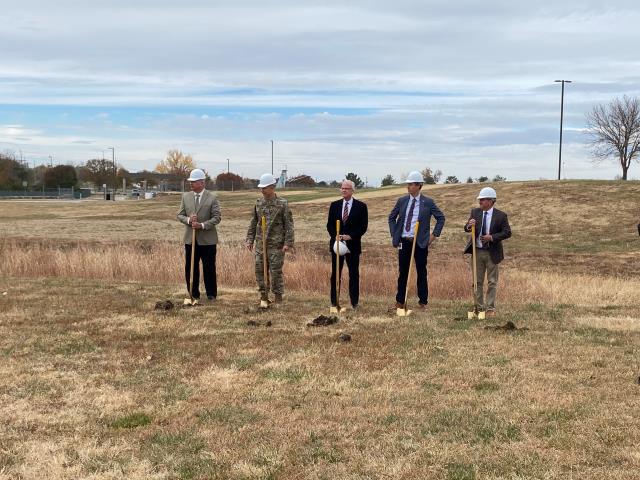 Grand Opening of North Central Kansas Medical Center in Concordia
On Friday, I joined local leaders to celebrate the grand opening of the North Central Kansas Medical Center in Concordia. This new state-of-the-art facility continues the mission Cloud County Health Center began when it was established in 1903: reaching out to serve others and delivering care to the county. The opening of this center is a testament to the perseverance of Cloud County Health Center and Salina Regional Health Center and to the strength of their partnership.
The opening of this facility is a significant step towards expanding quality care across Kansas and will better serve residents in the area. This collaboration is an example of what local partnerships can achieve and how they can preserve access to health care services. I want to thank Phil Gilliland, President of the Hospital Board of Trustees; Dave Garnas, Hospital Administrator; and Joel Phelps, CEO of Salina Regional Health Center, for their leadership in providing quality care to Kansans.
Touring Common Ground Producers and Growers in Wichita
I toured Common Ground Producers and Growers, located at a 54-year-old farmstead purchased by the parents of Donna Pearson McClish, founder of Common Ground, and her brother, David, who is a farm manager. Common Ground is a mobile farmers' market that delivers produce to areas in and near Wichita where fresh fruits and vegetables are hard to find.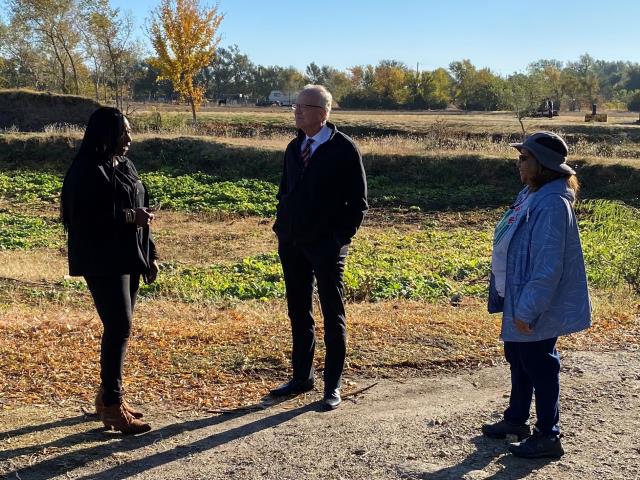 As co-chair of the Senate Hunger Caucus, I am committed to facilitating partnerships that will result in healthy Kansas communities and will reduce hunger across our state and throughout the world. During this visit, I appreciated the chance to see firsthand the work done by Common Ground to reduce food deserts in Wichita and to increase access to healthy food for the local community.
It was great to speak with Pat Randles, a grower for Common Ground, and Sabrina Rosario of Kansas Wesleyan University. The university plans to scale up a regenerative agriculture program focused on conservation and responsible utilization of natural resources in farming. Special thanks to Donna and her team for hosting me, as well as Wichita Mayor Brandon Whipple and Kansas Farmers Union President Donn Teske for joining.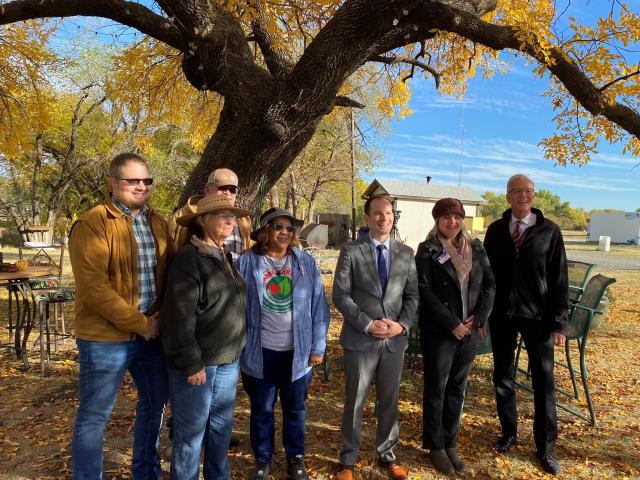 Meeting with Kansas State University Leadership
I met with Kansas State University President Richard Linton and Vice President for Research Dr. David Rosowsky to discuss the future of K-State and their work to train and prepare our next generation of leaders. We also discussed the progress being made to construct the new Global Center for Grain and Food Innovation on campus, a facility that will educate students on the importance of agriculture to feed the world.

As a member of the Senate Appropriations Subcommittee on Agriculture, I am committed to facilitating partnerships to advance our state's role in global food and grain research and production. I want to thank President Linton and Dr. Rosowsky for their leadership in this mission and their efforts to invest in our state's young people and to encourage them to plant their roots right here in Kansas.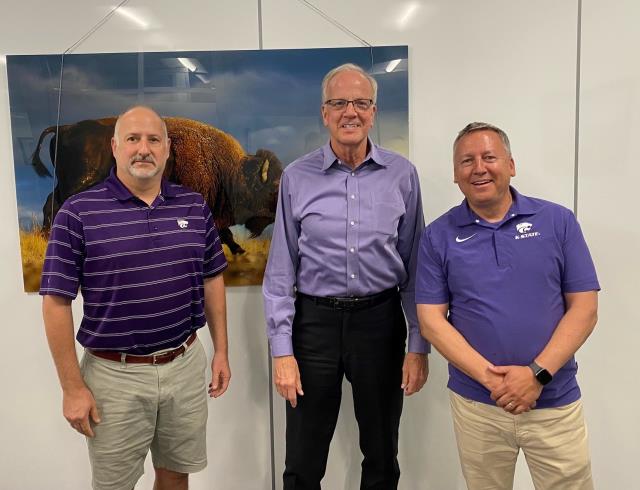 Speaking to Park City Chamber of Commerce
On Wednesday, I spoke to members of the Park City Chamber of Commerce during their membership luncheon. During the meeting we discussed a variety of topics including manufacturing and economic development opportunities in South Central Kansas, the challenges Kansans are facing with rising inflation, the importance of energy independence and border and international security – particularly with Russia and China.
I want to thank Chamber Chair Jamie Hickok and the other members of the Park City Chamber for their warm welcome and for the work they do to benefit the local community. Special thanks to John Todd for the invitation and State Representative Emil Bergquist for the introduction. Thank you as well to Park City Mayor John Lehnherr, City Council members Jim Schroeder, Brandi Baily and Tom Jones and State Senator Carolyn McGinn for joining.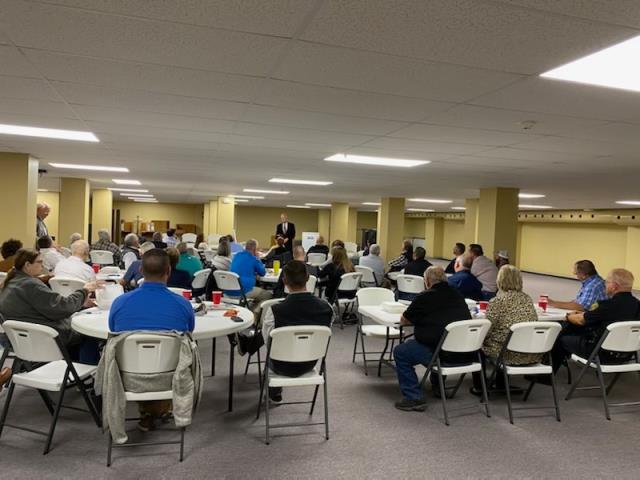 Touring Manhattan Area Technical College
On Friday morning, I visited Manhattan Area Technical College (MATC). MATC is instrumental not only in educating students for the careers of today and tomorrow, but also plays a key role in the economic development of the Flint Hills and Manhattan region. During my visit, I toured the labs and classrooms on campus where students learn hands-on technical skills. When students leave MATC they take with them certificates, degrees and industry credentials that are in high demand and prepare them for success as they join the workforce.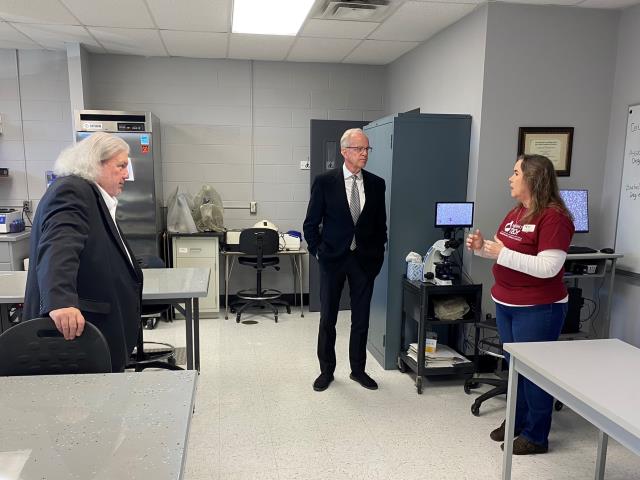 What happens at MATC greatly influences the success of our state, and MATC has important relationships with area institutions and schools. I want to congratulate James Genandt, MATC President and CEO, and the Board on their upcoming groundbreaking of Phase 1 of the Advanced Technology Center. Thank you also to Manhattan Area Chamber of Commerce CEO Jason Smith for attending.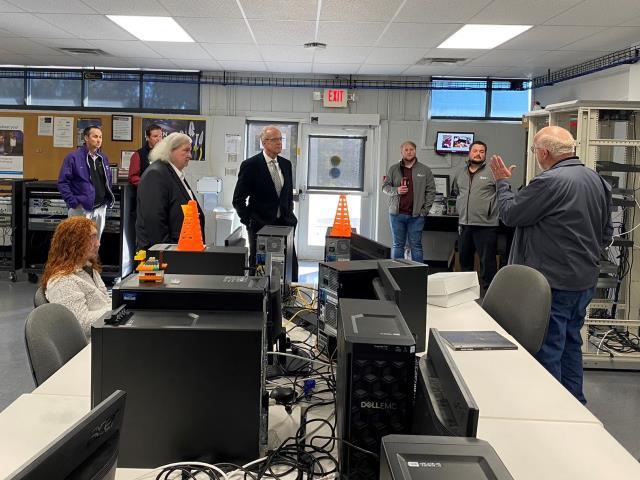 Meeting with Leadership of USDA Rural Development Office in Topeka
On Monday, I was at the USDA Rural Development state office in Topeka to receive an update on the assistance and services this location offers to rural communities across the state. Over the years, the USDA has built a reputation for being a strong constituent-focused federal agency. The USDA has built and maintained this reputation by staying connected to rural America through its workforce spread across the country, including this location in Topeka. Thank you to Community Programs Director Dan Fischer and Public Information Officer Allen Pickert for providing an update.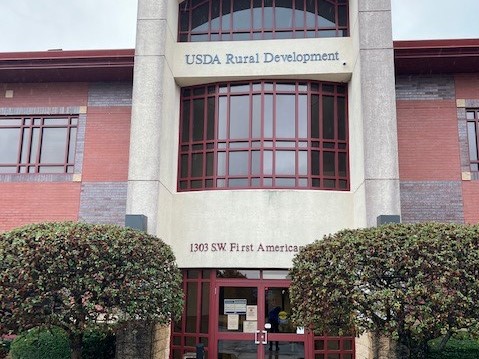 Visiting New Building Blocks Child Care Center Facility
While I was in Topeka, I also toured Stormont Vail's new Building Blocks Child Care Center facility in Topeka to see the progress on this new center and to receive an update on the efforts to provide a safe, educational environment for children in the Topeka area. This expansion is a part of Stormont Vail's workforce development initiative and will eventually be able to care for 300 children when it opens. I want to thank Dr. Robert Kenagy, President and CEO of Stormont Vail, for hosting me on this tour and for his leadership in making certain Kansans in the area have access to quality care.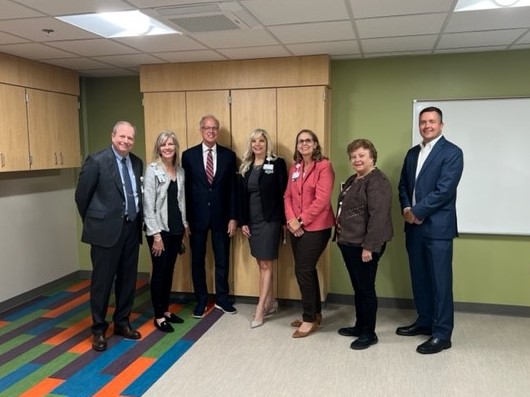 Visiting Kansas High Schools
Manhattan High School
This week, I had the opportunity to be the guest speaker during Kent Hildebrand's U.S. History classes at Manhattan High School. Thank you to Kent for hosting, student Lucas Holdren for the invitation and to each of these students for their desire to learn about public service.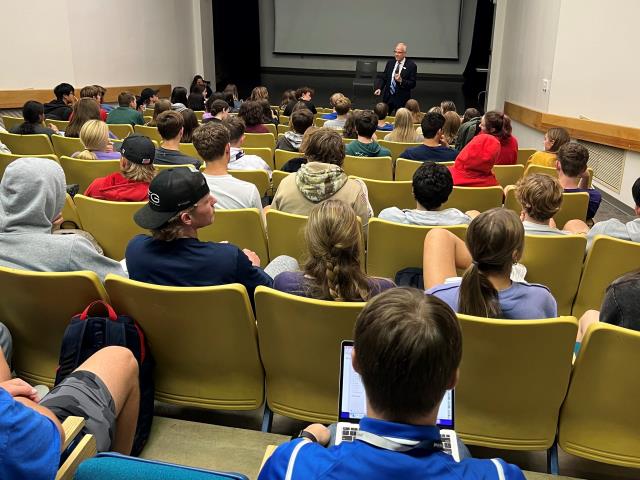 El Dorado High School
I enjoyed the chance to visit El Dorado High School this week as well. Special thanks to students Abigail Meese, Gibson Baker and Jalen Rice for visiting with me and for sharing what they are learning. Thank you to Principal Erin Nichols and Superintendent Miles Harvey for the warm welcome.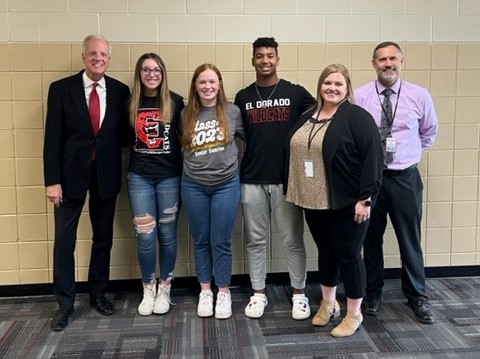 Clay Center Community High School
This week, I also visited Clay Center Community High School to speak with students and faculty there. It was great to hear from these young Kansans about the subjects they are studying and their future plans. Thank you to Principal Bud Young for the tour and to the students who spoke with me during the visit.




Beloit Community Visit
It was great to visit Beloit on Friday to tour local businesses in the community and visit with residents during my stops at the First Bank of Beloit; Noah Law Office; S&S Pharmacy; The Waconda Trader, an advertising agency in town; and The Kettle, a coffee shop. I always appreciate the chance to see firsthand the businesses across Kansas and how their work maintains our small towns as great places to live and raise families. I want to offer a special thanks to Hannah Bowers, Director of the Beloit Area Chamber of Commerce, for her warm welcome and for the tour of downtown Beloit during my visit.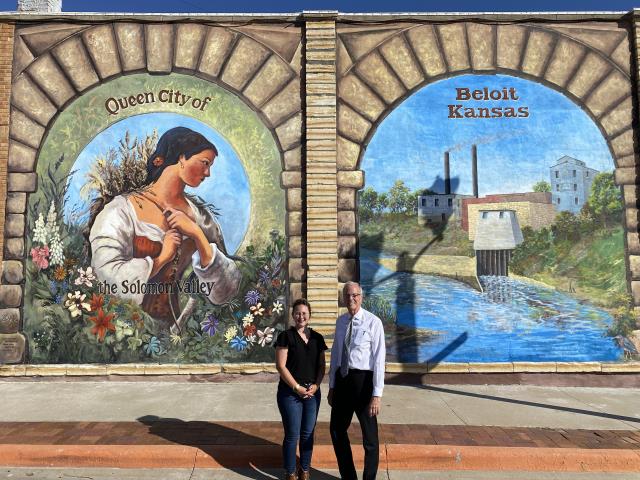 98th Annual Eskridge Fall Festival Parade
Enjoyed seeing friends and meeting new people at the 98th Annual Eskridge Fall Festival Parade on Saturday. Special thanks to Paul and Jenny Schutter for joining me.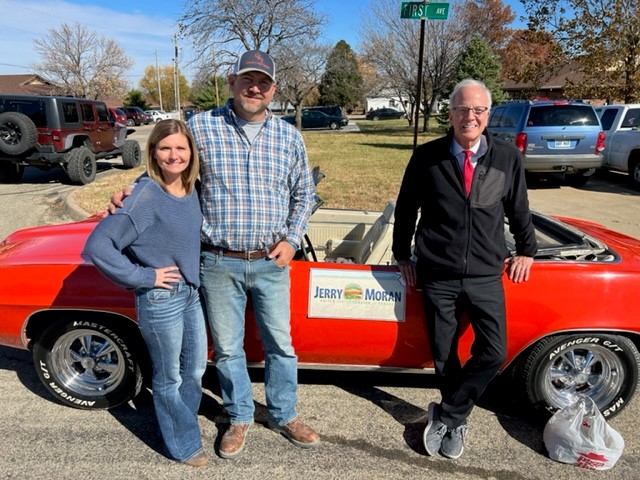 Traveling Across Kansas
It was good to be on the road in Kansas this week. Helpful rains in places in Kansas that are desperate and a sunset to come home to.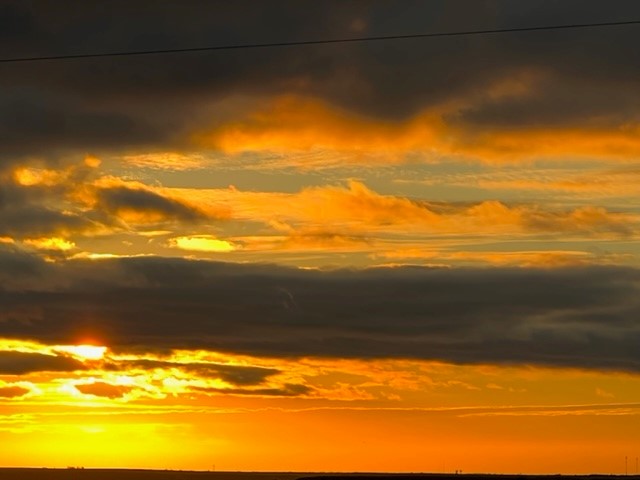 And I hit 200,000 miles on my truck this week!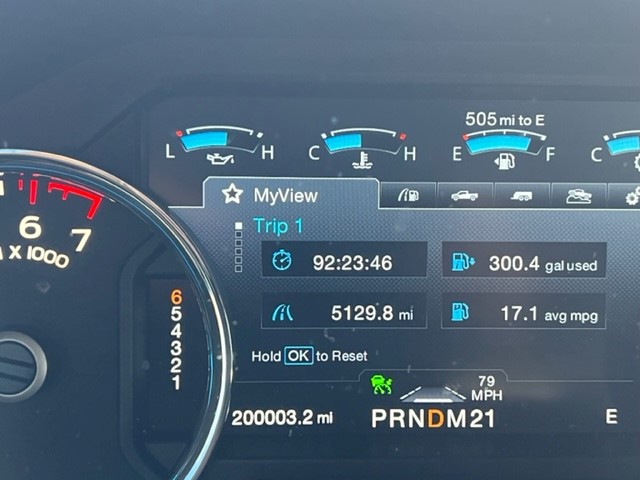 Kansans in the Office

Capitol Tour
Luba Burchett of Shawnee

Devin Burchett of Shawnee

Jase Burchett of Shawnee

Brandon Burchett of Shawnee

Gay Capito of Overland Park

Mike Capito of Overland Park

Travis Kramer of Leawood

Sara Kramer of Leawood

Elle Kramer of Leawood

Philip Krause of Kansas City

Renae Krause of Kansas City

Mickey Parker of Lenexa

Becky Parker of Lenexa

Eric Raine of Leawood

Sara Raine of Leawood

Eliza Raine of Leawood

Calvin Raine of Leawood

Kansas Municipal Utilities, Kansas Power Tool, Kansas Municipal Energy Agency
Colin Hansen of Wichita

Brad Mears of McPherson

Paul Mahlberg of Overland Park

Kimberly Svaty of Topeka
Newsletter Sign-up Form
Note: Fields marked with an * are required.