Kansas Common Sense
Speaking at Grand Marshal's Reception in Liberal
On Monday evening, I joined members of the Liberal community to celebrate the 74th year of the International Pancake Day Race. This friendly competition between Olney, England, and Liberal, Kansas, is an event I have attended since well before my time in Congress. These local festivities are great examples of the many things that make the places we call home special.

During this celebration, I was pleased to congratulate Charles Posl on his induction into the Pancake Hall of Fame, as well as to honor 2023 Grand Marshal Tim Fowler. Thank you to Gary Classen, Mike Brack, Sally Fuller and the entire Pancake Day Board. I also appreciated the opportunity to visit with State Treasurer Steven Johnson, Mayor Jose Lara, County Commissioner Scott Carr, City Manager Rusty Varnado, County Administrator April Warden, City Commissioners Janeth Vazques and Jeff Parsons, County Commissioner Presephoni Fuller, Chamber of Commerce Director Rozelle Webb and Joe Denoyer.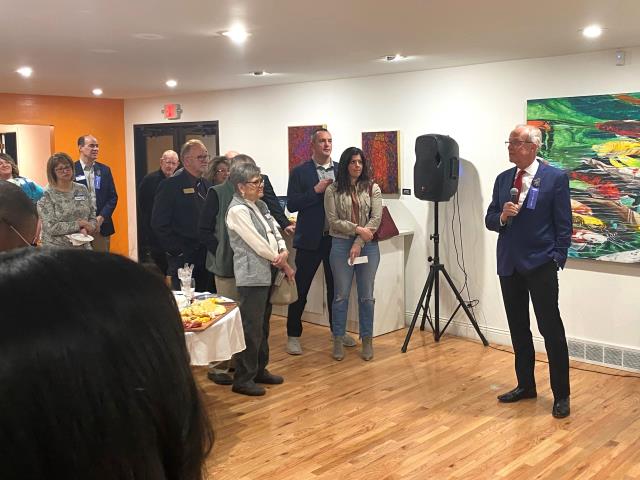 Visiting Stormont Vail Health - Flint Hills Campus
It was great to visit Stormont Vail Health - Flint Hills Campus in Junction City this week to tour the hospital and speak with staff and community leaders about the important work being done in the surrounding community by this health center, formerly known as Geary County Community Hospital. Health care access close to home is essential to quality of life and the ability to attract and retain workers, families and retirees.

During this visit, we also discussed the importance of the ICU unit and the trust the hospital is looking to build with the community as providers and staff seek to deliver the best care possible to each and every patient. Thank you to Vice President & Interim Administrator Deb Yocum for this tour.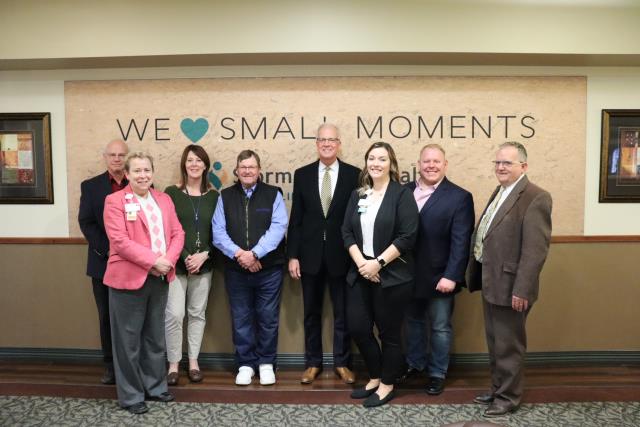 Great Bend Police Department
On Monday, I was in Great Bend to join Police Chief Steve Haulmark and community leaders for the announcement of a federal investment to support the Great Bend Police Department. As the lead Republican on the Senate Appropriations Subcommittee on Commerce, Justice, Science (CJS) and Related Agencies, I am committed to providing support and resources for our law enforcement so they can carry out their mission of protecting our communities and safely return home to their families at the end of their shifts.

You can read more from the Great Bend Post here.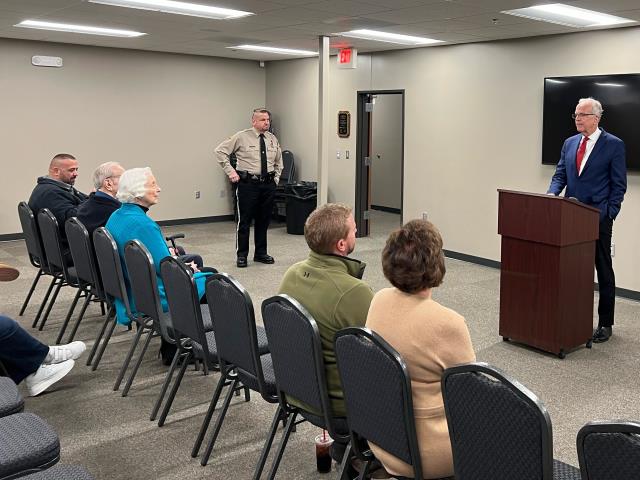 Visiting Great Bend High School
While in Great Bend, I enjoyed the chance to stop by Great Bend High School to visit with students and faculty. It was great to speak with students and to hear about the excitement they have for future growth and opportunities. Thank you to Principal Tim Friess for hosting me for this visit.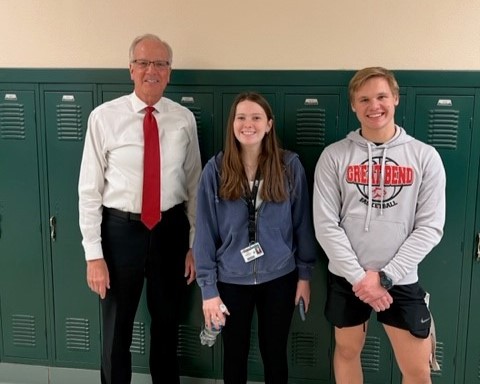 Dodge City Community College
This week, I also visited Dodge City Community College to announce a $500,000 federal investment for the school to develop an Industrial Maintenance Program.

This program will provide valuable new opportunities to educate students in high-demand fields and to support industrial growth in the region. Dodge City Community College and its partners are doing great work to train a skilled workforce in the community and to prepare students for future success. Through this program, students will be set up for success with employers like National Beef and Cargill after graduation.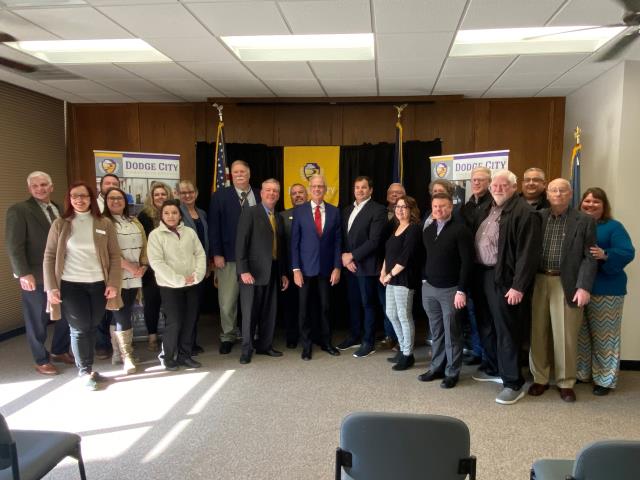 Calling on Administration to Address Ongoing Visa Processing Delays
As co-chair of the Senate Travel and Tourism Caucus, I joined fellow co-chair Senator Amy Klobuchar and a bipartisan group of our colleagues in calling on the Biden administration to address the ongoing delays in visa processing. Currently, the average wait time for an appointment at a U.S. consulate for a visitor visa is 25 weeks, but these times vary by consulate, with some waiting periods extending beyond 200 days.

In a letter to Assistant Secretary of State for Consular Affairs Rena Bitter, we highlighted how these delays are negatively affecting tourism in addition to businesses and universities who rely on temporary visas for their employees and students.

You can read the full letter here. You can read more from WIBW here.

Expanding Veterans' Access to Assisted Living Services
As lead Republican of the Senate Veterans' Affairs Committee, I joined my colleagues in introducing the Expanding Veterans' Options for Long Term Care Act. This legislation is a commonsense approach to expand veterans' access to assisted living services at a time when our country is facing a seismic demographic shift where we will see a growing demand by older Americans and veterans for assisted living and other long-term care options.

Giving veterans more long-term care options is vital given the exponential rise in the need for care services with 10,000 Americans reaching the age of 70 each day. Assisted living communities are home to two million seniors, 42% of which are veterans or their spouses. However, the current VA prohibition on paying for assisted living room-and-board fees means many low-income veterans who participate in federal assistance programs have to pay for almost all assisted living costs out of pocket. The Expanding Veterans' Options for Long Term Care Act is a valuable first step to address this problem.

Increasing Ability for Students to Earn College Credit Through Apprenticeships
I introduced the Apprenticeships to College Act with my colleague Sen. Amy Klobuchar in order to increase the ability of students to earn college credits through apprenticeships. The legislation formally codifies a partnership between the Department of Labor (DOL) and the Department of Education (ED) that helps facilitate cooperation between apprenticeship programs and higher education institutions.

Apprenticeships provide young people with the necessary skills and experience to help ensure their success in well-paying, high-demand careers following graduation. Providing college credit to students for completed apprenticeships gives them valuable opportunities to learn and helps to meet critical workforce demands in Kansas and across the country.

Kansans in the Office

Capitol Tour
Joshua Hydeman of Shawnee

Heidi Hydeman of Shawnee

Andrew Hydeman of Shawnee

Colton Hydeman of Shawnee

Hope Hydeman of Shawnee

Daniel Lewien of Topeka

Laura Lewien of Topeka

John Parker of McPherson

Teffany Parker of McPherson

Kedric Elmore of Manhattan

Jessica Elmore of Manhattan

Jason Bruce of McPherson

Kala Bruce of McPherson

National Down Syndrome Congress
Jawanda Mast of Olathe

University of Kansas
Dr. Simon Atkinson of Lawrence

Kyle Christian of Lawrence

Kansas Wheat
Ron Suppes of Dighton

Express Employment Professionals
Hannah Curtis of Shawnee

Trevor Curtis of Dodge City

Levi Lulian of Dodge City

Diana Ramirez of Topeka
Newsletter Sign-up Form
Note: Fields marked with an * are required.