Kansas Common Sense
Welcome to "Kansas Common Sense." Thanks for your continued interest in receiving my weekly newsletter. Please feel free to forward it on to your family and friends if it would interest them.
Celebrating 161 Years of Kansas
Home, home on the range.
On Saturday, Kansas celebrated its 161st year. Happy birthday, Kansas!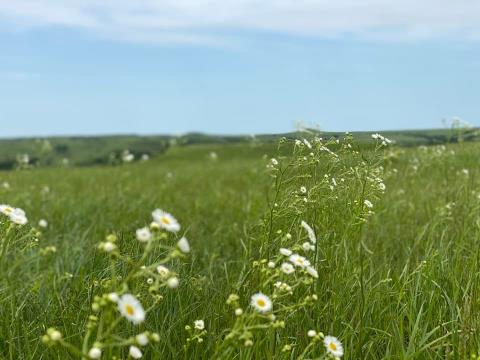 Urging President Biden to Make a Disaster Declaration for Kansas Following Severe Wind Storm and Fires
On Wednesday, I led the Kansas Congressional delegation – Sen. Roger Marshall and Representatives Tracey Mann, Jake LaTurner, Sharice Davids and Ron Estes – in urging President Biden to make a disaster declaration for the State of Kansas following December's severe wind storm and fires after the Kansas Division of Emergency Management formally submitted the request for federal support this week.

This storm caused wind gusts up to 100 miles per hour, severely damaged our state's infrastructure, and impacted our livelihoods. The damage caused by this severe weather will have long-lasting effects on the people of Kansas and its economy. Federal support must be quickly made available to equip our state and local governments with the resources necessary to respond to the devastation caused from these severe storms. The full letter can be found here.
The National Liver Allocation Policy is Biased, Partial and Unjust
The national liver allocation policy is the difference between life and death for our family and neighbors needing an organ transplant. It must be fair no matter where you live or who you are.

Senator Roy Blunt and I have repeatedly sounded the alarm on this unfair policy, and this week we led our Senate colleagues in urging Health and Human Services (HHS) Secretary Xavier Becerra to reverse the flawed national liver distribution policy, which is disproportionately harmful to patients living in the Midwest and South. These emails show, without a shadow of a doubt, that the liver allocation decision was fundamentally flawed, and the body charged with carrying it out is systematically broken. The full letter can be found here.
Urging Leaders to Meet Global Hunger Needs
This week, I led an effort with 15 of my Senate colleagues urging Secretary of Agriculture Tom Vilsack and USAID Administrator Samantha Power to immediately release resources held in the Bill Emerson Humanitarian Trust (BEHT) to purchase and donate U.S.-grown commodities to help address the ongoing global hunger crisis.

The BEHT is a tool that may be used when Food for Peace Title II funds are insufficient to meet global emergency needs in a given year. Today, approximately 45 million people are teetering on the brink of famine across 43 countries. In Afghanistan alone, more than half of the population, or nearly 23 million people, face acute hunger and nearly three million children face malnutrition. Reducing hunger in the world is not only the right thing to do, but it also helps our country by providing a market for our farmers and promoting peace and stability in the world. As a co-chair of the Senate Hunger Caucus, I will continue to urge leaders to use every tool at their disposal to combat global hunger. The full letter can be found here.
Touring Novocast's Newly-Opened Security Operations Center in Wichita
On Friday, I visited Novacoast's newly-opened Security Operations Center and offices in Wichita. I was pleased to be able to help announce Novacoast's decision to invest in Kansas nearly a year ago, and I'm pleased to see how this expansion will be mutually beneficial for their operations, the Greater Wichita Partnership and the Kansas Department of Commerce. As an international cybersecurity company, Novacoast's partnership with Wichita's military and cyber workforce, as well as its educational institutions, make this expansion a great next step for their business.

Additionally, Novacoast will offer cybersecurity certification classes for students with disabilities or low vision, and these certifications will allow students to have a unique advantage when applying for jobs, working to provide job placement assistance, resume writing and mock interviews.

Thank you to Novacoast CEO Paul Anderson for the invitation and for choosing to invest in Wichita and South Central Kansas. Thank you to Adrienne Korson for leading the Greater Wichita Partnership's successful campaign to recruit Novacoast to help increase the region's cyber security footprint, and to Sedgwick County Commissioner Pete Meitzner, Wichita Mayor Brandon Whipple and Kansas Department of Commerce Chief Strategy Officer Trent Armbrust for joining me. Click here or below to learn more about my visit.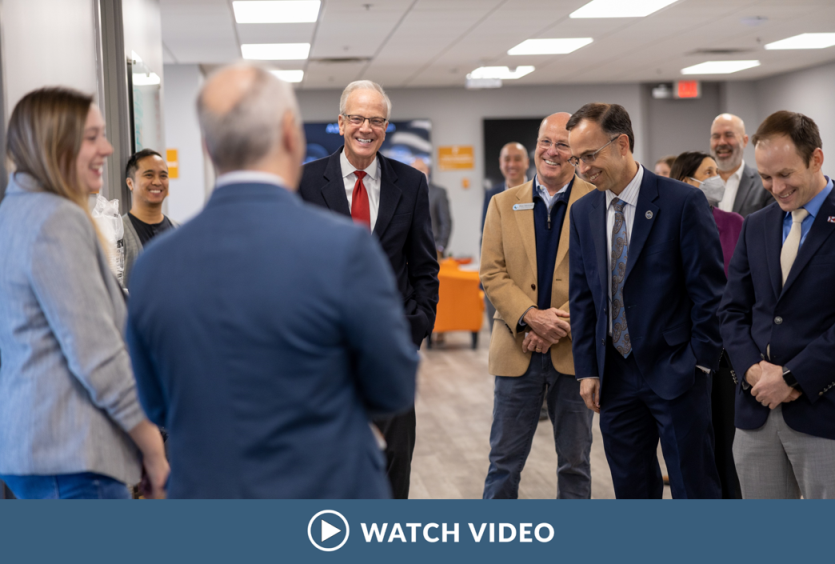 Increased U.S. Energy Production is Good for Americans and Our Allies
U.S. energy production is good for Americans and our allies. When the EU is reluctant to join us in our efforts to effectively deter Vladimir Putin due to their dependency on Russian energy, the Biden administration must realize the importance of U.S. energy production. The Biden administration needs to shift course and promote policies that produce more U.S. energy to not only support Americans – especially as consumers are hurting from the prices at the gas pump – but also our allies. Read more from Reuters here.
Raising Concerns with New Broadband Rule
This week, I raised concerns with Treasury Secretary Janet Yellen regarding the recently-announced final rule for broadband infrastructure funding through the Coronavirus State and Local Recovery Funds and urged the secretary to ensure broadband funding focuses on unserved areas throughout the country.

The authority provided by Congress to Treasury to make investments in broadband infrastructure was born out of the challenges posed by the pandemic, when much of daily life was forced online and when consumers lacking internet access faced even greater economic and personal hardship. Because of the importance of addressing these needs, we are profoundly disappointed that Treasury's final rule lacks the proper guidance and constraints needed to ensure that federal funds are used efficiently and for their intended purpose. As history has demonstrated, absent such constraint, there remains a significant risk that taxpayer money will be wasted in areas where broadband infrastructure already exists and those without access to quality broadband service will not receive the full measure of needed assistance. The full letter can be found here.
Speaking with Transportation Secretary Buttigieg
This week, I spoke over the phone with Department of Transportation Secretary Pete Buttigieg and welcomed him to Kansas. We discussed the importance of preserving long-distance rail and restoring Amtrak to daily service as soon as possible. Long-distance passenger service routes like the Southwest Chief are essential for connecting rural Kansas communities to major cities and economic opportunities. As a member of the Commerce, Science and Transportation Committee, I help make certain that the authorization of funding for the Southwest Chief and other long-distance routes can preserve daily service. I look forward to continued conversations with Secretary Buttigieg as long-distance routes return to daily service.
Discussing Challenges with Kansas Nurses and Doctors
I visited Susan B. Allen (SBA) Memorial Hospital in El Dorado on Thursday where I spoke with CEO Leonard Hernandez, along with physicians, nurses and hospital volunteers. SBA Memorial – like hospitals across the state and country as a result of COVID-19 – continues to struggle with extreme staffing shortages and health care worker burnout. Kansans' access to quality health care services often determines whether they can remain in the communities they call home. As a member of the Senate Health, Education, Labor and Pensions Committee, discussions with Kansans help me understand how providers utilize resources to care for their patients and is incredibly valuable to ensure my work in Washington best serves Kansans, especially rural Kansans and their access to care.

SBA Memorial has partnered with FreeState Healthcare to explore solutions in health care delivery, maintaining their current services while looking into opportunities to expand their reach within their rural community. Expansion like this partnership is only possible because of the dedication of the hospital staff. The staffing shortages caused by the omicron variant have increased the pressure on Kansas health care workers. Whether treating a COVID-19 patient or simply administering a flu shot, the doctors and nurses at SBA Memorial are continuing to provide unwavering quality care to Kansans. Thank you to hospital CEO Leonard Hernandez for his leadership and to all the staff who visited with me. I greatly appreciated your time and all you do to take care of Kansans.
Read more about my visit from KAKE here.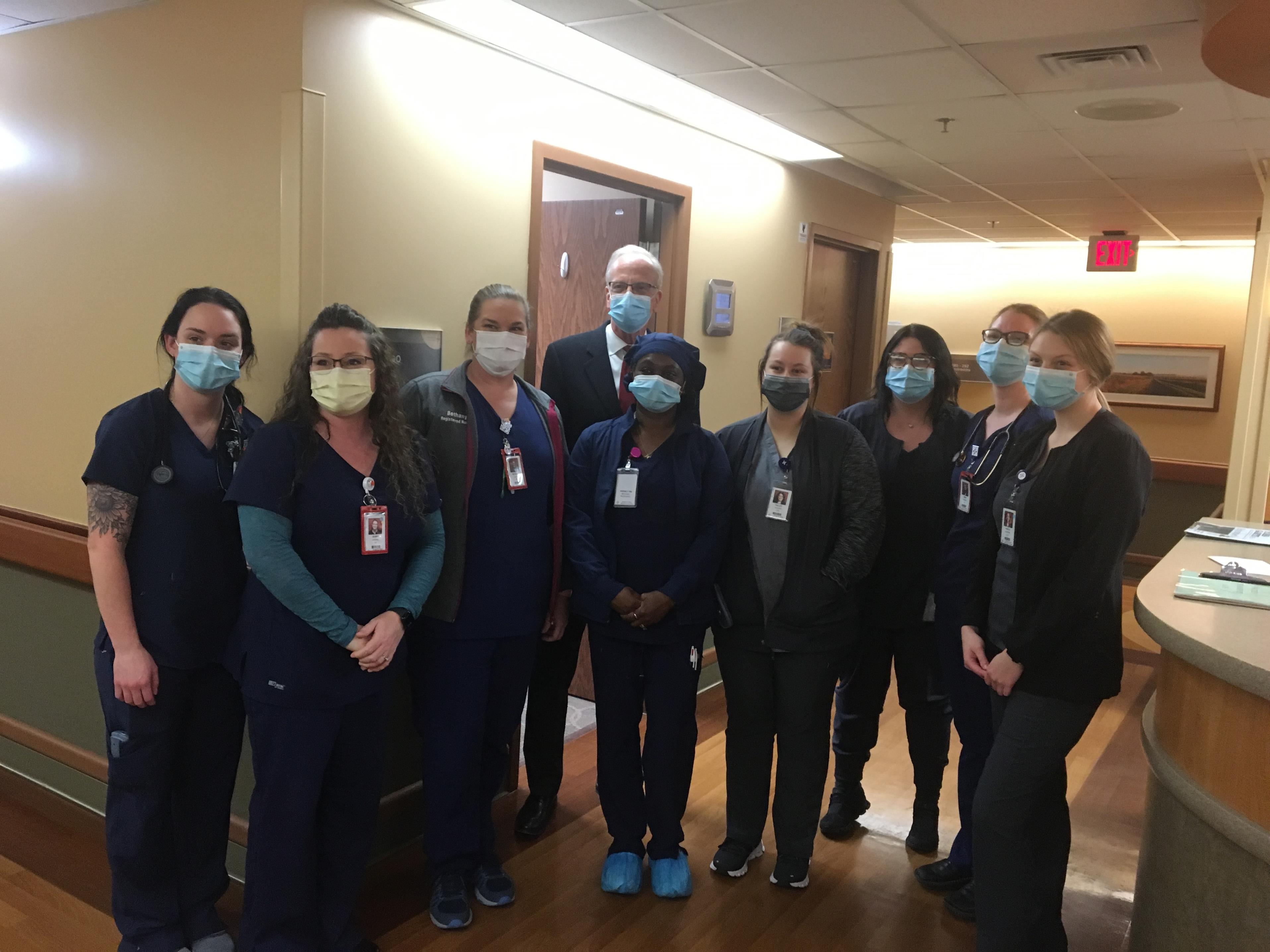 Kansas Commodity Classic
On Friday, I was pleased to speak at the Kansas Commodity Classic in Salina. The Kansas corn, grain sorghum, soybean and wheat growers associations come together each January to get ag, weather, trade and federal updates, and I was pleased to visit with those in attendance. Discussions and conversations with Kansas commodity groups like these help me best serve their needs in Washington, D.C. As a member of the Senate Agriculture Appropriations Subcommittee with jurisdiction over USDA, I will continue to advocate for programs that are committed to America's leadership in agriculture and best serve Kansas' farmers as they compete in a global market.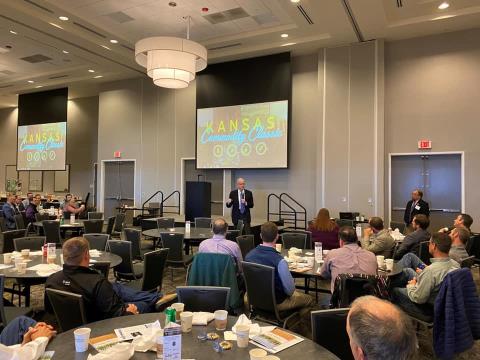 Attending KFB's Young Farmers and Ranchers Conference
Farming and ranching are one of the few professions left where children and grandchildren have the ability to work alongside their parents and grandparents. It's a special way of life that is closely tied to Kansas and with the farmers and ranchers across our state. On Saturday, I was pleased to attend Kansas Farm Bureau's Young Farmers and Ranchers Conference in Manhattan.

Held annually, this conference brings together the future of agriculture from across our state for leadership and development training, and I appreciated hearing from the future stewards of Kansas – your contributions are vital to the success of our state. Thank you to Caleb Dechant, Adam Duell, Blaine Sederstrom and Michael Leonard, and to all those who spoke with me.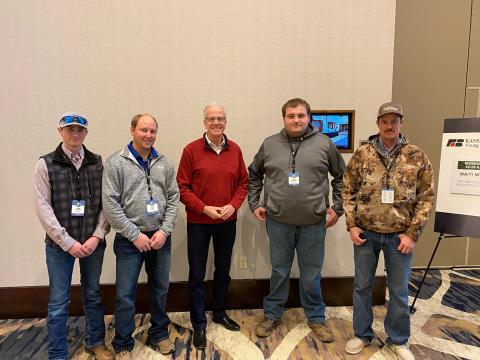 Recognizing Riley County Police Department Director Dennis Butler
On Friday, I spoke at the retirement reception for the Riley County Police Department Director Dennis Butler. Over his nearly 50-year career in law enforcement, Director Butler has exemplified what it means to be a law enforcement professional. He has worked to not only protect his community but advocate for it. Director Butler fully understands the trust that the community has given him and his department, and he has worked tirelessly to maintain that trust.

Director Butler began his law enforcement career with the Alexandria, Virginia PD where he served for more than two decades. He then became the Chief of Police for the City of Ottawa, where he served until 2018. During his tenure as Ottawa's police chief, he worked to combat domestic violence. He continued that work by serving on the KBI Sexual Assault Kit Back-log Initiative, and in 2007, he received the Fifth Annual Crime Victims' Service Award in recognition of Outstanding Service in Law Enforcement.

I thank Director Butler for his service and sacrifice, and I congratulate him on his retirement. This celebration also gave me the chance to speak with members of the Kansas Highway Patrol, FBI and U.S. Marshals Service, and I thank them for visiting with me.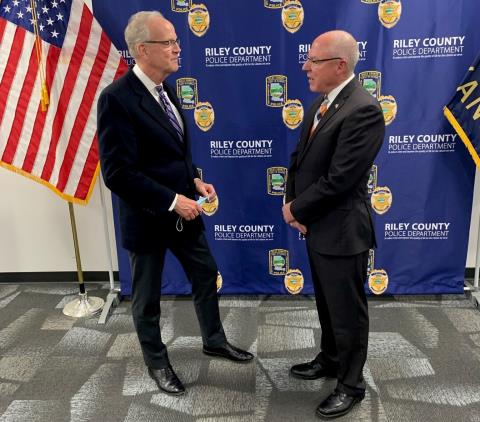 Visiting with High School Students and Teachers
This week, I was pleased to visit with students and faculty around Kansas. I appreciate all that our educators have done over the last year to ensure students can come to class and learn side-by-side with their peers. Decisions about education are best made close to home, and I appreciate the time Kansas' educators take out of their schedules to speak with me – they foster the future of Kansas.

Ellsworth Junior Senior High School
Thank you to student leaders Natalie and Nicole, and to Principal Ken Windholz.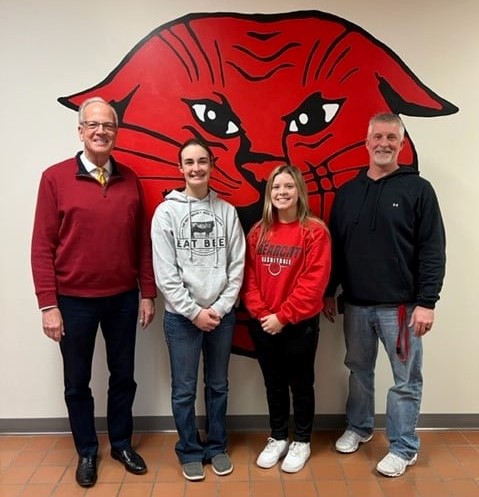 Ell-Saline Junior Senior High School
Thank you to student leaders Jonathan, Lani, Keala and Laura, as well as Principal Doug and the Ell-Saline Faculty. It was also a pleasant surprise to run into a familiar face, Heath Patrick, an Ell-Saline graduate and my 2006 West Point nominee, during my visit!




Eureka Junior Senior High School
Thank you to student leaders London, Alyssa, Emma and Kate, and to Principal Sean Spoonts.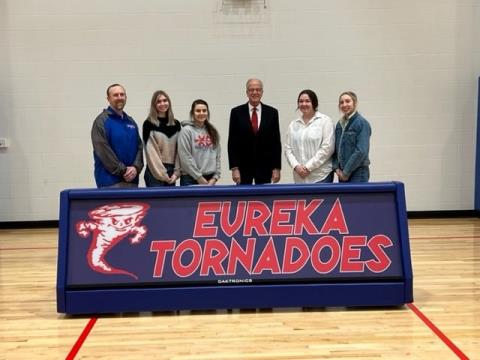 Visiting Kansas Wesleyan University
On Friday, I visited Kansas Wesleyan Nursing Education Center where I learned about the nursing, social work and emergency management degree programs the university offers. There is a shortage of trained professionals in all three specialties, especially in rural areas across Kansas. Through the efforts of Wesleyan, Salina Regional Health Center, donor contributions and community support, the nursing center became a reality, and these programs now educate the next generation of nursing, social work and emergency management professionals. Thank you to University President Dr. Thompson, KWU staff and students for their kindness and hospitality. I also extend congratulations to the university on having the highest spring enrollment in school history.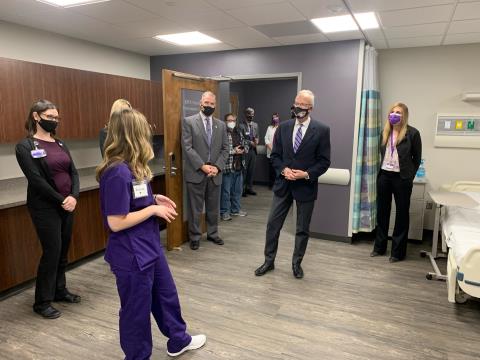 Joining Flint Hills Optimist Club
On Thursday, I met with members of the Flint Hills Optimist Club in Emporia ahead of International Optimist Day. Together, these members embody their optimist creed, are active in projects that uplift others, and work to improve themselves and their community. Our conversation focused on the health care employee burnout resulting from COVID-19 pressures, the cost of gas, inflation and supply chain issues, the situation in Ukraine and the current blood supply shortage. I was pleased to be able to learn more about their current work with students and athletes.

Thank you to Club President Steven Younger and to the members who allowed me to join them during their weekly meeting. What happens in civic clubs is exceptionally important – they are representative of how human-to-human interaction can change the world one soul at a time.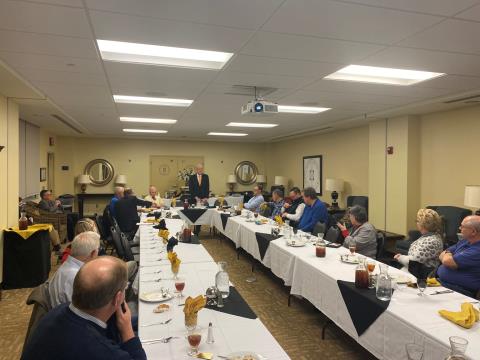 Deadline Today: KLA Wildfire/Storm Relief Fund Application
The Kansas Livestock Foundation opened its Wildfire/Storm Relief Fund application for Kansas farmers, ranchers and producers affected by recent wildfires and severe storms. To receive assistance from KLF, producers must complete the application available here. Applicants do not need to be members of the Kansas Livestock Association to apply.

The deadline to apply is today, January 31, 2022. More information is available here or you may call KLA directly at 785-273-5115.
The Blood Shortage is Affecting Kansans. Here's How to Help.
America continues to face a critical blood shortage, with Kansas' blood supply standing at a 1-2 day inventory. COVID-19 has added extra volatility to the blood supply, and this shortage continues to strain hospitals and patient care throughout Kansas.
I've heard from medical professionals in Kansas about the tough decisions rural Kansas doctors and health care providers are having to make – including cancelling surgeries and blood transfusions, and possibly not delivering babies because bleeding complications may require blood that these facilities do not have. This shortage is severe, and it is affecting Kansas health care providers and their ability to care for patients. Kansans pull together in times of need, and I encourage you to donate.

Donation centers provide specific guidance on the blood donation process and safety measures taken within their centers. Locations for blood donation can be found at the following organization websites below.

Save A Life Now, America's Blood Centers and American Red Cross.
Holocaust Memorial Day
Thursday was Holocaust Memorial Day, a moment that allowed us to reflect on the six million Jewish lives lost during the Holocaust. May we all have the courage to never look away from the atrocities committed during one of the darkest periods of our history.
Honored to Serve You in Washington
It is an honor to serve you in Washington, D.C. Thank you to the many Kansans who have been calling and writing in to share their thoughts and opinions on the issues our state and country face. I appreciate the words of Kansans, whether in the form of a form of letter, a Facebook comment or a phone call, who wish to make their voice heard.
Please let me know how I can be of assistance. You can contact me by email by clicking here. You can also click here to contact me through one of my Kansas offices or my Washington, D.C. office.
Newsletter Sign-up Form
Note: Fields marked with an * are required.