Kansas Common Sense
Welcome to "Kansas Common Sense." Thanks for your continued interest in receiving my weekly newsletter. Please feel free to forward it on to your family and friends if it would interest them.
Celebrating the Start of a New Year
The close of every year is a time to reflect on both the good memories made and the challenges faced. One of the beautiful things about living in Kansas is that even the tough times are often reminders of the friends, family and neighbors who have come alongside and helped out. Whether it was fires, floods, sickness or other challenges, I have seen Kansans come together this past year and offer support and encouragement.

I am grateful for God's goodness as we close 2021 and look forward to the new opportunities ahead in 2022. May God bless you and your family in this new year.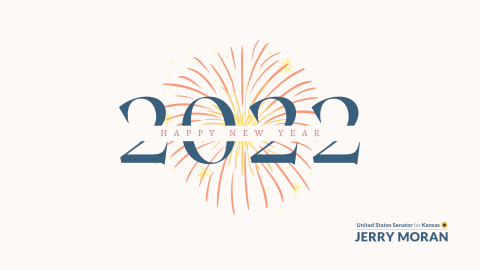 Year in Review
Throughout the year, I had the opportunity to hear from thousands of Kansans across the state, and I am extremely grateful for all of our conversations and your ideas and insight on the many issues our country continues to face.

I am also reminded of one of the most important jobs my office does: helping Kansans navigate and resolve issues with federal agencies through casework. Please don't hesitate to reach out to my office if we can be of any assistance regarding Social Security, Medicare or veterans' affairs, or if you have other concerns regarding federal issues. Learn more on my website here.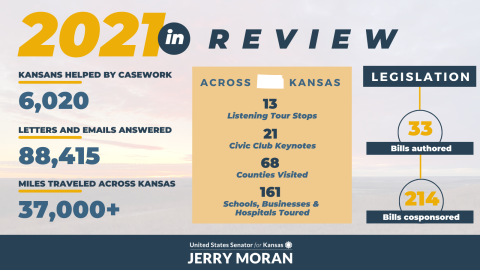 KLA Wildfire/Storm Relief Fund Application Now Open
The Kansas Livestock Foundation has opened its Wildfire/Storm Relief Fund application for Kansas farmers, ranchers and producers affected by recent wildfires and severe storms. To receive assistance from KLF, producers must complete the application available here. Applicants do not need to be members of the Kansas Livestock Association to apply.

The deadline to apply is January 31, 2022. More information is available here or you may call KLA directly at 785-273-5115.
Rejecting President Biden's Unconstitutional Vaccine Mandate
Last week, I joined a number of my congressional colleagues in filing an amicus brief with the U.S. Supreme Court in support of petitioners seeking a stay, pending review, of President Biden's vaccine mandate for private businesses with 100 or more employees.

On December 17, 2021, a three-judge panel of the U.S. Court of Appeals for the Sixth Circuit dissolved the Fifth Circuit's stay of the Occupational Safety and Health Administration's (OSHA) Emergency Temporary Standard (ETS) vaccination mandate in a 2-1 order. The Supreme Court is slated to hear oral arguments from petitioners seeking a stay on January 7, 2022.

President Biden's decision to mandate vaccinations for workers at private businesses through an OSHA Emergency Temporary Standard is a severe overreach of authority and will only further exacerbate labor shortages Kansas employers are facing. President Biden last week said that there was "no federal solution" to COVID-19—the President should heed his own words and rescind this misguided mandate.

I am vaccinated and I will continue to urge Kansans to get vaccinated, but that decision should be left to each individual in consultation with doctors they trust - not bureaucrats in Washington, D.C.
Advocating for Fair Liver Allocation Policies
The national liver allocation policy is the difference between life and death for our family and neighbors needing an organ transplant. It must be fair no matter where you live or who you are.

Senator Roy Blunt and I have been sounding the alarm on this unfair policy for three years. Emails released last week confirmed our biggest fear – this policy was designed with a clear bias to deliberately deny patients in the Midwest and the South their fair chance at a lifesaving liver transplant.

This is disgusting. We are demanding this biased and unfair policy be reversed immediately. Read our op-ed published in the Kansas City Star here.
Hosting Business Roundtables
El Dorado
On Wednesday, I met with business and community leaders in El Dorado and across Butler County to discuss the challenges and issues they faced in 2021 and what they are anticipating in the new year. We discussed the impact of rising inflation, the challenges of finding enough workers to fill workforce shortages, the need for reliable broadband, technical training at Butler Community College and the importance of access to health care for smaller communities.

Special thanks to Linda Jolly, president of El Dorado, Inc. for helping arrange my visit and the kind introduction. Thank you also to State Senator Mike Fagg, State Representative Will Carpenter and El Dorado Mayor Bill Young for taking part in the roundtable.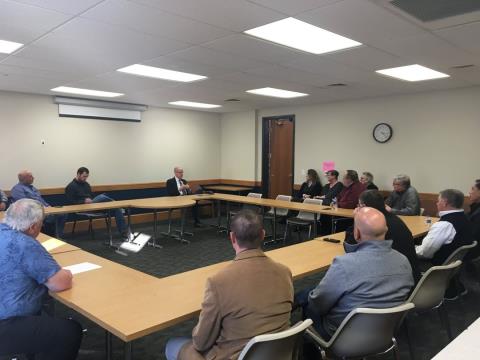 Cowley County
In small towns across America, every business counts. I also joined business and community leaders from Cowley County to discuss the challenges they are facing, specifically with the worker shortage, supply chain issues and potential vaccine mandates. The roundtable discussion included conversations on agriculture, transportation challenges, the need for reliable broadband, wind energy, the importance of technical education, manufacturing and mental health resources.

I appreciated the insightful conversation with these local business leaders. A special thanks to Ashlynn Hallemeier with Cowley First Economic Development for helping organize my visit. Thank you also to State Representatives Cheryl Helmer and Bill Rhiley, as well as County Commissioner Wayne Wilt for taking time out of their busy days to join me.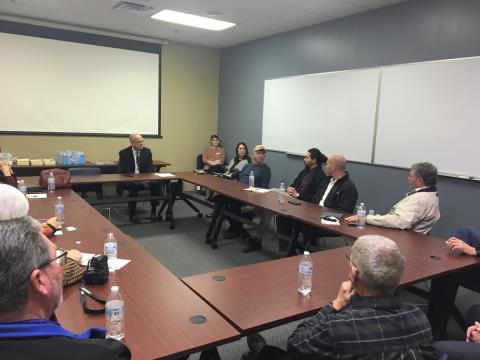 Supporting Cancer Research
Cancer has impacted the life of nearly every American. Too many of us share in the heartbreaking experience of watching a loved one endure a long battle with chemotherapy, an immeasurable wait for biopsy results for a mother, father, sibling or child, or a dear friend lost too soon to this awful disease.

While ideology and politics often divide Washington, D.C., Congress is united in a common cause: curing cancer. I joined my Democrat colleague Sen. Chris Coons to write an op-ed on how Congress can help support cancer research. It is imperative we develop a robust, sustained investment in cancer research through the National Cancer Institute. Through these investments we can leverage the growing field of cancer knowledge to end this disease as we know it.
Read our op-ed here in American Scientific.
Meeting with Kansans
Speaking at the Clay Center Lions Club
This week, I joined the Clay Center Lions Club to hear from members of the community. We discussed the emotional toll the recent fires across Kansas have had on farmers, ranchers and families, as well as the tremendous outpouring of support by friends and neighbors. It's the spirit of helping one another that makes our way of life so special and helps our communities across Kansas thrive. We also discussed the importance of local decision making, especially for education, policies for keeping businesses open on Main Street and incentives to promote growth in communities. Thank you to all the members who attended and shared their thoughts with me.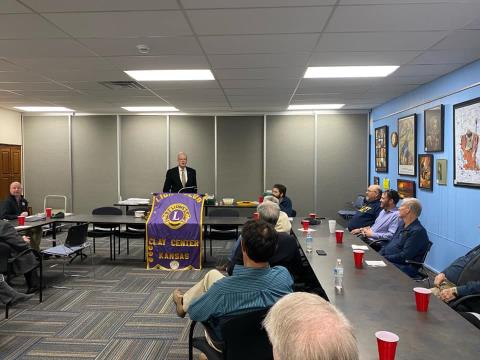 Touring Hillsboro Community Hospital
I also visited Hillsboro Community Hospital to learn about the services they provide to the community and the challenges they are facing. We discussed how the COVID-19 vaccine mandate is affecting the hospital's ability to remain fully staffed, especially with nurses. They also shared about the challenges of receiving enough monoclonal antibody treatment to help treat people with COVID-19. As enrollment increases at Tabor University, the hospital will be treating a larger population, making staff shortages even more critical.

Rural hospitals are key to the longevity of rural communities, and I will do all I can to support the hospitals and the communities they serve. Read more about my visit here in the Hillsboro Star-Journal.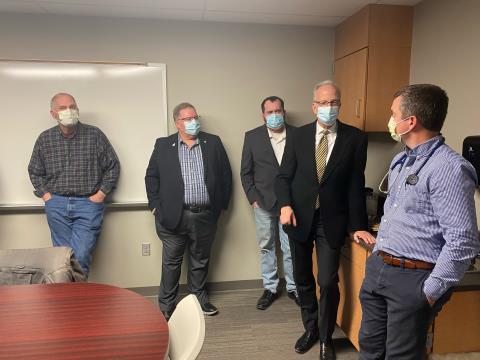 Visiting with Folks in Florence
On my way to Cowley County, I stopped in Florence to visit with folks in the community. I appreciated visiting with City Clerk Dana Gayle and Utility Clerk Kristi Darnall to learn more about their work and what is happening in the community.


Honored to Serve You in Washington
It is an honor to serve you in Washington, D.C. Thank you to the many Kansans who have been calling and writing in to share their thoughts and opinions on the issues our state and country face. I appreciate the words of Kansans, whether in the form of a form of letter, a Facebook comment or a phone call, who wish to make their voice heard.
Please let me know how I can be of assistance. You can contact me by email by clicking here. You can also click here to contact me through one of my Kansas offices or my Washington, D.C. office.
Newsletter Sign-up Form
Note: Fields marked with an * are required.