Kansas Common Sense
Supporting Our Military Men and Women
The strength and preparedness of our military is a direct deterrent to our adversaries. Making certain our men and women in uniform have cutting-edge technology, an arsenal of advanced weapons and ample support for military families will determine the long-term success of our military. These provisions will also help overcome our military's current recruiting crisis by acting as a way to attract and retain talented young men and women who desire to serve their country.

On Thursday night, the Senate passed the FY2023 National Defense Authorization Act (NDAA) to give our troops the largest pay raise in 20 years, resupply our depleted weapons stock and make certain servicemembers have the equipment they need to complete their missions. As Russia continues its unjust war in Ukraine and China remains our foremost threat, it's critical that Congress provides the resources necessary for our military to be combat-ready.

Wins for Kansas in the NDAA:


Authorizes funding to support the construction of an unaccompanied enlisted barracks at Fort Riley.
Authorizes funding for the construction of a microgrid at Fort Riley, increasing the resiliency of energy supply in the event of natural or man-made power outages.
Allows for more veterans to lead Junior ROTC programs across the country. This reduces certain barriers for more programs to be stood up in Kansas, which is an underrepresented state by the Junior ROTC program.

The NDAA also includes many of my other priorities:


Requires that certain military equipment, such as body armor and protective gear, be manufactured in the U.S by small businesses.
Requires a report detailing the operational impact on the National Defense Strategy of Tactical Control Party specialists force structure in the Air National Guard prior to the divestment of any units.
Requires the Secretary of Defense to report on current alternatives to burn pits and ongoing efforts to field additional technologies.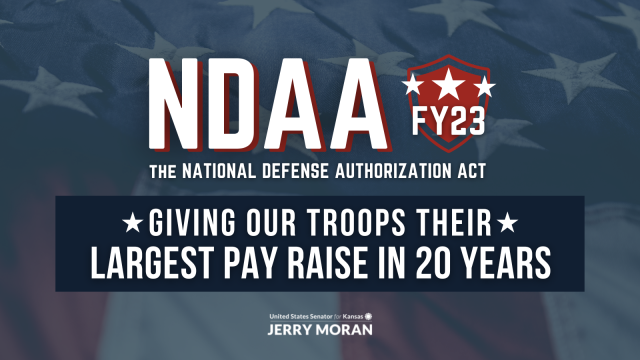 Joining Legislation to Help Resettle Afghan Refugees
This week, I sponsored the
Afghan Adjustment Act
. The withdrawal from Afghanistan was a dark day in American history. The rushed and chaotic evacuation from Kabul resulted in the deaths of American servicemembers and stranded thousands of our Afghan allies behind enemy lines. For two decades countless Afghans stood by our servicemembers and risked their lives and their families' lives to support our troops in Afghanistan. Veterans of the Afghan War are now calling for Congress to provide safety and certainty for their allies and friends who assisted them in battle. We must answer that call and establish a pathway for our Afghan partners to begin a new life.
In the months following the collapse of Afghanistan, thousands of Americans, Afghans and foreign nationals sought refuge from the Taliban. The U.S. assisted in the evacuation of thousands of Afghans to the U.S. and other countries. This legislation will put a program in place to protect our national security while also keeping our promise to those who risked their lives for America.
The legislation has received the endorsement of veteran organizations including the Iraq and Afghanistan Veterans of America (IAVA), Veterans for Foreign Wars, the American Legion, Veterans for American Ideals, With Honor Action and the Association of Wartime Allies.
ISG (ret.) Slade Deister of Leavenworth on the Afghan Adjustment Act: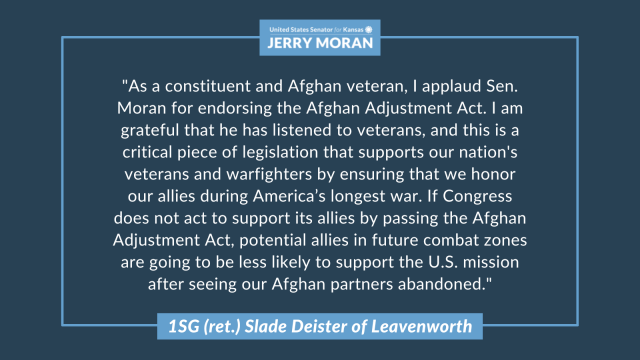 Introducing Legislation to Address Nationwide Shortage in Aviation Workforce
I joined Senator Tammy Duckworth to introduce bipartisan legislation to address the nationwide shortage of airplane pilots, mechanics and other positions in our aviation workforce in the wake of the COVID-19 pandemic. This bill would also work to strengthen the pipeline of pilots serving regional airports, including the five airports across Kansas participating in the Essential Air Service Program.
The
Aviation Workforce Development Enhancement Act
would help expand the Federal Aviation Administration (FAA)'s current Aviation Workforce Development Grant program by increasing annual funding for pilot development and mechanic development grants, as well as provide grant funding for aviation manufacturing workforce development. This legislation will work to make certain the pipeline of talent within the aviation industry will remain strong for years to come.
The state of Kansas is renowned for its aviation industry, but it is only as strong as our workforce. Further investment into these important programs and expanding the eligibility to the aviation manufacturing sector will work to strengthen the talent pipeline and prevent disruptions within this important industry.
Meeting with Lieutenant General John Healy
This week, I met with Lieutenant General John Healy, Commander of Air Force Reserve Command and Chief of Air Force Reserve. Lieutenant General Healy has been in this role since August, and I appreciated the opportunity to speak with him about his priorities for our Air Force Reserve. We also discussed the importance of the 931st Air Refueling Wing at McConnell Air Force Base in Kansas, which plays an essential role in aircraft maintenance for the KC-46 Pegasus and the KC-135.
Lieutenant General Healy also updated me on the Air National Guard's implementation of the
MOMS Act
, legislation I introduced to make certain that women serving in the National Guard and Reserve can take maternity leave without worrying about how it will affect their credible military service.
I want to thank Lieutenant General Healy for meeting with me to update me on these important topics and for his leadership and service to our country.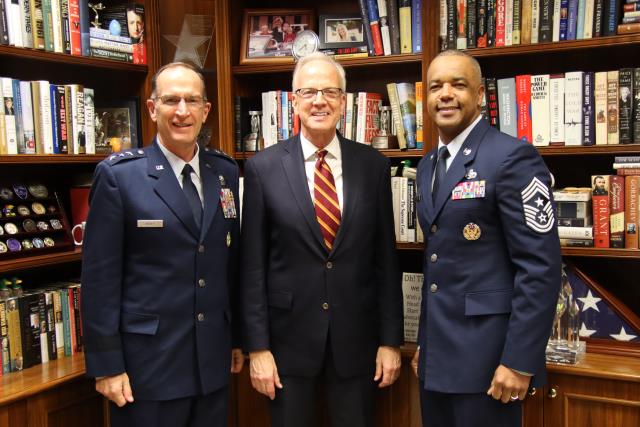 Attending NASA's 2022 Year in Review
On Wednesday, I joined NASA Administrator Bill Nelson and NASA Deputy Administrator Pam Melroy to celebrate NASA's 2022 accomplishments and to reflect on the incredible progress we have seen in space exploration throughout the last year.
I am proud to be at the forefront as the lead Republican on the Senate Commerce Subcommittee with jurisdiction over NASA. From the launch of Artemis I to seeing the images of the James Webb Space Telescope to the helicopter flying on Mars, the advancements made by NASA have been awe-inspiring, and I look forward to all that will be accomplished in the new year.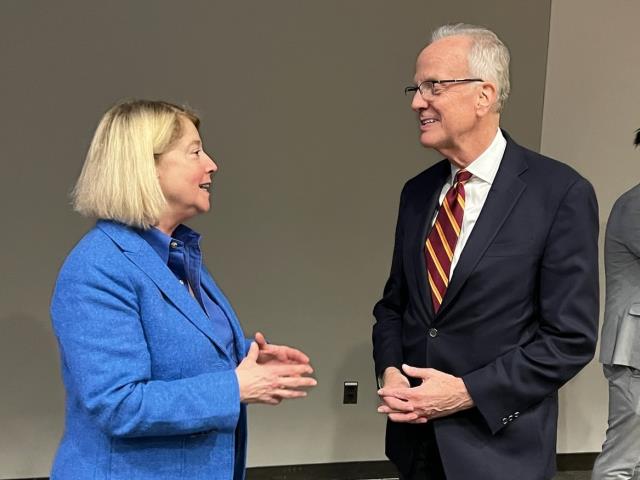 Meeting with U.S. Merchant Marine Academy Alumni Association & Foundation

This week, I had the opportunity to meet with the U.S. Merchant Marine Academy (USMMA) Alumni Association and Foundation. The USMMA is one of our five federal service academies tasked with the mission to serve our country's national security interests, and I appreciated the opportunity to receive an update from them. During our meeting, we discussed the need for investment in their infrastructure and taking steps to make certain all cadets have a safe, supportive environment free of harassment and assault. As a member of the USMMA Board of Visitors, I am committed to working with newly-appointed USMMA Superintendent Rear Admiral Nunan to support and advance the academy, its servicemembers and its mission.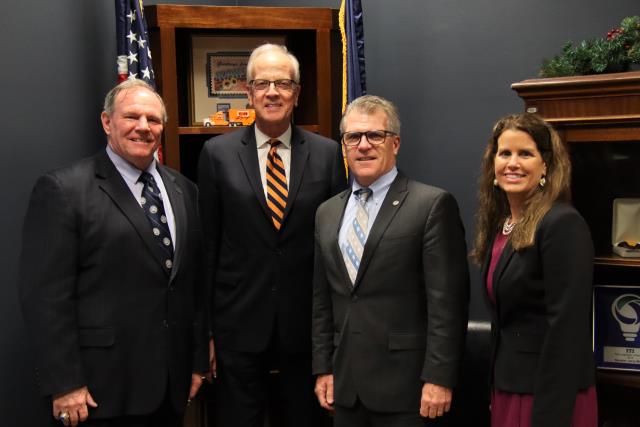 Speaking to National Business Aviation Association Board of Directors
On Thursday morning, I spoke to the National Business Aviation Association (NBAA) Board of Directors, which includes member companies such as Bombardier, Honeywell, Choice Hotels, Coca-Cola and many others. We discussed important issues ahead of the 118th Congress like FAA Reauthorization and my priorities within that legislation, including continued progression of the Advanced Air Mobility (AAM) industry; reducing the current FAA backlog; and expanding workforce initiatives for pilot and mechanic development grants, as well as provide grant funding for aviation manufacturing workforce development.
I want to thank members of the NBAA Board of Directors for hosting me for this valuable conversation, as well as NBAA President, CEO and fellow Kansan, Ed Bolen for the invitation.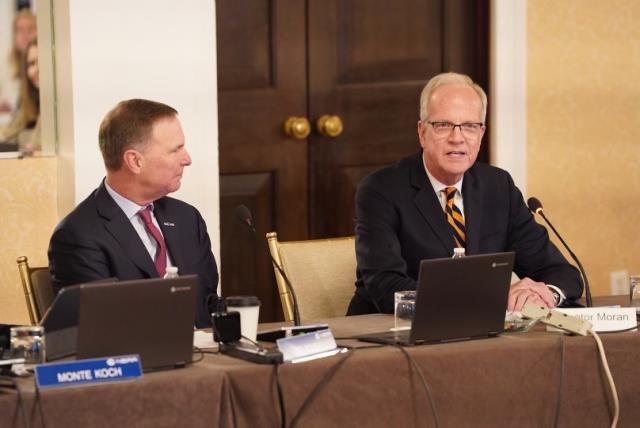 Meeting with Kansans
Hays and Russell
It was great to meet with local leaders from Hays and Russell this week during their visit to Washington, D.C. I appreciate them for serving their communities and for taking the time to meet with me regarding the issues important to them – including water conservation.
The meeting included Hays Mayor Mason Ruder, Russell Mayor Jim Cross, Hays City Manager Toby Dougherty, Russell City Manager Jon Quinday, Hays Commissioner Reese Barrick, Hays Director of Water Resources Jeff Crispin, Russell Councilmember Dustin Madden, Russell Councilmember Lonnie Whitten and Russell City Attorney Ken Cole.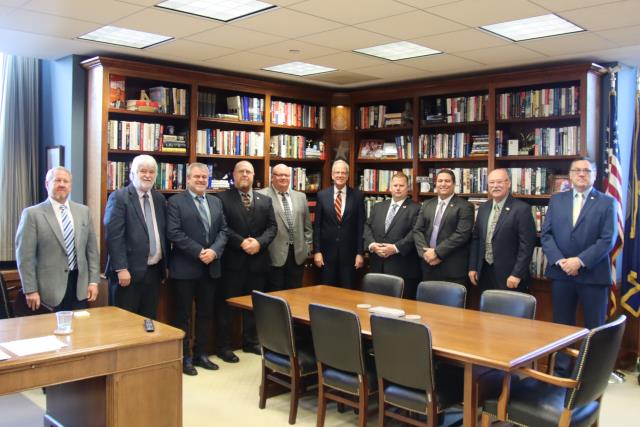 Kansas Department of Commerce
On Wednesday, I met with Kansas Department of Commerce Broadband Development Director Jade Piros de Carvalho and other broadband stakeholders from the state. We discussed the importance of making certain Kansans have access to high-quality broadband service. We also spoke about my recently-introduced Broadband Grant Tax Treatment Act. This legislation makes certain federal dollars recently allocated for broadband deployment are not federally taxed.
As the lead Republican on the Senate Appropriations Subcommittee with jurisdiction over many federal broadband deployment programs, I remain committed to making certain Kansans are able to connect to high-quality broadband service, and I look forward to working with broadband leaders in the state to achieve this goal.
Welcoming Odys Aviation to Wichita
Before traveling to Washington, D.C. on Monday, I joined the Greater Wichita Partnership in welcoming Odys Aviation to the Air Capital of the World. I want to thank Jeff Fluhr and his team for their work to attract and retain quality businesses in the region and for showcasing all that Wichita has to offer. I also want to thank Odys Aviation CEO James Dorris for accepting my invitation to visit Wichita and learn about opportunities for future partnerships.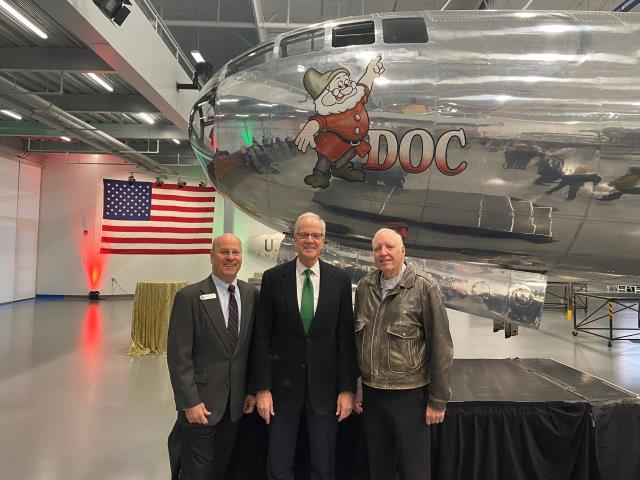 Established in 2019 and headquartered in Long Beach, CA, Odys Aviation develops and builds vertical takeoff and landing aircraft for the world's busiest travel corridors. With a century of aviation manufacturing, development and research, Wichita has the workforce and innovation to be an asset to Odys Aviation, propelling our nation into a new era of aviation – advanced air mobility (AAM).
As a member of the Commerce Committee with jurisdiction over civil aviation and co-chair of the Senate Aerospace Caucus, I have worked to make certain our country remains competitive within the AAM realm by enacting legislation into law that will help facilitate collaboration between federal agencies, industry and academia in this important and burgeoning sector. I look forward to working with both Odys Aviation and the Greater Wichita Partnership to explore future opportunities for partnerships between the local community and aviation industry.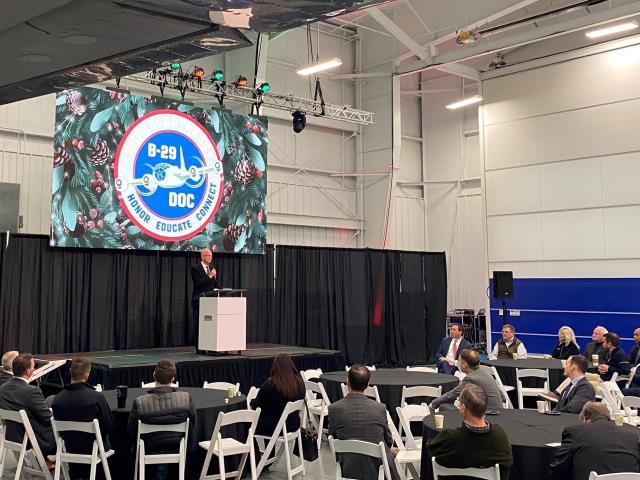 Visiting Minneapolis High School
This week after returning to Kansas from Washington, D.C., I had the chance to visit Minneapolis High School and receive a tour from students there. Thank you to everyone who hosted me and offered a warm welcome.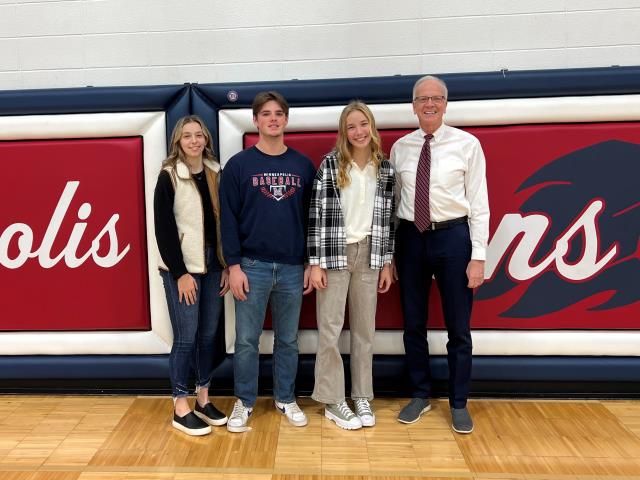 Recognizing Fall 2022 Intern Class
This week, two of my fall interns wrapped up their last week of the internship program in my Washington, D.C. office. It was great to have the opportunity to hear them reflect on their time spent in the nation's capital learning about public service and government. I want to thank Kaitlin Burgess of Lansing and Julia Englert of Shawnee for their hard work and service to Kansans during their time in my office.
If you are interested in an internship with my office, you can learn more
here
.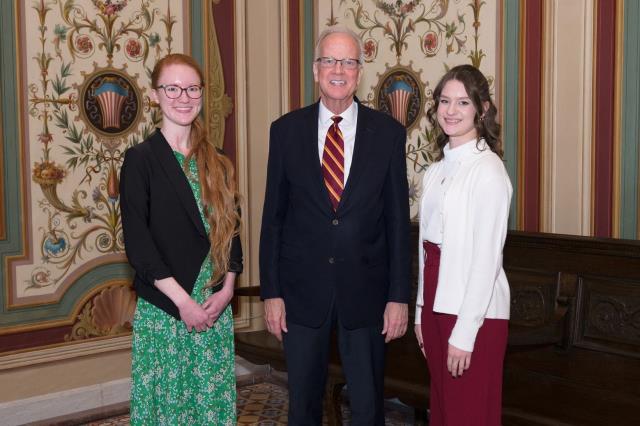 Tip Off at Allen Fieldhouse
It was great to be at Allen Fieldhouse on Saturday to watch the Kansas Jayhawks defeat the Indiana Hoosiers!
U.S. National Guard's 386th Birthday
Tuesday marked the 386th birthday of the U.S. National Guard! I want to say a special thank you to the dedicated men and women of the Kansas National Guard for protecting, defending and serving our great state and always embodying the Guard's motto: Always Ready, Always There.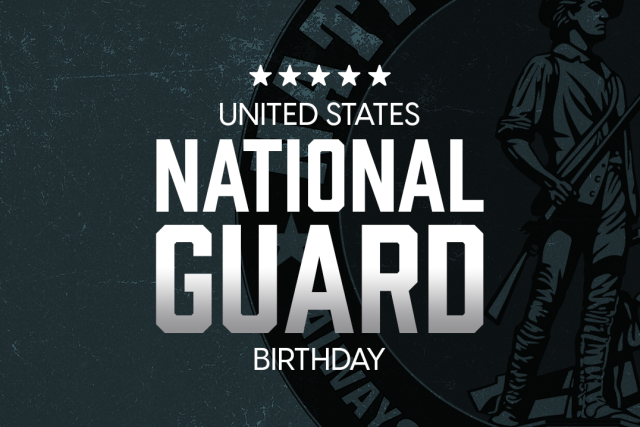 Happy Hanukkah
Wishing a happy, safe and meaningful Hanukkah to all Kansans who are celebrating! May the Festival of Lights be a joyful time filled with blessings for you and your loved ones.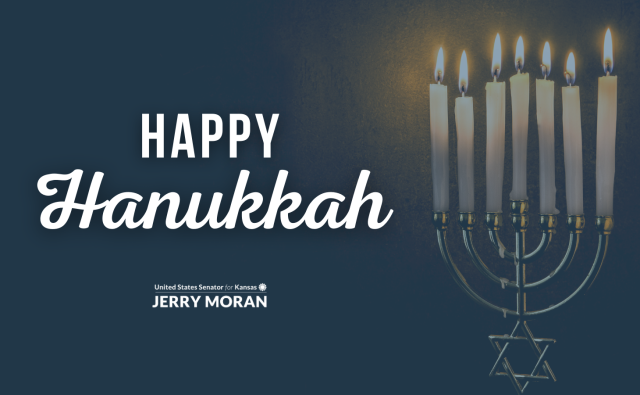 Kansans in the Office

Capitol Tour
Marty Granholm of Overland Park

Susan Granholm of Overland Park

Justin Stout of Overland Park

Kathleen Yeager of Overland Park

Louis Duncan, Jr. of Kansas City

Simone Duncan of Kansas City

Dunia Duncan of Kansas City

Louis Duncan, III of Kansas City

ADAPT
Cecil Walker of Andover

Cities of Hays and Russell
Mayor Mason Ruder of Hays

Mayor Jim Cross of Russell

Toby Dougherty of Hays

Jon Quinday of Russell

Reese Barrick of Hays

Jeff Crispin of Hays

Dustin Madden of Russell

Lonnie Whitten of Russell

Ken Cole of Russell

NeighborWorks
Brennan Crawford of Kansas City

Black & Veatch
Mario Azar of Overland Park

Kansas Judge Nominee
Kate Brubacher of Newton

Kansas Department of Commerce
Jade Piros de Carvalho of Hutchinson

Ethan Kaplan of Hutchinson
Newsletter Sign-up Form
Note: Fields marked with an * are required.