Kansas Common Sense
Veterans Day
Each Veterans Day, we honor the men and women who have served our country, protecting the freedoms and blessings we enjoy today. There is no group of Americans I hold in higher regard than our nation's veterans, and I take seriously the responsibility of advocating for and serving them as the lead Republican on the Senate Committee on Veterans' Affairs.

It is always an honor to speak with and learn from our nation's veterans, and I have had the privilege of meeting with many Kansas Honor Flights during their trips to Washington, D.C. These men and women never cease to inspire me, and I am always reminded of the dedication, selflessness and love for country exemplified by America's veterans.

To all who have served, thank you. Our country owes you a great debt.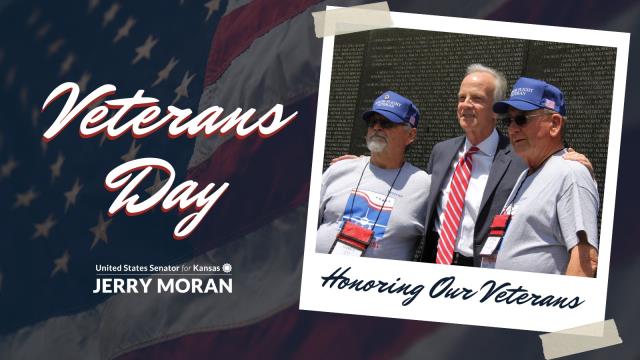 A New Congress
As the beginning of the 118th Congress approaches, the challenges our country is facing are not to be taken lightly. It is important that we work together to achieve lasting solutions for the American people. I look at elections like the beginning of a new year, with hope and resolution. I am honored that Kansans have seen fit to allow me to continue to serve and represent our great state in the United States Senate, and I am committed to continuing to work on behalf of all Kansans.

Presenting Humboldt with Building Better Communities Award
On Monday, I was in Humboldt to present Mayor Nobby Davis with the Building Better Communities Award in recognition of the city's role as a leader in small-town revitalization.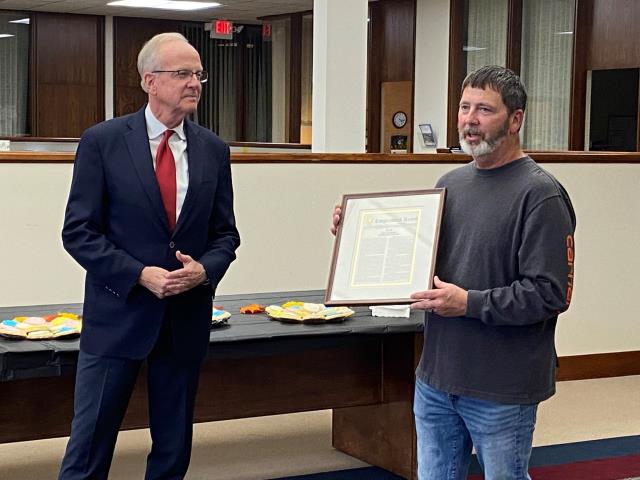 I recently spoke on the Senate floor to highlight a revitalized city of Humboldt. The community of Humboldt is a success story. It's a role model. It demonstrates how teamwork, creative thinking, hard work, treating others with respect and caring about the future of your community can make a difference for your city, the state and our entire country.
I want to offer my gratitude to the community and everyone who helped make Humboldt a good place to live today and, perhaps even more importantly, a great place to live tomorrow. Special thank you to Mayor Davis for his efforts to make Humboldt a sought-out place to live, work and raise a family.
You can read more in the Iola Register
here
.
You can watch my full speech recognizing Humboldt
here
.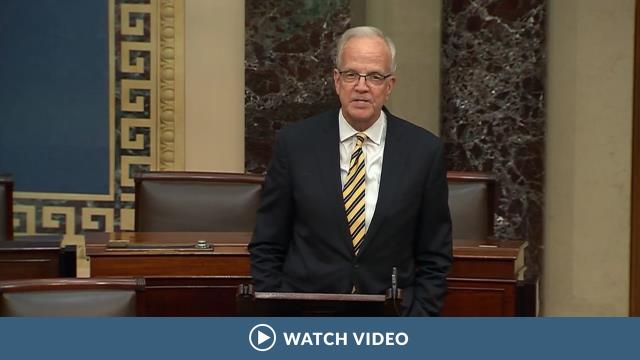 Meeting with Kansas Cadets at the U.S. Air Force Academy
This week, I had the privilege of meeting with Kansas cadets at the U.S. Air Force Academy.

Kansas produces talented, hard-working and dedicated individuals who want to give back to their country. As a U.S. Senator, one of the most meaningful responsibilities I have is nominating Kansans for our service academies and assisting them in achieving their goals of service to our country.

Thank you to the cadets who spent their lunch hour with me. Pictured below are cadets I was honored to nominate: Jacob Stenslie of Overland Park, Makensie Blum of Gardner, Caroline Harshbarger of Olathe, Timothy Whetstone of Howard and Cale Franklin of Pittsburg.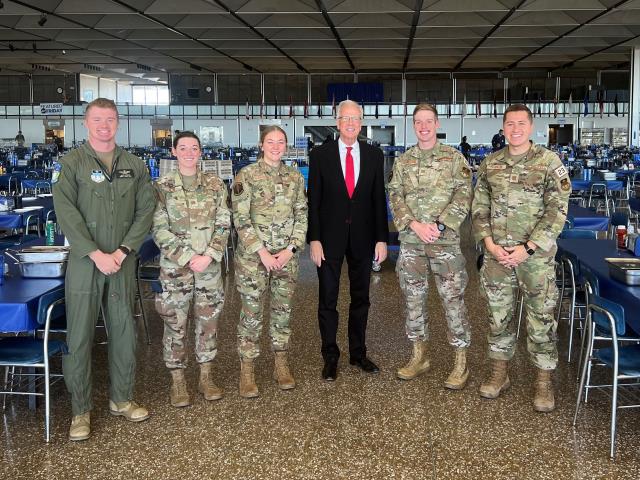 Announcing $1.2 Million Grant for Kansas Northwest Technical College
On Wednesday, I was in Goodland to announce a $1.2 million Title III grant for Kansas Northwest Technical College from the U.S. Department of Education. Under the leadership of President Ben Schears, Northwest Tech will use these resources to support apprenticeships and work-based learning opportunities, career readiness counseling and early alert and intervention systems to help students achieve academic excellence.

Nearly every industry in the state and the nation right now is facing a workforce shortage. Through its focus on workforce preparedness and by connecting students to local employers, Northwest Tech is filling this workforce gap while also keeping our students in Kansas. These resources will provide students with hands-on learning experiences and establish an early intervention program to identify students who need additional assistance to succeed in the classroom. This grant is well-deserved, and President Schears and Northwest Tech should be very proud of their accomplishments on behalf of Kansas students.

I also want to thank College Board Members Paul Bruggeman and Dick Short, Foundation Board Members Rob Loftin and Frank Otter and Kansas State Senator Rick Billinger for joining.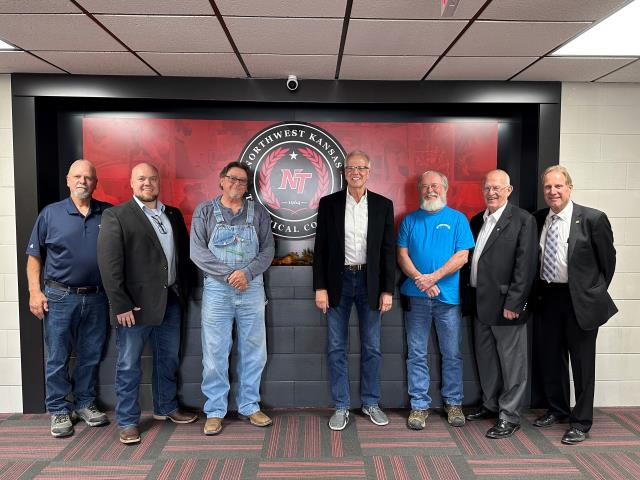 Visiting Pittsburg State University's National Institute for Materials Advancement
It was great to tour Pittsburg State University's National Institute for Materials Advancement (NIMA), formerly known as the Kansas Polymer Research Center. NIMA is a leader in the development of bio-based polymers and assists partners in developing, processing and testing new materials for licensing and commercial applications. During the tour, we discussed the research and production of semiconductors and how it relates to the importance of STEM education and technical training. I have been a longtime advocate for STEM education and am committed to supporting efforts to train students in these valuable skills.

I want to thank Pitt State President Dan Shipp and Executive Director Dr. Tim Dawsey for the tour and for their efforts to further important research and training here in Kansas. Thanks as well to Associate Professor Dr. Ram Gupta, who was recently named one of the top 2% of researchers by Stanford University, for joining us.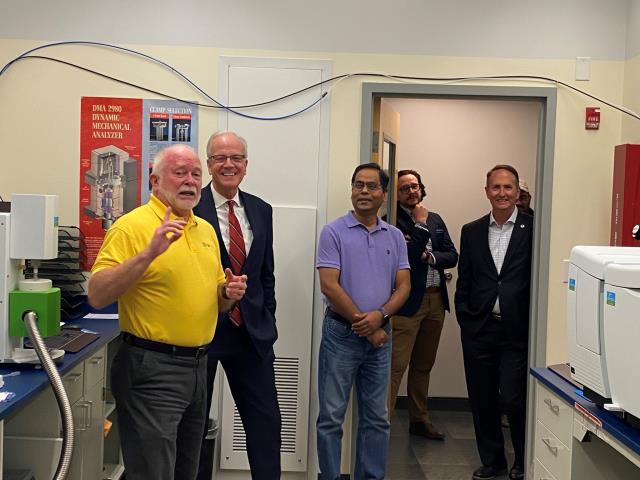 Touring Fort Scott Community College
This week, I was at Fort Scott Community College to tour the Fine Arts building, including the Gordon Parks Museum, which honors the life and work of Fort Scott native Gordon Parks, a photographer, videographer, filmmaker and musician.

Fort Scott Community College President Alysia Johnston also showed me the recent renovations to Bailey Hall and the John Deere school. At the John Deere school, I met with several students and professors who shared how the training at the school trains students in equipment repair. I also received an update on the commercial driver's license (CDL) program recently restarted by Fort Scott Community College to help fill the current shortage of truck and bus drivers.

Thank you to President Johnston, faculty members and members of the Board of Trustees for providing the tour and sharing valuable insight into their work to train the next generation.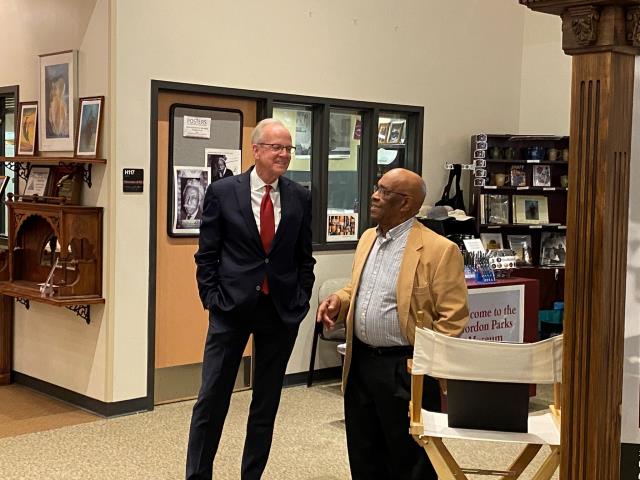 Touring Avail Enclosure Systems in Pittsburg
While in Pittsburg, I also visited Avail Enclosure Systems, the Kansas location of Avail Infrastructure Systems, which focuses on strengthening global infrastructure systems. The Pittsburg facility, formerly known AZZ, was recently purchased by Avail in October 2022 and has operated in the area for more than 103 years. This company builds power supply enclosures for businesses in a variety of industries, including oil and gas, construction, technology, renewable energy, water and wastewater, military, data centers, mining and transportation. These businesses include Facebook, Chevron and Burns & McDonnell.

I want to thank Vice President and General Manager Jeremy Hoffman for the tour, as well as City Manager Daron Hall and Deputy City Manager Jay Byers with the City of Pittsburg for joining us. Thank you as well to Nick Santhanam of Fernweh Group for the invitation.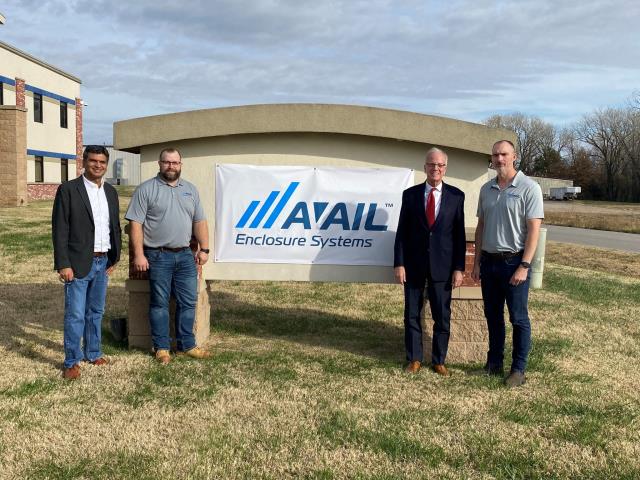 Honoring Veterans by Donating Blood with American Red Cross
This week, I donated blood as a part of the American Red Cross initiative to honor veterans through blood donations at local American Legion locations. There is no substitute our nation can turn to in the absence of blood donations. The national blood donation shortage is affecting Kansas health care providers and their ability to care for patients. Kansans pull together in times of need, and I encourage anyone who is able to donate.
Find a donation site near you through the American Red Cross
here
or America's Blood Centers
here
.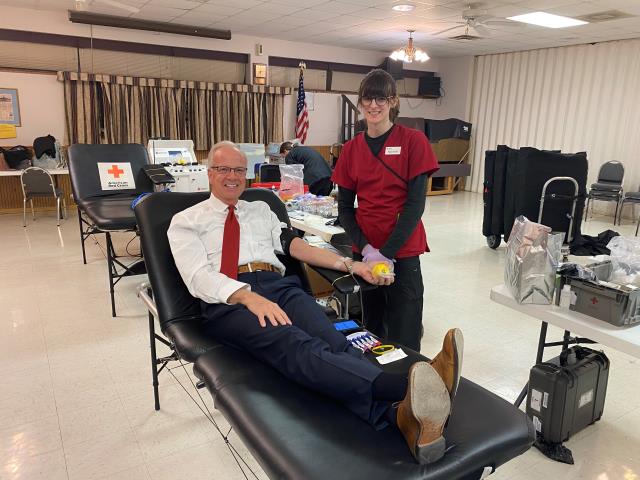 Happy Birthday to the U.S. Marine Corps
Thursday marked 247 years of the U.S. Marine Corps. Thank you to these men and women for their service and dedication to our country. Semper Fi!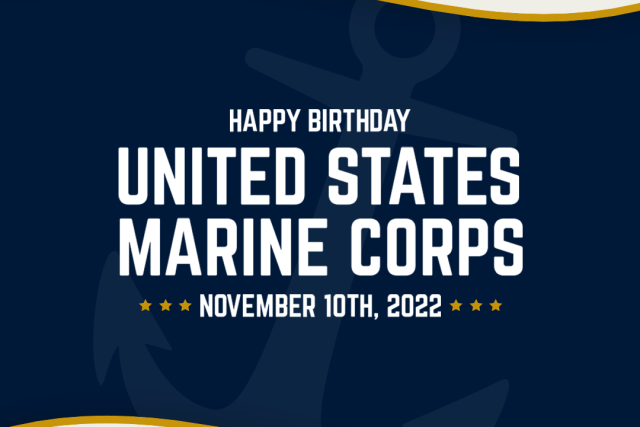 Kansans in the OfficeCapitol Tour
Jennifer Burgess of Lansing
Nandini Chandrawadi of Andover
JoAnne Harris of Wichita
Corey Johnson of Olathe
Danielle Johnson of Olathe
Ian Johnson of Olathe
Isabella Johnson of Olathe
Sophia Johnson of Olathe
Ravindra Kiragi of Andover
Kevin Krizek of Derby
Trey Krizek of Overland Park
Conner McCaulley of Derby
Rebecca McCaulley of Derby
Angelina Torizzo of Overland Park
Newsletter Sign-up Form
Note: Fields marked with an * are required.