Kansas Common Sense
Welcome to "Kansas Common Sense." Thanks for your continued interest in receiving my weekly newsletter. Please feel free to forward it on to your family and friends if it would interest them.
Celebrating Black History
Black History Month allows us to reflect on Black history, to understand its struggle throughout American history and celebrate the lives and contributions of Black Americans.

Throughout this month, I encourage you to learn more about Black History in Kansas and across our nation. Click here to learn more about the town of Nicodemus, Kansas, the only remaining community west of the Mississippi established by former-slaves following the Civil War.
Introducing the Health Care for Burn Pit Veterans Act
As the lead Republican and ranking member of the Senate Veterans' Affairs Committee, I have been dedicated to identifying a path forward for outstanding toxic exposure issues and working with my Democrat colleague, Senator Jon Tester from Montana, on comprehensive, legislative solutions to provide timely care and benefits to exposed veterans.

On Thursday at a press conference, we unveiled and introduced our bipartisan Health Care for Burn Pit Veterans Act. This legislation would offer post-9/11 combat veterans, including those suffering from conditions caused by toxic exposures, access to VA health care. This bill is the first of a three-step approach to expand access to health care for toxic-exposed veterans, establish a new process through which the Department of Veterans Affairs (VA) will determine future presumptive conditions, and provide overdue benefits to thousands of toxic-exposed veterans who have been long-ignored or forgotten. Watch the press conference by clicking here or below.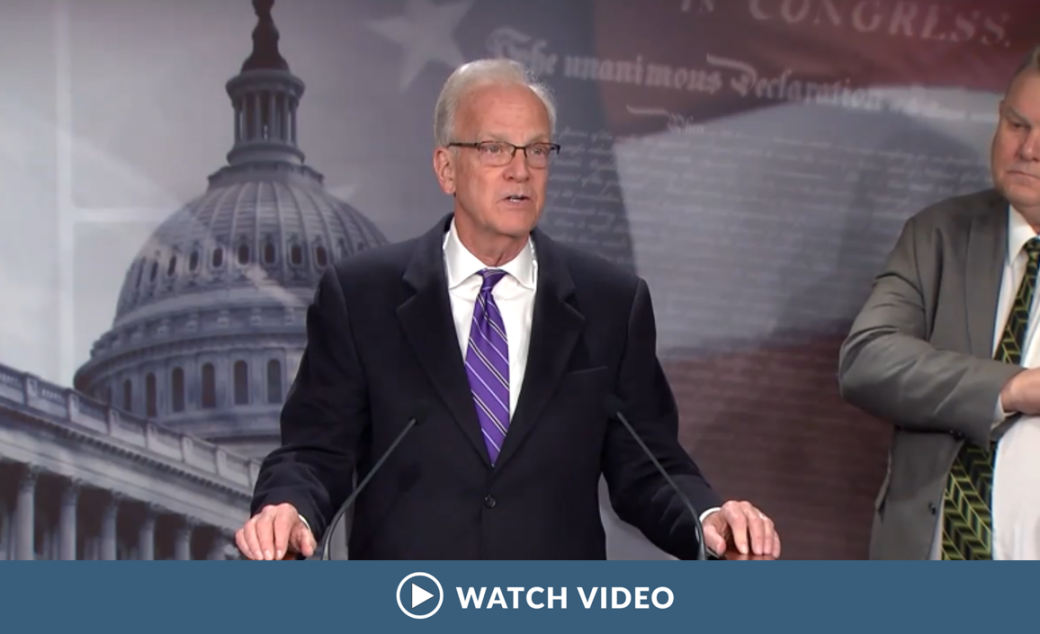 Speaking on the U.S. Senate Floor Regarding Toxic Exposures
Following the press conference, I also spoke on the U.S. Senate Floor regarding the introduction of my Health Care for Burn Pit Veterans Act.

I have spoken with veterans across Kansas regarding the effects of toxic exposure on our veterans' health, and my office continues to receive casework from veterans regarding the burden of proof to gain access to health care. This legislation lessens that burden and creates a pathway for thousands of Kansas veterans to receive health care for illnesses caused by toxic exposures. Listen to my remarks by clicking here or below.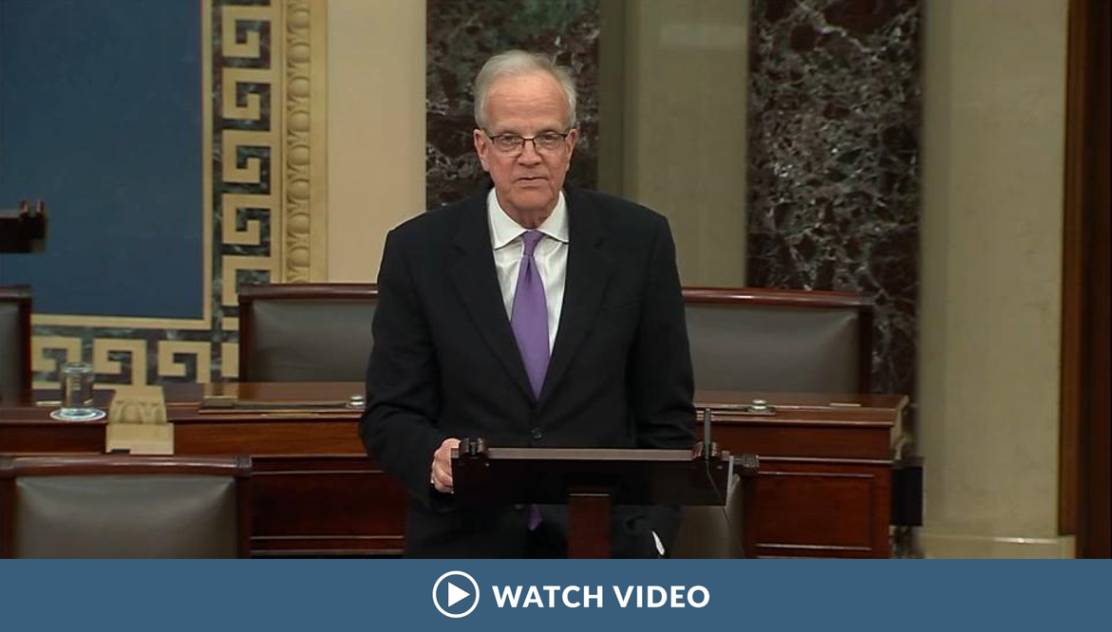 Senate VA Committee Unanimously Passes Legislation Out of Committee
On Wednesday, the Senate VA Committee unanimously passed the Health Care for Burn Pit Veterans Act out of committee. This legislation will now go to the full Senate for consideration.

Post-9/11 veterans are the newest generation of American heroes to suffer from toxic exposures encountered during military service. The Health Care for Burn Pit Veterans Act is an important first step to make certain our veterans receive the care they need as a result of their service. I'm urging my colleagues to read our bill, to grow their understanding of this complex challenge, and to join our committee—every single member of the Senate Veterans' Affairs Committee—in passing this bill to get one step closer to providing care and relief on one of the most pressing challenges facing veterans today.

Veteran Service Organization Support
The Health Care for Burn Pit Veterans Act also has strong support from our nation's leading veterans service organizations, including Disabled American Veterans, Veterans of Foreign Wars, Wounded Warrior Project, Iraq and Afghanistan Veterans of America, The American Legion and Military Officers Association of America.
Disabled American Veterans: "Oftentimes, combat veterans exposed to burn pits have no alternatives for health care beyond the five-years of guaranteed coverage they receive through VA, yet many illnesses and diseases like cancer take much longer to develop. The Health Care for Burn Pit Veterans Act would extend the enrollment period to 10 years after service, lengthening their coverage through VA and potentially leading to swifter detection and treatment for related conditions. We thank Senators Tester and Moran for taking this step in addressing health care access for burn pit exposed veterans, and we look forward to more legislative actions to address the full and complex puzzle of toxic exposures." - DAV Deputy National Legislative Director Shane Liermann

Veterans of Foreign Wars: "The VFW supports the Health Care for Burn Pit Veterans Act which would extend VA health care eligibility for combat veterans from five to ten years after separation from the military. The bill would also require VA to screen veterans regarding their exposures during service, provide training on toxic exposures to VA health care providers and disability claims processors, and would require additional reporting and tracking of veteran health conditions due to toxic exposures. This legislation is a step in the right direction to take care of this group of veterans and we look forward to additional expansions of health care and benefits to cover all toxic exposed veterans." -VFW Legislative Director Pat Murray

Wounded Warrior Project: "One of the pressing needs of veterans who were exposed to toxic substances during service is guaranteed access to VA health care. Under current law, all previously deployed veterans can access care within five years of separation without issue. However, illnesses related to toxic exposure often present well after this small window of time and expose a critical gap in care availability. We thank Chairman Tester and Ranking Member Moran for introducing the Health Care for Burn Pit Veterans Act to extend this care access period to 10 years, a first step to ensuring veterans have access to health care. We emphasize that there is still much more work to be done, and we look forward to working with the Committee to support the passage of the comprehensive toxic exposure solutions contained in the COST of War Act before the end of the 117th Congress which does not have a time limit to access VA care." -WWP Vice President for Government and Community Relations Jose Ramos

Iraq and Afghanistan Veterans of America: "Military toxic exposures, like from burn pits, continue to be the cause of too much pain and suffering for our nation's veterans. IAVA strongly supports the Health Care for Burn Pit Veterans Act as it would aid Post 9/11 veterans exposed to toxins during service by expanding eligibility for healthcare at VA, increasing screening for toxic exposure related illnesses, providing critical training for VA employees on toxic exposures, and so much more. We thank Chairman Tester and Ranking Member Moran for introducing this legislation and look forward to continuing working with the Senators to ensure that veterans suffering due to their time in the military receive the healthcare and benefits that they earned by their selfless service." - IAVA CEO Jeremy Butler

The American Legion: "The American Legion is proud to support the Health Care for Burn Pit Veterans Act which eases the burden on veterans navigating the claims filing process by giving all post-9/11 veterans, in any theater of combat operations after November 1998, access to VA healthcare by granting Priority Group 6 eligibility. Although VA is working to improve the presumptive process, unfortunately time is running out for some. On behalf of the 1.8 million dues paying members of The American Legion, we thank Chairman Tester and Ranking Member Moran for their continued leadership on this issue." -National Commander Paul E. Dillard

Military Officers Association of America: "MOAA supports the Health Care for Burn Pit Veterans Act and the expanded health care access, medical screenings, research, and training this bill offers. Our burn pit exposed veterans have been waiting far too long to get their health care needs met. We applaud Senators Tester and Moran for working together on this legislation and urge Congress to swiftly pass this bill." - MOAA President and CEO Lt. Gen. Dana T. Atkins, USAF (Ret.)
Senator Dole Laid to Rest at Arlington National Cemetery
On Wednesday afternoon, Senator Robert J. Dole was laid to rest at Arlington National Cemetery and joined the brothers and sisters in arms who sacrificed for our nation as he did. I was reminded of a line in he wrote in his final farewell letter: "I'm a bit curious to learn if I am correct in thinking that Heaven will look a lot like Kansas."

On behalf of a grateful state and nation, I say thank you to Senator Bob Dole.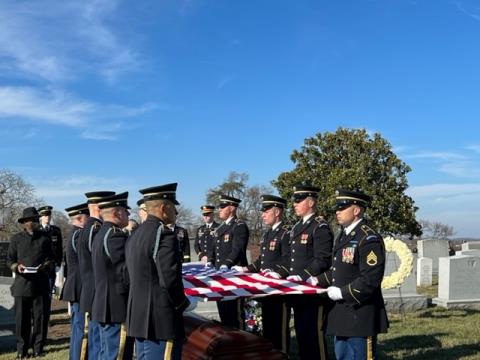 The Federal Reserve Does Not Get to Pick Winners and Losers
On Thursday, the Senate Banking Committee held a hearing to consider Sarah Bloom-Raskin, Lisa Cook and Philip Jefferson to be Members of the Federal Reserve Board of Governors. I questioned the Fed's willingness to adhere to its narrow statutory scope and not direct capital away from traditional energy companies. I specifically sought assurances from Ms. Bloom-Raskin that if confirmed as Vice Chair for Supervision, she would not use her position to pursue politically-motivated financial regulations to limit access to financing for certain sectors of the energy industry which would only further exacerbate prices at the pump and home energy costs for Kansans. Undermining such a vital industry will neither help consumers nor fulfill the Fed's dual mandate of price stability and low unemployment. To maintain the Federal Reserve's integrity and credibility, it should uphold its independence from partisan politics without picking winners and losers in the economy. Watch my exchange with Ms. Raskin here or below.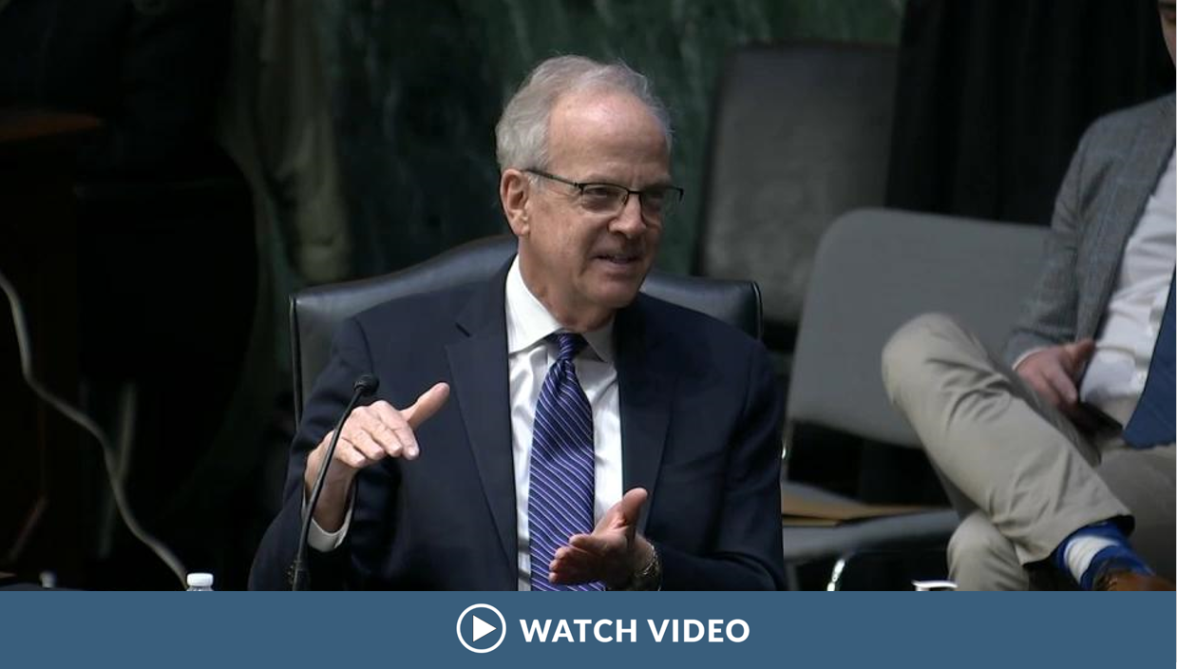 Securing Greater Broadband Access for Unserved Areas
Ensuring all Kansans have access to high-quality broadband is critical to the success of our state. Increasing access to broadband brings economic growth, improved health care outcomes and educational opportunities to communities. We must harness these benefits to thrive, now and in the future.

On Tuesday, as the lead Republican on the Commerce, Justice, and Science (CJS) Appropriations Subcommittee, I held a hearing with Department of Commerce Secretary Gina Raimondo to oversee the department's broadband efforts. Congress has appropriated billions of dollars to the National Telecommunications and Information Administration, an agency within the Department of Commerce, for the purpose of deploying broadband to unserved areas of this country. I questioned Secretary Raimondo about the department's plan to coordinate with other federal agencies and their ongoing broadband deployment efforts, how the department plans to support states during the planning and deployment processes, and the importance of building out broadband in unserved areas before moving on to areas with existing service.

Rural areas and communities of the U.S. and Kansas are more likely than urban areas to lack access to broadband service, shutting them out from the benefits of the digital economy. During the hearing, I secured Secretary Raimondo's commitment that every Kansan would have access to high-quality broadband service at the completion of the ongoing programs. As the lead Republican on the CJS Appropriations Subcommittee, I look forward to working with Secretary Raimondo to ensure that this commitment is fulfilled. Watch my questioning here or below.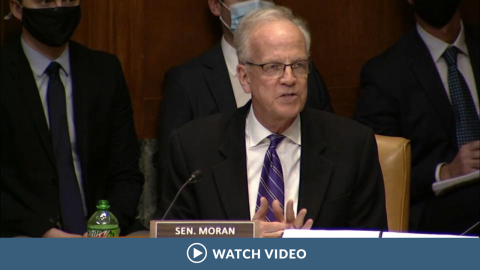 Calling Attention to the Deteriorating Conditions and Policies at Our Southern Border
Speaking with My Republican Colleagues
On Wednesday, I joined my Republican colleagues to call further attention to and express my concerns with the continuing humanitarian and national security crisis at our southern border. Over the last year, nearly two million individuals crossed our southern border illegally. The sheer number of border crossings is alarming, and the Biden administration's response has been incompetent, inhumane and inadequate.

The historic level of crossings at the southern border have put an incredible strain on our immigration system and has seriously compromised our national security. In April, I visited the border and had the opportunity to speak with FBI and DEA agents to hear firsthand how the crisis has affected their operations and the challenges it has created for them in carrying out their mission to disrupt transnational criminal organizations and apprehend major drug traffickers. As a member of the Appropriations Committee and the top Republican on the Commerce, Justice, and Science subcommittee, I will work to ensure our federal law enforcement have the resources necessary to keep Americans safe. Watch my remarks here or below.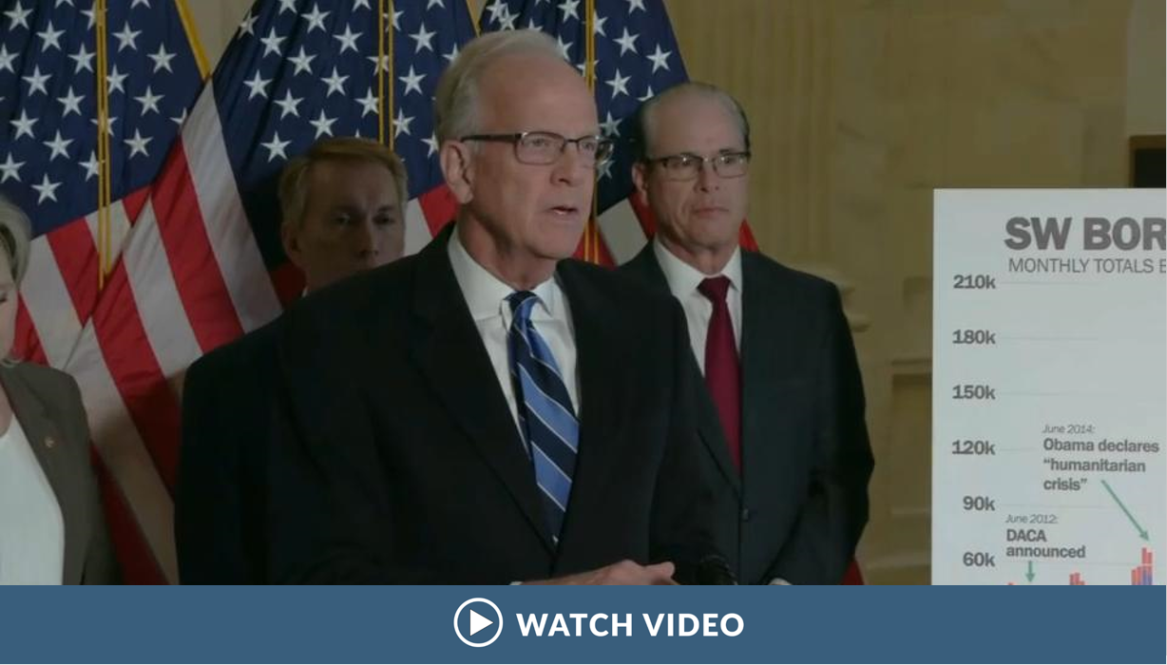 Questioning DHS On Taxpayer Dollars Being Used to Fly Illegal Immigrants Around the Country
On Thursday, I joined my colleagues in questioning Department of Homeland Security (DHS) Secretary Alejandro Mayorkas regarding the movement of illegal immigrants from the border to be released into American communities. According to recent reports, Immigration and Customs Enforcement (ICE) has been releasing large numbers of single adult illegal immigrants into our American communities. After being processed en masse at makeshift border facilities, these illegal immigrants are being loaded onto planes and shuttled across the country for release.

In light of the public reporting around 'midnight flights' of illegal immigrants, my colleagues and I are requesting a full accounting of the DHS' activities so that we can understand the scope of this challenge. We are concerned that the use of these midnight flights by ICE is intended to obfuscate the administration's failure to secure our borders and protect hardworking, law-abiding Americans. The American people deserve answers to why their taxpayer dollars are being used to fly illegal immigrants across the country to be released into our backyards. The full letter can be found here.

Demanding Answers from DHS Regarding Illegal Immigrants Using ICE Arrest Warrants to Board Airplanes
I also joined my colleagues in demanding answers from Secretary Mayorkas regarding recent reports that illegal immigrants are being permitted to use ICE arrest warrants as an acceptable form of identification by the Transportation Security Administration (TSA) to board airplanes. DHS is tasked with both enforcing our nation's immigration laws and with keeping our nation safe. The decision to allow ICE arrest warrants to serve as permissible travel documents inherently places one component of the department in unacceptable tension with another component. This tension threatens the safety and well-being of hardworking American citizens.

Permitting the use of ICE arrest warrants as travel documents is at best illogical and at worst a serious threat to our nation's homeland security. My colleagues and I struggle to understand why TSA would permit criminal illegal aliens to use ICE arrest warrants to fly. This policy appears not only to be misguided, but also to defy the purpose of these arrest warrants in the first place. The full letter can be found here.
Calling for WOTUS Rulemaking to Stop Until Supreme Court Decision
This week, I joined the entire Senate Republican Conference led by Senator John Thune in urging the Environmental Protection Agency and the U.S. Army Corps of Engineers to suspend the pending rulemaking to redefine the scope of waters protected under the Clean Water Act (CWA) – specifically "waters of the United States" or WOTUS – until the U.S. Supreme Court completes its consideration of Sackett v. EPA, a case that is expected to have major implications on CWA scope and enforcement.

The federal government should not promulgate rules for the sake of political expediency, but rather provide regulatory certainty for stakeholders within the bounds of an agency's respective statutory authority. Proceeding with the rulemaking at this time, despite the pending litigation and potentially influential ruling, will only deepen uncertainty within the regulated community.
Recognizing the Red Ravens on Their NJCAA Basketball Championship
This week, Congressman Jake LaTurner and I introduced a resolution in the Senate and House of Representatives respectively to recognize the Coffeyville Community College men's basketball team for winning the 2021 National Junior College Athletic Association (NJCAA) Division I Championship. Senator Roger Marshall, Representatives Tracey Mann, Sharice Davids and Ron Estes also joined the resolution to recognize the Red Ravens' accomplishment. I'm pleased to report this resolution passed the Senate on Thursday.

Congratulations to the Coffeyville Red Ravens on an outstanding season and for bringing home their first national championship trophy in nearly six decades. As an underdog in the national tournament with a No. 10 ranking, this accomplishment is a result of hard work, determination and grit, and I'm pleased to recognize these dedicated student athletes and Coach Jay Herkelman in the U.S. Senate.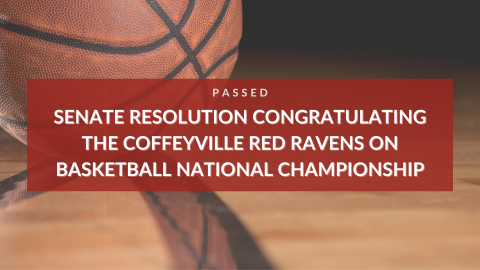 Thanking Big Red One Soldiers Supporting Operation Atlantic Resolve
I am thinking of the First Infantry Division Soldiers who are currently training in Europe in support of Operation Atlantic Resolve. Their mission has taken them far from their families as they assist partner nations during a time of increased tensions between Ukraine and Russia.

The Big Red One stands ready as a key deterrent to our adversaries, and I appreciate their dedicated service.
Meeting with Kansas County Administrators and Commissioners
I met with the Kansas Association of Counties this week to discuss efforts for federal, state and local governments to better serve Kansans. The county commissioners and administrators in the meeting brought up a range of issues, including COVID-19 funding for nursing homes, grant opportunities for airports and other infrastructure, investments in mental health programs and challenges facing agricultural producers. Local units of government play a critical role in serving Kansans, and I appreciated the invitation to speak to their group. I look forward to continuing to work with local officials from across our state.
Attending the Reopening Announcement of the Bourbon County Community Hospital in Fort Scott
On Monday, I had the opportunity to speak at the reopening announcement of the Bourbon County Community Hospital in Fort Scott. When the former Mercy Hospital closed in 2018, Ascension Via Christi and the Community Health Center of Southeast Kansas stepped in to ensure Bourbon County did not lose their access to local care. Their service has been greatly appreciated, and it has allowed the county time to work towards the reopening of their own health care facility without sacrificing nearby access to care in the short-term. The announcement on Monday was the unique result of collaboration between community and state leaders as well as the willingness of Noble Health Corporation to invest in Kansas health care. I look forward to assisting in the reopening process and continuing to support policies that strengthen rural health care and protecting our way of life in Kansas.

Efforts at the federal level to address the challenges facing rural health care, especially the workforce shortage, are only half of the equation. The contributions of educational entities are essential for a highly skilled, effective health care professionals, and Fort Scott Community College will have an important role in educating potential future staff of the Bourbon County Community Hospital. Thank you to Noble Health's CEO Drew Solomon and VP of Kansas Operations Merrill Atwater, Bourbon County Economic Development Director Rob Harrington, Fort Scott Mayor Kevin Allen, Kansas Attorney General Derek Schmidt and Congressman Jake LaTurner, and to all in attendance.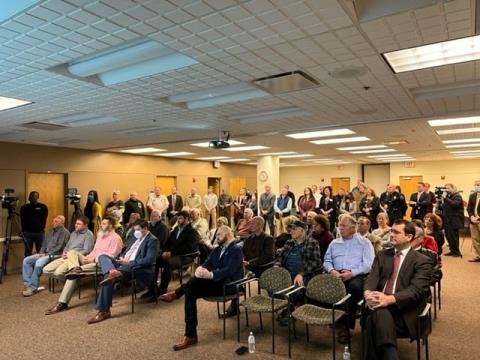 Visiting with Spring Hill High Schoolers
Following my visit in Fort Scott and before heading back to D.C., I visited Spring Hill High School where middle and high school students spoke with me about their concerns, including the unease surrounding social media and a lack of communication to their generation from leaders at every level of society. I also appreciated learning about hopes for the future – their optimism and positive outlook on what's next is always refreshing.

I shared with the group the importance of maintaining a good work ethic and of earning a quality education rooted in meaningful conversations and studies. I am grateful for all that teachers have done to ensure that students are able to learn side-by-side, and I thank them for having me to visit.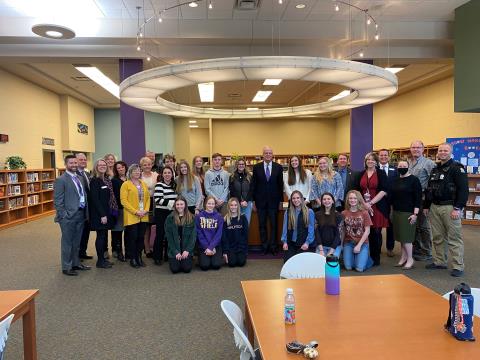 Notifying Jack Anderson of His Offer of Admission to the U.S. Naval Academy
Before traveling back to D.C. on Monday, I stopped by Blue Valley West High School in Overland Park to pay Jack Anderson a visit and notify him that he has been offered admission to the U.S. Naval Academy.

Nominating Kansas students to attend service academies is one of my greatest responsibilities as a United States Senator, and I am proud of Jack's desire to serve our nation. Looking forward to seeing all he will accomplish over the next few years.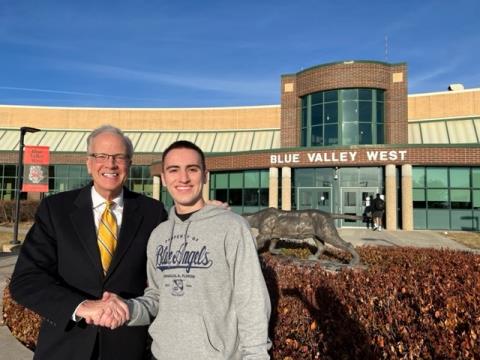 Cheering On KU Basketball
It was great to cheer on the Jayhawks on to a win against Baylor in Allen Fieldhouse on Saturday!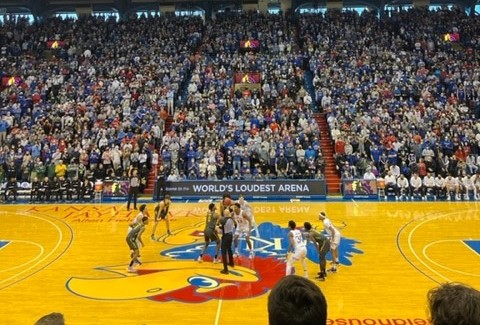 Remembering Anne Emerson
On Saturday, Anne Emerson was laid to rest at the First Presbyterian Church in Fort Scott. She was passionate about her community and worked to improve the lives of those living in Fort Scott. I was fortunate to know her and have her work on behalf of Kansans in my office early on in my tenure as a senator.

Robba and I are praying for her husband, Timothy, her children and their families, and all of her loved ones. Read more about her life here.
The Blood Shortage is Affecting Kansans. Here's How to Help.
America continues to face a critical blood shortage, with Kansas' blood supply standing at a 1-2 day inventory. COVID-19 has added extra volatility to the blood supply, and this shortage continues to strain hospitals and patient care throughout Kansas.
I've heard from medical professionals in Kansas about the tough decisions rural Kansas doctors and health care providers are having to make – including cancelling surgeries and blood transfusions, and possibly not delivering babies because bleeding complications may require blood that these facilities do not have. This shortage is severe, and it is affecting Kansas health care providers and their ability to care for patients. Kansans pull together in times of need, and I encourage you to donate.

Donation centers provide specific guidance on the blood donation process and safety measures taken within their centers. Locations for blood donation can be found at the following organization websites below.

Save A Life Now, America's Blood Centers and American Red Cross.
Honored to Serve You in Washington
It is an honor to serve you in Washington, D.C. Thank you to the many Kansans who have been calling and writing in to share their thoughts and opinions on the issues our state and country face. I appreciate the words of Kansans, whether in the form of a form of letter, a Facebook comment or a phone call, who wish to make their voice heard.
Please let me know how I can be of assistance. You can contact me by email by clicking here. You can also click here to contact me through one of my Kansas offices or my Washington, D.C. office.
Newsletter Sign-up Form
Note: Fields marked with an * are required.