Kansas Common Sense
Honoring Retiring Kansas Farm Bureau President Rich Felts
Speaking at Kansas Farm Bureau Annual Banquet
It was great to join members of the Kansas Farm Bureau to honor Rich on the occasion of his retirement and to wish him well in his next chapter.

For the past eight years, Rich has advocated for Kansas farmers and ranchers, bringing their challenges to Washington, D.C. and fighting for policies that support agriculture. This passion for serving the agriculture community comes from his upbringing in small-town Kansas and the lessons he learned from his parents who farmed before him. Rich has dedicated his life to serving Kansans, and he is an example of true servant leadership and is dedicated to improving the state he loves.

I congratulate Rich on his retirement and thank him for the many ways he has served Kansas farmers and ranchers.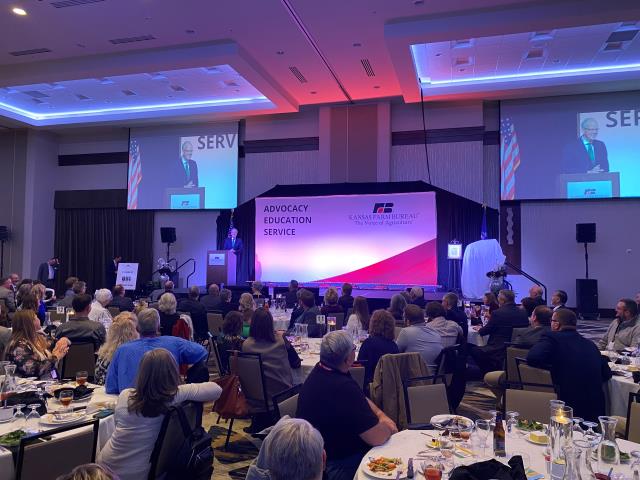 Giving Remarks on the U.S. Senate Floor
I have had the privilege of knowing and working closely with Rich, and it was an honor to recognize him for his leadership as President of the Kansas Farm Bureau, a position he has held since 2014. He has been a champion for agriculture and preserving the rural way of life in our state, and he will be greatly missed.

You can watch my full remarks here.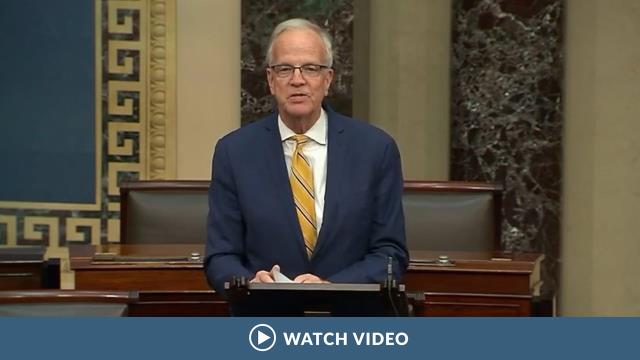 Remembering Senator Bob Dole
Today marks the one year anniversary of the passing of Senator Bob Dole. Let us remember and honor this principled statesman and true son of Kansas. Senator Dole lived a remarkable life, yet always treated others with respect and kindness. Whether it was on the battlefield, in the halls of Congress, or in his personal life, Senator Dole's dedication to his fellow Kansans and to his country was a consistent reminder that a single person can make a difference and change the world for the better.
Raised in Russell, Senator Dole went on to serve in World War II where he earned two Purple Hearts. He then spent a remarkable 36 years on Capitol Hill, rising to become Senate Majority Leader and leading significant legislative achievements. Known for working toward commonsense solutions over partisan ones, he became the first Kansan since Dwight D. Eisenhower to be the Republican nominee for President. On the floor of the United States Senate, I am honored to use Senator Dole's desk, and I am regularly reminded of his dedication to Kansans and all of his fellow Americans through his incredible life and the enduring legacy he left behind for each of us.
To carry on Senator Dole's legacy of service and remember him on the anniversary of his passing, the Elizabeth Dole Foundation is holding the inaugural Bob Dole Day of Service. I hope that you will join me in honoring Senator Dole's life by performing an act of kindness to a loved one, friend, neighbor or stranger in your community.
Learn more about the Bob Dole Day of Service
here
.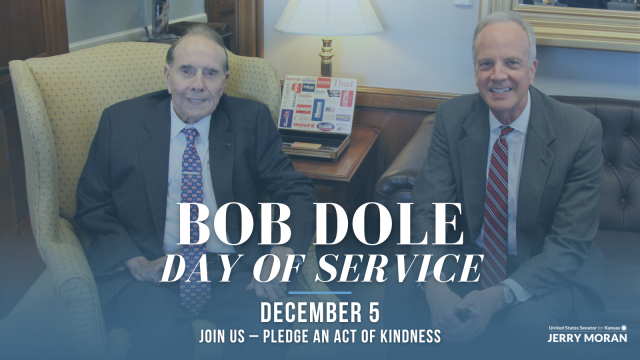 Voting on Resolution to Resolve Railway Labor-Management Dispute
I voted to support a resolution to resolve a railway labor-management dispute. This labor dispute is an issue that should have been resolved between railroad companies and employees, not by Congress. However, the uncertainty and supply problems created by a shutdown would be damaging to Kansans, especially now with high inflation and ongoing supply chain issues. The country needs certainty, and the possibility of a shutdown made it necessary for Congress to take action to keep railways operating.
Meeting with World Food Programme Executive Director David Beasley
I had the opportunity to meet with World Food Programme Director David Beasley this week for an update on ongoing efforts to fight hunger and reduce food insecurity across the globe. As a member of the Senate Committee on Appropriations and Co-Chair of the Senate Hunger Caucus, I am committed to working with Director Beasley to support international programs to fight hunger across the globe.
Kansans are producers and providers, growers and givers. Director Beasley reminded me of this during our meeting as we discussed the significant role Kansas has played in feeding the hungry around the world. In 1953, Peter O'Brien presented an idea at a Cheyenne County Farm Bureau meeting. Cheyenne County is the furthest northwest point of our state, and Peter understood the significance of commodities and surpluses. His idea was how we can take surplus grain and help the poorest of the poor around the world.
His idea was then drafted into a resolution that was passed by the Kansas Farm Bureau and then the American Farm Bureau Federation. The resolution, created out of the abundance and generosity of a few Kansas farmers, was adopted by Kansas United States Senator Andrew Schoeppel. He drafted federal legislation that was eventually signed into law by President Dwight D. Eisenhower. That law was the precursor to our nation's international food program – a program that has now provided meals to more than 4 billion people around the world and continues to feed a hungry world today.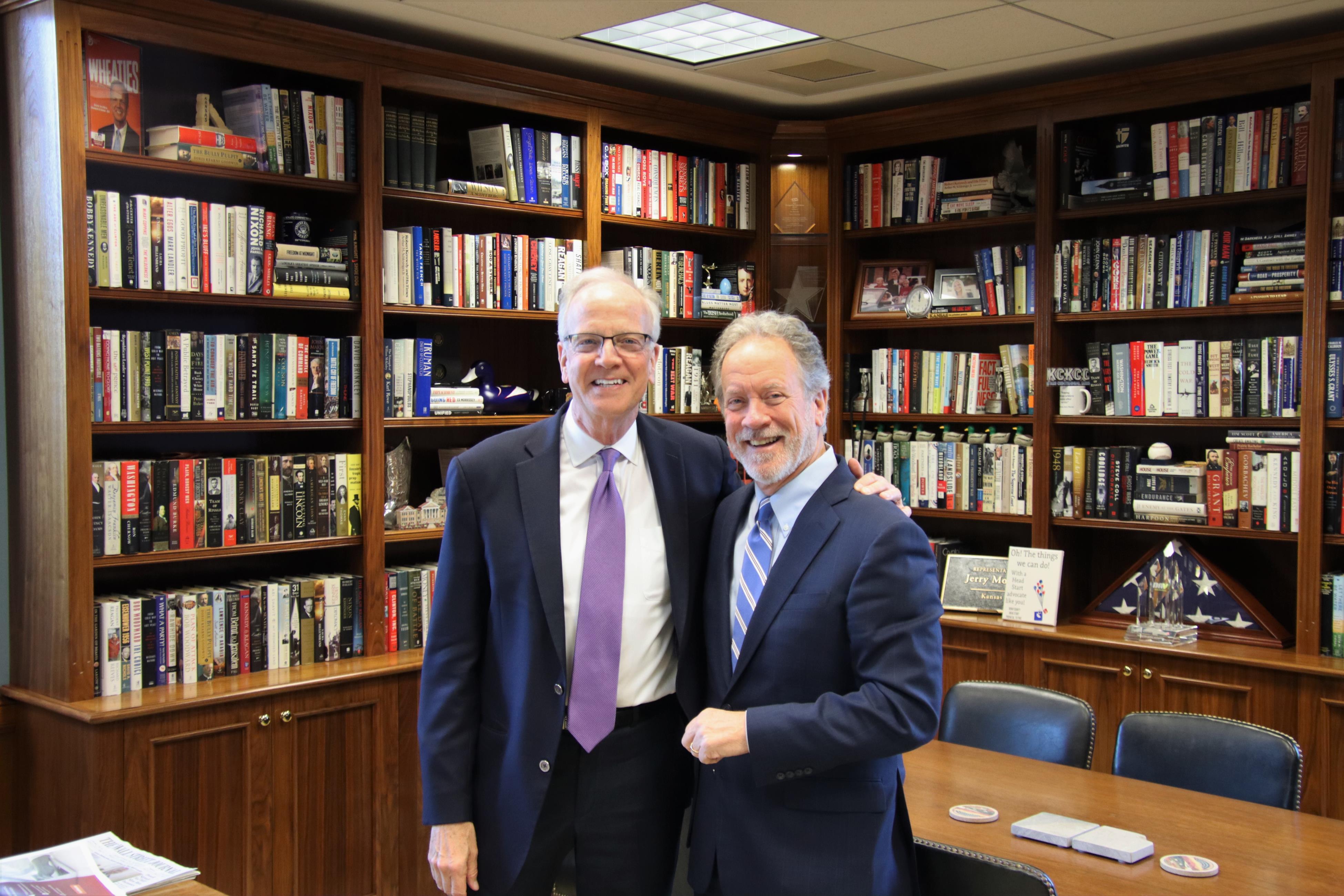 Making Certain Native American Veterans Have Access to Care and Benefits
This week, as lead Republican on the Senate Committee on Veterans' Affairs, I joined Chairman Tester (D-Mont.) in holding a hearing to discuss access to care and benefits for American Indian, Alaskan Indian and Native Hawaiian veterans. During this hearing, we discussed how to make certain our tribal veterans have timely and convenient access to the Department of Veterans Affairs (VA) health care and benefits systems. We also discussed how to improve the VA's coordination with the Indian Health Service (IHS) and tribal organizations and actions taken by the VA's Office of Tribal Health and Office of Tribal Government Relations to increase support for veterans in Indian Country.
There are many challenges rural and urban American Indian veterans face in accessing culturally competent VA health care, including mental and behavioral health care, and in utilizing the VA benefits they have earned, including VA's home loan program, burial and employment programs. As a member of the Senate Committee on Indian Affairs and representative of four federally recognized tribes in Kansas, I am deeply aware of the importance of this issue. There is still much work to be done to address gaps in services for our American Indian, Alaskan Indian and Native Hawaiian veterans. However, this hearing was a significant step forward in making certain we are better serving these national heroes.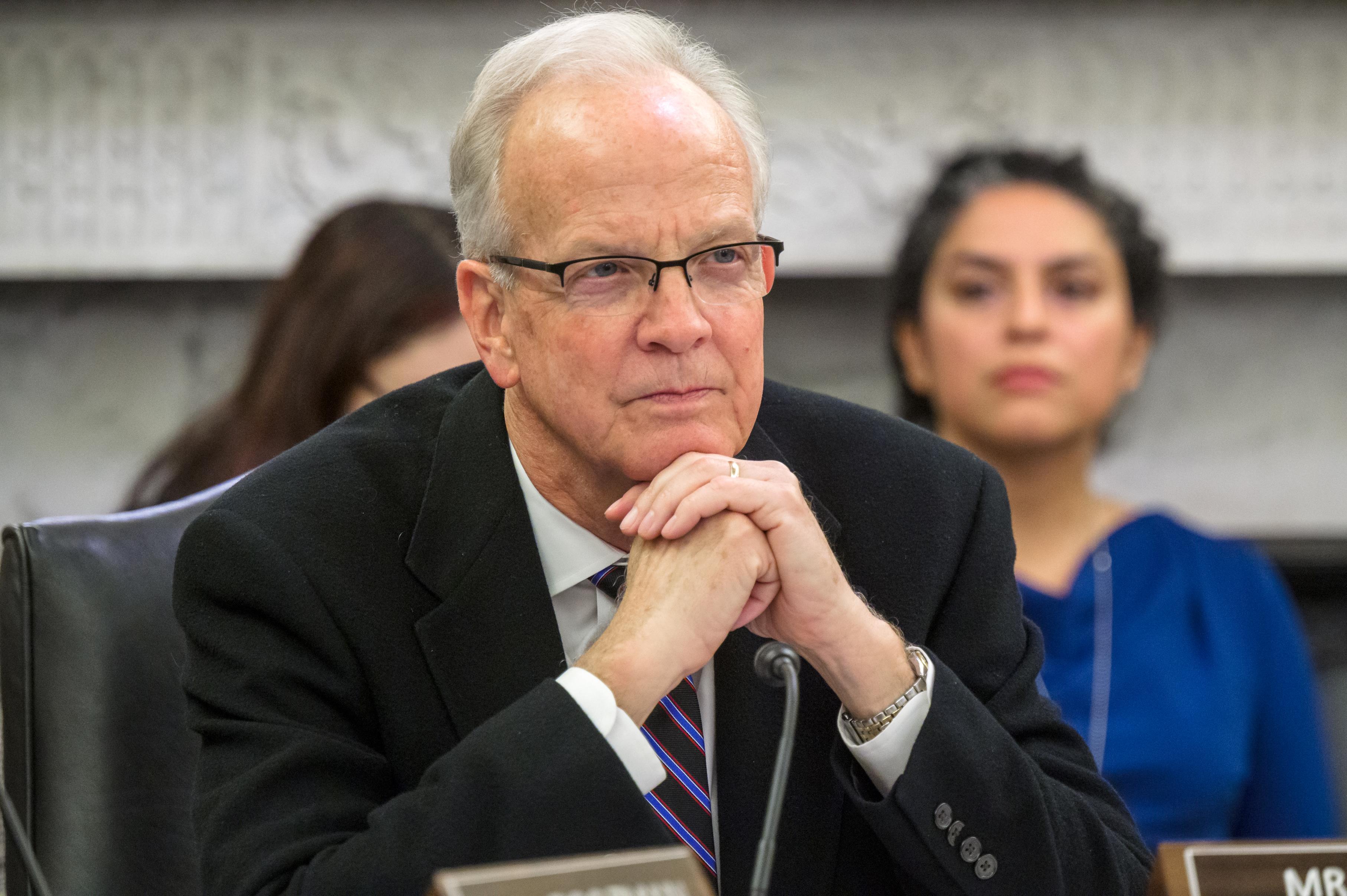 Unveiling of U.S. Air Force's B-21 Raider

On Friday, I attended the unveiling of the B-21 Raider – the U.S. Air Force's new, long-range stealth bomber. The B-21 Raider will be the backbone of the U.S. bomber fleet, helping maintain a strong national defense and deter aggression from our adversaries.
Kansas plays an important role in building these new bombers, and Spirit AeroSystems in Wichita is one of seven major sub-contractors of the B-21 program. Kansas businesses are leading the way in defense manufacturing and development, and I want to recognize and thank the talented Kansans who contributed to the production of this aircraft, demonstrating our state's talented workforce.
I also want to thank Spirit CEO Tom Gentile and Wichita State University's National Institute for Aviation Research (NIAR) Executive Director Dr. John Tomblin for their leadership in advancing innovative technologies in Kansas for the U.S. Air Force.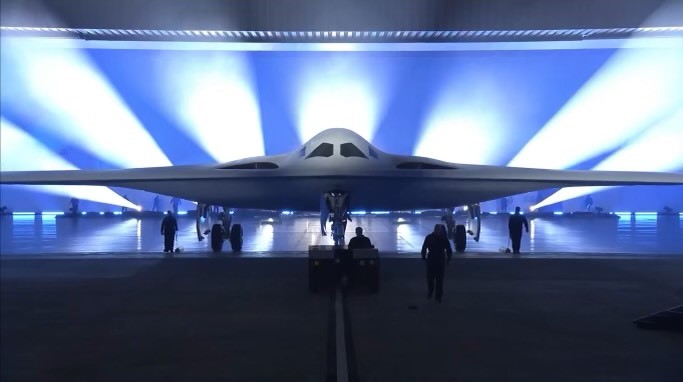 Touring Jet Propulsion Lab
I had the opportunity to tour the Jet Propulsion Laboratory (JPL), a research and development lab that is federally funded by NASA. During this tour, I saw firsthand the Europa Clipper, a spacecraft that will complete a mission to Jupiter's moon Europa and will investigate whether the moon contains conditions suitable for life. We also met with NASA's Earth Science team whose research provides critical data on severe weather, hazards, wildfires and other natural occurrences that are important for agriculture. I also received an update on NASA's Mars mission that includes the rover Perseverance. I was last at JPL to watch the real-time landing of the rover on the surface of Mars, and it was humbling to be with a talented and dedicated team who made this mission a reality.
As the lead Republican of the Senate Appropriations Subcommittee with jurisdiction over NASA, I appreciated the opportunity to see firsthand the research being conducted by NASA. It was also great to further strengthen ties between Wichita State University's National Institute for Aviation Research (NIAR) and JPL during this visit. I want to give a special thanks to Jet Propulsion Laboratory Director Laurie Leshin and her talented team for an informative tour and for sharing insight into their work and research.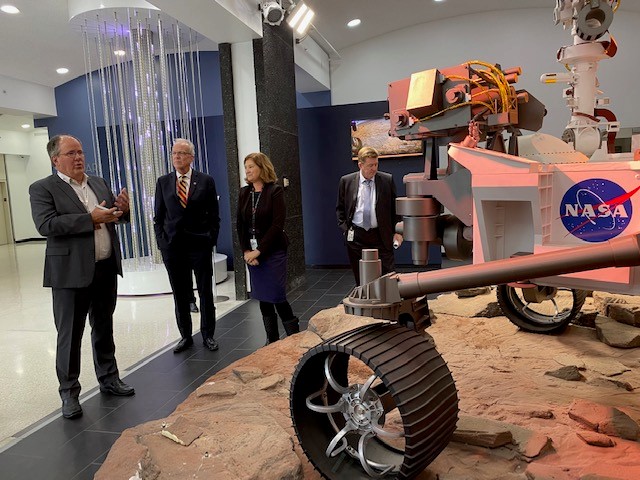 Meeting with Dr. William LaPlante, Under Secretary of Defense for Acquisition and Sustainment
On Thursday, I met with Dr. William LaPlante, Under Secretary of Defense for Acquisition and Sustainment. During our meeting, we discussed ways to strengthen the United States defense industrial base and our supply chains.
I am committed to continuing to work with Dr. LaPlante and his team to find solutions to these pressing issues, and I look forward to hosting him in Kansas in the near future to see firsthand the defense capabilities in Kansas.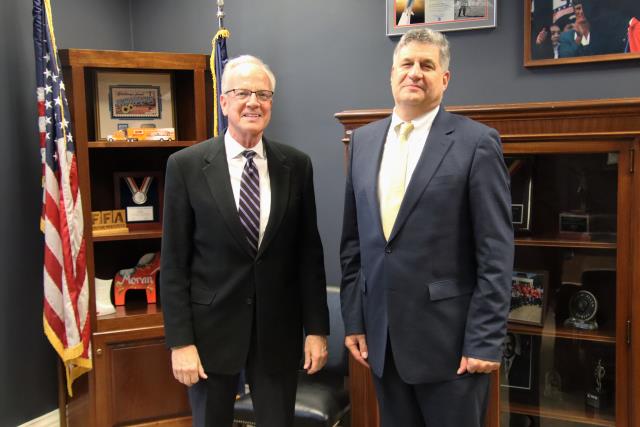 Meeting with U.S. Air Force Lieutenant General Michael Loh, Director of Air National Guard
I had the opportunity to meet with Lieutenant General Michael Loh, the Director of the Air National Guard, this week to discuss the Air Guard's modernization and restructuring efforts, as well as the importance of Tactical Air Control Party (TAC-P) Specialists. Air Force TAC-Ps are a form of Special Warfare which deploy with land forces to provide guidance to the field commander relating to the use of air power. These specialists are essential to ground units as they coordinate with aircraft in the area to identify and organize air strikes. It is critical that the Kansas Air National Guard retain these important capabilities. I was encouraged by my conversation with Lieutenant General Loh that the TAC-Ps in Kansas will be allowed to continue their important mission. I want to thank Lieutenant General Loh for his service to our country, and I look forward to working with him on our country's pressing national defense issues.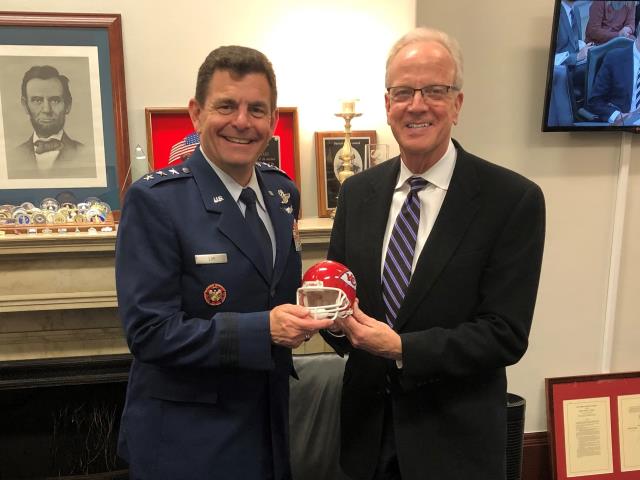 Meeting with Kansans
Kansas Hospital Association
On Wednesday, I met with the Kansas Hospital Association Executive Committee to discuss the legislative priorities of Kansas' health care providers. We spoke about the state's implementation of the Medicaid waiver Kansas recently received from the Centers for Medicare and Medicaid (CMS), which will assist our hospitals in expanding access to care for low-income and uninsured patients. We also discussed several provisions that Congress needs to include in a FY2023 appropriations package to make certain that steep Medicare reimbursement cuts do not impact hospitals at a time when these health care providers are fighting inflation, workforce shortages and the supply chain crisis.
Additionally, we spoke about the importance of congressional oversight in implementation of the
No Surprises Act
, legislation that prevents patients from being hit with surprise medical bills if they receive care out-of-network. I want to thank KHA President Chad Austin for bringing the executive committee to Washington, D.C., as well as each of the committee members for serving in their roles.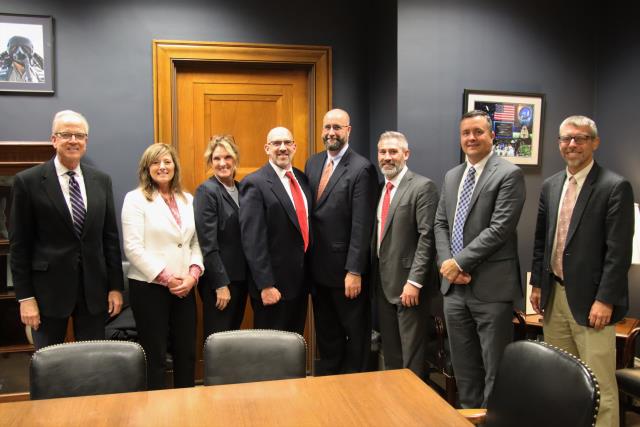 Council for Opportunity in Education and Kansas TRIO
This week, I met with members of the Council for Opportunity in Education (COE) and Kansas TRIO to discuss their work to help students from disadvantaged backgrounds succeed in higher education. As a member of the Senate Appropriations Subcommittee with jurisdiction over TRIO, I am committed to supporting programs that recognize and address the challenges students face when deciding whether to pursue a college education. TRIO is also a program that has seen great results at helping disadvantaged students succeed.
Thank you to Ngondi Kamatuka, Assistant Dean at the KU School of Education & Human Sciences; Kimberly Jones, Executive Vice President of the Council for Opportunity in Education; and Miosha Wagoner, Director of TRIO Programs at Haskell Indian Nations University, for visiting with me and sharing an update on these important efforts.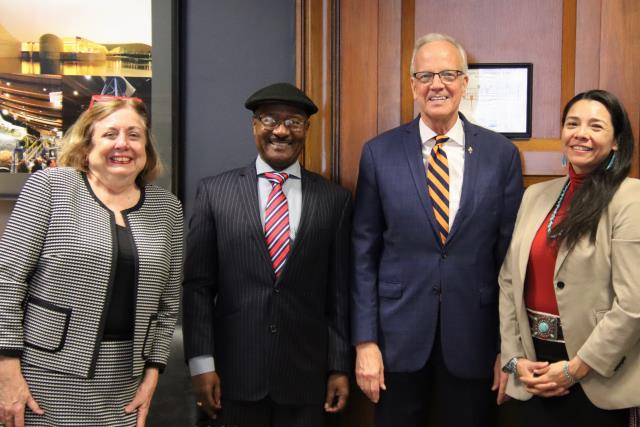 Jobs for America's Graduates-Kansas
This week, I had the opportunity to meet with Kansas students from Jobs for America's Graduates-Kansas, which celebrated ten years in our state this year. JAG-K is a program that empowers students to overcome economic barriers so they can graduate high school and begin their chosen career path. Across the state, JAG-K has 104 programs located in 49 Kansas school districts, allowing this organization to serve more than 5,500 students.
During our meeting, these students impressed me with their talent and knowledge as they shared how JAG-K has given them the ability to pursue their dreams and the opportunity to make life-long friendships through this program. Thank you to Chuck Knap, President and CEO of JAG-Kansas, for bringing these young Kansans to meet with me and to advocate for the positive impact of JAG-K on their lives and those of their fellow Kansans.
State Representative Patrick Penn
On Tuesday, I met with State Representative Patrick Penn for an update on current happenings in the statehouse as Kansas lawmakers prepare for the upcoming 2023 legislative session. It was great to hear from him about his policy priorities for our state in this new session. I want to thank Representative Penn for meeting with me and for his desire to serve the people of our state in the Kansas House of Representatives.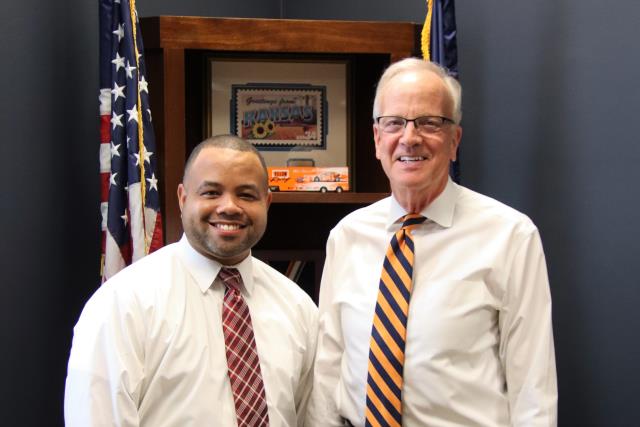 Pawlosky Family
This week, it was great to have the chance to visit with Lieutenant Colonel Adam Pawlosky and his wife Katie and son Frankie of Manhattan during their visit to Washington, D.C. I enjoyed hearing from them about their trip to D.C., as well as the Capitol tour they received from my office. If you are interested in touring the U.S. Capitol or other federal buildings in Washington, D.C., please contact my office
here
.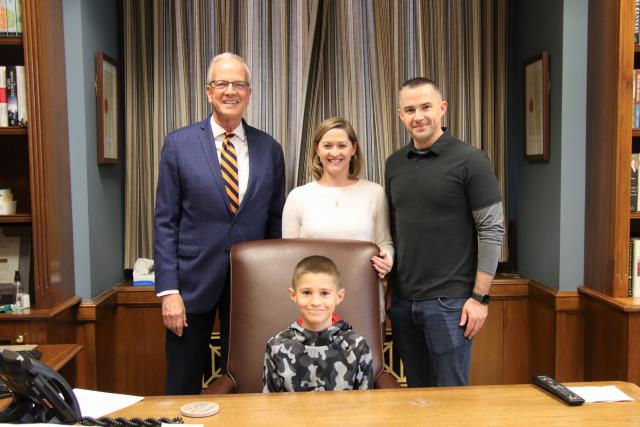 Meeting with Airbus
On Thursday, I met with Airbus CEO Guillaume Faury and Airbus Americas CEO Jeff Knittel to discuss Airbus' workforce priorities and how Congressional leaders can support the overall aerospace industry.
Airbus opened its first engineering facility in Wichita in 2002 and grew to approximately 300 employees working on Airbus jetliners.
In May, I hosted CEO Knittel in Wichita to showcase the capabilities of the Air Capital of the World and to tour several of the Kansas companies that contribute to Airbus' efforts.
Kansans in the OfficeCapitol Tour

LTC Adam Pawlosky of Manhattan
Katie Pawlosky of Manhattan
Frankie Pawlosky of Manhattan
Eric Peters of Overland Park
Stephanie Peters of Overland Park
Allison Peters of Overland Park
John McComb of Olathe
Lorraine McComb of Olathe
Council for Opportunity in Education and Kansas TRIO
Ngondi Kamatuke of Lawrence
Miosha Wagoner of Lawrence
Kansas Board of Regents
Matt Casey of Topeka
Association of Dental Support Organizations (ADSO)
Heath Hall of Overland Park
Professional Insurance Agents
Sue Peachey of Pratt
Leann Barnes of Pratt
Jobs for America's Graduates-Kansas (JAG-K)
Chuck Knapp of Topeka
Hailee Black of Hutchinson
Liberty Gilkey of Greensburg
Nuru Abdallah of Kansas City
Ta'Mijha Mo'Nae Nichols of Topeka
Marcus Mitchell of Greensburg
Elizabeth Hamblin of Andover
Beverly Mortimer of Delphos
Kansas Hospital Association Executive Committee
Chad Austin of Topeka
Audrey Dunkel of Topeka
Newsletter Sign-up Form
Note: Fields marked with an * are required.